Learn the this simple way to make Half Square Triangles 4 at time with a chart for calculating the correct size fabric needed. Making half square triangles 4 at time is such a time saver, for sure. I love that you can make so many at once with this method, but can still use lots of different prints. I love how Half Square Triangles can be used to show bold prints and vibrant solid colors.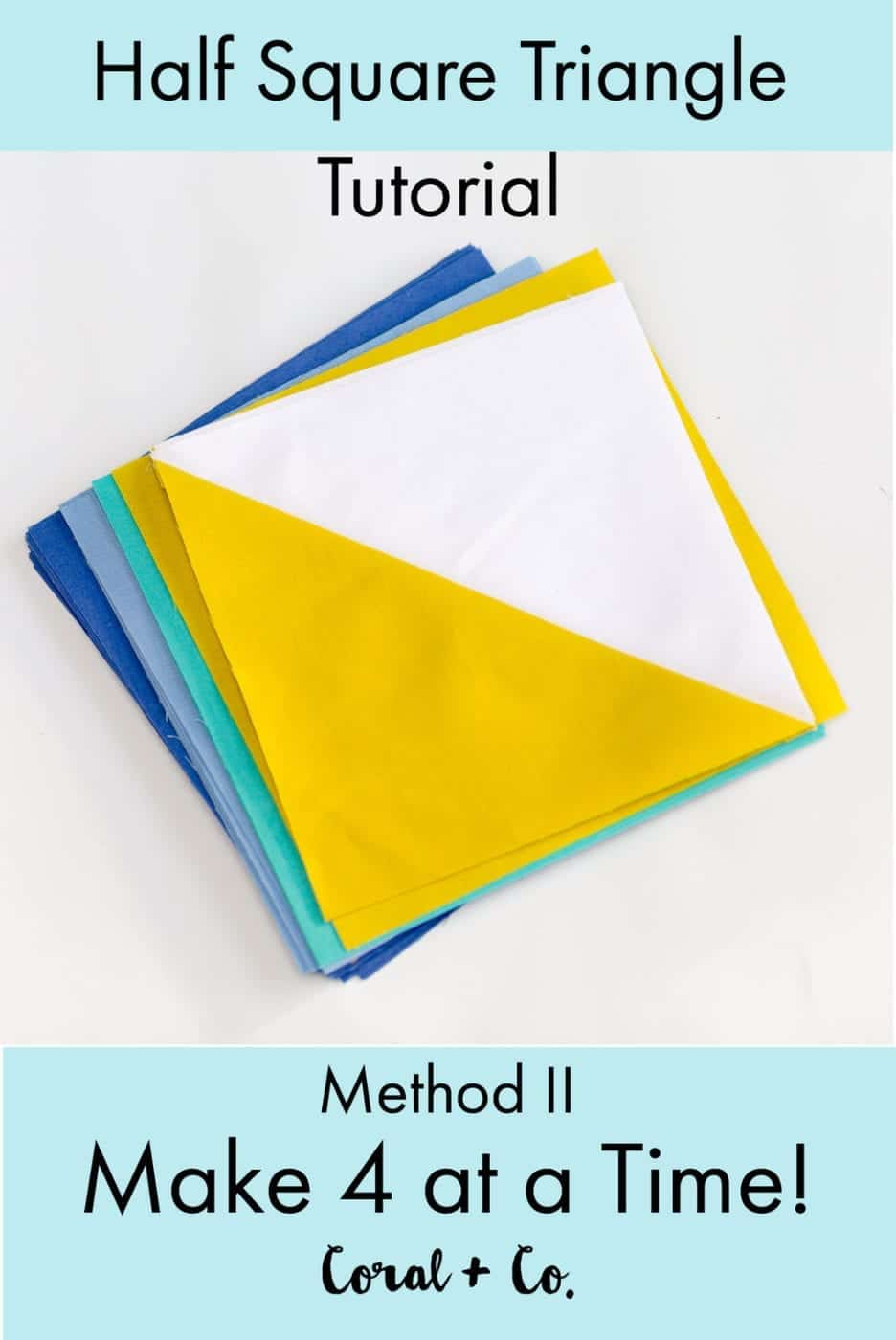 I have so many different color combinations in my mind that I want to try, each one evoking a different feeling and mood. I really am obsessed with solids right now, they are so chic and modern and can be used to make a quilt that almost anybody will like. I used Kona Cotton Solids from Stash Fabrics. I love that they have ALL of the Kona Cotton Solids and that you can buy them by the 1/4 yard. This is so great when your not really sure if the color is the right shade or not.
This is the second installment of the Half Square Triangle Series. You can see the rest of the Half Square Triangle Series below:
How Do You Make A Half Square Triangle? Try Any Of These Methods Below
Method II - HST Tutorial 4 at a Time
HALF SQUARE TRIANGLE QUILT BLOCK TUTORIAL:
HALF SQUARE TRIANGLES 4 AT A TIME
To make HST place two equal size squares of fabric Right Sides Together (RST). It is much easier with this method, to make the squares 1/2in to 1 inch bigger than you would like the resulting square to be. Then straight stitch all the way around the edge of the square using 1/4in seam.
Mark a diagonal line across both diagonals on the wrong side of the top fabric square. Using your rotary blade, cut the square in quarters following the drawn diagonal lines.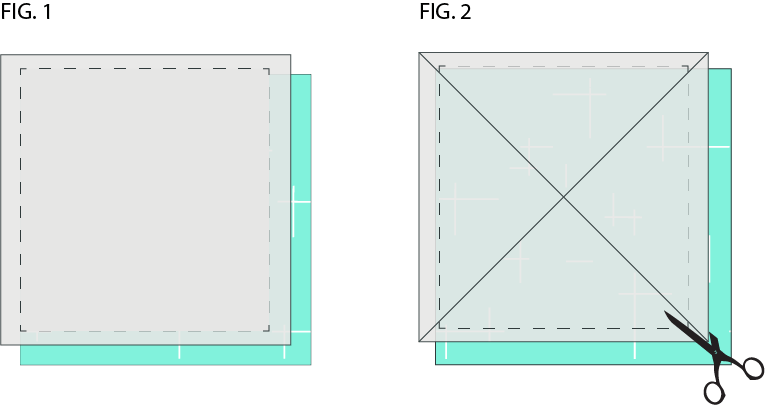 3. You will now have 4 Half Square Triangle Blocks.
4. Open the blocks outward and either lightly finger press or use your iron to lightly press. Be very careful to only press up and down, NOT back and forth. These triangles are cut on the bias and will stretch very easily leading to uneven shaped blocks and distorted squares. Handle these blocks as little as possible. I find that starching the fabric heavily before sewing helps quite a bit.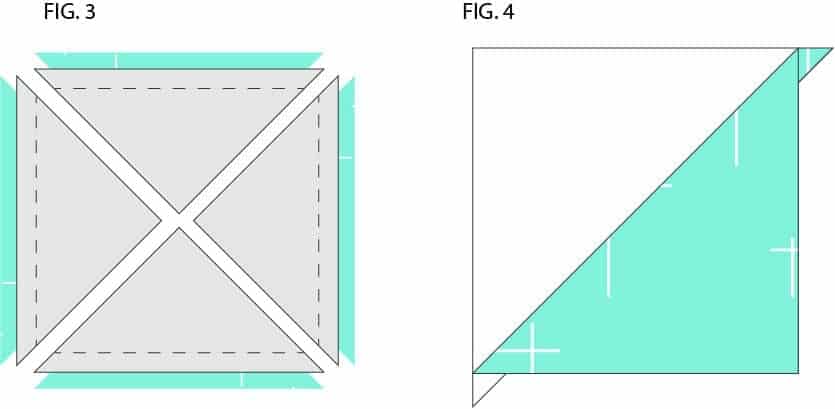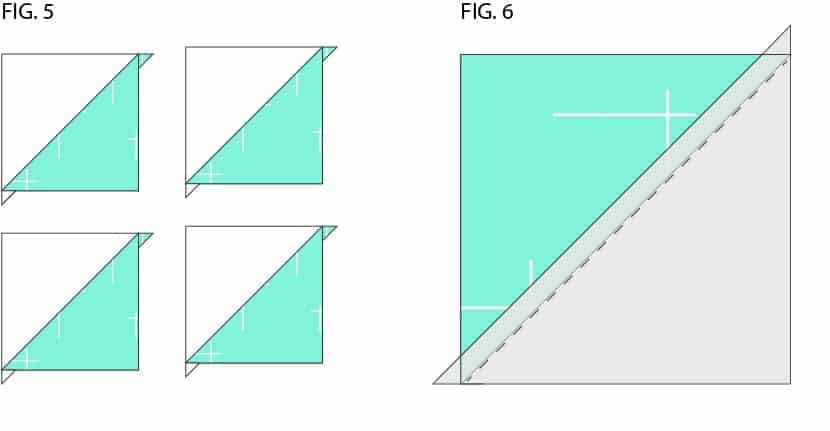 5. You will now have 4 Half Square Triangles made from just one block.
4. Your seam should be pressed (both layers) toward the darker color.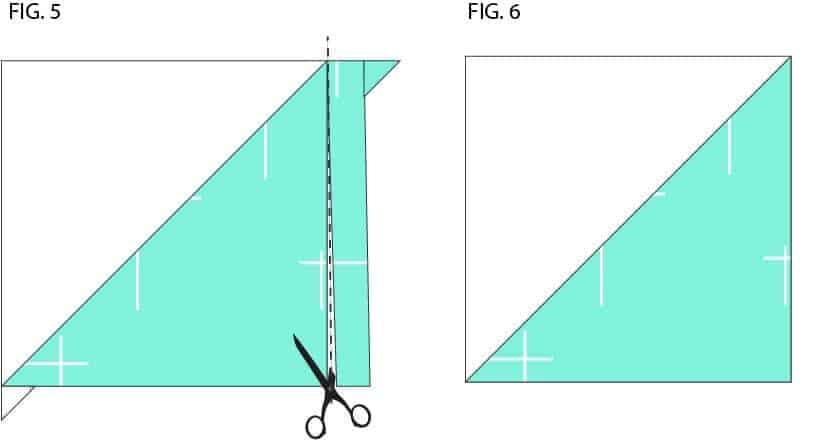 6. Place a ruler on the block keeping the 45-degree diagonal line over the diagonal seam. Trim each side of your square to the desired size.
7. You now have finished half square triangle blocks ready to assemble in a quilt top.
4 AT A TIME HALF SQUARE TRIANGLE CHART WITH MATH FORMULA
Here is a handy cheat sheet for making 4 at a time half square triangles using the math formulas below. You can either use the dimensions given or use the formula to figure out your own dimensions.
To figure out your own dimensions for making 4 half square triangles at a time you will need to know either the beginning square size you will be cutting or the size of the unfinished block you need.
Using the unfinished size half square triangle block you would like, for instance, 4 inches, you will take 4 and divide it by .64. That will be the starting size square you will need to cut.
If you know the beginning size square you are starting with, say 8 inches, for example, you will multiply 8 x .64 and that will give you the unfinished size block that you will be making.
You can use the chart given below to find the correct measurements. Some of these measurements are exact and leave very little room for error so I would add a little extra seam allowance or room to square up.

SUPPLIES NEEDED FOR THIS HALF SQUARE TRIANGLE TUTORIAL:
Learn How to Quilt Series
Free Quilt Patterns
Half Square Triangles 4 At A Time Go-To Solids!
You find the shades I used below at Stash Fabrics. Click the link to be taken to the color.
Wasabi (my new go to bright green!),Capri, Hyacinth, Periwinkle