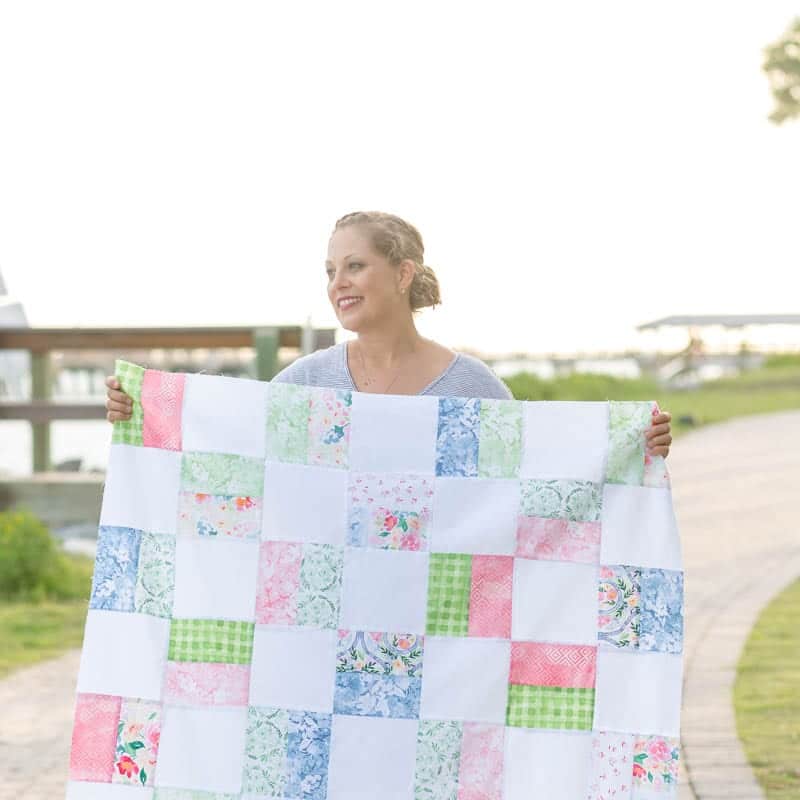 Introducing the Simples Squares Quilt Pattern which is a Free Baby Quilt Pattern For Beginners. The simple squares baby quilt pattern is all the baby quilt happiness.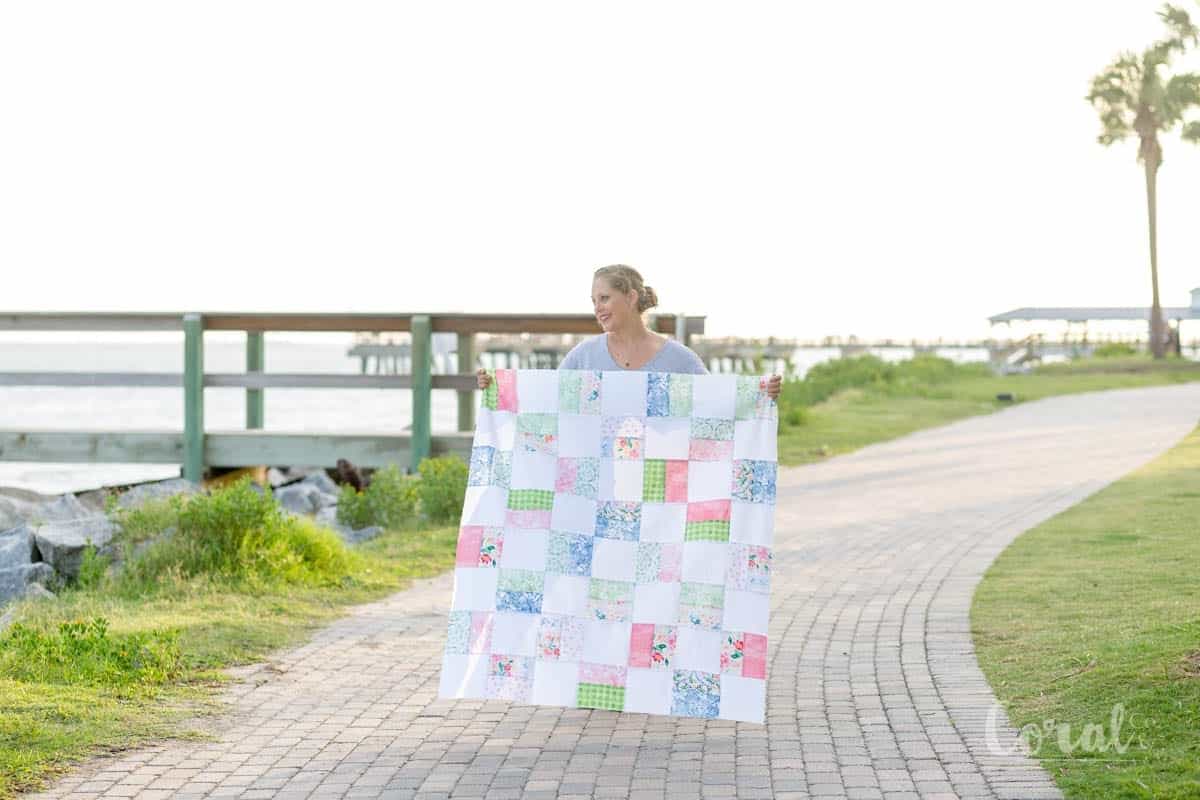 I used the gorgeous line called Crisp Petals from my amazingly talented artist friend Natalie Malan. She paints the most beautiful watercolor florals that can now be found on fabric as well. I designed the Simple Squares Quilt Pattern to be beginner friendly and easy enough to piece together in one evening. Or as a last minute baby shower gift.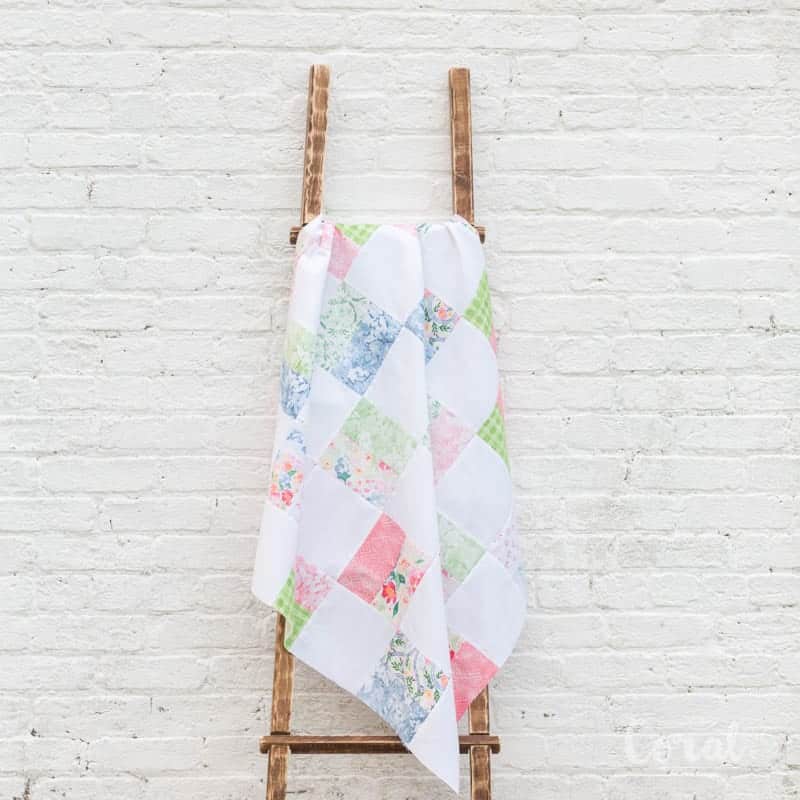 This free baby quilt pattern is perfect for using fat quarters and I will show you a shortcut to piece together the print blocks quickly. A friend of mine just had her first baby girl, after having three boys and when I saw Crisp Petals I knew it would be perfect. This fabric lends itself so well to a beautiful light and airy quilt perfect for a baby girl quilt pattern.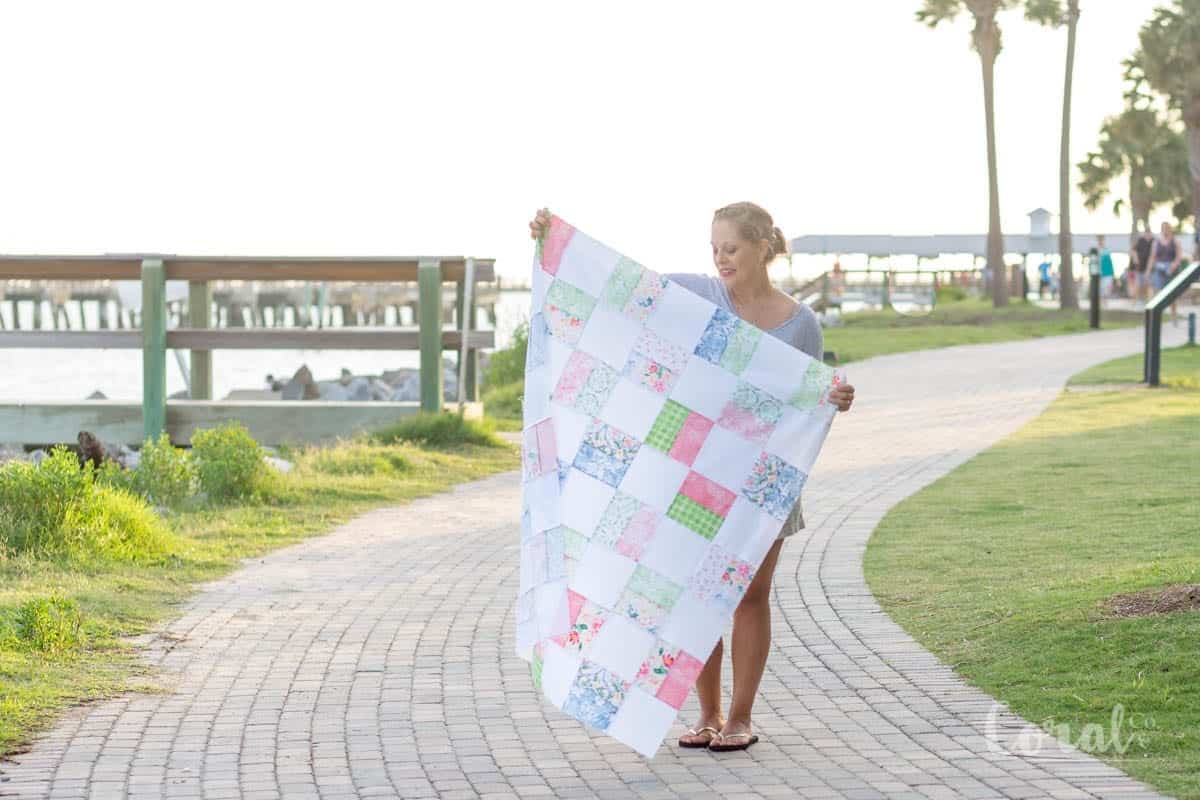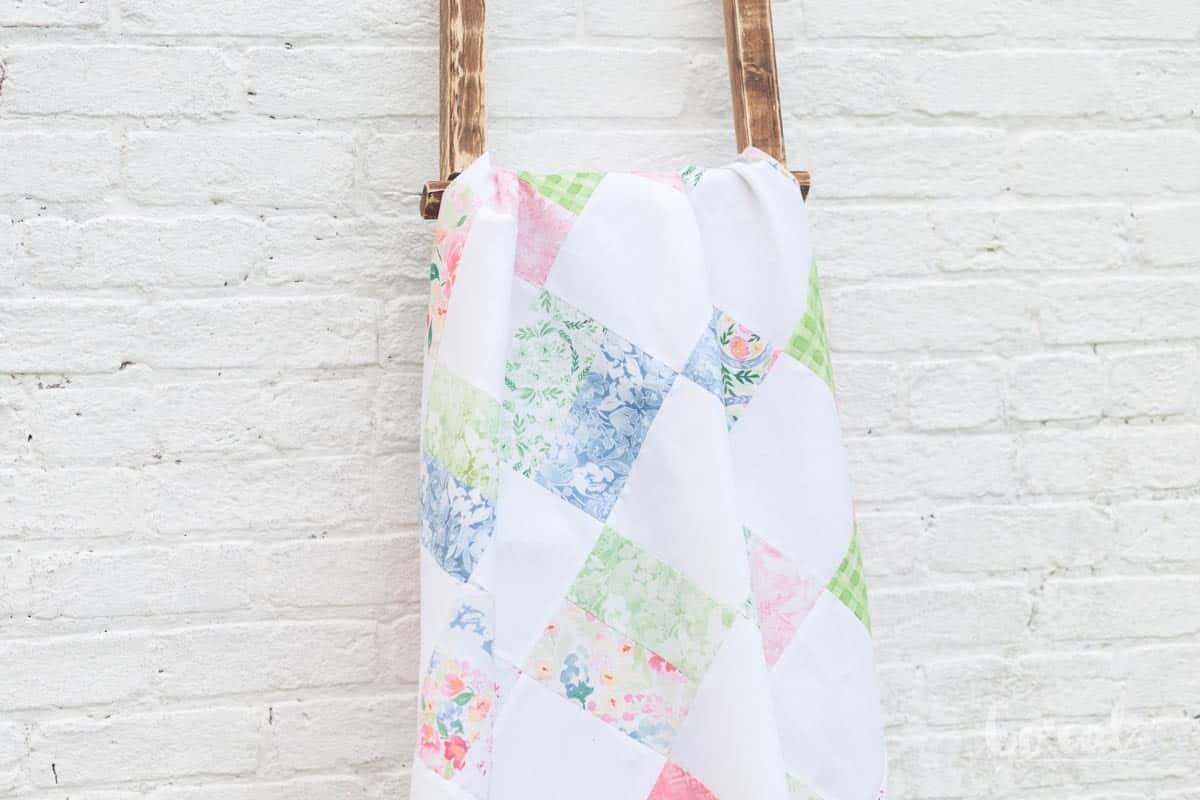 Use large squares to make an Easy Baby Quilt Pattern that will look beautiful when finished.
More FREE Baby Quilt Patterns: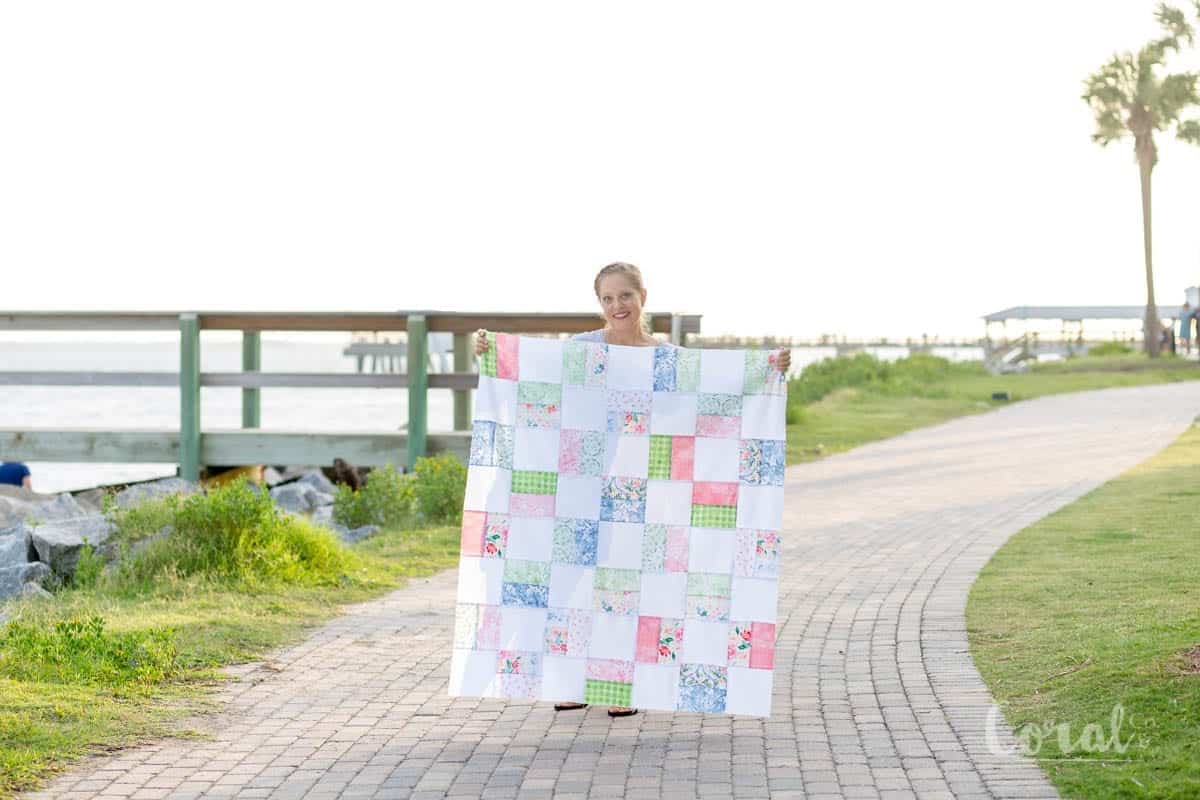 Since the Free Baby Quilt Pattern finishes at 36" wide you will be able to back it easily with the regular 42" wide fabric and have a little bit left over to make some scrappy bibs which will work perfectly with my free baby bib pattern bundle.

More Baby Sewing Projects
Updated: Simple Squares PDF Pattern now available in the shop.
I originally designed this pattern in the baby size only with the instructions located here on the website. After many requests, I have since updated and created the Simple Squares PDF quilt pattern that is available in sizes baby, small throw, and large throw. The new pattern is updated with all the fabric requirements, shortcut tables for block requirements, pattern diagram assembly in all sizes, as well as a new coloring sheet!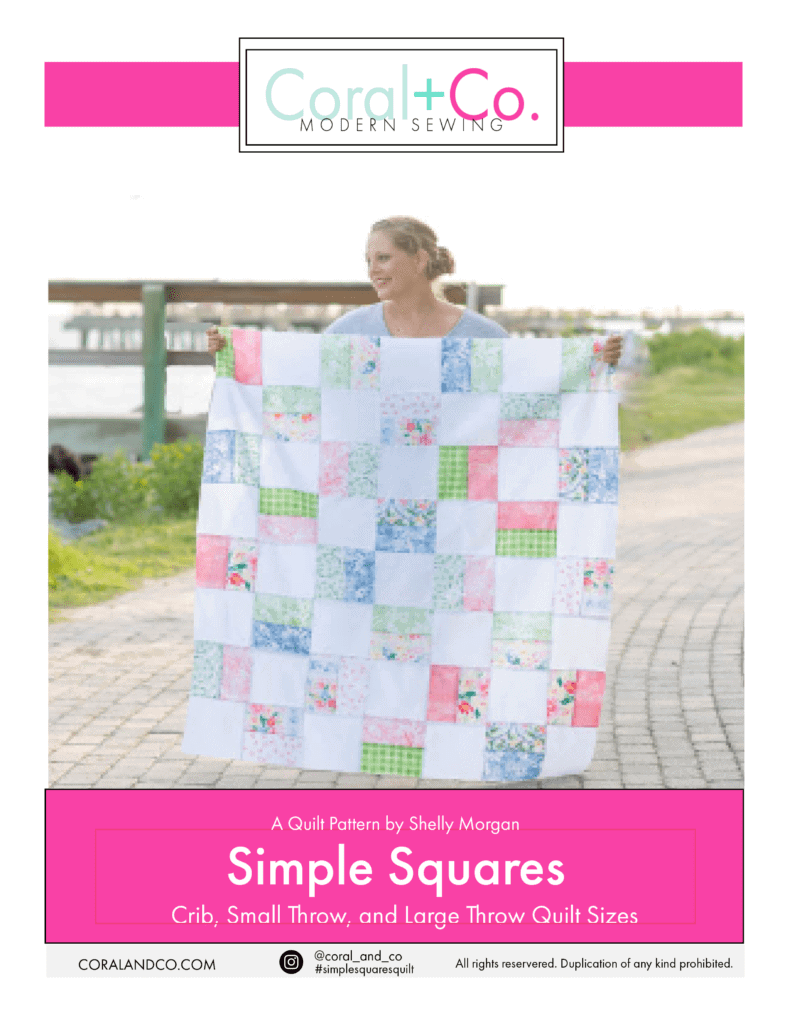 --->>> Or scroll down for instructions to the free pattern.
Simple Squares Easy Baby Quilt Pattern Supplies Needed
9-10 Fat Quarters (You can get by with 4 - 5 if you want less color variation).
1 Yard Riley White or Contrasting Fabric
1 1/2 Yards Backing Fabric
1/3 Yard Fabric Binding
Beginner Quilting Tips
Free Baby Quilt Pattern For Beginners - Simple Squares Quilt Pattern Tutorial
Finished Simple Squares Easy Baby Quilt Dimensions 36 x 48
*You will need (28) 6.5" white squares and (28) 6.5" colored blocks.

Using your rotary blade cutter and ruler cut Two (2) 3.5" x 22" or WOF(width of fabric) strips from each fat quarter.
Place strips RST (right sides together) and straight stitch 1/4" seam down the bottom edge.
Open fabric and press seams toward the darker fabric side.
Using your rotary blade and ruler cut paired fabric strips into 6.5" squares. For a total of 28 strip blocks. Cut 28 6.5"white square blocks as well for a total 56 blocks.
Place white fabric and strip blocks RST (right sides together) and sew a 1/4" seam down the right side of the fabric. Repeat for the rest of the blocks.
Place two strip block/white square pairs RST (right sides together) and sew 1/4" down the right side of rows
Repeat until you have made 8 rows of 7 blocks each as shown. Press seams towards opposite sides on each row, so the top row will be pressed to the left and the second row will be pressed toward the right, and so on.

To finish quilt place first and second-row RST (right sides together) and sew 1/4" stitch down across the bottom edge.
Repeat for the rest of the rows until the quilt is finished. Add batting and backing and finish quilting as desired.
Free PDF Simple Squares Coloring Sheet
Click the Image Below to Download the Free PDF Simple Squares Coloring Sheet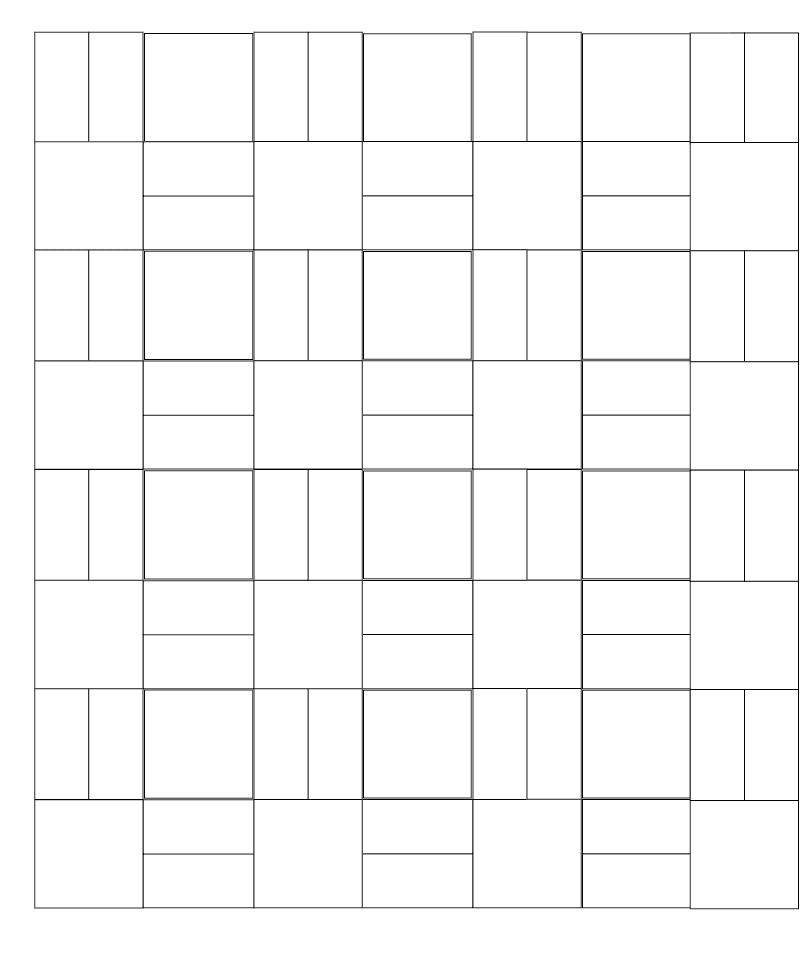 You may find these tutorials on How to Bind a Quilt and Finishing a Quilt helpful.