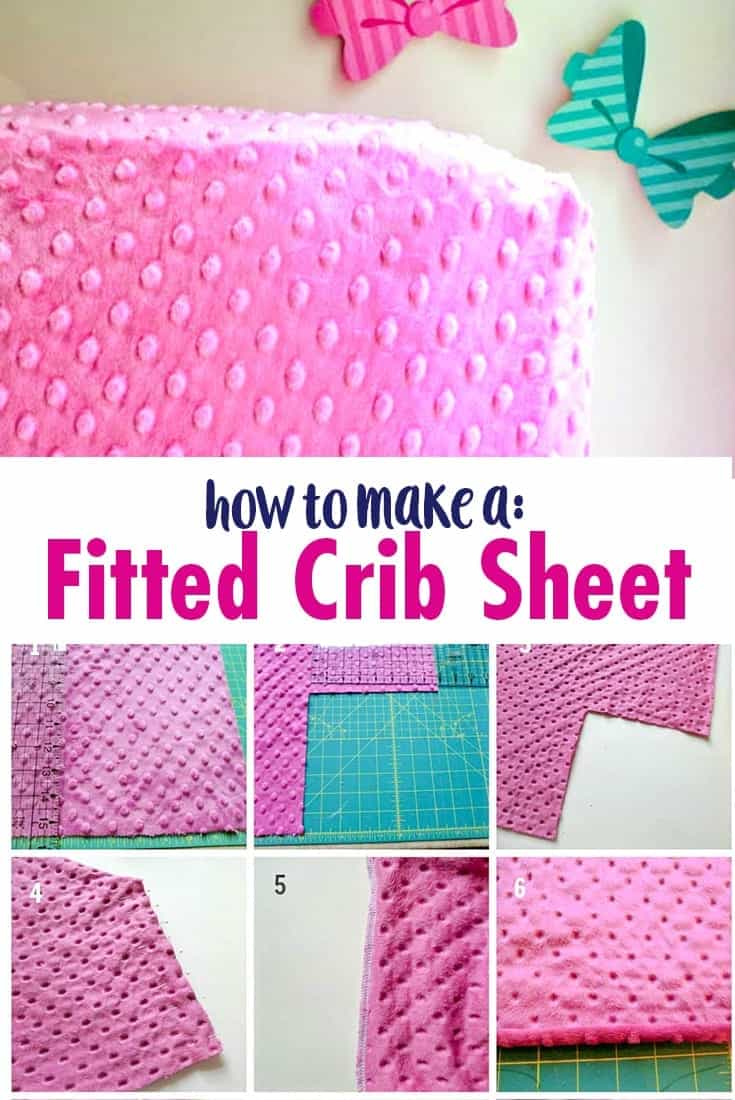 Everybody loves Minky, especially in the winter to keep nice and warm! I will show you How to Make a Fitted Crib Sheet Tutorial. This Minky Crib Sheet Tutorial is perfect for both babies and toddlers. You might also want to check out the Best Tips for Sewing Minky Fabric and How to Make a Toddler Pillowcase Tutorial.
This fitted crib sheet tutorial is for a standard crib or toddler bed mattress, but if you are using minky fabric it is wide enough to use for a twin bed sheet. Oh, happy kids!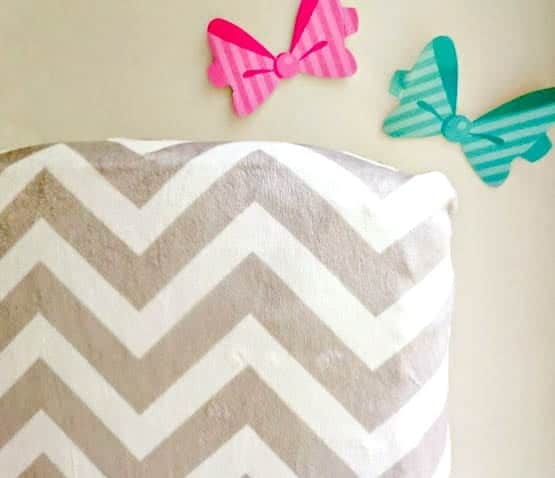 Frequently asked questions -
What is the size of a standard crib sheet?
A standard size crib sheet is 51 5/8" long by 27 1/4" wide and 5 1/2" deep.
What is the size of a standard crib mattress?
A standard crib mattress is 27 1/4" x 51 5/8" and not thicker than 6".A
Are toddler bed and crib mattresses the same?
Yes, they use the same size mattress.
What is the size of a twin bed sheet?
A standard size twin bed sheets 39" x 80"
Fitted Crib Sheet Tutorial Supplies Needed:
2 Yards Cuddle Minky, Dimple Dot Minky, Woven Cotton or Knit Fabric
102" of 1/4" elastic
1 Rotary Blade
1 Clear Grid Ruler
1 Cutting Mat
***Walking foot if using minky or knit fabric.
How to Make a Fitted Crib Sheet Tutorial - Soft Minky Crib Sheet Tutorial
Cut Minky or cotton fabric to make a 67" x 44" rectangle.
Steps 1 and 2. Using your rotary blade and mat line up the corner of your rectangle and cut an 8" from both the top and side of the fabric to form an 8" square. Repeat on remaining 3 sides.
3. You can also place the fabric wrong sides together and cut through 2 layers at once.
4. Fold the two edges of the square together, so right sides are facing each other and pin.
5. Sew with a long straight stitch from the top of the corner section to the bottom. Repeat for all 4 corners. *You can zig-zag stitch the edges if you prefer, but since minky does not ravel it is not required. However, if you are using a woven cotton, I would highly recommend doing so.
You should now have something resembling a crib sheet. You are almost finished, just the sides to complete!
6 & 7. Starting with any side you prefer to roll or press the unfinished bottom of the sheet under 1/4" (IF USING MINKY FABRIC DO NOT IRON), then roll or iron this part under 1" and pin every 1 to 1 1/2".
**I do these steps together as I go around the blanket since it tends to unroll and ironing is not possible with minky.
8. Sew 1.25" from the edge of the fabric around the entire sheet to form the casing. Leave a 2"-3" opening to insert the elastic. For woven cotton fabric sew using a straight stitch. For Minky or Knit fabric use a long zig-zag stitch (which helps the minky and knit fabric top side from pulling and slipping like a straight stitch will do).
9. Insert the elastic into the casing and pull through (I like to use a safety pin to help pull it through the casing) and guide all the way around to the open slit. To close, pin the ends of the elastic together overlapping an inch and sew. Then roll the open fabric under to form the rest of the casing and sew closed.
*** Tips for Minky Crib Sheet Tutorial: I prefer to sew minky fabric with a zig zag stitch since it helps to keep both layers from slipping and pulling and works really well absorbing its plushness.
You now have a soft and snuggly fitted crib sheet for a lovely baby or toddler!
Here is a step by step image of How to Make a Fitted Crib Sheet Tutorial to Pin for later!
More Baby Sewing Projects: