Need a little help on How to Sew Minky Fabric? We've got some Sewing with Minky Tips to give you a hand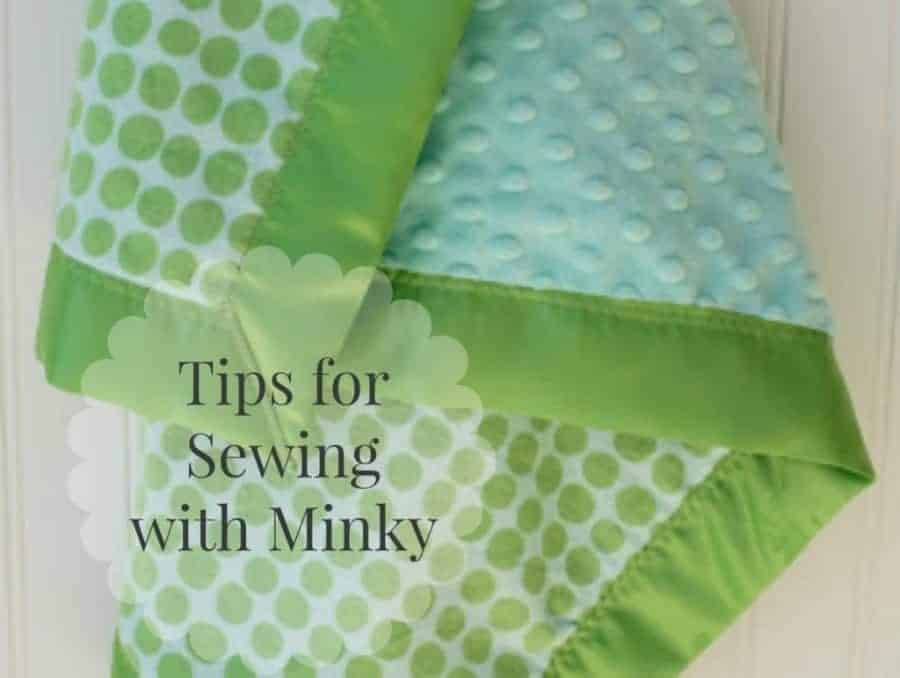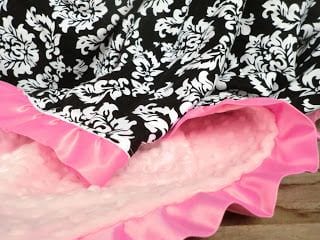 Here is a handy list of minky sewing tips and tricks to help you figure out how to love sewing with minky fabric because who doesn't love the soft cuddliness of dimple dot minky or the plush luxury of rose swirl minky. I have made too many baby blankets with minky fabric to count and have wanted on more than one occasion to rip all of my hair out, scream every bad word I know, and throw my sewing machine as far I could see. I have sworn again and again to never sew with minky, but after a little research and lots of trial and error I have made friends with it and it has even become one of my favorite fabrics.
Frequently Asked Questions About Sewing With Minky Fabric
What is Minky Fabric?
Minky Fabric is a synthetic fabric made out of polyester. It is extremely soft and silky, similar to a a velvet but softer like your favorite cashmere sweater. It is warm like fleece. Because it is a synthetic fabric, it is not breathable but is great for keeping warm in the winter. There are different types of minky fabric ranging from a short pile cuddle minky to a long rose swirl or faux fur that are as luxurious as fur.
What Does Minky Feel Like?
Minky fabric is made of polyester, the same material as fleece. It feels a lot like fleece, but is so much softer and can be compared to fur. Thier are differentl lengths of minky pile (the length of each individual fiber) and some feel more like a short velour or velvet while the longer rose swirl minky can make you feel like you are wrapping yourself in a fur coat.
How to Care for Minky Fabric
Do You Need to Wash Minky Fabric?
No, Since Minky is polyester and does not shrink, you do not need to pre-wash minky fabric. Yay! However, you will need Pre-wash any other fabric that is not synthetic like polyester, such as cotton that will be sewn together with the Minky.
Can You Iron on Minky Fabric?
No, you cannot iron on minky fabric. Because it is synthetic polyester and made from petroleum based products, it will melt when heat is applied. If you iron it the minky will melt, become distorted and then harden into a rough material. If you need to iron the cotton when sewing it together with minky, the best way to approach this is to iron it beforehand and apply starch to keep it wrinkle-free longer.
How Do You Make a Minky Blanket?
It is pretty simple and definitely a beginner sewing project! I have a free downloadable Easy Minky Baby Blanket Pattern as well as a tutorial on how to sew a Ruffle Minky Baby Blanket.
15 Tips For Sewing With Minky Fabric
Pre-wash any other fabric that will be sewn with the Minky. Since Minky is polyester and does not shrink, you do not need to pre-wash minky fabric.
DO NOT Iron or microwave minky - it will cause it to melt
Minky fabrics wash and dry very well but some textured minky will lose its textured look by being dried.
Dritz Washaway Wonder Tape or other washable basting spray helps prevent the minky from stretching, sliding, and puckering. It is my best friend and has kept me from throwing my sewing machine through the window on more than one occasion.
A walking foot is a must! It helps evenly feed all the layers. Mine is nearly permanently on my machine and I often forget when I have accidentally switched out feet what a huge difference it makes
Use a long stitch length (mine is usually at 4).
Use a good quality needle; size 90/14 Schmetz works well for me.
Top Stitching, when finished, will help reduce bulkiness and help the minky lay flat.
When sewing minky with another layer of fabric such as cotton or flannel, put the minky on the bottom to allow the feed dogs of the machine to help guide the fabric and prevent extra stretching.
Remember that minky has a nap (direction of the fabric pile) and to position it the way you would like it lay.
I prefer to cut my non-stretch (like cotton) material to the correct size and leave a little extra minky around the edge or seam allowance and cut off the excess after I sew the seam. I follow edge of my non-stretch material for my seam guide to allow for any fussiness the minky might have.
If you are not using any basting tape or spray, then pin every 1". Even pinning every 1 to 2 inches can cause the minky to become very fussy and difficult to work with.
I like to use a half-inch seam with minky since it is very heavy (especially when wet) and tends to pull on narrower seams, sometimes even causing the seams of the other fabric to be pulled out.
If working with a long pile minky, like Rose Swirl Minky, you can always shave down the area in the seam allowance to make it easier to s
Minky stretches horizontally across the grain, but has much less stretch vertically with the grain. I often use this to my advantage and sew my seam with the grain first.
It is often easier to cut your stable fabric such as cotton or flannel to the correct size first, leaving a few extra inches around the edges of your minky fabric before sewing. After seams are finished you can cut the extra minky fabric off.Now you will have a super easy time Sewing with Minky!