How to use a rotary cutter and mat to cut fabric.
Are you new to sewing and quilting and are wondering how to use a rotary cutter and mat to cut fabric? This in depth article will tell you not only how to use a rotary cutter, but tell you what and why to use a rotary cutter, as well describe the different rotary blades and cutters available, what supplies are needed for using a rotary cutter, how to prepare your fabric for rotary cutting, along with tips for using your rotary cutter safely. This knowledge is essential for any beginner quilter to safely and efficiently start learning how to use your rotary cutter to start cutting fabric for quilting.
What is a rotary cutter? Why Use a Rotary Cutter?
A rotary cutter, sometimes called a rotary fabric cutter, or fabric cutter roller is essentially a spring loaded circular razor blade that is attached to a handle ( it looks a bit like a pizza cutter) that can be used to cut fabric or paper for sewing, quilting, and paper crafts. The stainless steel rotary blades can easily be replaced after becoming dull and come in several different sizes each suited for specific cutting needs.
Types of Rotary Blade Cutters
Rotary blade cutters come in 4 sizes: 18mm, 28mm, 45mm, and 60mm. The most commonly used size for quilting is the 45mm. There are also several different handle types including the straight handle and comfort grip or ergonomic handles. Additionally, there is a new product from Fiskars that combines both the rotary cutter and ruler together to make it easier for beginning quilters or sewists to learn how to use it.
Rotary Blade Cutter Sizes and Uses
18mm Rotary Cutter is generally used for apparel sewing, applique, and cutting small shapes like those found in English Paper Piecing. It is the smallest size rotary blade and is appropriate from cutting curves, seams, and navigating tight corners
28mm Rotary Cutter is also handy for apparel sewing and works well cutting the curve of the arm holes and necklines as well as cutting curved quilt templates and small shapes, and applique pieces.
45mm Rotary Cutter is the standard size and most widely used rotary cutter and is best used for most quilting needs such as squaring up fabric, trimming corners or dog ears, cutting patchwork squares, and cutting long strips.
60mm Rotary Cutter is useful if you are cutting large fabric pieces in straight lines, such as cutting yardage off a bolt.
Rotary Blade Types
Rotary blades can and should be replaced when dull. You can purchase rotary blade refills in packs of 2, 5, 10, or 100.
Rotary blades come in different types. The most commonly used is the straight edge blade. You can also purchase specialty blades such as the wavy blade which is good for minky or chenille, or can be used in place of pinking shears. Its wavy edge can also be used for decorative purposes. Another type of specialty blade is the perforated edge blade, which makes small cuts that can be used to add a crochet edge or a lace up stitch to fabric edges.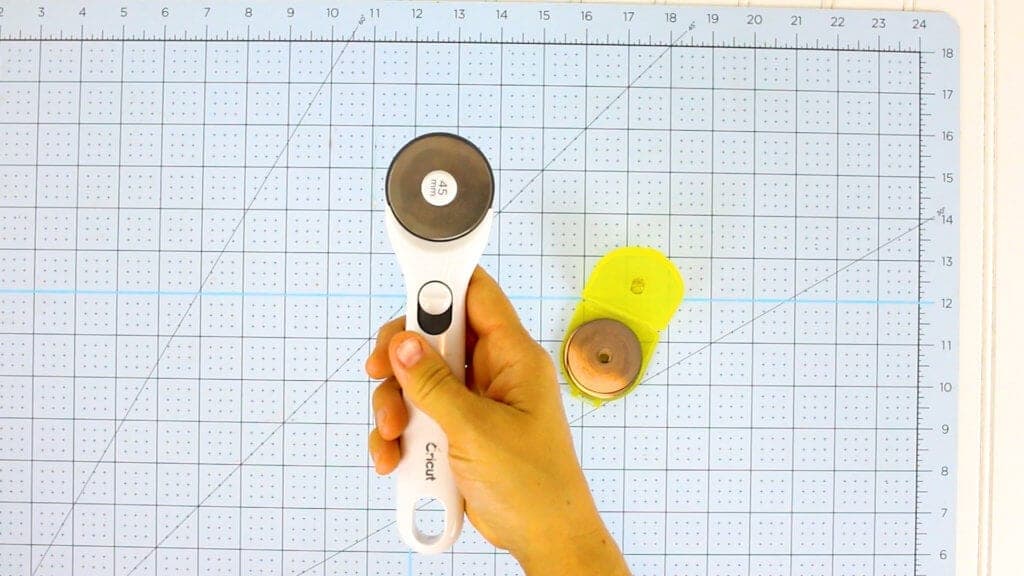 What is cutting mat? Why use a cutting mat?
A self healing cutting mat is a flexible thin mat that is made of several layers of plastic with a vinyl surface coating. They are important for keeping your work surface protected from nicks and scratches as well as keeping your rotary blade from becoming dull more quickly. The name self healing comes from the fact that the mat gets tiny nicks from the rotary blade sliding over it that close after the blade passes through. Self healing Cutting mats come in several different sizes suitable for your work space from small squares and rectangles to large mats that are 24" x 36", which is a common size for being able to cut a full yard of fabric.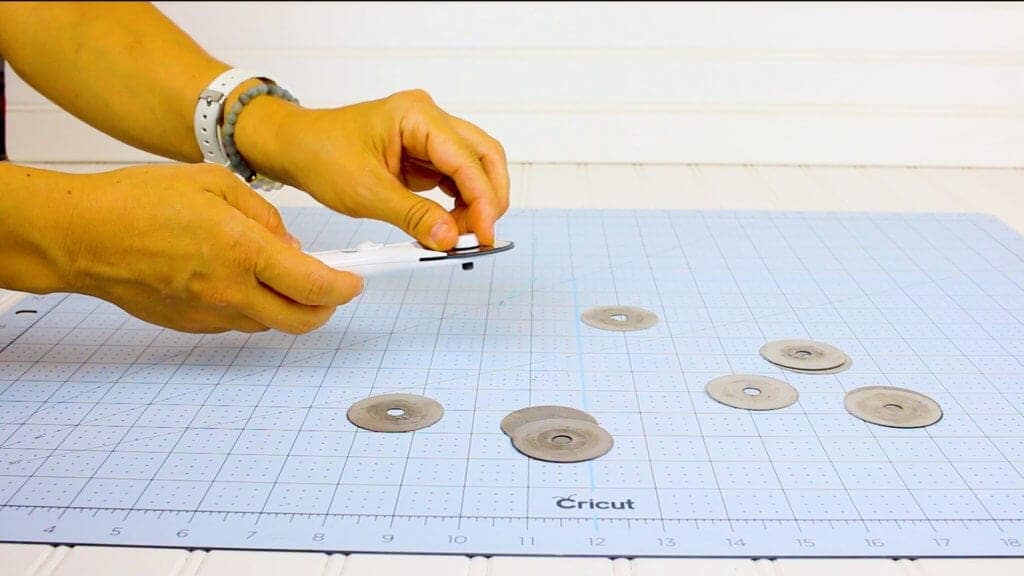 What is the Best Rotary Cutter?
Olfa was the first company to introduce a rotary blade cutter in 1979 and is known as the top of the line rotary cutter. Other brands of rotary cutters are made by Fiskars, Havels, and Cricut even produces its own line now. I have enjoyed using all of the above brands and found them to be equal in quality regardless of the price point. Some people prefer one brand over the other based on the handle or grip.

Two of my favorites are the Fiskars Rotary Cutter and the Olfa Splash Rotary Cutter.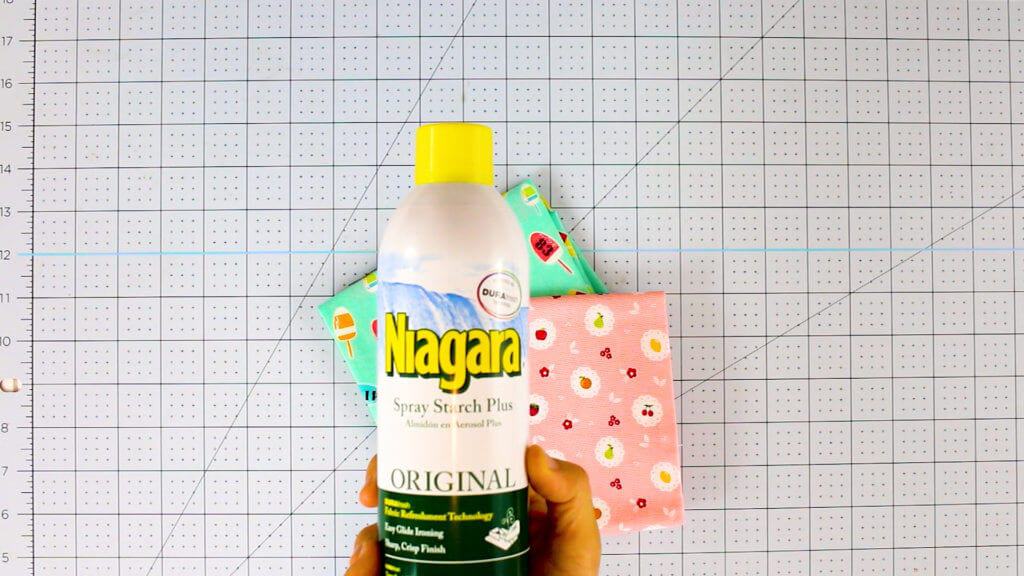 How to prepare fabric for cutting with a rotary cutter: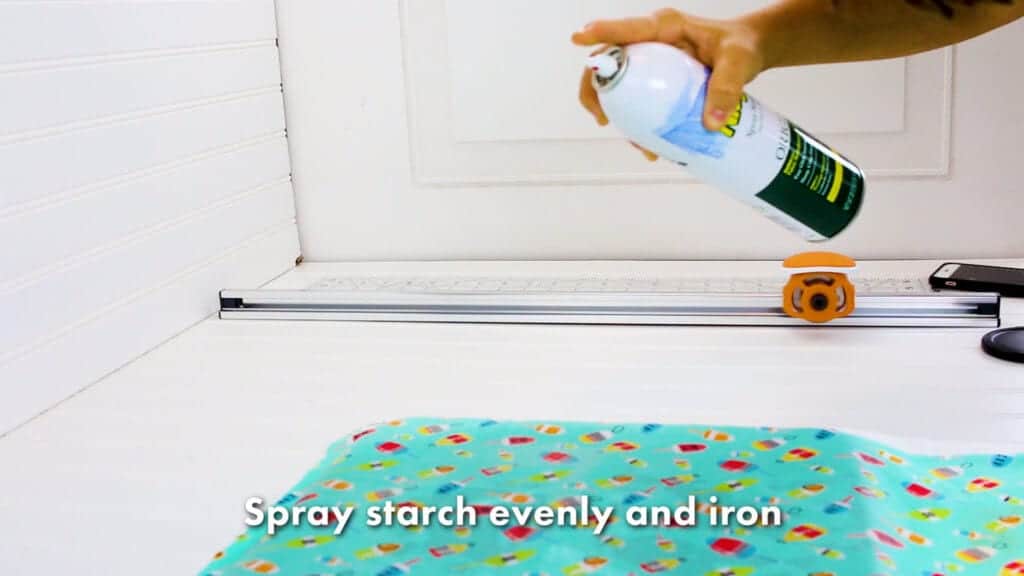 There is a debate over whether to pre-wash fabric for a quilt. I personally do not pre-wash the fabric when making quilt, unlike apparel making. Once you have decided whether or not to pre-wash you will want to starch your fabric evenly.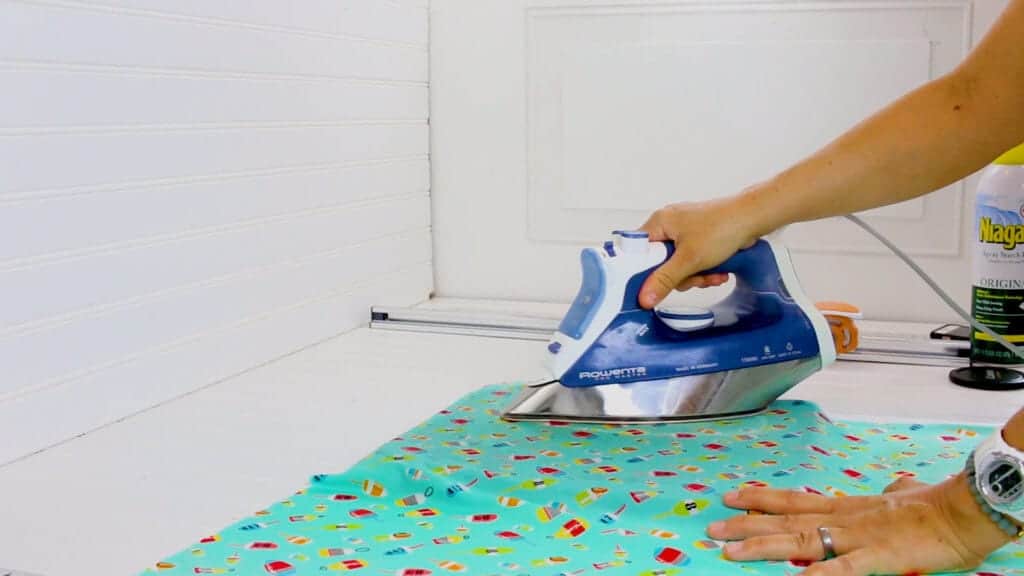 Then iron the fabric to make sure fabric is wrinkle free and lays flat. Additionally, the fabric will become crispy from starching and will be easier to cut.

Learn How to Quilt Series
Free Quilt Patterns
How to Use a Rotary Cutter
Supplies needed for cutting fabric with a rotary cutter

How to cut fabric for quilting
Quilting relies on perfectly cut fabric and straight seams. But if you don't start out with fabric that is cut straight and accurately, no matter how straight your seams are you will not be successful in achieving a perfectly pieced quilt. When fabric is cut from the bolt is often cut crooked and will need to be squared up; a quilting term for lining up the selvage (or fabric edges where the name of the manufacturer is) and cutting so that it forms a 90 degree angle with the fold line of the fabric.
How to square up fabric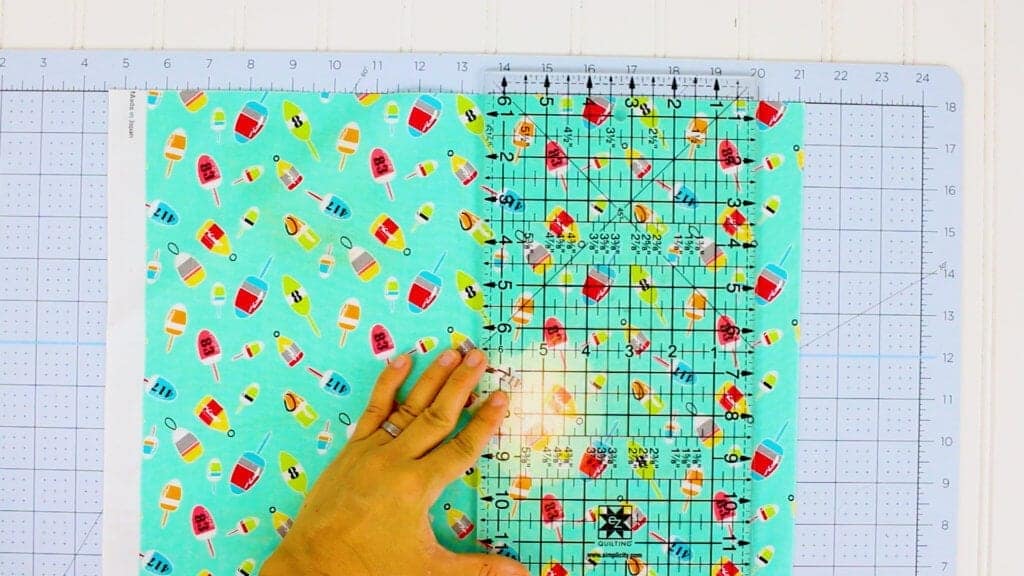 To square of fabric you will need to fold the fabric in half so that the selvages (the part of the fabric the manufacturer loads onto the rolls and contains the information about the fabric line and who makes it.) line up.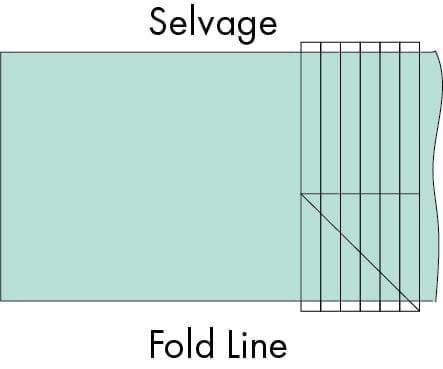 Place the folded edge on the bottom of the mat and the selvages on the top. The picture in the photo used a fat quarter so the selvage is not lined up the way it would normally be when cutting a half yard or more.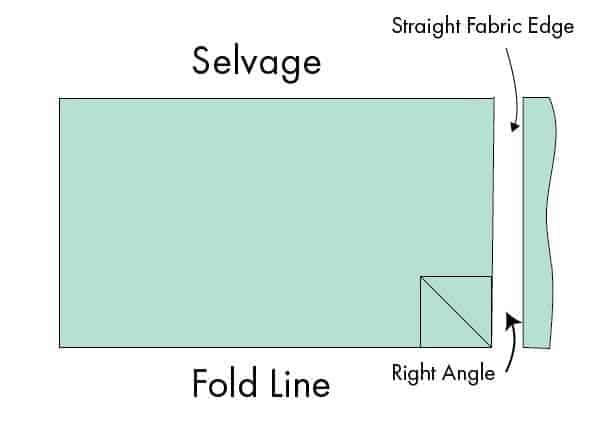 Line the ruler up so that the ruler forms a right angle to the fold line and selvage edge.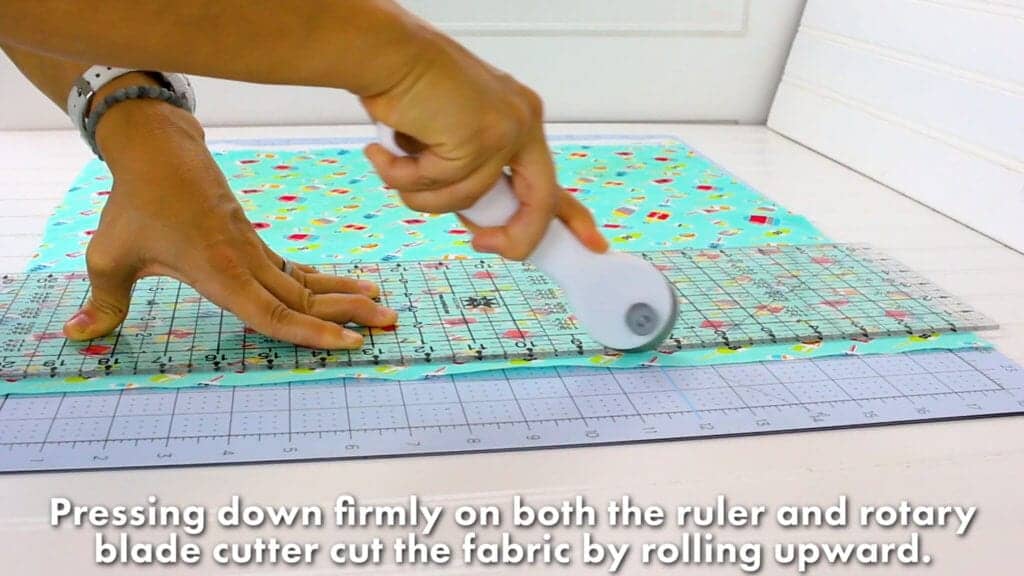 Press the rotary blade down firmly while holding the ruler steady and roll the rotary cutter upward (away from your body) to cut the fabric.
How to Cut Strips of Fabric
Once you have squared up the initial edge of fabric, flip that edge around so it is facing the left side. Self healing mats sometimes have marking lines that can be off and are not as accurate as the ruler so you will want to use the lines on the ruler to cut accurately.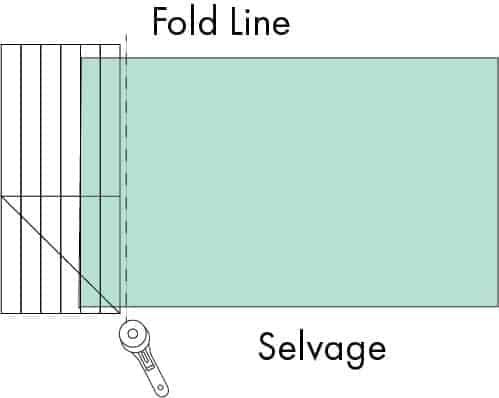 Place the ruler overlapping the fabric so the desired cutting width is achieved. Be sure that the ruler and fabric are both aligned horizontally on at right angle. Press down firmly on the ruler and rotary blade cutter and roll upward along the ruler.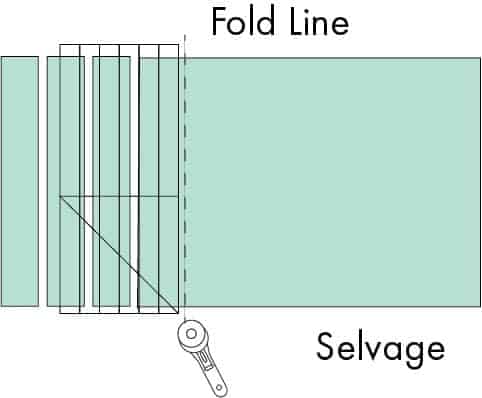 To cut fabric strips simply move over the ruler the desired width and make cut the fabric again to form a strip. Repeat as many times as necessary. Be sure to make sure the fabric stays aligned at a right angle and readjust as necessary as the fabric has a tendency to shift at times.
How to Cut Quilt Squares for Patchwork
To cut quilt squares for patchwork or other quilt patterns, including both the simple charm quilt pattern and the four square baby quilt pattern, you will need to turn your previously cut fabric strips horizontally.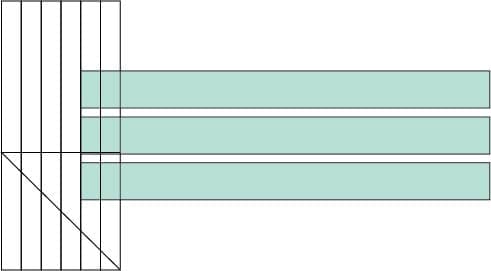 You can arrange them so they are stacked vertically, as shown above so that you can cut more than one at a time. Overlap the ruler and the fabric the same width that you cut the strips and roll the rotary blade cutter upward pressing down firmly.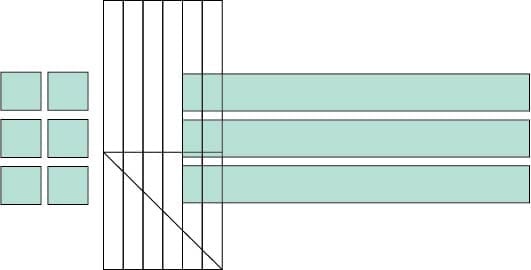 To make more squares repeat the same cut as above, moving over the ruler as many times needed.
Rotary blade cutter safety
When learning how to use a rotary cutter safety is of the utmost importance. Rotary blade cutters can be dangerous. I just want to make that clear. I cut a dime size slice off the side of my index finger several years ago when I turned my head while cutting. So that you do not have the same experience as myself I am including some of the most important rotary blade cutter safety tips.
ALWAYS close the rotary blade by returning it to it's cover after each and every time you set it down or use it. I cannot overstate the importance of this. Not only because if it falls on the floor, the blade is like to get nicked and then make cutting more difficult, but even more specifically because an open rotary blade that falls on the floor has the chance of slicing into any barefoot toes or feet that may be directly below. I have had a close call on more than one occasion and now never skip this step. Rotary blades are incredibly sharp and could do real damage to any body parts that it comes in contact with.
Also of importance to make sure that you are rolling or cutting with the rotary blade away from you body and not toward yourself.
When using the clear plastic ruler, be sure to place your hand on the far side of the ruler (away from the rotary blade) so that part of the hand is on the fabric and part is on the ruler. This will help to keep the rotary blade from accidently jumping the ruler and slicing right into your finger.
Never look away from the rotary blade while cutting. Keep your eyes on the rotary blade and ruler the entire time while making a cut.
Press firmly while cutting and use a sharp blade. You are more likely to be cut by a damaged or dull blade because of needing to push more forcefully as you are cutting, which is more likely to lead to an accident.
Use safety gloves. This is not mandatory, but recommended for an added measure of safety.
Only use a self healing cutting mat while using a rotary blade cutter to cut fabric.
Rotary blade cutter tips
Here are some extra tips that will help you learn how to use a rotary cutter with efficiency.
When measuring and cutting fabric it is more accurate to use the lines on your ruler or template for a straight edge, not the lines on the mat.
Starched fabric is easier to cut because of the crispness the starch adds to the fabric.
You may stack several layers of fabric at a time while cutting, but be aware that the more layers of fabric added the less precise the fabric cuts will be. I tend to stick with 2-3 layers at a time.
How to Use a Rotary Cutter and Mat
Pin How to Use a Rotary Cutter for Cutting Fabric for Later!