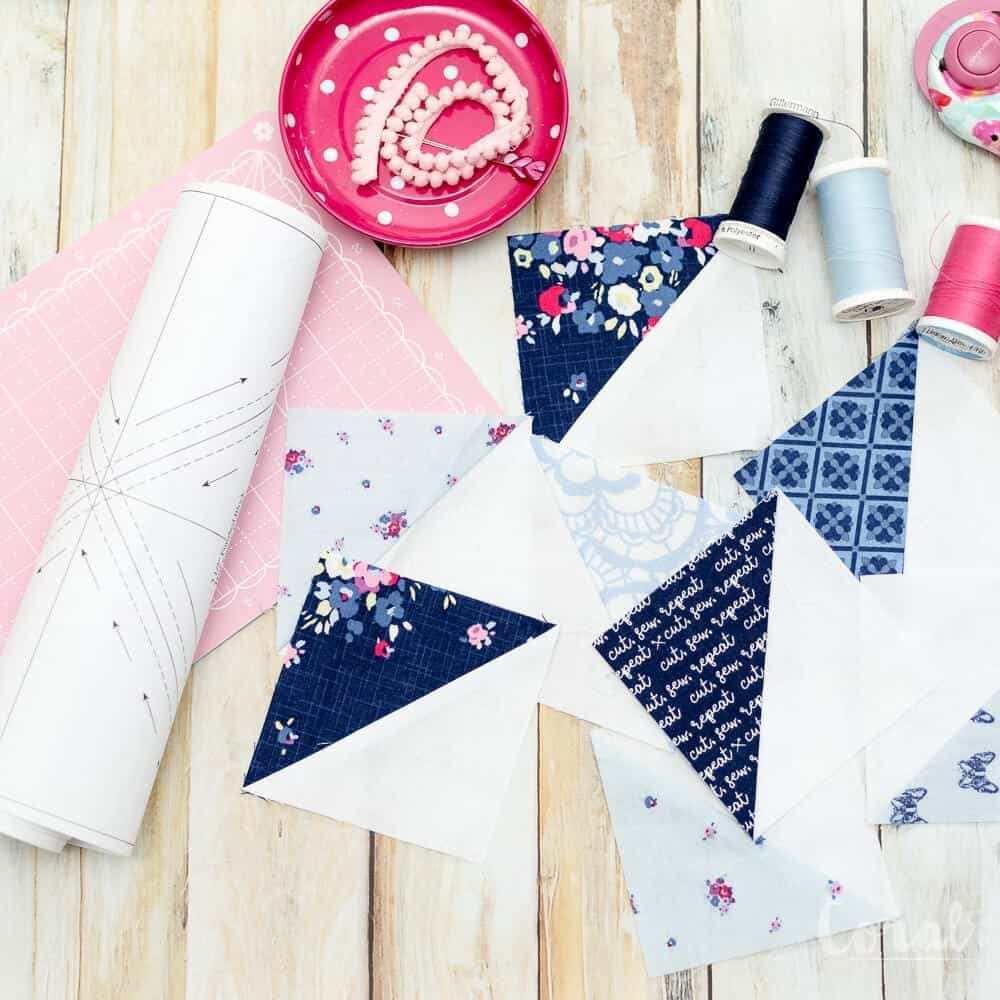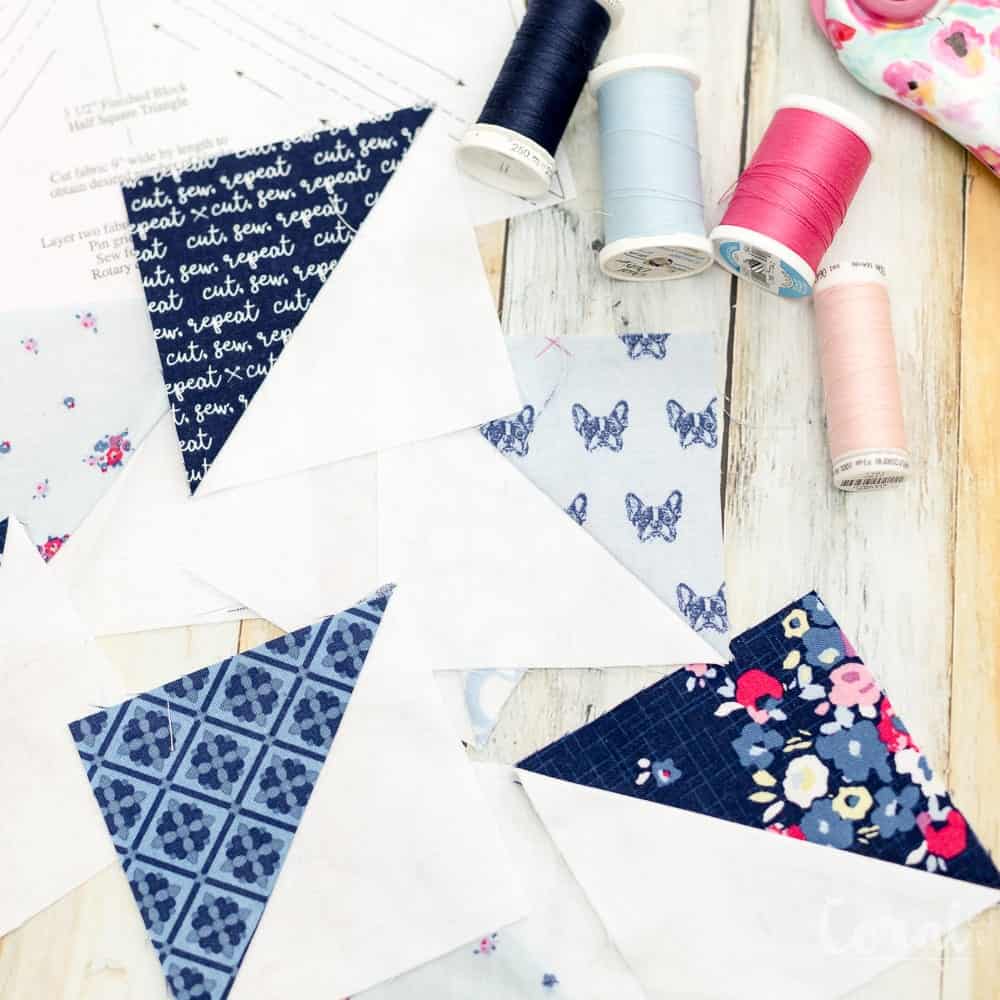 I'm pretty excited to have my first real video tutorial for you today! I started out with this video on how to use half square triangle paper to make half square triangles. I have definitely gotten the hang of photography but video is a whole new game.
It's a pretty quick video and shows you all the deets on how easy it is to get precise half square triangles when you use half square triangle paper. And speaking of half square triangles, don't these half square triangles look UH-MAZING with this Blue Carolina fabric from The Tattooed Quilter. All these shades of blue are just stunning. Seriously one of my favorite lines <3 All the heart eyes <3I had this project in my mind for months, picturing how the different prints of Blue Carolina would look against the crisp confetti cottons white. And I am totally stoked how it turned out. Sometimes you picture a project in your mind and then it turns out completely different, which seriously sucks. Especially after all that time you spent planning and daydreaming about it, shopping for the fabric, and then finally sewing it all together. But this definitely does not disappoint!
How to use half square triangle paper is part of a series on making Half Square Triangles. You can see the other posts below -
How To Use Half Square Triangle Paper to Make Half Square Triangles with Video
Supplies you will need
****This will make enough blocks to make a 45" x 60" finished lap quilt using 3" finished blocks, with a few extra left over.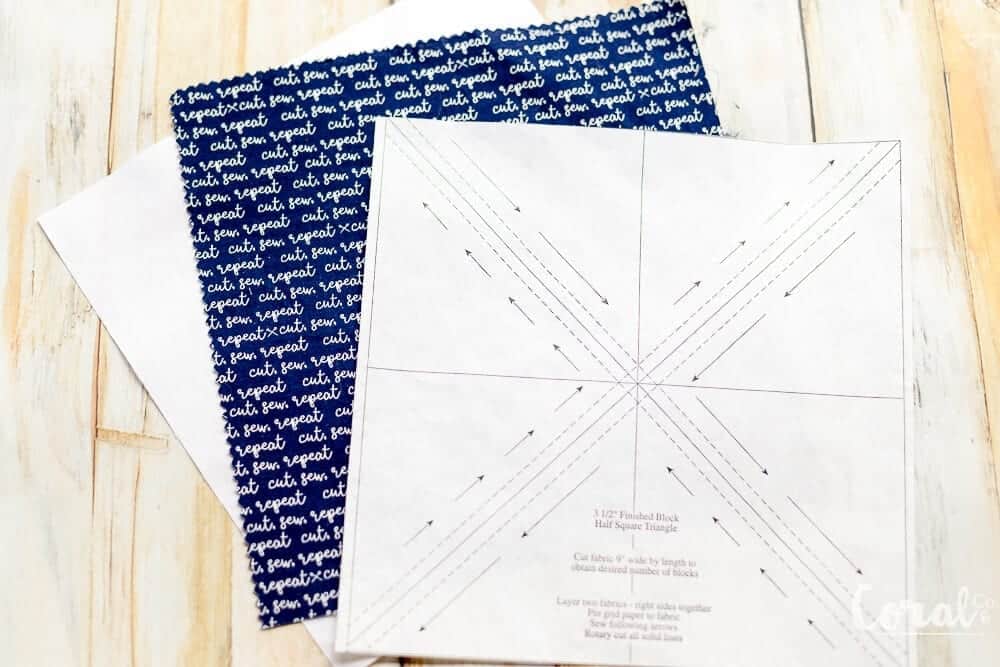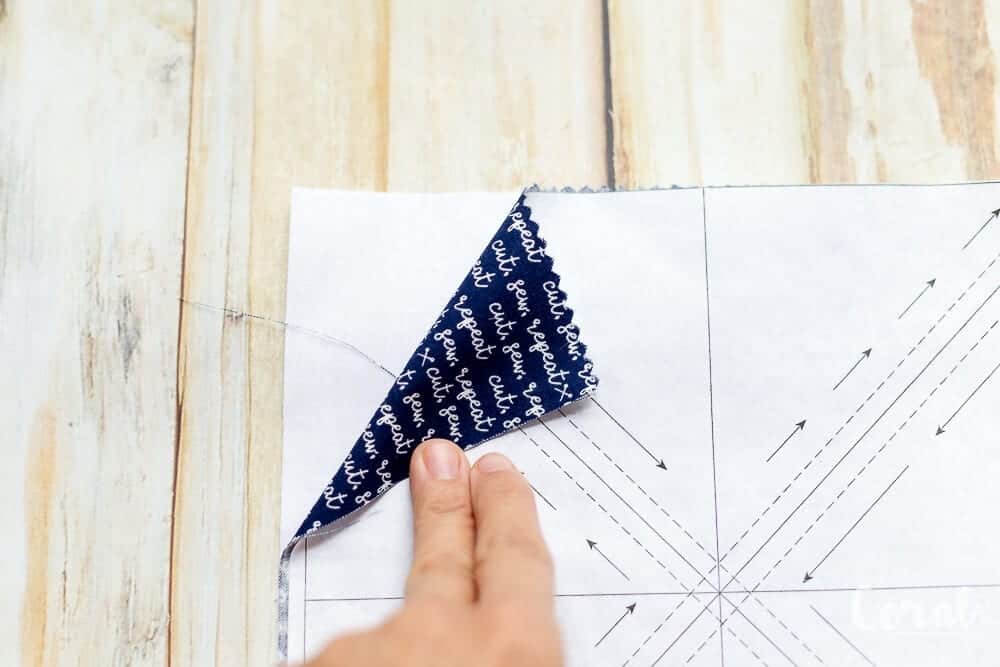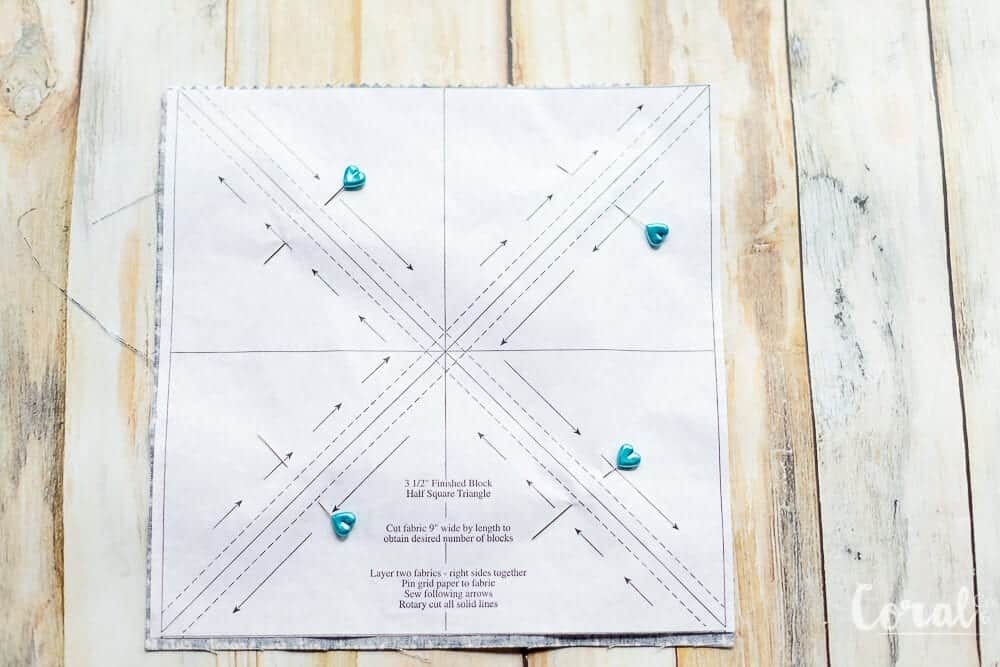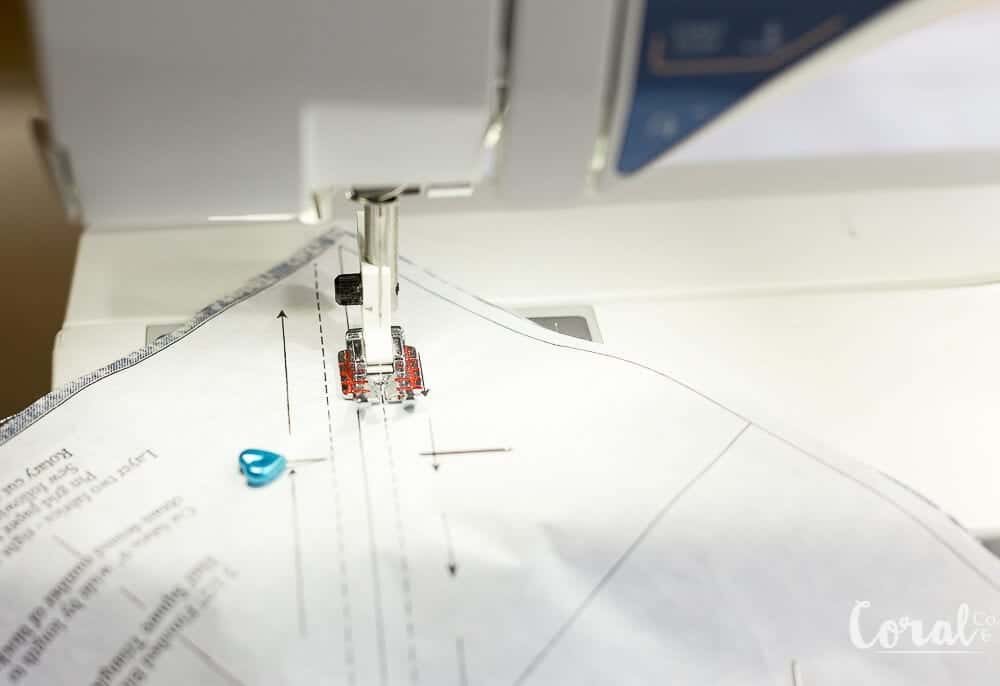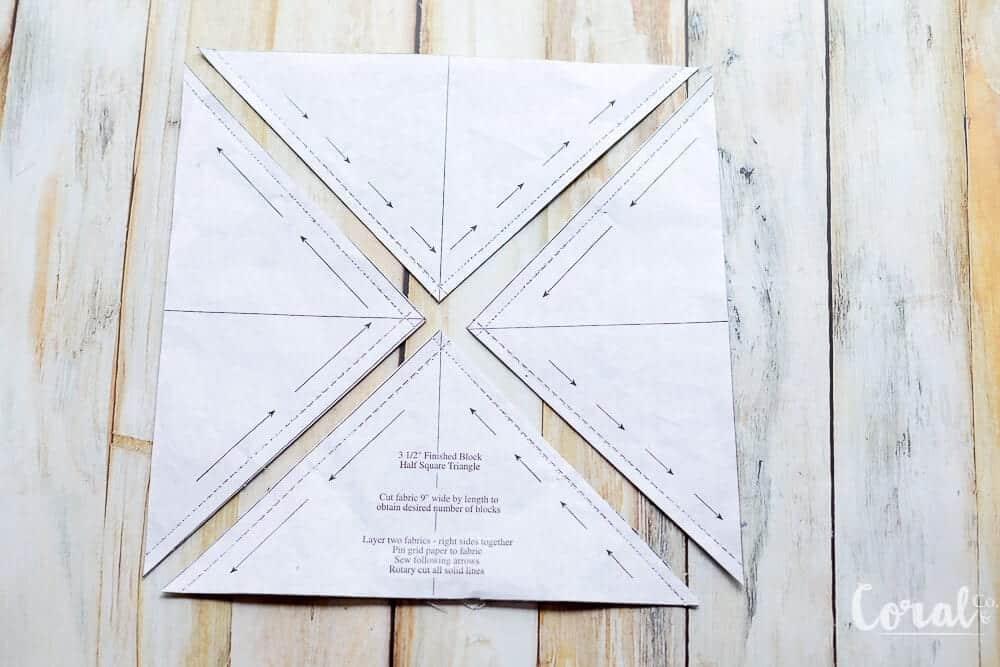 How To Use Half Square Triangle Paper
Trim down your 10" stacker to 9", so it will be the same size as the triangle paper
Using your tracing wheel score the stitch lines on the triangle paper to make it easier to tear off (you can see this in the video).
Making as sandwich lay down your white 9" square with your printed fabric facing down so right sides are together. Then Lay the triangle paper square on top with the printed side up.
Pin triangle paper in place so it does not move while sewing.
Following the arrows, sew down each of the dotted stitch lines. You will sew four lines total.
Trim edges and square up to make a nice even square.
Cut down the diagonal lines so you now have four pieces
Continue cutting across the vertical and horizontal lines to further divide the square into eight pieces.
Gently press open and square up. The finished triangle (with seam allowance - once blocks are sewn together) on the roll says 3.5", however, I like a little extra wiggle room and cut mine down to 3.5" before they are sewn, so they will finish as 3" blocks. This is just a personal preference.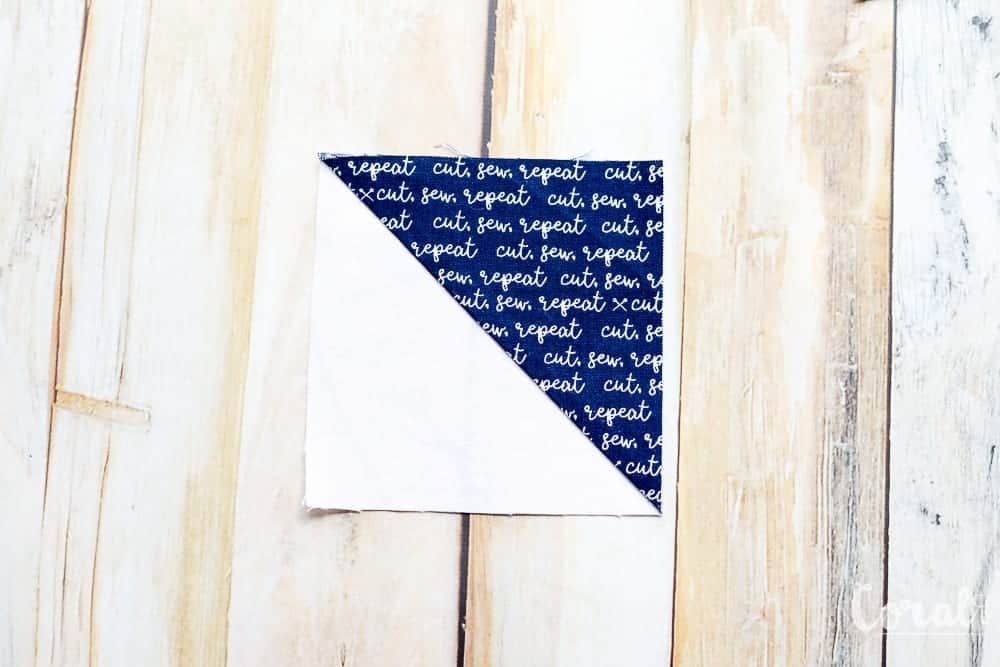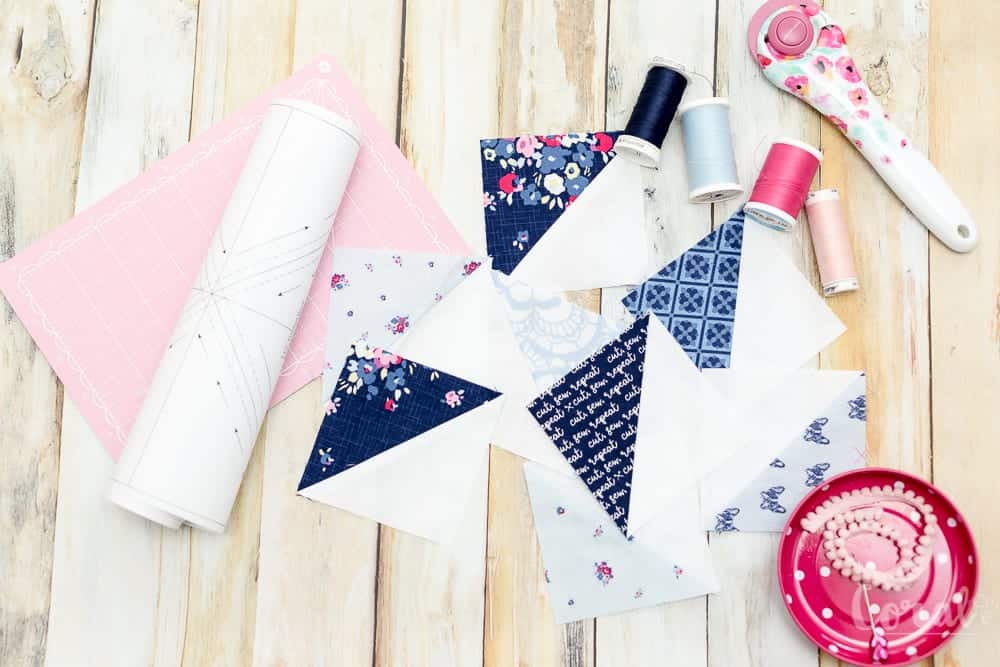 I need this quilt to be in my sewing room while I am cuddled up working at the computer. Cut, Sew, Repeat is perfect inspiration!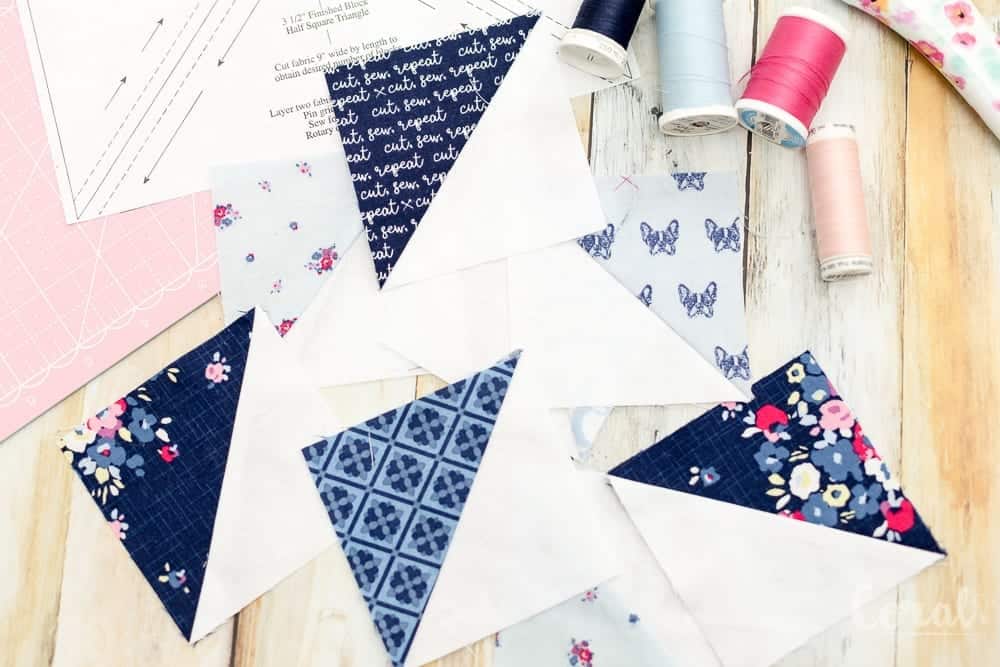 Did you notice the
pink cutting mat
and pink
polka dot pin bow
l? Aren't they ridiculously cute? Lori Holt has a crazy cute new line of notions that I just can't get enough of I seriously want one of the magnetic pin trays in
every
color!Easy peasy! Now you know how to use half square triangle paper to make half-square triangles. Aren'tblues are so soothing? I can't wait to see this quilt finished! And I am totally over the moon because this line is being printed in knit fabric too. Gorgeous!!!
Learn How to Quilt Series
Free Quilt Patterns