Its all about hearts this week! So I'm sharing this bold red and aqua hearts Cricut Maker Quilt Pattern version on my Mini Heart Block Valentine's Day Quilt Pattern. If you are new to quilting then this is the perfect opportunity to learn to Quilt with Cricut. If you like this mini quilt, you might also like the Quilted Heart Block Pillow Pattern.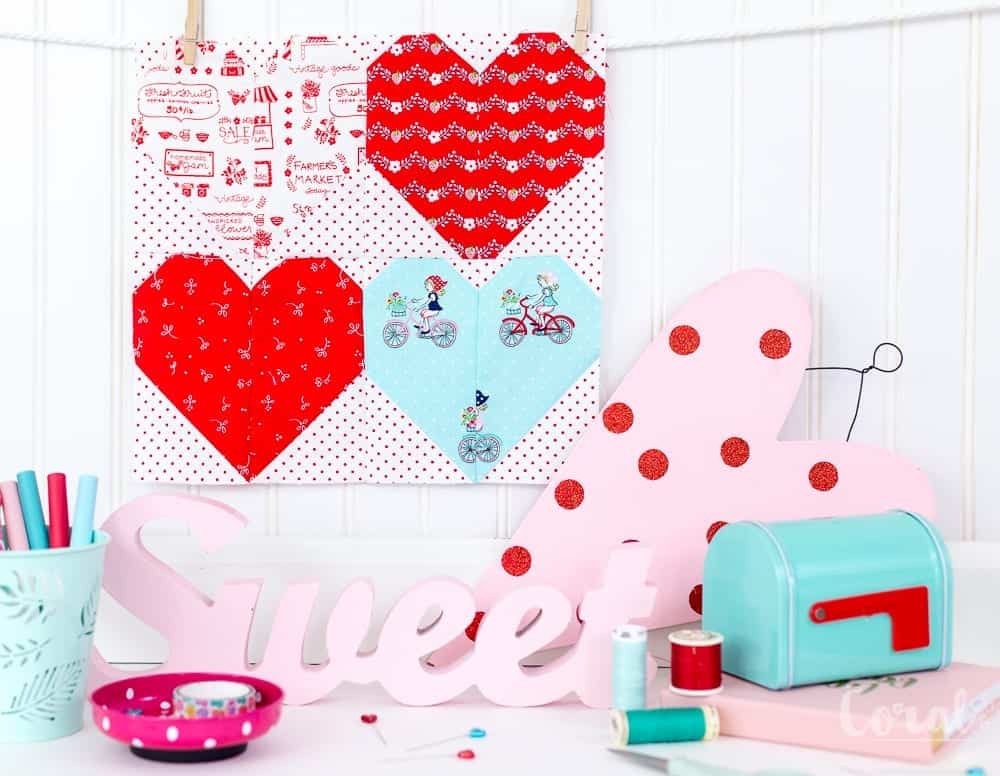 People often ask if the Cricut Maker can cut fabric for a quilt? Well, the answer is yes! The Cricut Maker has a special rotary blade wheel that is made especially for cutting fabric. Any kind of fabric. Including fabric for a quilt!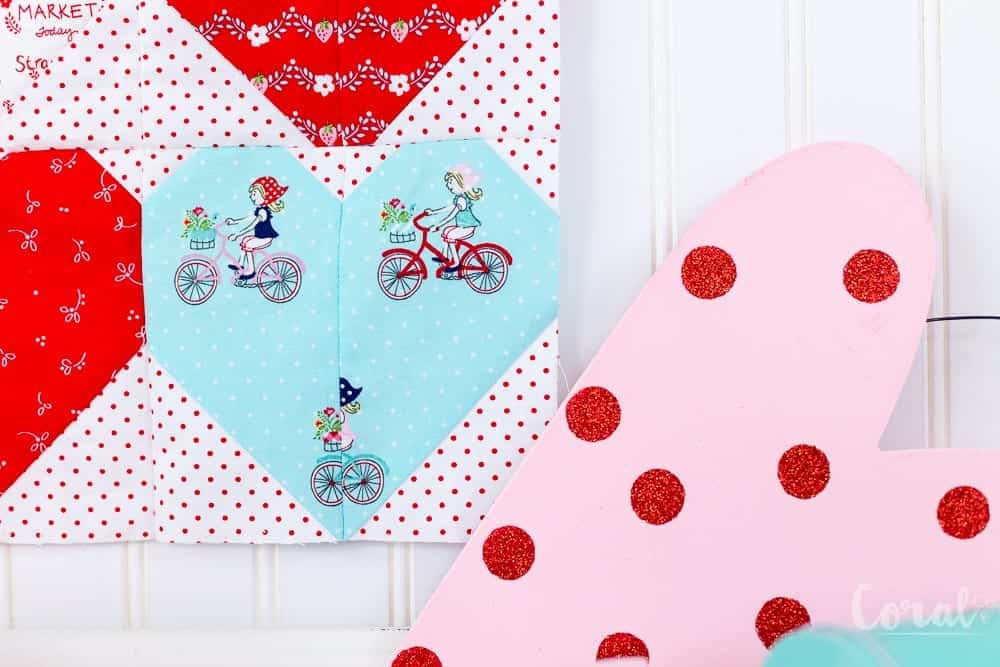 There are also other Cricut Maker Sewing Patterns including the Knot Bow Headband Pattern. and the Chrysanthemum Felt Flower Pattern. But you can find an entire gallery of Cricut Maker Sewing Patterns in the Cricut Design Space gallery including Simplicity sewing patterns.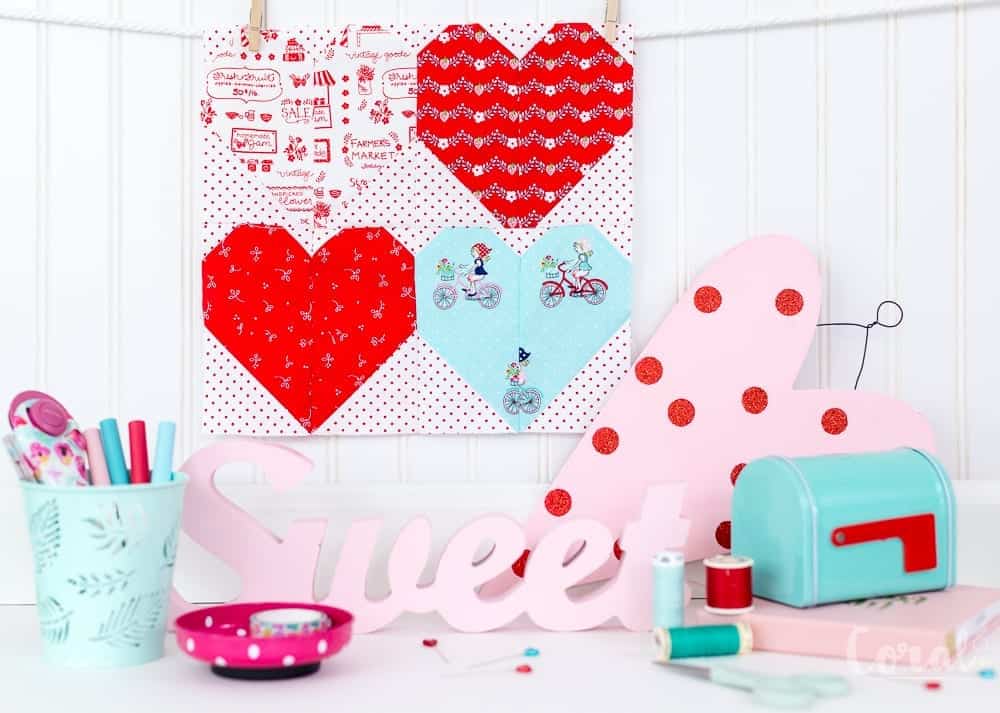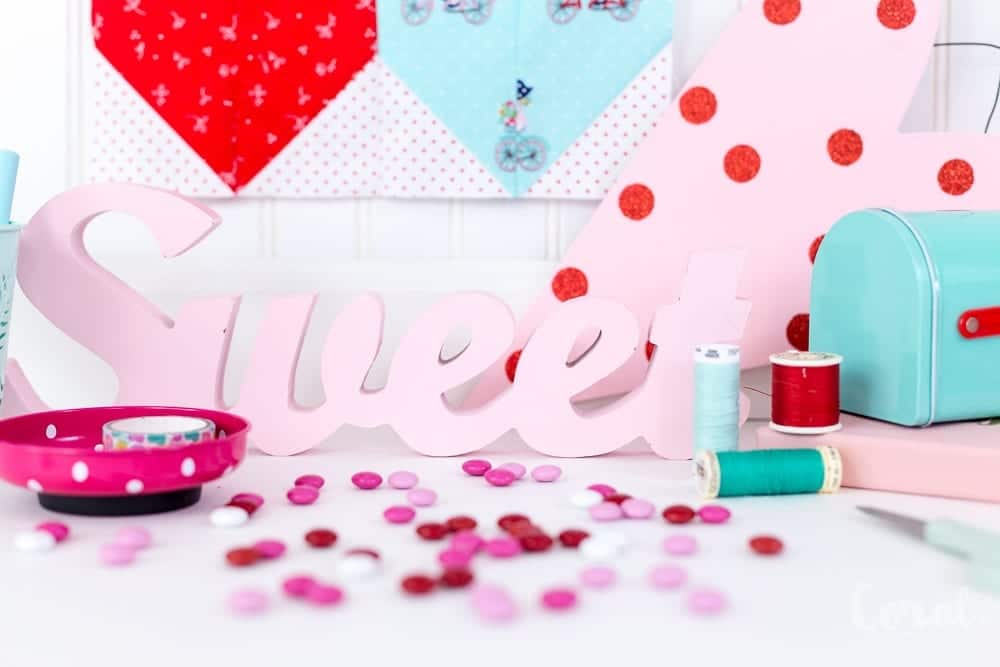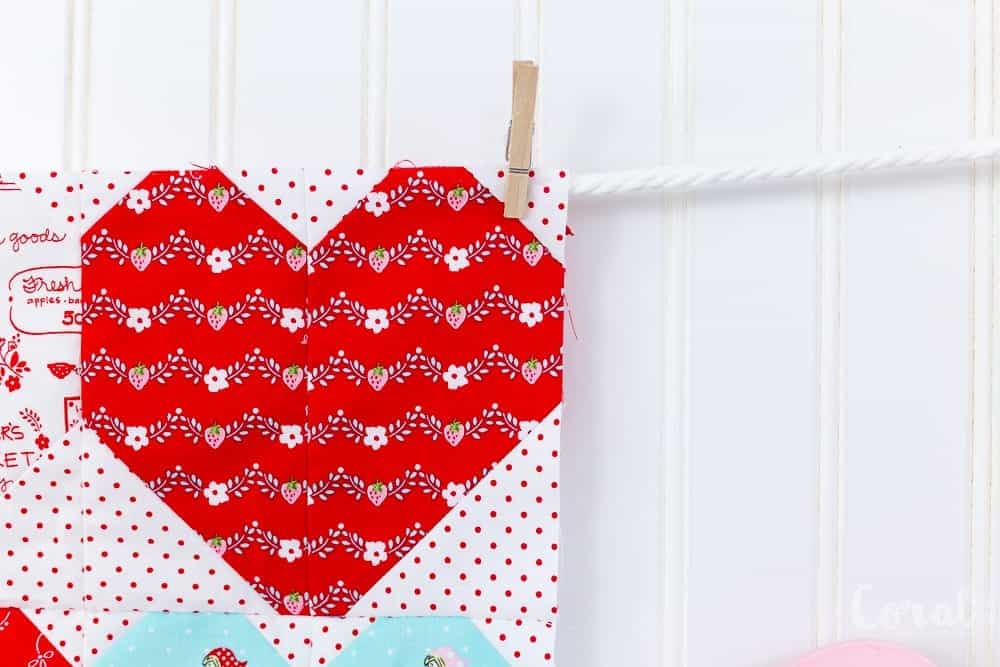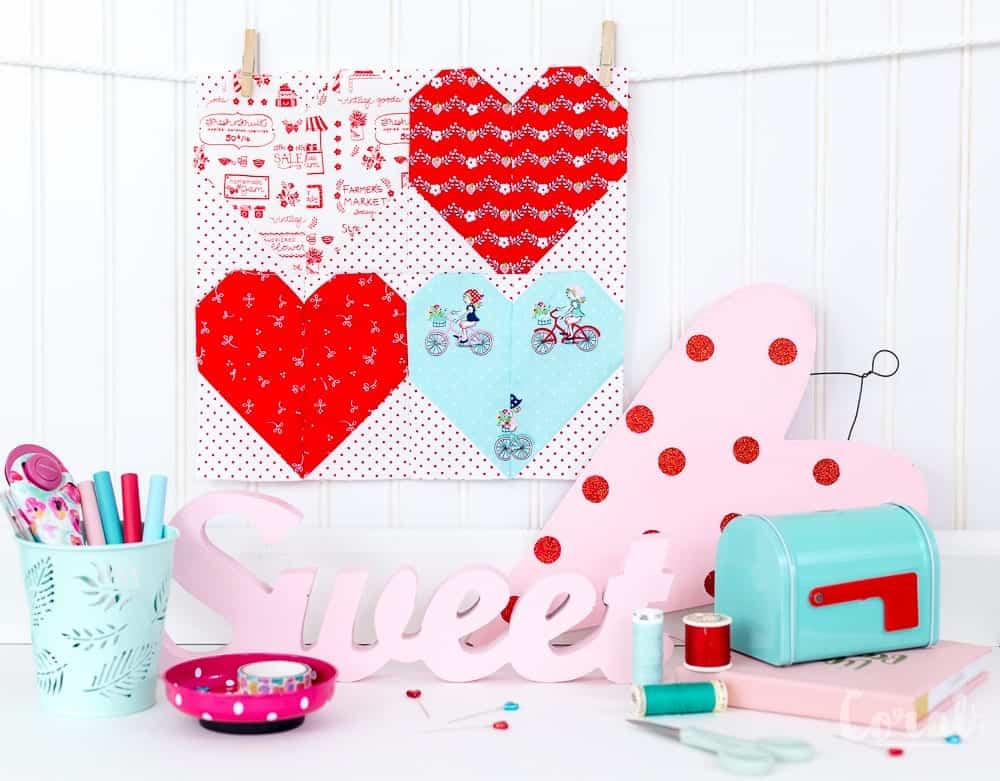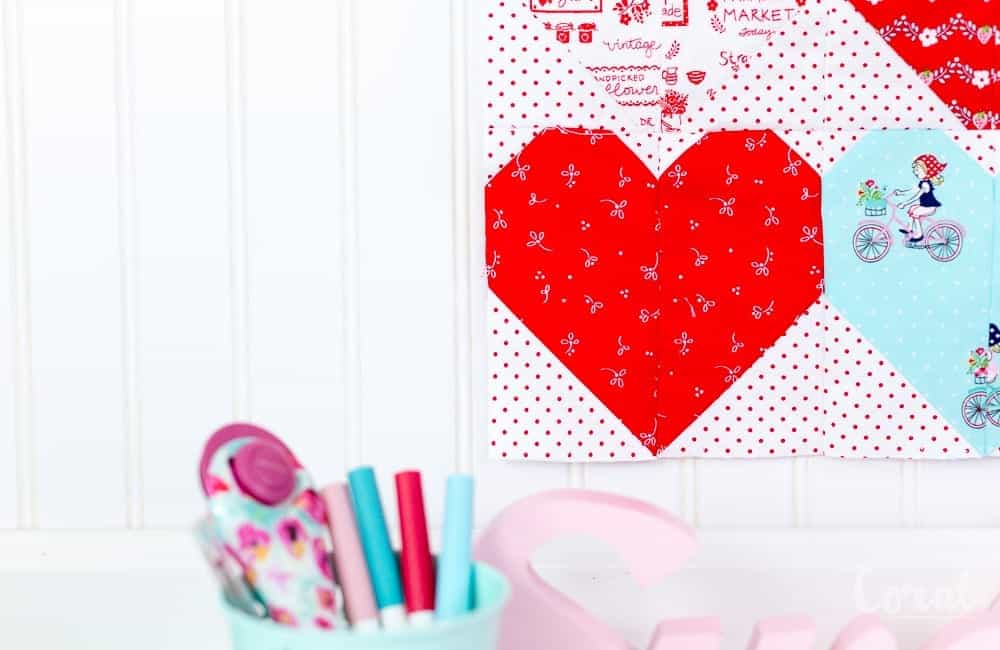 I'm totally bringing the red and aqua trend back! Do you remember back a few years ago where you couldn't go anywhere without seeing these two colors all over the internets? Well, they are back because red and aqua make such a punch! I dug way down deep into my Tasha Noel fabric stash and pulled some prints from some of her various collections. You can see some of the other projects I made with her collections here, here , here, and here. Let me tell you it was painful cutting into some of Tasha Noel fabrics. Especially the ones that are no longer available. like the country girls line (the little red and white floral print).I also was hoarding the red swiss dot, because...its's swiss dot!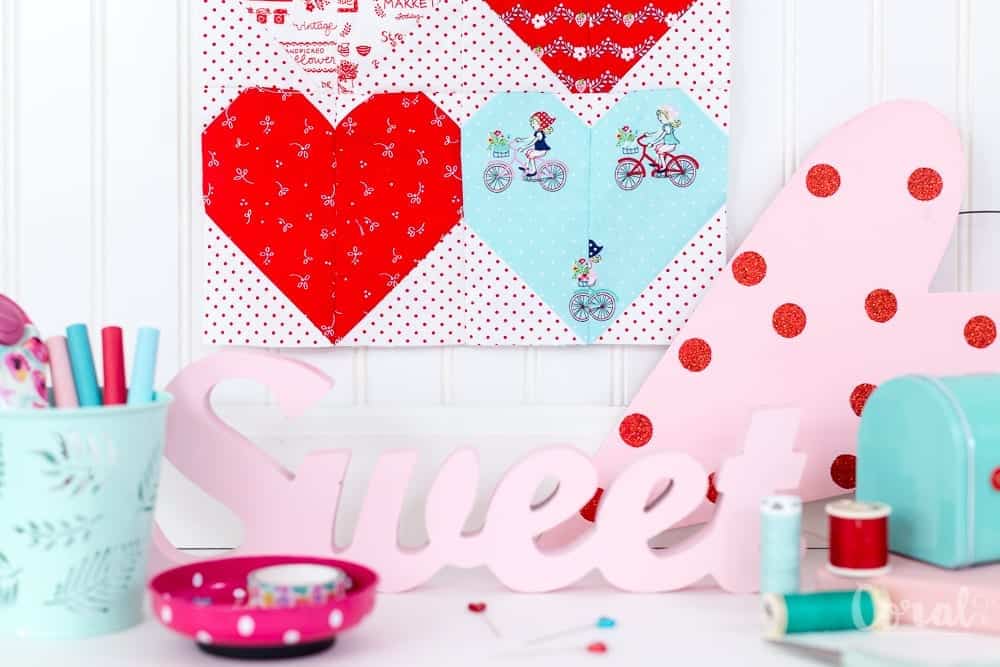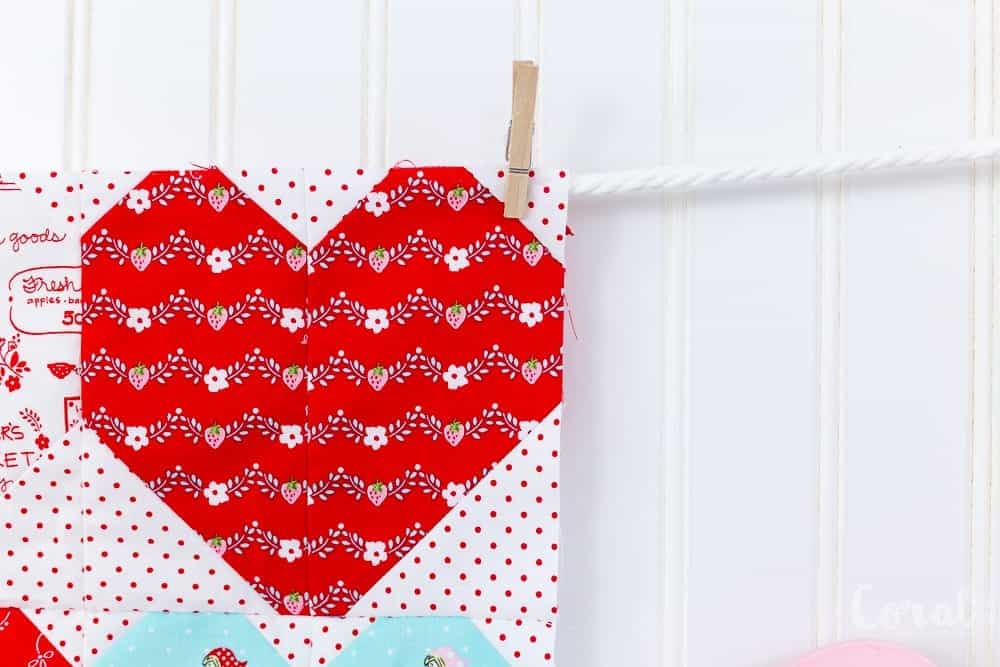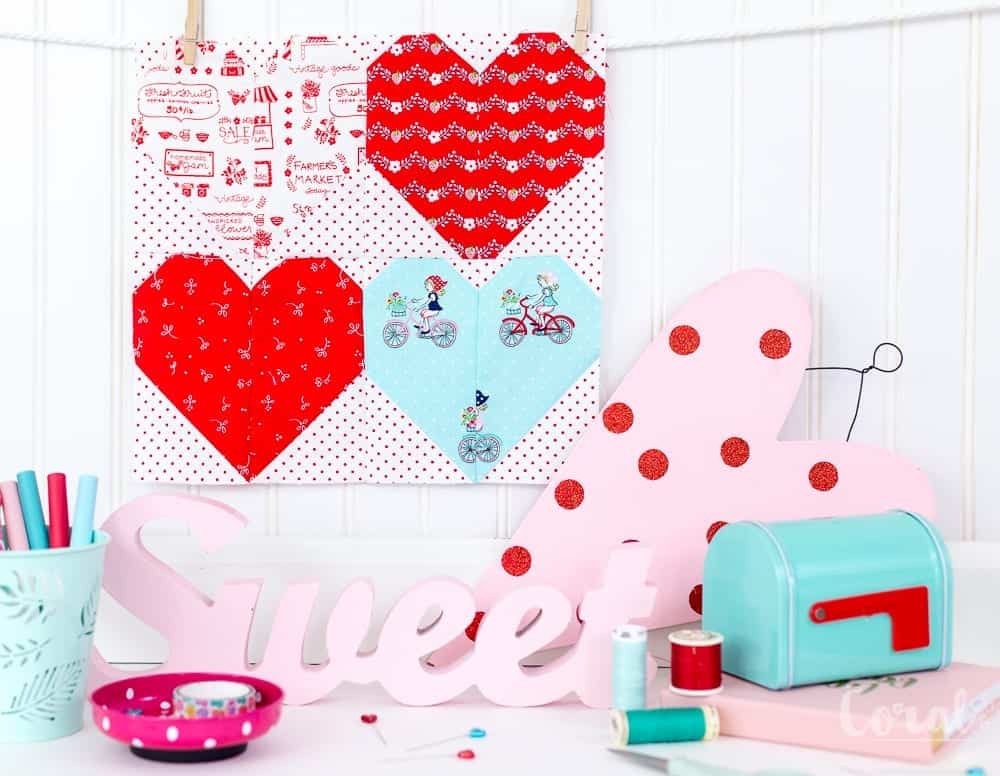 Couldn't you just make everything with swiss dot?! It added so much charm to the binding of this quilt.I cut the Valentine's day quilt pattern out with the Cricut Maker and loved how easy it was! It is so easy to quilt with Cricut, it cut the little squares so precise, especially the tiny half square triangles. I made a Free Cricut Maker Quilt Pattern with SVG files for you with this heart block quilt pattern so you can easily cut and make your own Cricut maker quilt!
Fabrics pictured above clockwise from left to right - 1. Vintage Market Text Red 2. Vintage Market Vine Red 3. Country Girls Red Floral (sold out) 4. Vintage Market Bike Ride Aqua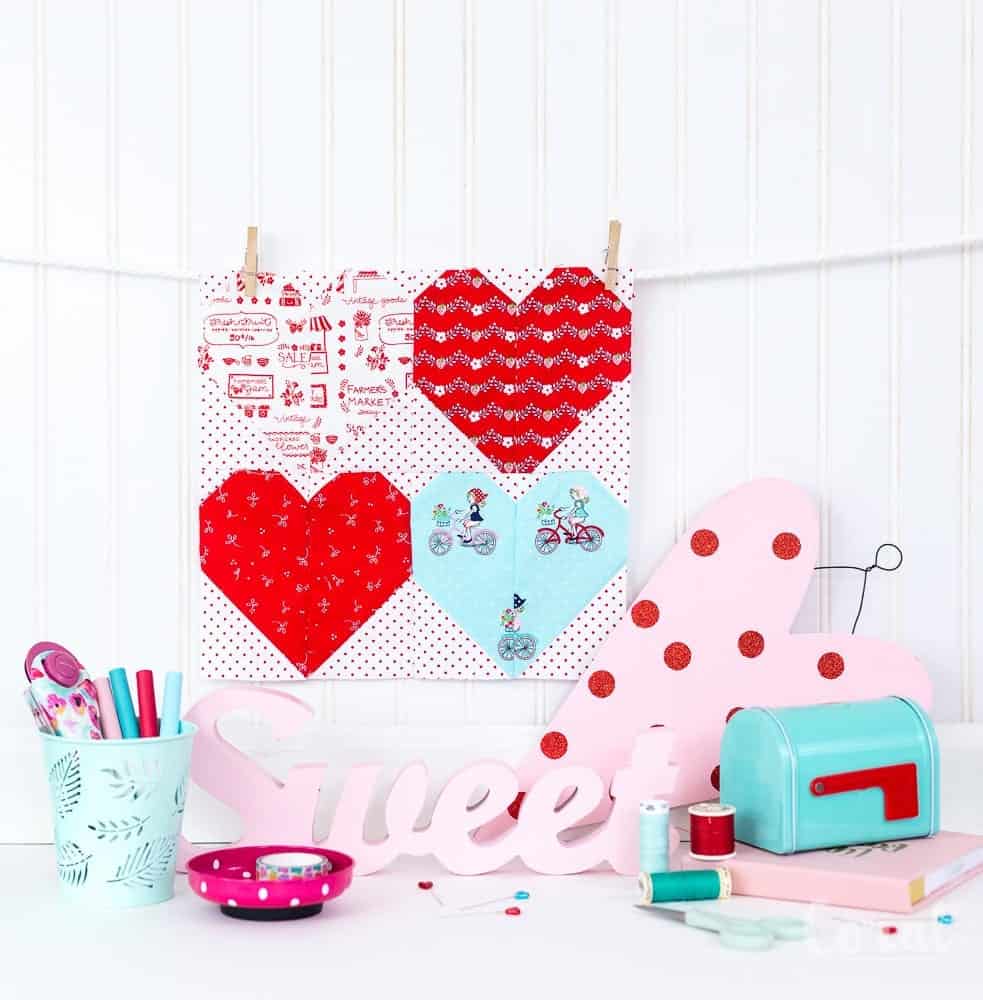 Here is what you will need to make the
Cricut Maker Quilt Pattern - Valentines Day Quilt Pattern
Cricut Maker Heart Quilt SVG (Available in the Resource Library)
Mini Heart Quilt Block Pattern and Tutorial
4 10 x 10 scraps of fabric
1 fat quarter of background fabric
Find the Mini Heart Block SVG in the Resource Library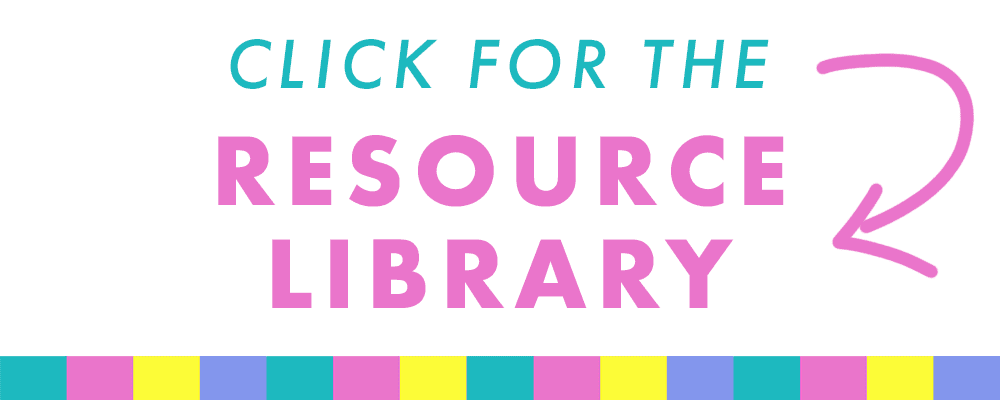 Quilt With Cricut Valentine's Day Quilt Pattern for the
Cricut <3 Be Mine <3 Valentine's Day Blog Hop
Monday 1/29 Sweet Red Poppy * Amber Simmons * Sew Sophielynn
Tuesday 1/30 Coral + Co. * Patchwork Posse
Wednesday 1/31 The Intrepid Thread
Thursday 2/1 Heather Handmade * Paisley Roots * Pattern Revolution
Friday 2/2 That's Sew Kari * Maytime Moms * Swoodson Says