Are you ready to adorn everything around you with some really fun felt flowers?  Then I have the perfect DIY Chrysanthemum Felt Flower Tutorial to show you.  Using the Cricut Maker and Simplicity Patterns I will show you how to make the perfect DIY Chrysanthemum Felt Flower every time.  You can skip all the way to the bottom to watch the video version of the tutorial.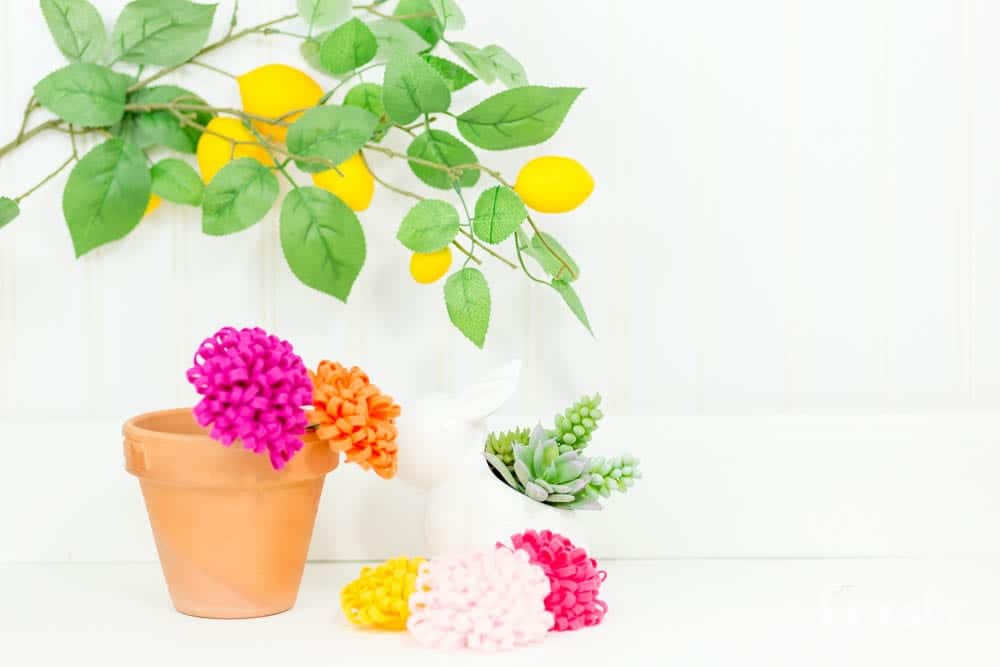 Little known fact: mums are my favorite flower.  I know, weird right?!  Everyone else likes roses and tulips.  Gorgeously petaled peonies and hydrangeas.  But me?  Nope, I like the pretty mums that come into season every fall as it cools down.  Ok, so it might be because I am a November baby and that is my birthday month flower.  But honestly, there is just something about  Chrysanthemums and their many colors that just makes me love them.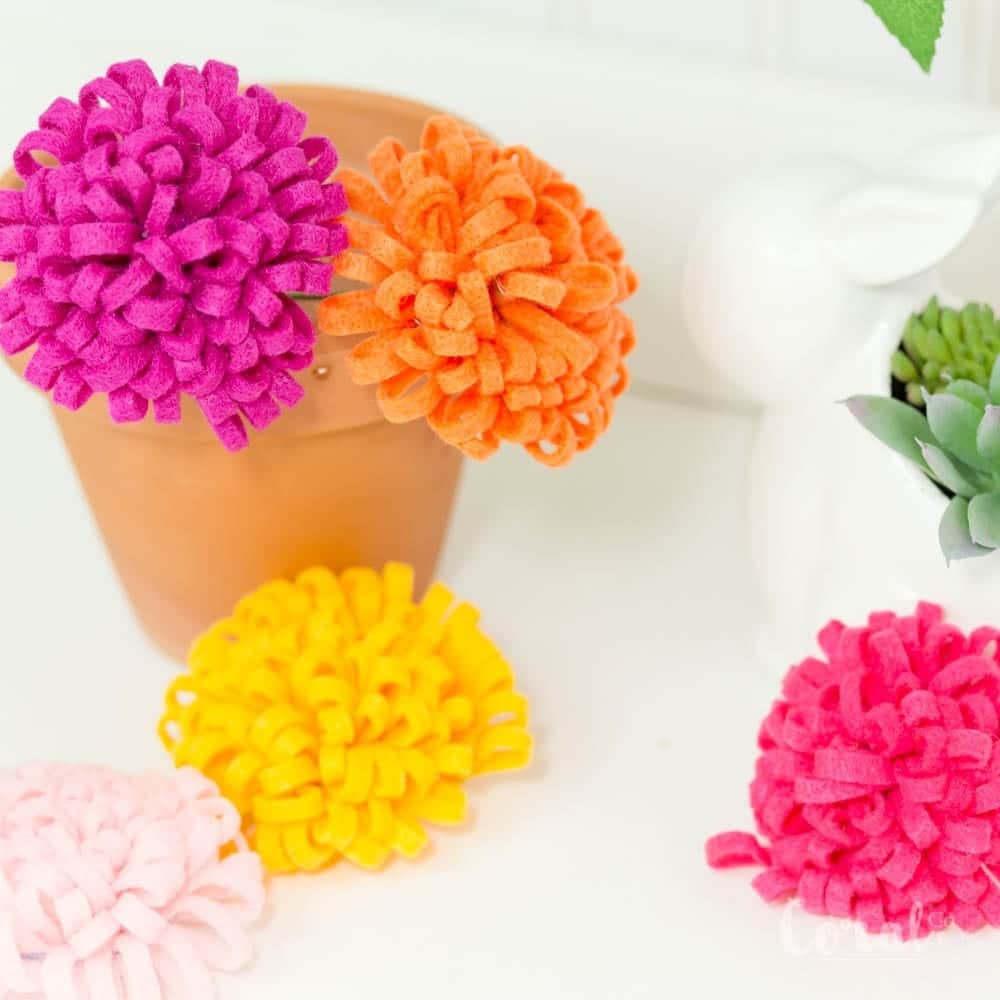 If you've been hanging around for awhile you may have noticed that I have become a complete Cricut convert since Cricut came out with the new Maker machine.  It cut's fabric so enough said!  You can see some of my favorite Cricut projects including this heart mini quilt and this knot bow headband.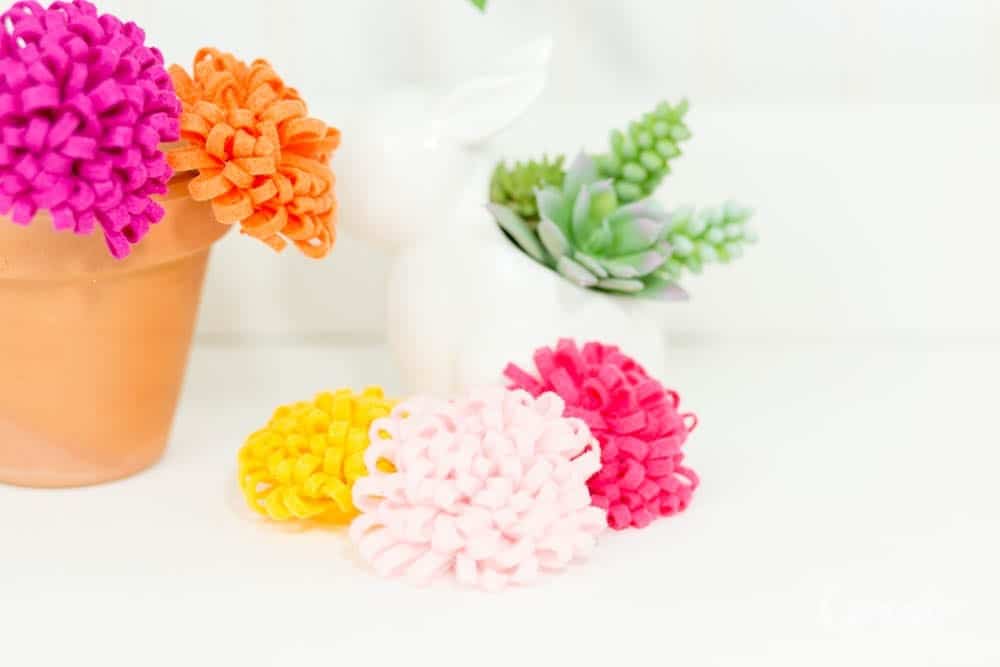 One of the really cool things that has happened since Cricut came out with the Maker is that they have teamed up with Simplicity Patterns to offer some great patterns that can be cut right on the maker.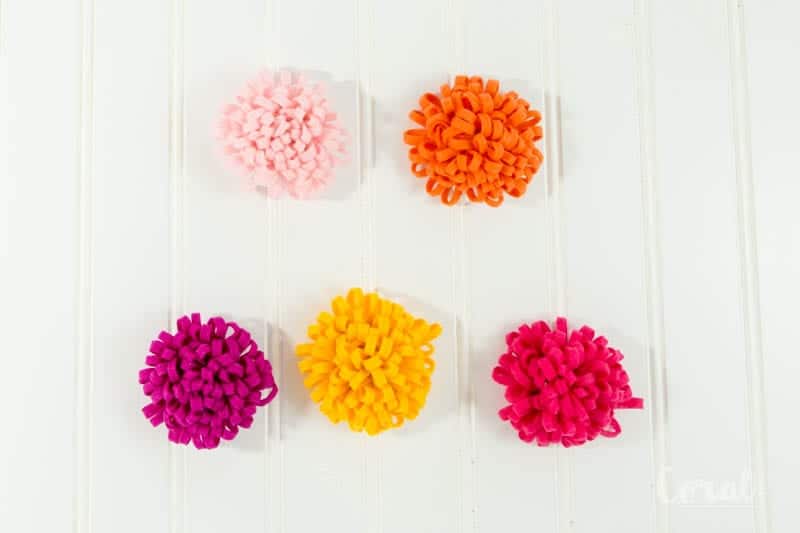 No more having to unfold the unwieldy tissue pattern, pin it in place, and cut every so carefully around the edges trying not to cut the pattern piece itself.  Not to mention trying to fold up that big old tissue paper pattern that refuses to ever fit again in the envelope upon which it came.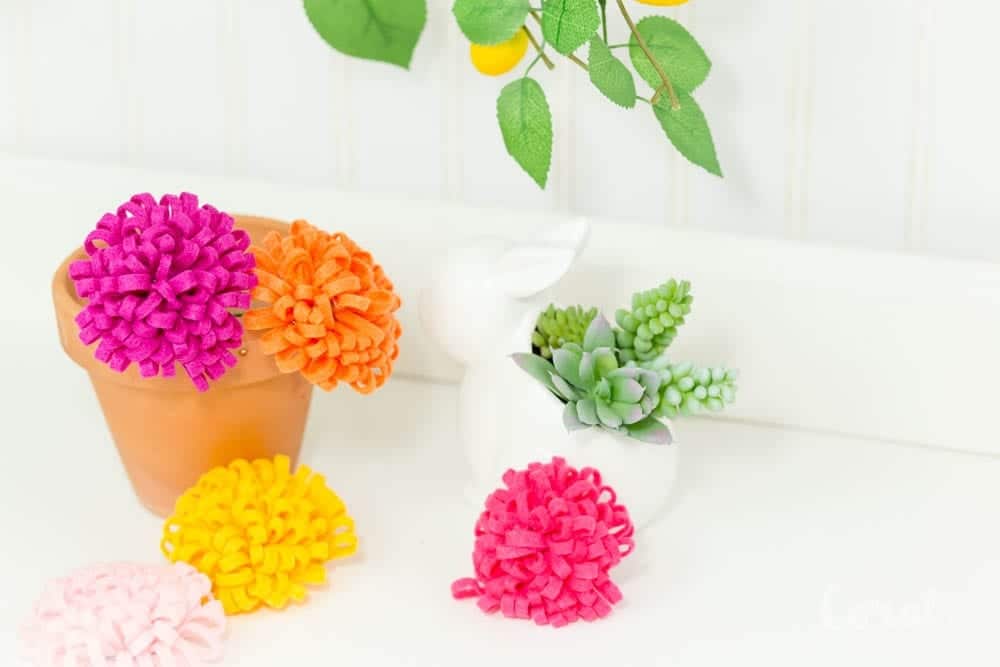 The Cricut Maker makes it super easy to lay your fabric on the cutting mat, load the pattern through design space, and the Cricut Maker will cut your Simplicity Pattern out for you.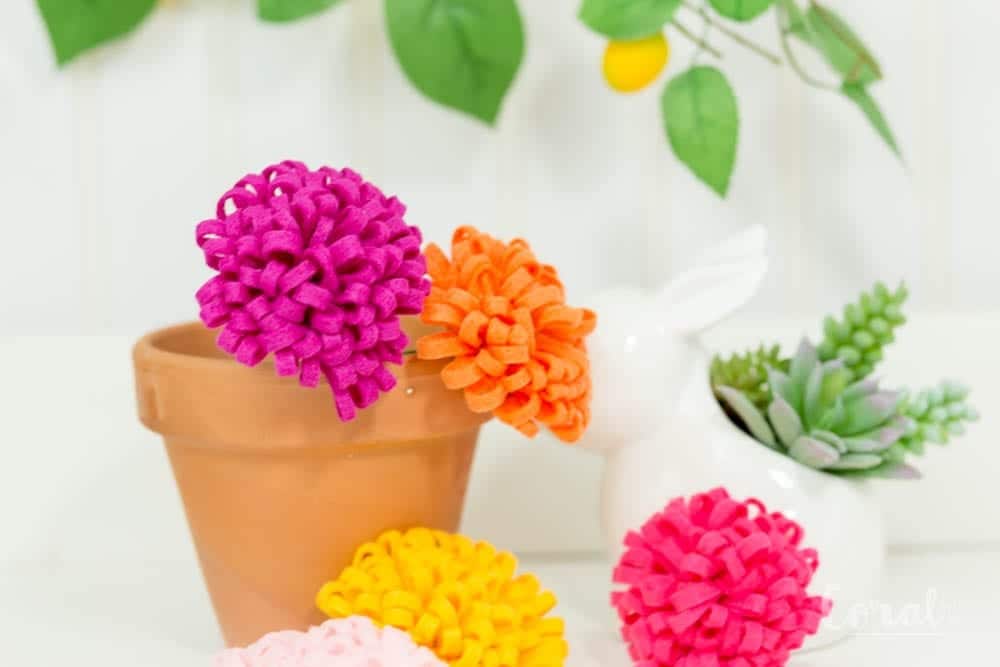 All you have to do is follow the sewing directions provided in the pattern and you have a beautifully made new project.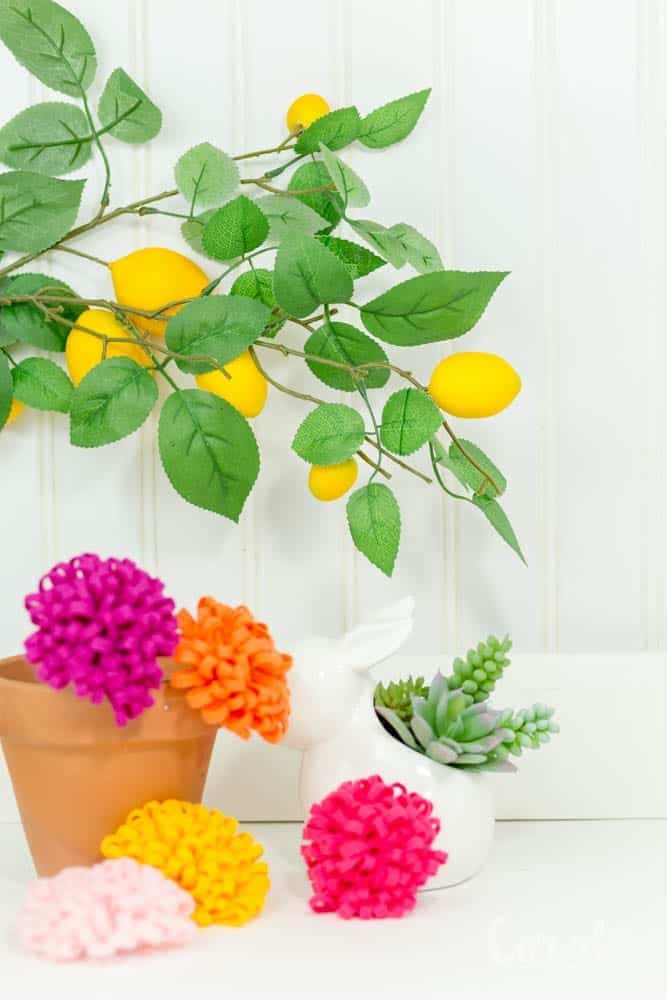 I personally dislike cutting felt with scissors.  I can never get it to cut exactly as I would like and my edges are always a little.  But using the Cricut Maker to cut out the Chrysanthemum Pattern from Simplicity made it super easy and it looks beautiful.  The cuts are perfect and I was able to work on some other projects while it was cutting the felt.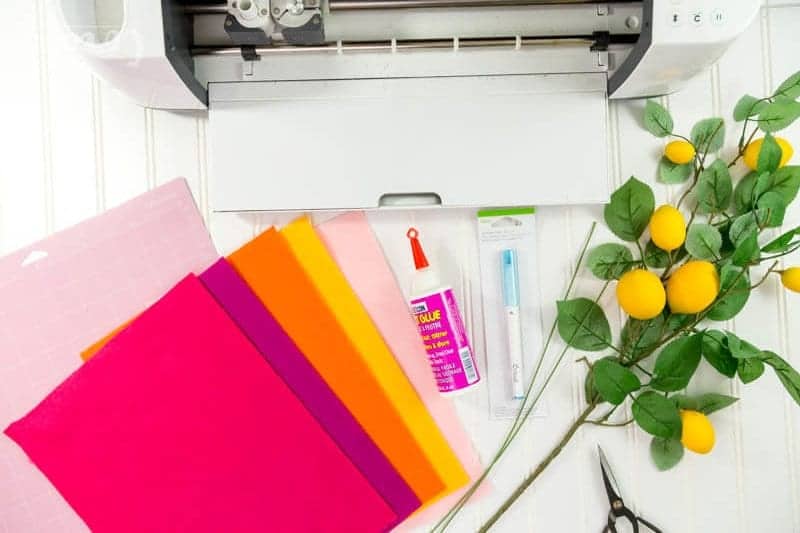 Supplies You Will Need For DIY Felt Chrysanthemum Flower Tutorial
DIY Chrysanthemum Felt Flower Tutorial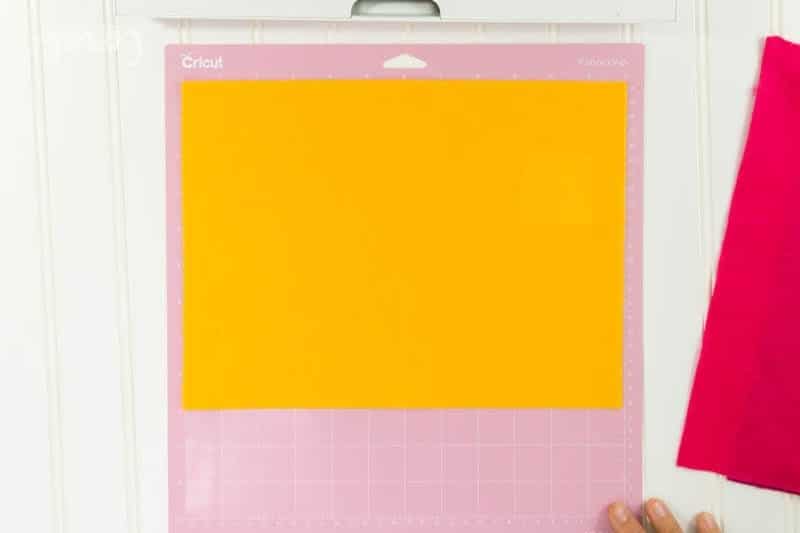 Place your 9 x 6 (or larger) felt piece on the 12 x 12 fabricgrip mat.
Load the fabricgrip mat into the Cricut Maker.
Insert the washable fabric marker in the pen slot in the machine.
Go into Design Space and load the Simplicity Chrysanthemum Pattern and click Make.
Mark and Cut felt with the Cricut Maker.
Pull felt off the fabricgrip mat.  You will now have two cut felt pattern pieces.
Fold the felt in half lengthwise and clip or pin to hold.
Sew using a 1/4" seam down the straight (noncut) long edge of the pattern piece.
Starting at the bottom roll the flower pattern piece to form a flower.  Secure with fabric glue and add the second piece to make a full chrysanthemum.  You can insert a floral stem if you would like.  
You are all finished!  Make them in a variety of colors!

Watch the Video for the DIY Chrysanthemum Felt Flower Tutorial!
This is a sponsored conversation written by me on behalf of Cricut. The opinions and text are all mine.