OMG, I am totally gushing over this seriously cute Flutterby Kite pattern from Molly and Mama for One Thimble Issue 12. I mean fur reals! A quilted kite up on my kiddos wall! What?!!! Anyways, it is totally love.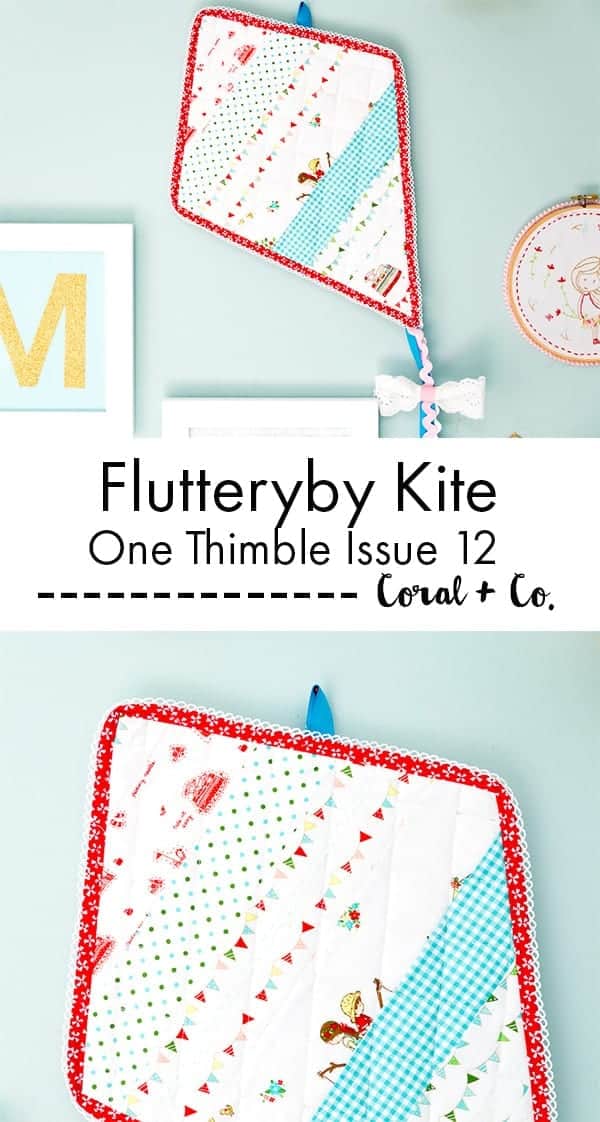 If you don't know what One Thimble is, it is a totally cool digital e-zine that has exclusive patterns that come out in each edition. And I am seriously crushing over the patterns in volume 12. There are some gorgeous dresses and tops. And even a beautiful woman's skirt that I totally want to make.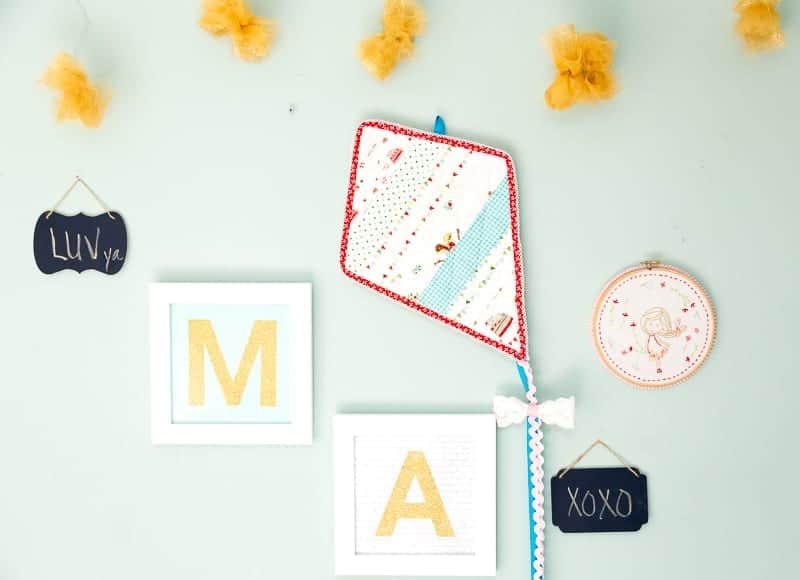 If you've been following along on Instagram you have seen that I have been (slowly) working on a quilt for my daughter's bed. I used some of my favorite fabric from my stash, Tasha Noel's The Simple Life jelly rolls. This collection is all sold out, but you can find her current one here I had some mostly white strips left over from the quilt, so I thought it would be really cute to have a coordinating look on the wall. Its kind of a low volume look, but I think the red trim really makes it POP, especially against the minty walls!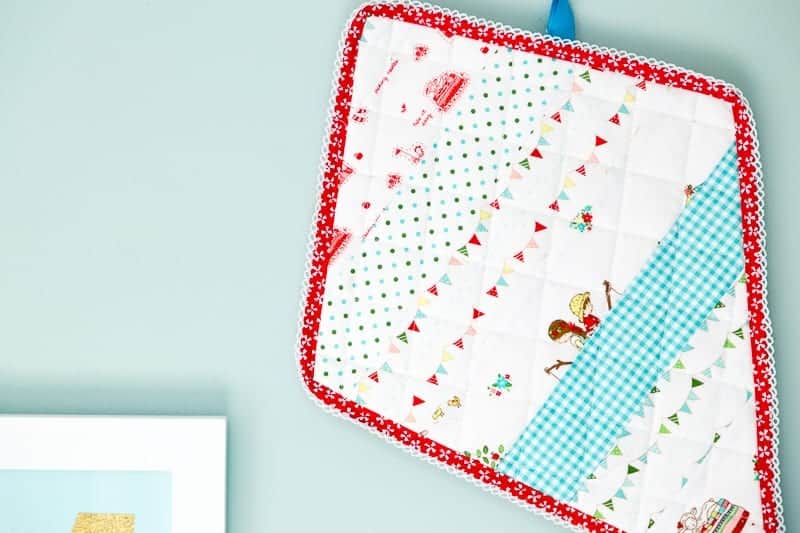 The pattern originally called for narrower strips, but I had slightly larger jelly roll strips and I didn't want to lose the illustrated scenes so I just went them the the size that they were.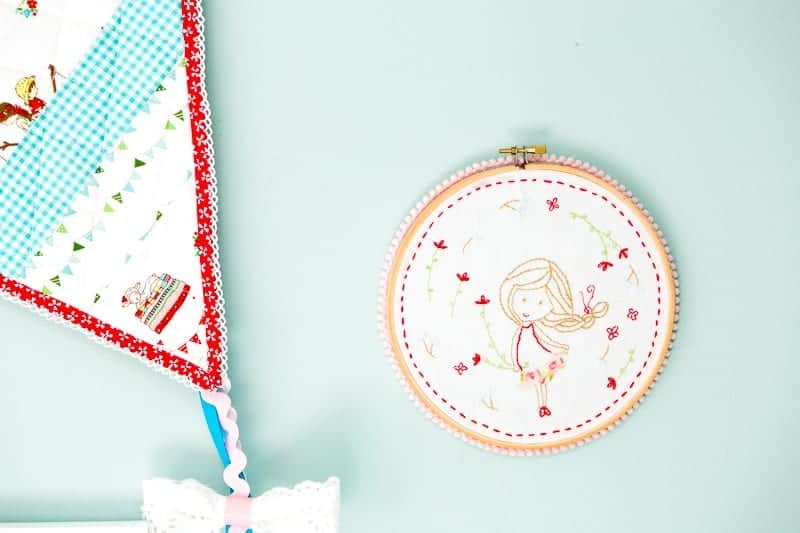 I also added some cute hoop art to the wall with this whimsical embroidery pattern from Tamir Nahir. She has beautiful patterns in her shop. I can't decide which ones I like the best so I think I will be adding a few more to the wall.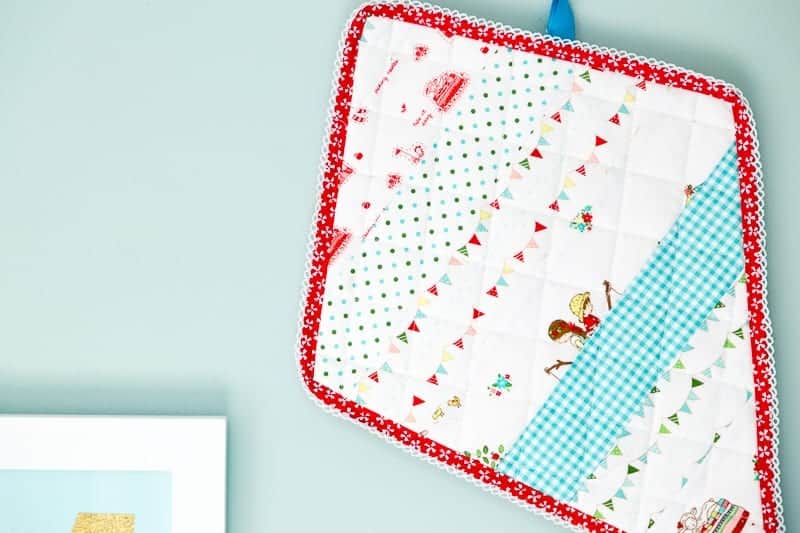 And the trim! Oh my goodness I am totally CRAZY over the cute little pinwheels, which totally look like they were made for this fabric! I got them from Vintage Door on etsy and seriously want Every. Single. One. in their shop. The picot edge just makes me deliriously happy. I mean who doesn't want to wrap themselves in crochet edge bias binding, amiright?!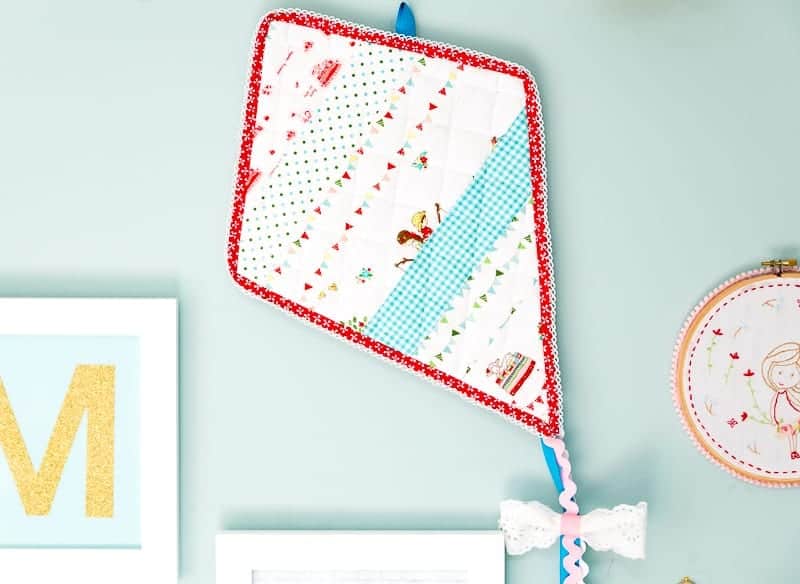 I made a bow at the end of the kite with some vintage lace that I had in my stash that I previously used on there shorts.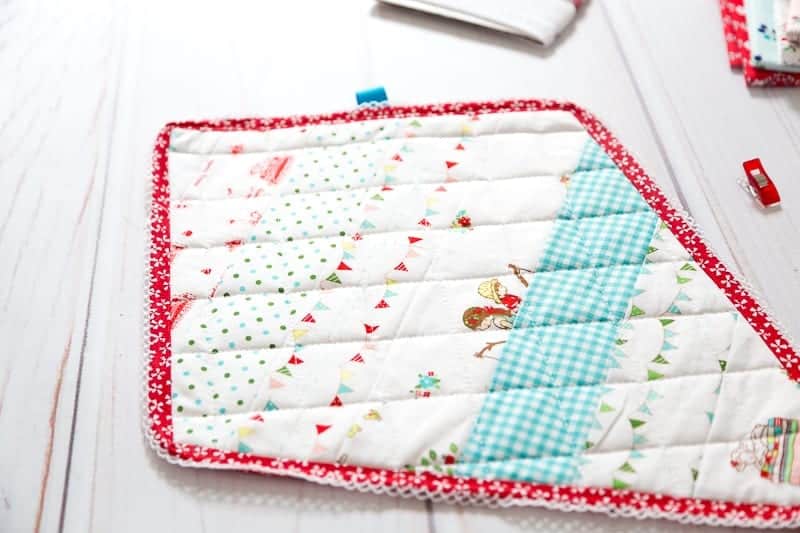 I made gold tulle pom pom garland used clear invisible thread to string them together.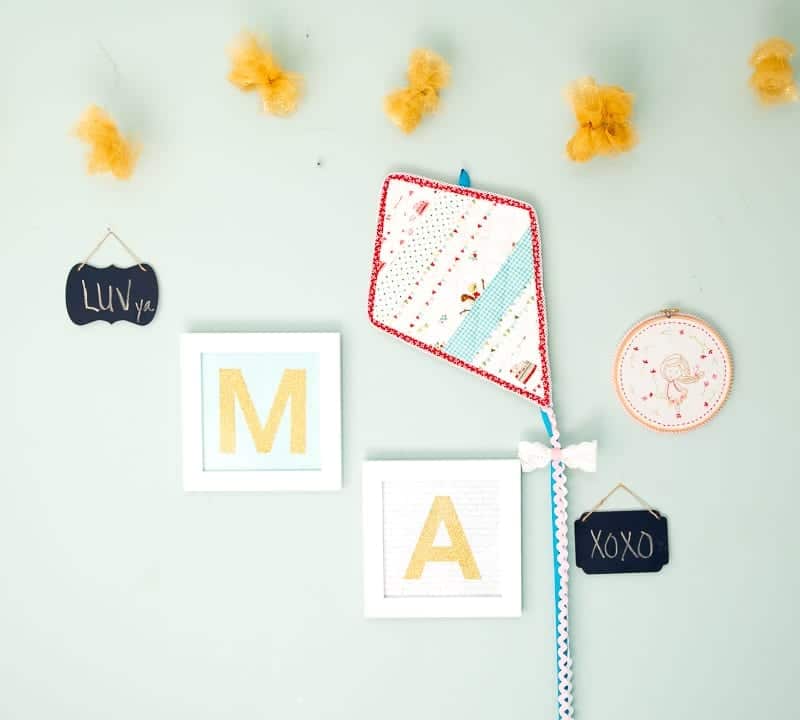 I really like the texture that the crosshatching added so I decided to go with that look as opposed to stitching in the ditch because of the mostly white fabric.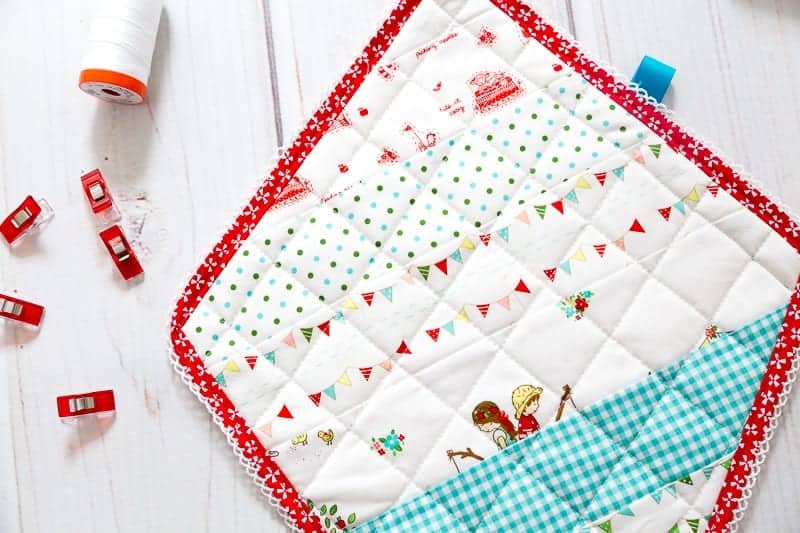 And if you have a chance check out Molly and Mama, these are simply some of the sweetest sewing patterns I have seen. You can find the Flutteryby Kite Pattern in her etsy shop.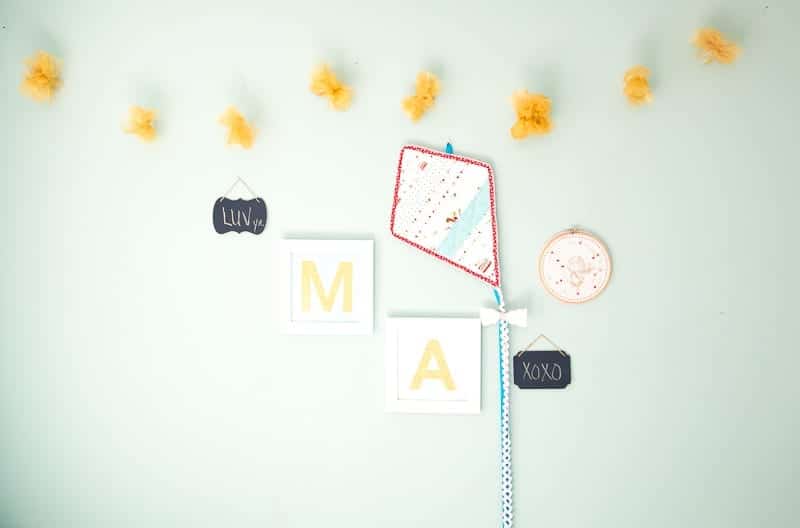 The Flutterby Kite pattern added the option of adding a ribbon or hanging pocket to the top but I wanted to hand the kite on an angle to add interest, so I added a ribbon on the side.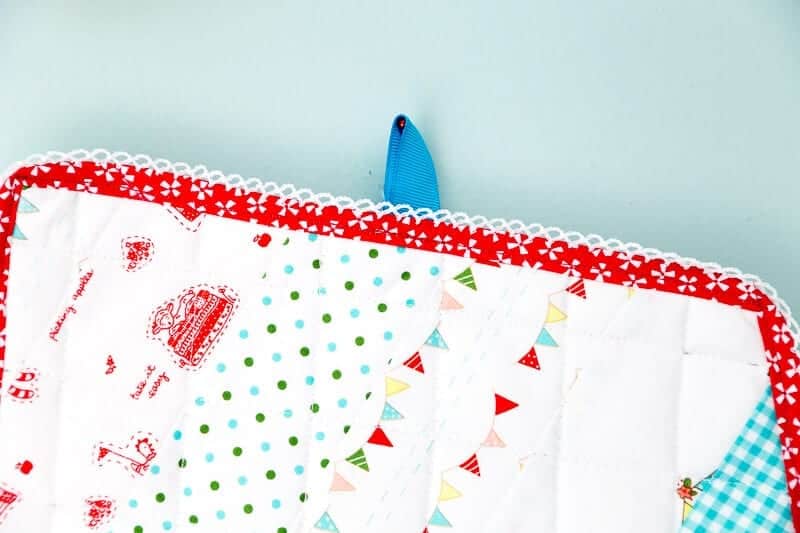 And the ribbon and ric-rack trim! It definitely adds a fun dimension. And our new kitten thinks that I hung up a new toy just for him!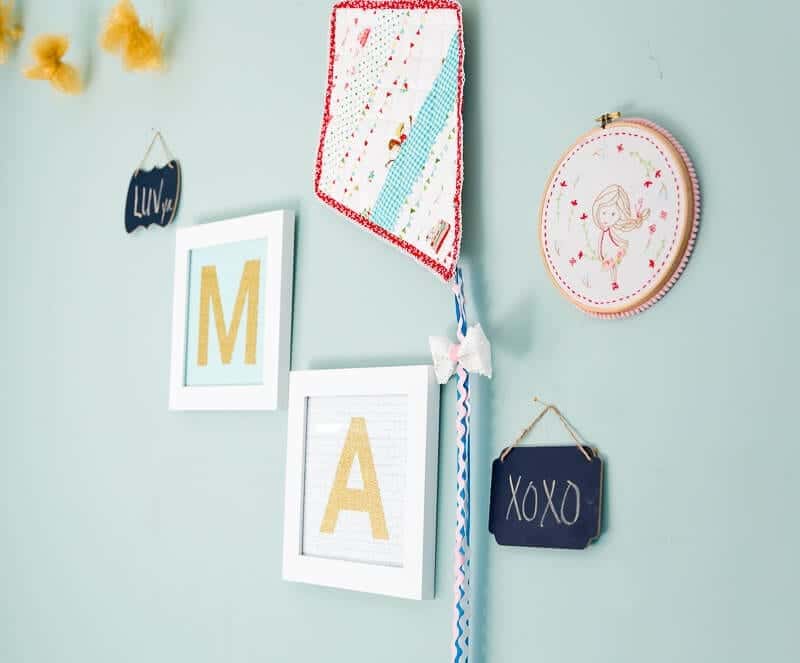 ---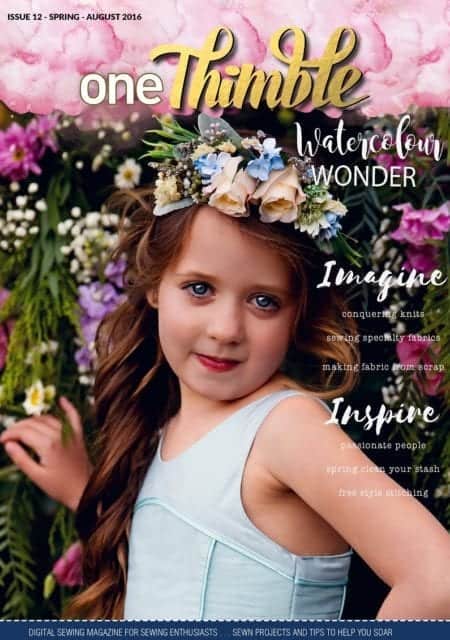 Check out the blog tour to see some of the other inspiring looks made from One Thimble Issue 12. I promise you will love them!
***Post contains affiliate links.