So you're new to quilting and you wonder How Do You Make a Half Square Triangle?  Well, this making half square triangles tutorial will show you the easiest and most simple way to cut and sew a half square triangle block.  Half Square Triangles have to be one of my favorite blocks to sew.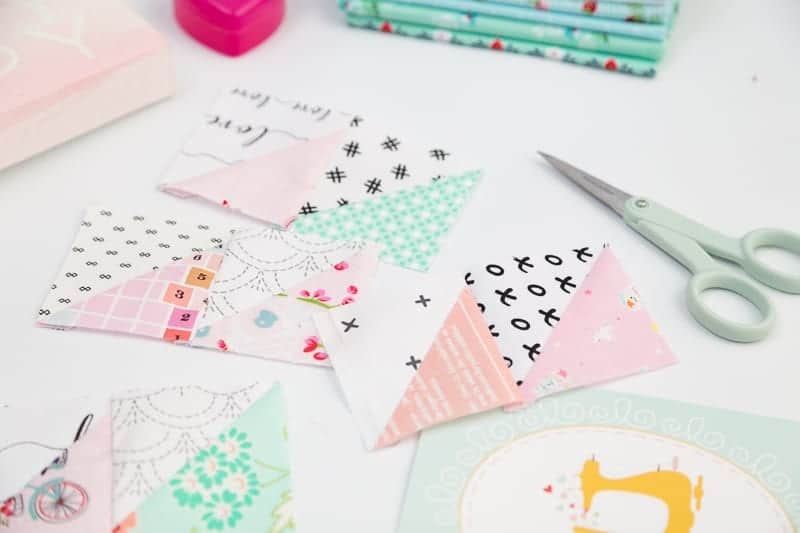 They are simple, look good in nearly any fabric choices, and can be used to make countless combinations.  Many of the fabrics pictured in these photos are from the lovely Sew Stitching Happy.  I simply adore her style and she the most amazing Hump Day Bundle Sales every Wednesday on Instagram.  You should definitely follow her (they sell out crazy fast!).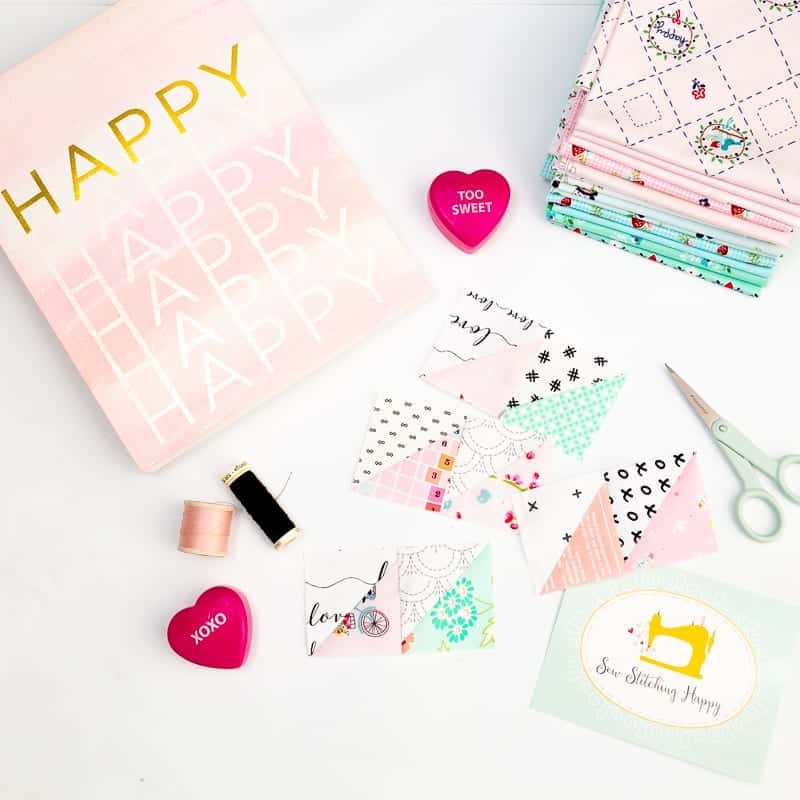 I have several Half Square Triangle Quilts that are currently in the works (you can see the mini quilt patterns here and here), so I decided to do a simple Half Square Triangles Tutorial so you can make some too!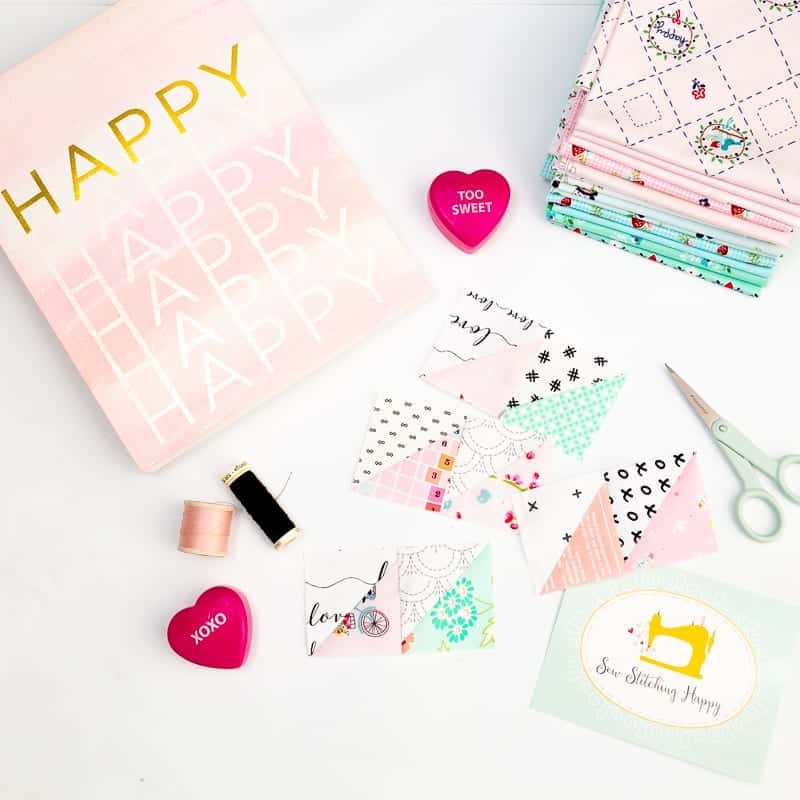 There are several different ways to make half square triangles, each having their own pros and cons, so I am going to be doing a series on them this month covering all the different ways to piece HST's, some quick HST math cheat sheets, the different patterns that can be made using HST's, and what type of piecing method is best for what type of project.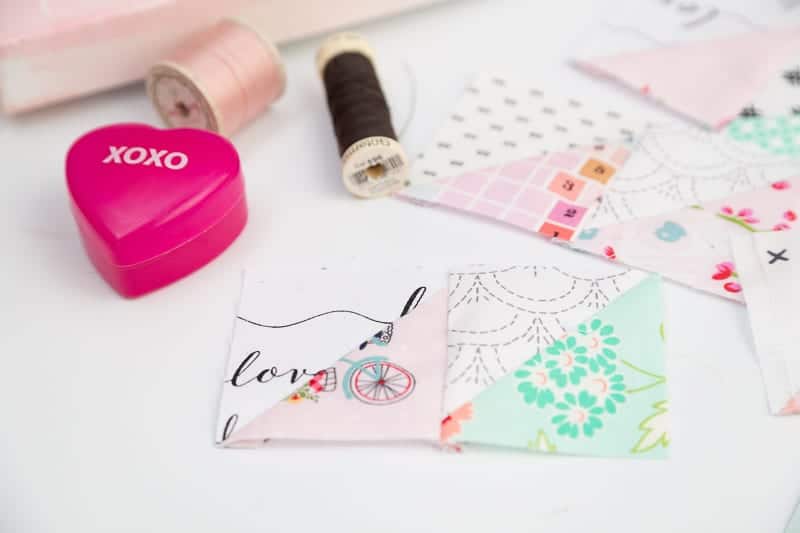 First, you might ask, What is a half square triangle?
A half square triangle is a basic quilting block.
It is when you make a whole square quilt block from two half square triangles.
The half square triangles will need to have both sides be the same length and the triangles must be the same size as each other to form a square.
Often the name of these blocks will be shortened to HST in the instructions of the pattern.
Depending on how the half square triangle is cut, the bias edge (diagonal grain of the fabric) will be either in enclosed in the seam or on the outside edges of the square.
In this tutorial, the bias seam is enclosed in the diagonal seam, which makes it less likely to distort when handling and pressing it.  This is the preferred beginner method.
Ways to Make Half Square Triangles
This is the first installment of the Half Square Triangle Series.  You can see all of the Half Square Triangle Series below:
Method I - Making Half Square Triangles Tutorial - Simple Half Square Triangles
Method V - How to Use Half Square Triangle Paper
MAKING HALF SQUARE TRIANGLES TUTORIAL - METHOD I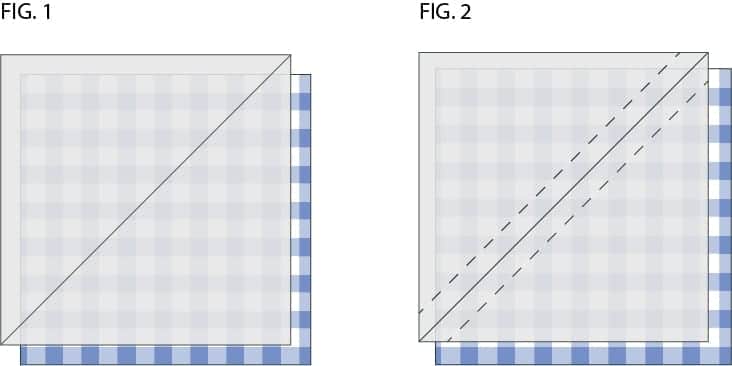 To make a Half Square Triangles (HST) place two equal size square Right Sides Together (RST).  Mark a diagonal line on the wrong side of the top fabric square.  
Place the squares RST with the marked square on top.  Stitch 1/4in on both sides of the marked line.  
3. Cut down the marked line to make two new squares.  
4. Open the half square triangle blocks outward.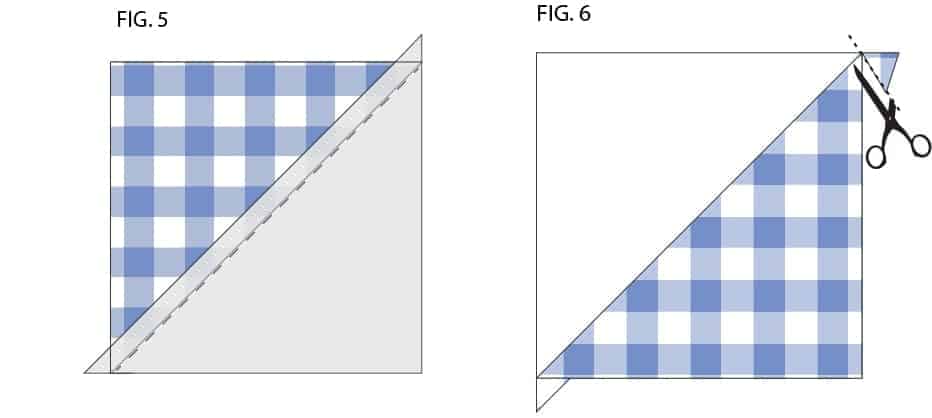 5.  Press seam (both layers) toward the darker color. 
6.  Place a ruler on the block keeping the 45-degree diagonal line over the diagonal seam.  Trim to your square to the desired size.  There will now be two Half Square Triangles (HSTs).