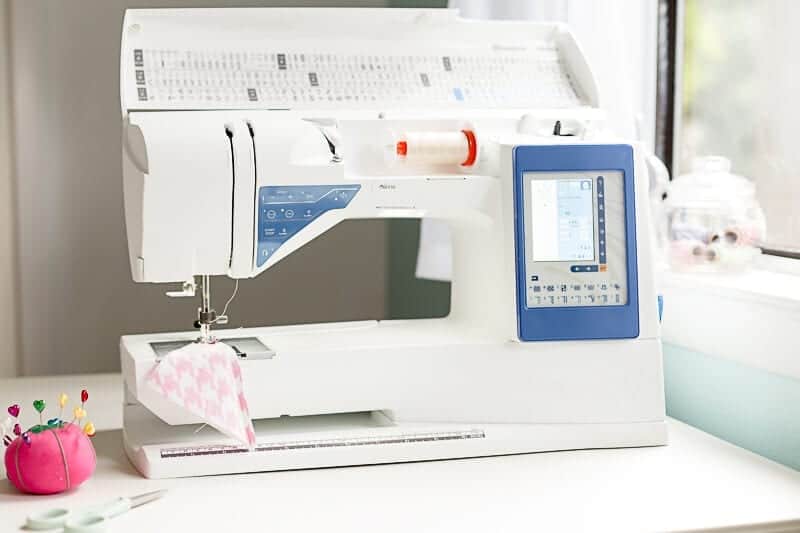 I recently shared that I am now a brand ambassador for the Husqvarna Viking, and am now sewing on the Sapphire 965Q. I have been sewing on the Sappire 965Q for about a month now and am absolutely in love. This is definitely my dream machine. The tiny details that were thought of to make sewing more intuitive are UH-mazing. I just can't say enough good things about this machine. And when you sew on it, it has a hefty feel to it. The parts don't feel plastic-y like they might give out while sewing thick layers or break a needle. You know that this machine is going to get the job done. So today I thought I would share with you my 10 most favorite features of the Sapphire 965Q.
Learn How to Quilt Series
Free Quilt Patterns
10 Favorite Features of the Sapphire 965Q
Needle Stop Up and Down. There are so many cool features but this simple one is probably my favorite. If you haven't heard of this, this features allows the needle to stop in either the up or down position every time you stop sewing. And although many sewing machines have this feature, what makes this one the coolest is that when you set the needle to the down position the presser foot will automatically lift ever so slightly to allow you to pivot. Which is just totally genius to me.
Bobbin Winding Through the Needle. Many people may say that this is the best feature and really it was a toss up between numbers one and two. You know how you are in the groove of sewing and your bobbin runs out of thread and you have to stop and unthread the needle and wind the bobbin? Well you don't have to do that with this machine. All you have to do is pull the thread from the needle through thread guide on the top of the machine thread the bobbin and push the bobbin winder into place to spin. That's it! When you are done, cut the thread and your needle is still threaded ready to continue. Amazing.
Raise and Lower Presser Foot with Foot Control. No more hands. You can raise and lower the presser foot simply by tapping the foot control. This is so cool. How many times are you sewing and you really need to keep your hands on the project but need to raise or lower the presser foot? This feature is totally helpful, amiright?
Fix Button. You can set your machine to automatically take a reverse stitch every time it starts to secure your stitches. Don't need it? Then turn it off. Way cool, no more pressing reverse (or forgetting too!) every time you start sewing.
Presser/Sensor Foot Extra Lift. Sometimes you need to slide something big and bulky under the presser foot and it is near impossible because there is just not enough room. Problem solved. Simply touch the sensor foot up button to raise the foot and tap again for extra lift. This is perfect for quilts and big bulky items.
Exclusive Sensor System. This feature is simply a WINNER. With the Exclusive Sensor System, the presser foot will automatically sens the thickness of the fabric when stitching and sew over it smoothly and evenly. It feeds the fabric perfectly and adjusts the presser foot pressure.
Selective Thread Cutter. Just by touching the button you can automatically trim the top and bobbin threads, raise the presser foot and needle, and turns on the fix stitch for when you start sewing again. If you press it while you sew it will do a backstitch or fix stitch before it cuts the threads as well. All you have to do is sew and go.
Exclusive Sewing Advisor. Not sure which fabrics need which settings on the machine? Sometimes neither am I. Most of the time when I sew with a new fabric type I am guessing the settings until I find one that works. The exclusive sewing advisor feature makes it super simple to get the correct settings with any fabric type. It sets the best stitch, stitch length, stitch width, sewing speed, thread tension, and sensor foot pressure for your project. Which totally takes out all the guess work! All you have to do is choose the fabric type and the stitch type. Easy peasy.
Stippling Stitch. There are so many stitch types to choose from on the Sapphire 965Q but seriously this one just makes me happy. I am not a great free motion quilter. I usually just choose to quilt in straight lines. But the Sapphire 965Q has several different quilting stitches that you can adjust in length and width to make it look like you totally have your free motion game together. My favorite is the meandering stippling stitch. All you do is sew in a straight line and it will do the stippling for you! Magic!
Perfectly Balanced Sensor One-Step Buttonhole. In the past, I have not had the best luck making pretty buttonholes even with my auto-buttonhole feet. But the One-Step Buttonhole on this machine is divine. Like seriously. One of the first stitches I tried out when I took the machine out of the box was the buttonhole foot. It was soooo smooth, like making a buttonhole in buttah! Haha just kidding. Not really in butter. But it was so smooth and super easy to adjust the size of the buttonhole. Which is another complaint I previously had. The buttonholes never seemed to be the size they were supposed to be. And with the Sewing Advisor and the Sensor System, my buttonholes will feed smoothly and not get caught on the fabric seam because it's too thick for the buttonhole foot. Win!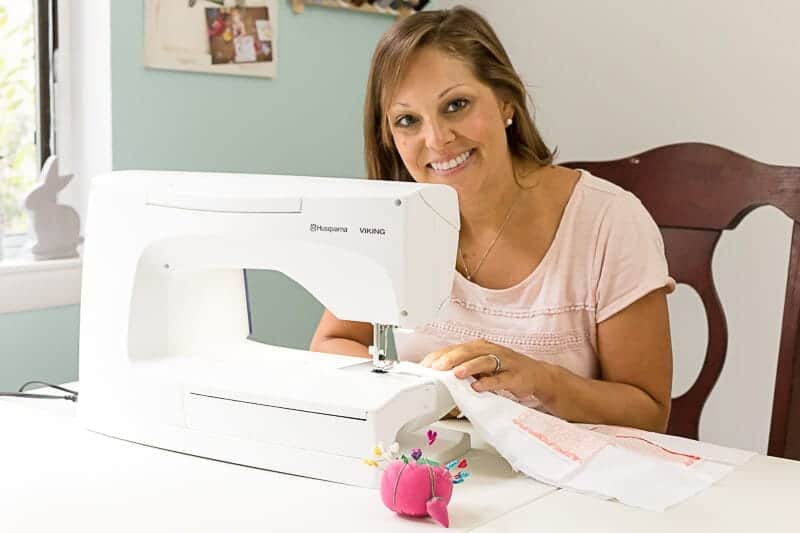 As you can see I have had lots of fun trying out all of the features on my new Viking Sapphire 965Q, It was seriously so hard to narrow them down. You may notice that quite a few of them are simple features, but Viking really constructed their sewing machines to make sewing as intuitive as possible and let us concentrate on beautiful projects. If you have a chance to take a Husqvarna Viking machine for a test run at your local sewing machine shop I know you will fall in love like I did. What are your favorite sewing machine features?