When you start sewing the most intimidating part is the sewing machine!  Or more specifically how to thread your sewing machine for beginners.  I hear from my non-sewing friends all the time that they have no idea where to start and are scared to take their machine out of the box or that they just couldn't figure out how to set it up.  Sometimes when you have been doing something for so long you forget about all the things you need to know to get started.  I remember when I sewed as a child how confusing the sewing machine could be.  But is actually very easy to thread your sewing machine and get started! So I have both a picture and video tutorial showing all my beginner friends how to thread a sewing machine.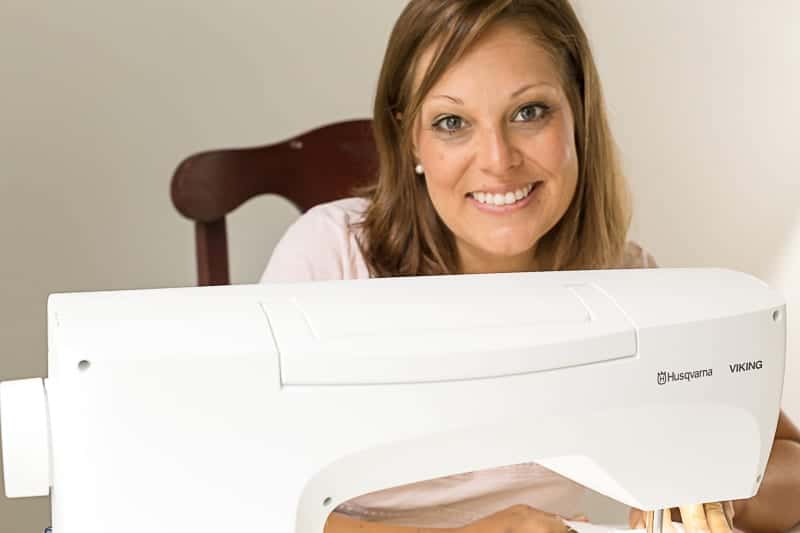 I'm also excited to share that I am now a Brand Ambassador for HUSQVARNA Viking and am now sewing on the Sapphire 965Q.  Do you see how excited I am!  This machine is UH-MAZING!!!  I first got to know HUSQVARNA Viking when I wandered into a local quilt shop five years ago.  I got a chance to sew on several different models of Viking machines and fell in love with the Sapphire and have been pining for one ever since.  HUSQVARNA Viking makes such quality machines with so many convenient features (I am still discovering them all) that it makes sewing on it a dream (seriously I'm still pinching myself).  You can check out my 10 favorite features of the Sapphire 965q and the 10 best sewing machine features for quilting to hear more about my thoughts on this machine.  If you are new to sewing or the machine here is a little Sewing 101 showing you how to thread a sewing machine for beginners.
How To Thread A Sewing Machine For Beginners
Step 1 - Place your thread on the spool pin with the thread facing the correct way according to your machine.
Step 2 - Place the spool cap on the spool.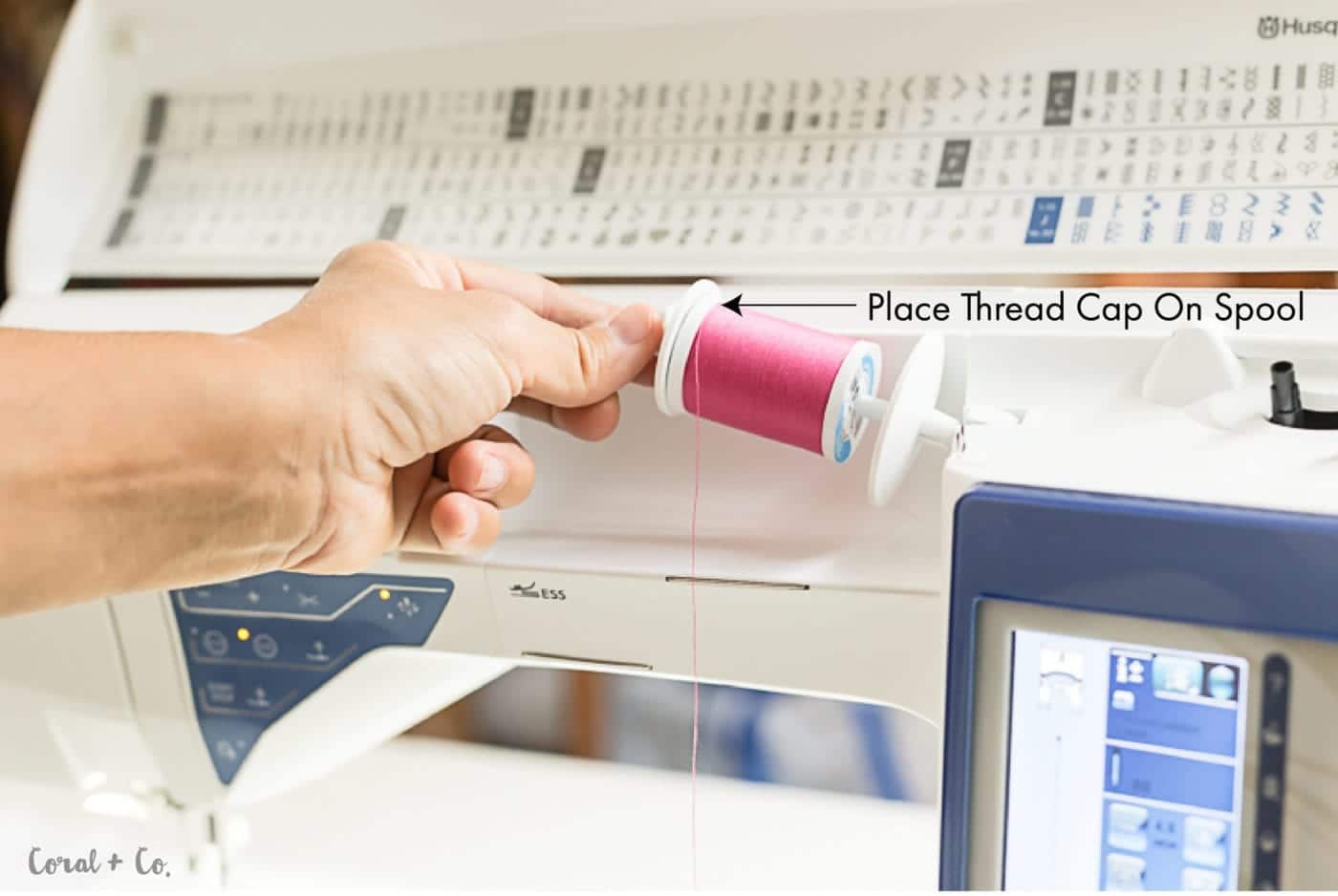 ***I used a pink line so you are able to see where to thread goes more clearly.
Step 3 - bring the thread over and behind the pre-tension guide and then under the thread guide as shown in the picture above.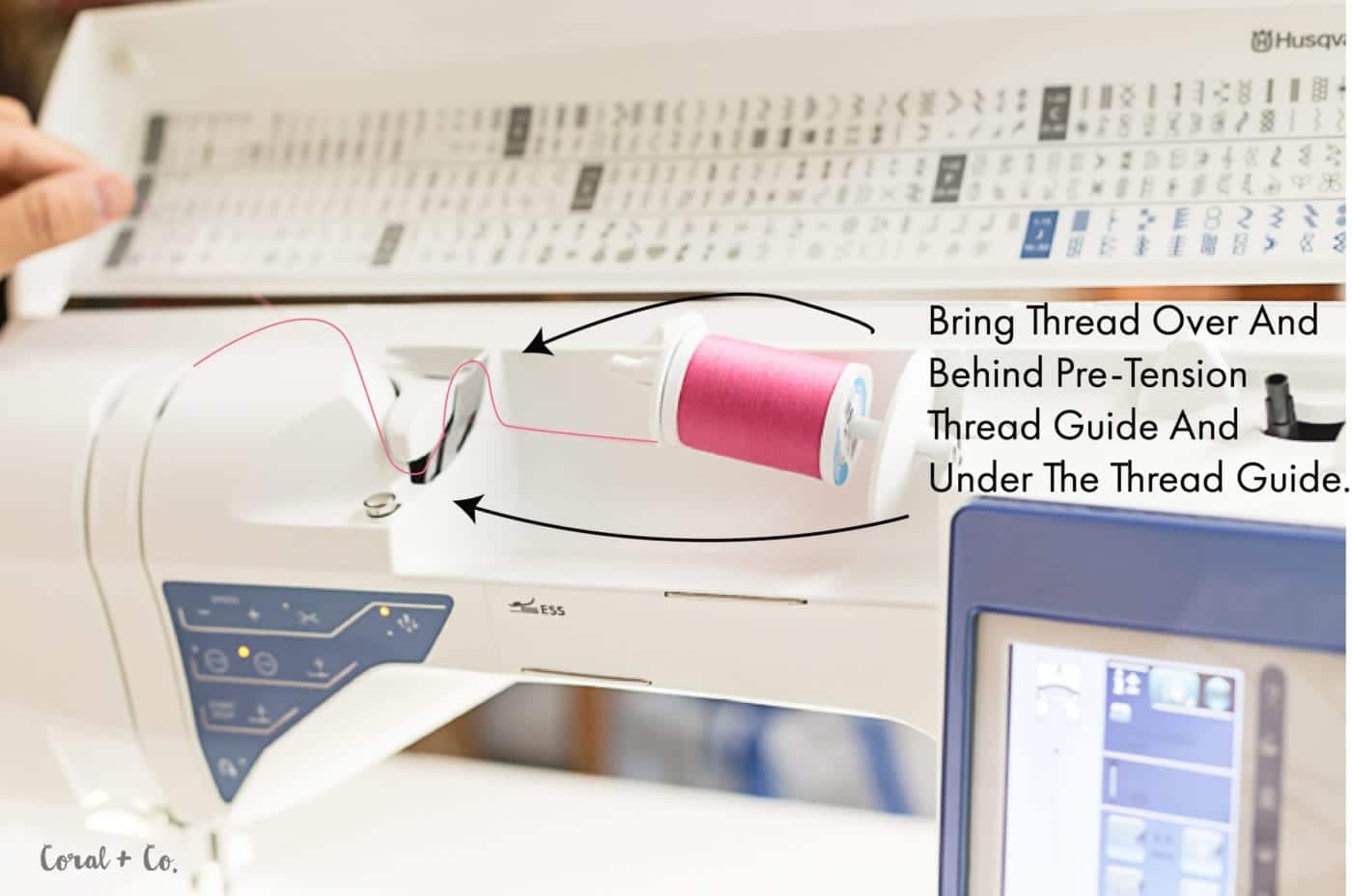 Step 4 -Then bring the thread down through the tension disks.  Make sure your presser foot is in the UP position so the tension disks are not closed.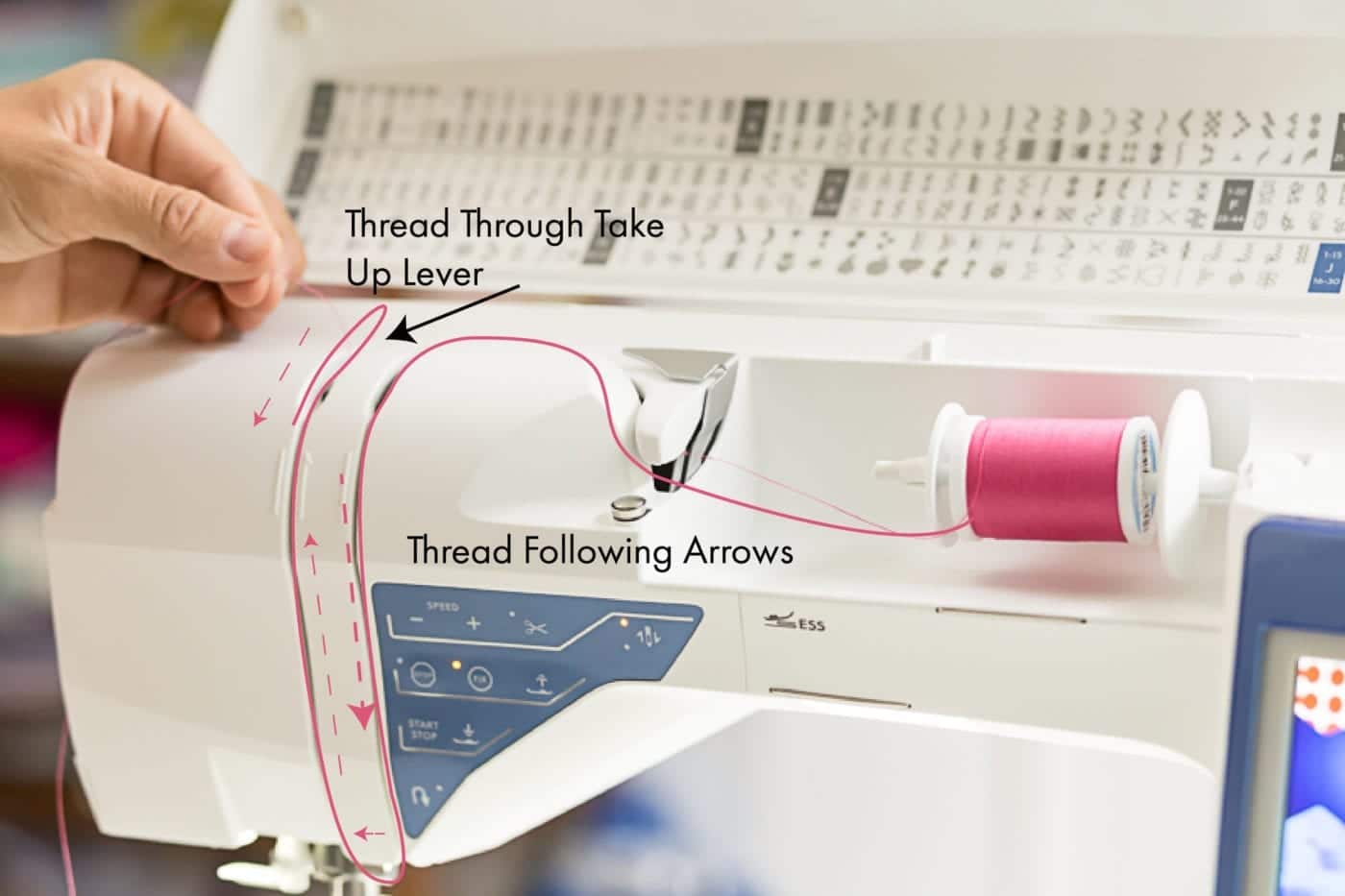 Step 5 - Following the arrows continue to pull the thread.  Bring up to the take-up lever and pull through.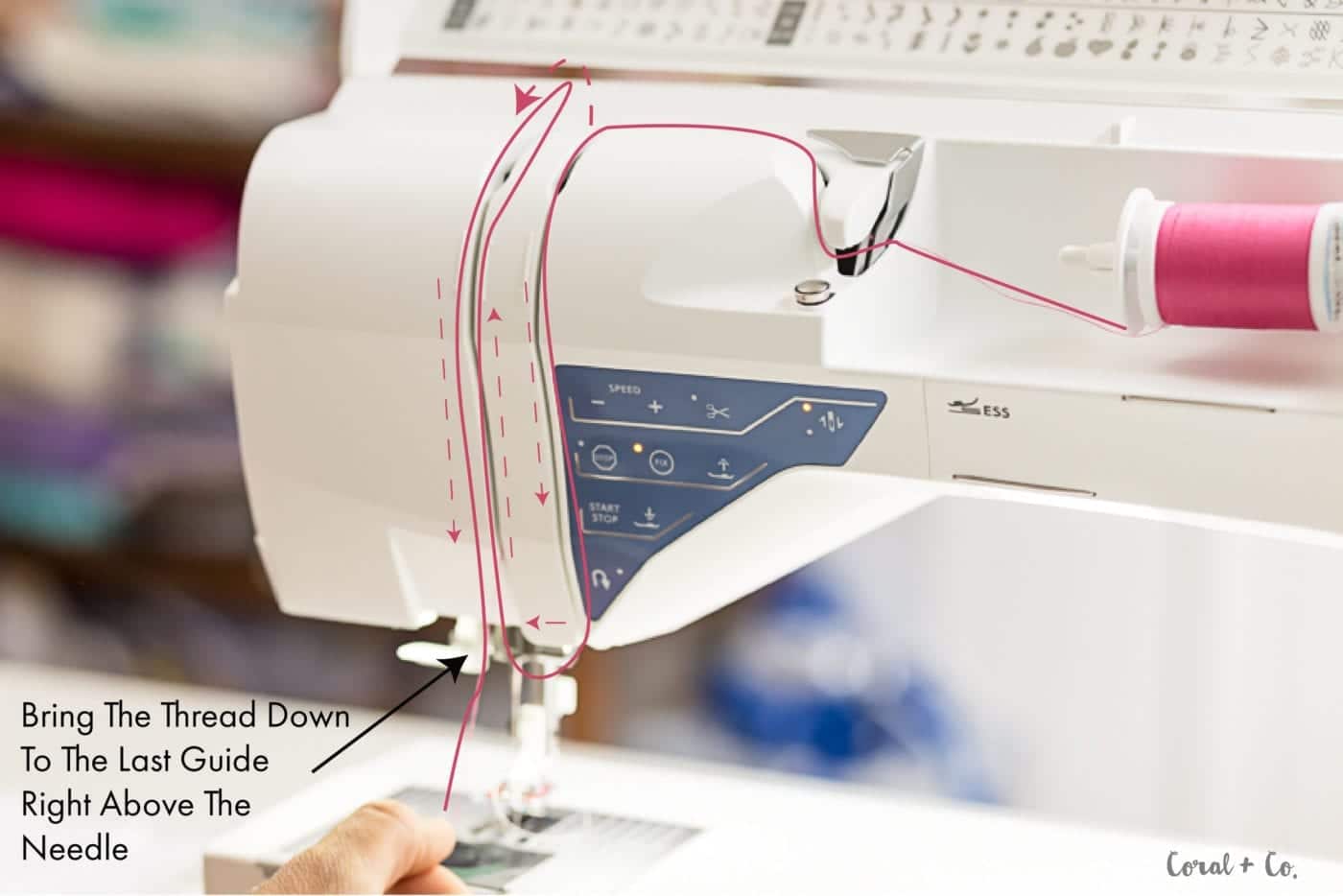 Step 6 - Then bring the thread down to the last guide which will be right above the needle.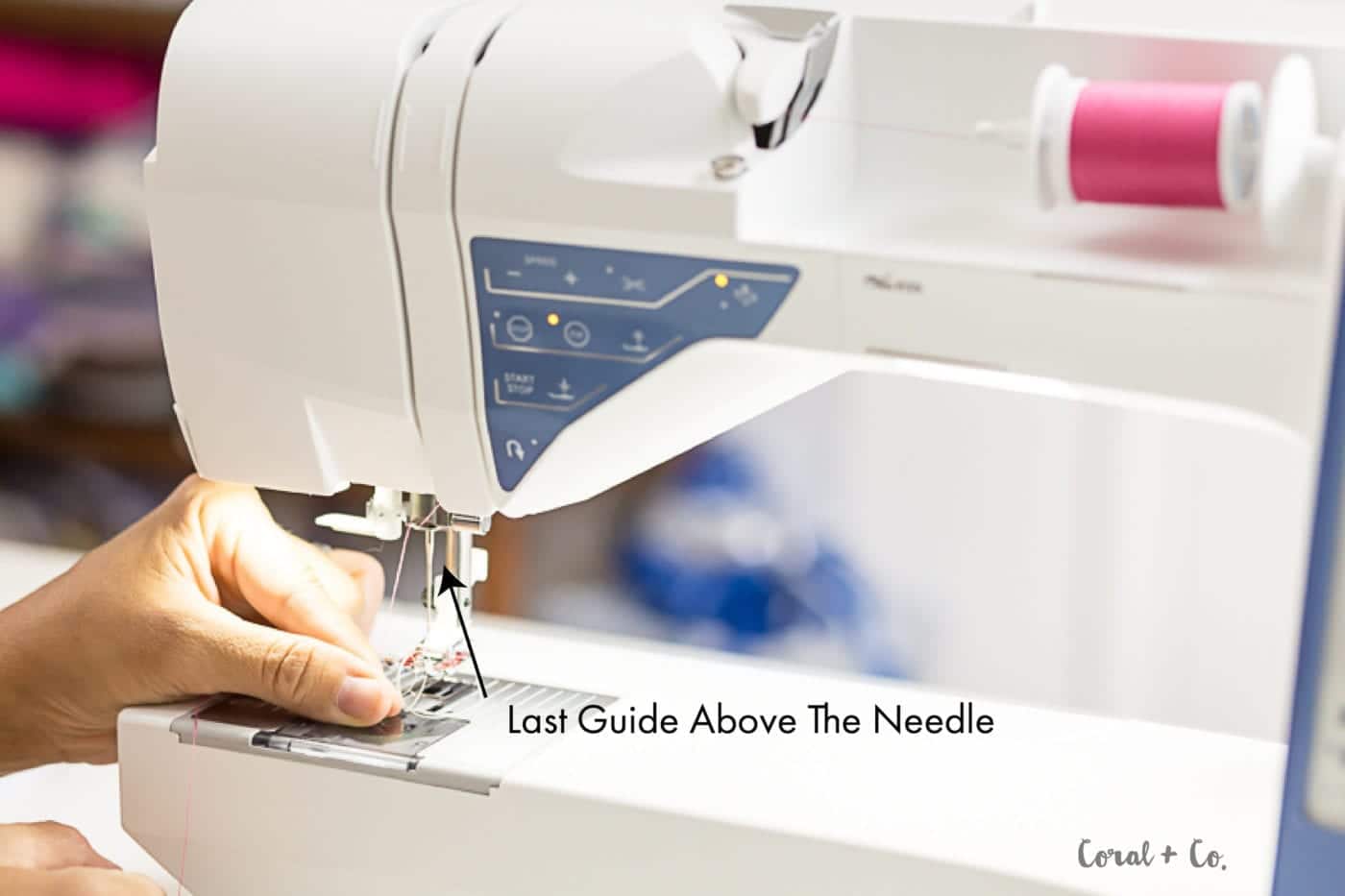 Step 7 -  Pull through this guide.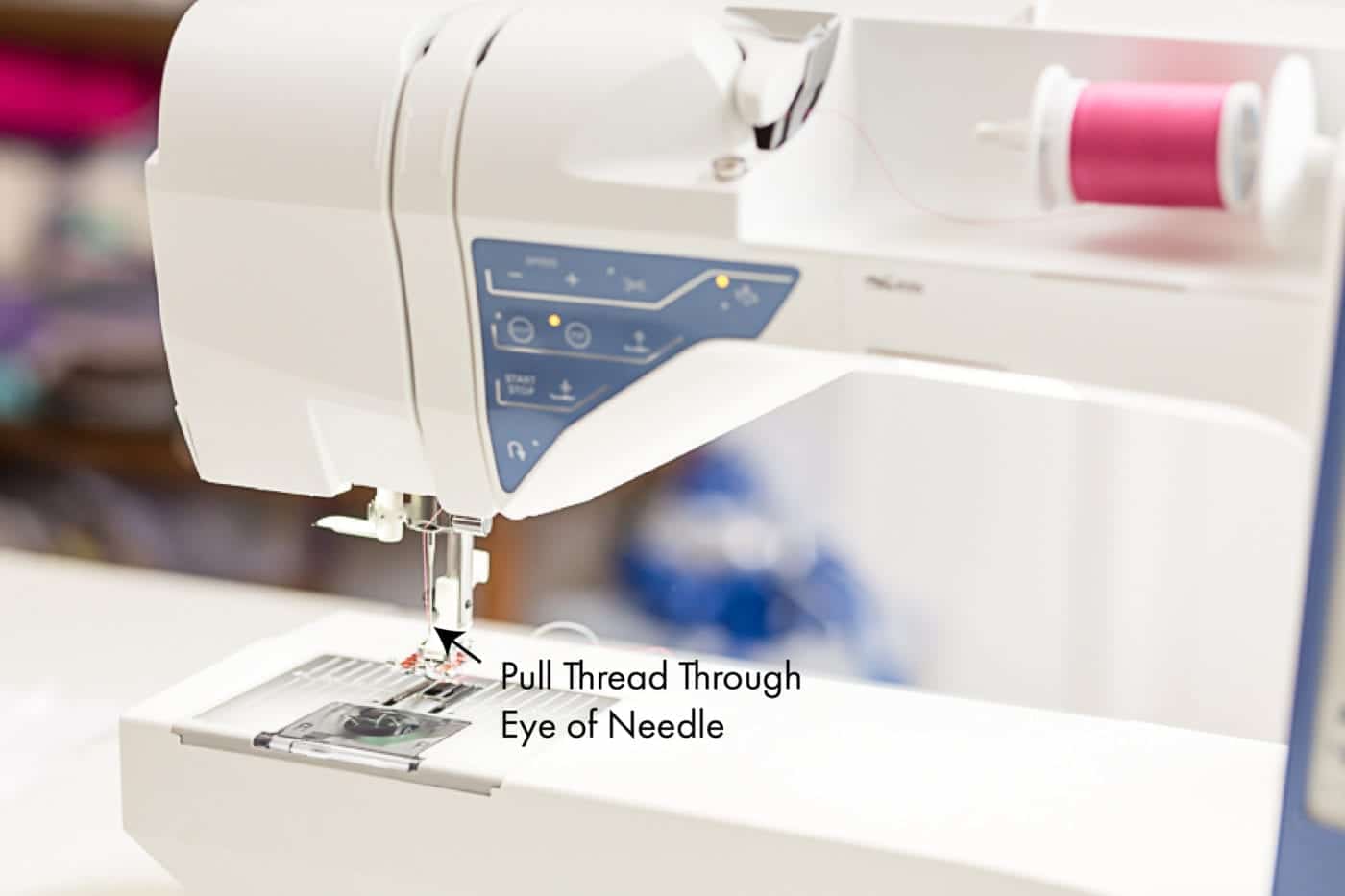 Step 8 - Pull the thread through the eye of the needle or use my favorite thing:  the automatic needle threader!  My eyesight is still good but really I can't stand trying to fight the thread through the needle.   Who's got time for all that?!
Sometimes its easier to watch a video so I made a short one for you as well!
Pin How To Thread A Sewing Machine For Beginners for later ---->>>