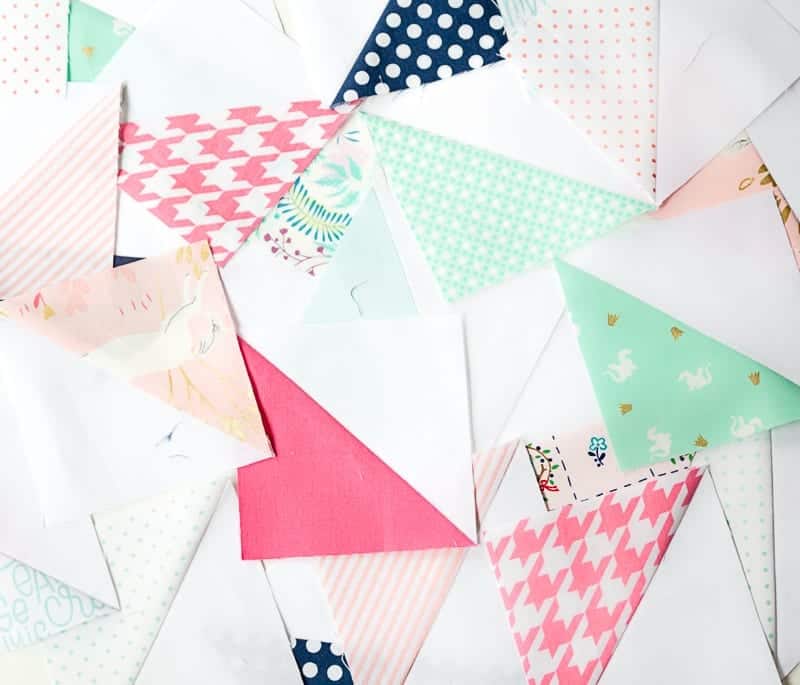 Today I am going to share with you 10 of my must-have best sewing machine features for quilting. There are definitely some sewing machine features that can really make quilting SOOO much easier! You may already know that I am a brand ambassador for Viking Husqvarna (YAY! They make totally amazing machines), so some of these features will be specific to my Husqvarna Viking Sapphire 965Q that I am sewing on. But let me tell you, this machine is really a quilter's dream. They have thought of everything. I really can't gush enough. Sewing on the Sapphire 965Q has really upped my sewing game. So here are 10 sewing machine features for quilting that will make sewing a dream for you! You can also check out my all-time favorites of the Sapphire 965Q here.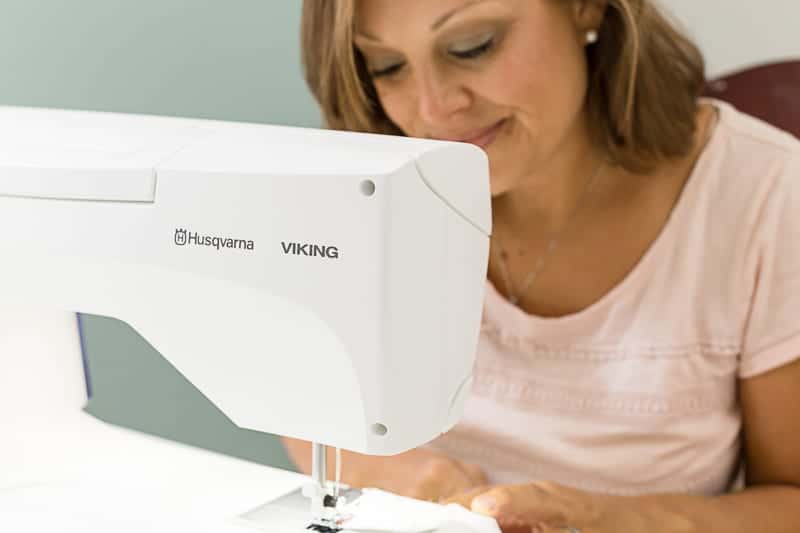 10 Best Sewing Machine Features For Quilting
1/4" Piecing Foot - This is the foot that is used when piecing quilt blocks. What makes this foot so useful is that it has guidelines that are marked 1/4" and 1/8" from the needle, which helps you piece your quilt blocks accurately.
Walking Foot - One of my very favorite accessories is the walking foot. This foot allows you to feed several layers through the machine at one time without them shifting and getting wonky. This usually happens because when sewing with several layers the bottom layer will feed faster through the machine because the feed dogs are pushing it while the top layer is being fed slower.
Straight Stitch Plate - I am new to having a straight stitch plate, but this is a total game changer. The straight stitch plate allows me to be much more accurate with my 1/4" piecing since the hole for the needle is so narrow and doesn't allow the fabric to shift side to side in a bigger hole like the standard plate.
Sensor Foot Up/Down and Extra Lift - Simply tap the foot pedal and you can raise or lower the presser foot. And if you need a little more room you can tap the sensor foot up button and it will raise the presser foot up even further. This frees up my hands to be able to keep them on the fabric instead of constantly needing to put the presser foot up and down, which is great for tricky projects. I also love the extra lift of the sensor foot which makes it much easier to move bulky items under the presser foot. This feature definitely makes it one of the best sewing machine features for quilting!
Extra Large Throat Space - This is a huge one for quilters. Quilting uses A LOT of fabric. And most sewing machines don't have enough room between the needle and the inside of the machine or throat space to allow for a bigger quilt to be moved through the sewing machine. With extra space, you can fit a much larger quilt while quilting.Photo courtesy of Viking Husqvarna
Extension Table with Guide - The extension table is a must-have if you are a quilter because yes, quilts are LARGE! The extension table allows you to have a larger space to sew on and with the adjustable guide, you can accurately sew borders and hems by simply moving the guide back and forth. The extension table also has no legs underneath so you can sew circular items. You can see how large it is in the photo above.
Stippling Stitch - I have written about how the stippling stitch is one of my favorite stitches on the Viking Sapphire 965Q, but what is so great about this stitch is that it does the quilting for you! How cool is that?! This definitely makes it one of the best sewing machine features for quilting You can see what the stippling stitch looks like below.
Exclusive Sensor System - With this feature, the presser foot automatically and continuously senses the thickness of the fabric when stitching and sews over it smoothly and evenly with perfect fabric feeding. This is such a cool thing because it really helps with how your fabric is fed through the machine which is great for bulky seams.
Exclusive Sewing Adviser - I LOVE this feature! It makes choosing the right settings SO easy!!! Located right on the touch screen the Sewing Advisor sets the best stitch, stitch length, sewing speed, thread tension, and sensor foot pressure for your project. Totally UH-MAZING! All you have to do is select the fabric type and what sewing technique or stitch type you would like and you have the correct settings! Super easy.
Two different free motion techniques - Free motion quilting is what allows you to sew beautiful designs on your quilt top. There are two different ways that you can free motion on the Viking Sapphire 965Q.
Free Motion Floating - When free motion sewing at a lower speed (like me! ha.) the foot will raise and lower with each stitch to hold the fabric on the stitch plate while the stitch is being formed. If you increase the speed, the foot floats over the fabric while sewing.
Free Motion Spring Action - This is for use with the free motion spring foot and allows the foot to follow the up and down movement with the help of the spring and the arm on the presser foot.
Tell me what you think of my Sapphire 965Q Review!
New to Quilting? Check out these posts:
Do you need a new table for your new sewing machine? Check out this list of best sewing machine tables.