This week I'm sharing 5 must have sewing supplies to get started sewing.  Last week I showed how to get started sewing by learning how to thread a sewing machine.  This week I am sharing the must have notions that any beginner will need to start their first project.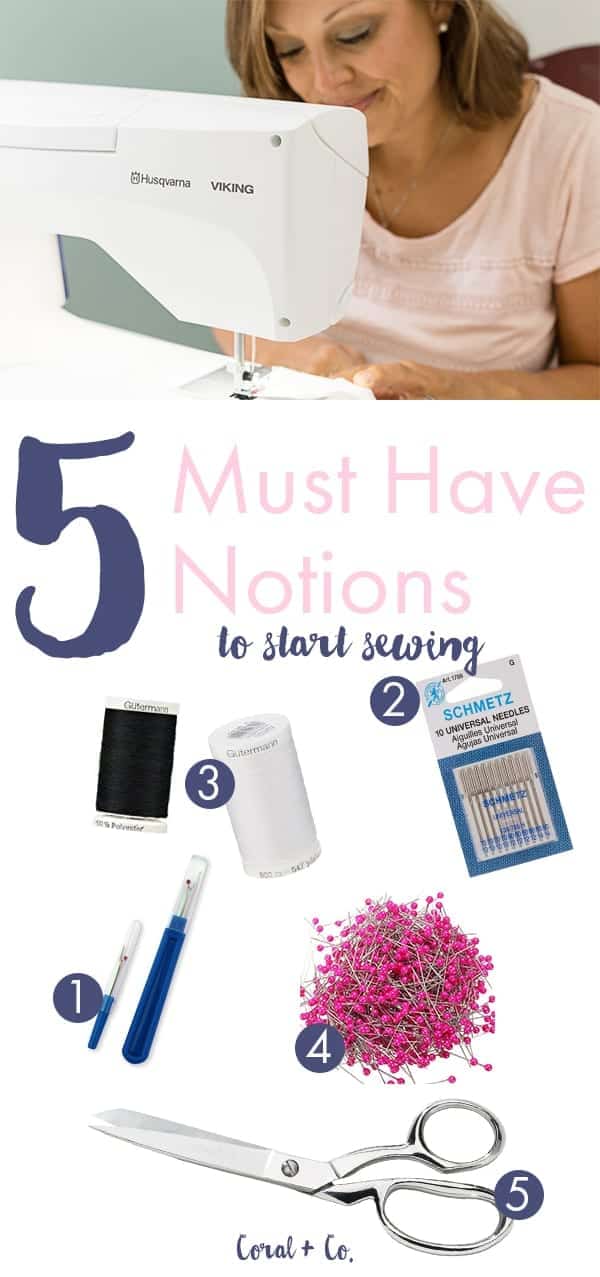 Sewing supplies like any hobby can be really intimidating.  There are so many, where do you start?  Even now, after sewing for years and years, I still come across notions that I have no clue about.  Plus, like most hobbies, it is really easy to plunk down a large chunk of change on supplies before you even know if you really like it yet.
So I gathered a list of
5 MUST HAVE SUPPLIES TO START SEWING
1.  Dritz Deluxe Seam Ripper - like it or not ripping out seams is just part of the learning process and without one of these, you will be super frustrated trying to pick the seam out.
2.  Euro-Notions Universal Machine Needles, 10-Piece - Schmetz makes great quality needles (these are the only kind I buy) and help reduce skip stitches and funky needle issues.  The 10 pack has a variety of needle sizes to work with all different kinds of fabrics.
3.  Gutterman Sew-All Thread 547 Yards-Nu White or Black - Gutterman is a great poly blend of thread that can be used for just about any project.  I prefer to use Gutterman over less expensive brands because I find that I have less thread breakage, skipped stitches, and thread nests (those nasty balls of thread under your fabric when you try to sew but it won't move forward and just keeps stitching in place).  And honestly, I use white thread for just about everything unless I really need to have a matching color.
4.  Gingher 8-Inch Knife Edge Dressmaker's Shears - A good pair of scissors will make your sewing life a happy place.  Gingher has long been the industry standard of quality shears.  Your grandmother probably still has her first pair.  They come in several different sizes but 8 inches is a great size to start with.
5.  Dritz 1-3/8-Inch Extra Fine Glass Head Pins, 250 Count - I prefer to use extra fine glass head pins because the extra fine pin shaft easily slides in and out of medium and lightweight fabrics without leaving big holes (however it does tend to bend heavier weight fabrics, so if you are sewing with something thick like fleece I would buy a thicker pin size).   The glass head allows you to iron with the needles in your fabrics without worrying about melting the plastic pinhead all over your fabric and iron.
BONUS ITEM  - ***Dritz Tomato Pin Cushion - Although not on the MUST HAVE list, tomato pin cushions make a nice place to store your needles as well as having the handy little strawberry attached that actually sharpens your pins!