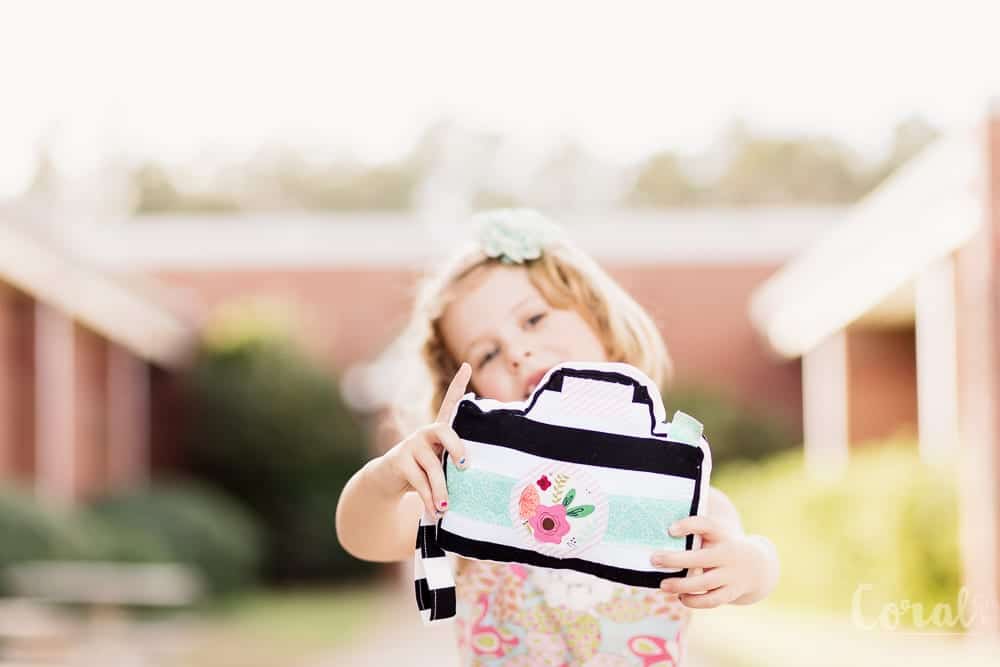 Have ya'll seen the cutest sewing pattern for preschoolers ever? My friend Stephanie at Swoodson Says made the Little Camera Photographer Pattern and I have adored it since the first time I saw it. It has been on my sewing bucket list for awhile but since my kids were starting to age out of the preschool and toddler age softie toy stage I hadn't really had a reason to sew it up, other than how cute it is. Hehe.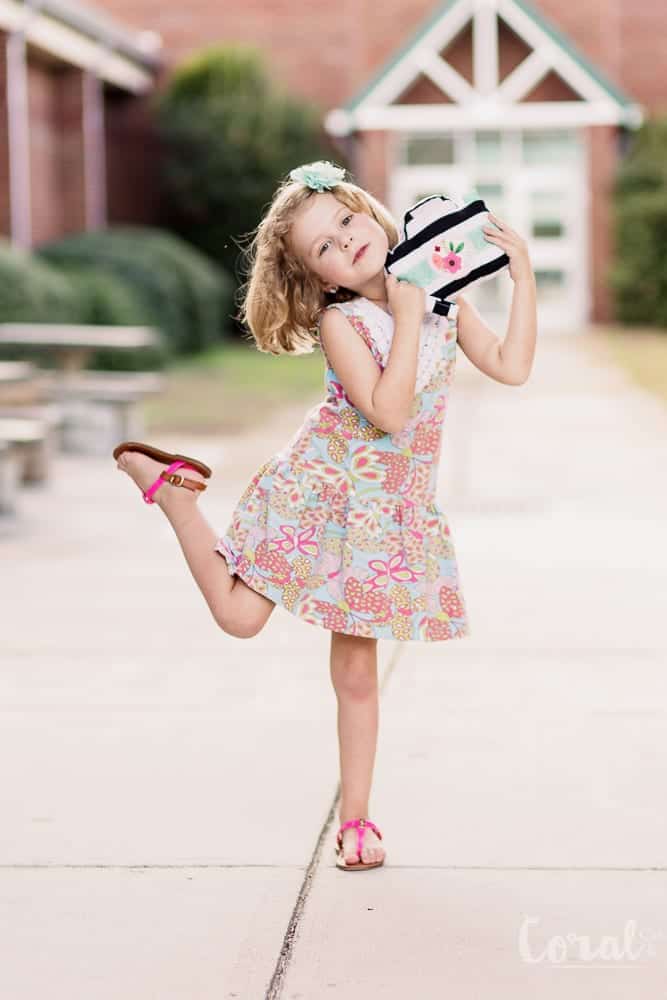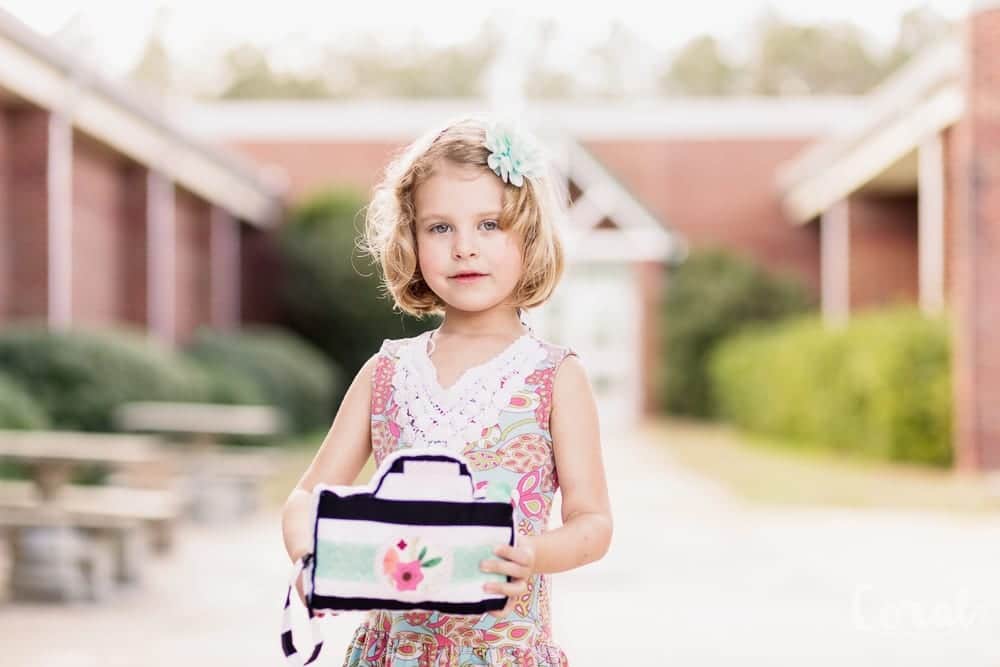 More Baby and Toddler Sewing Projects: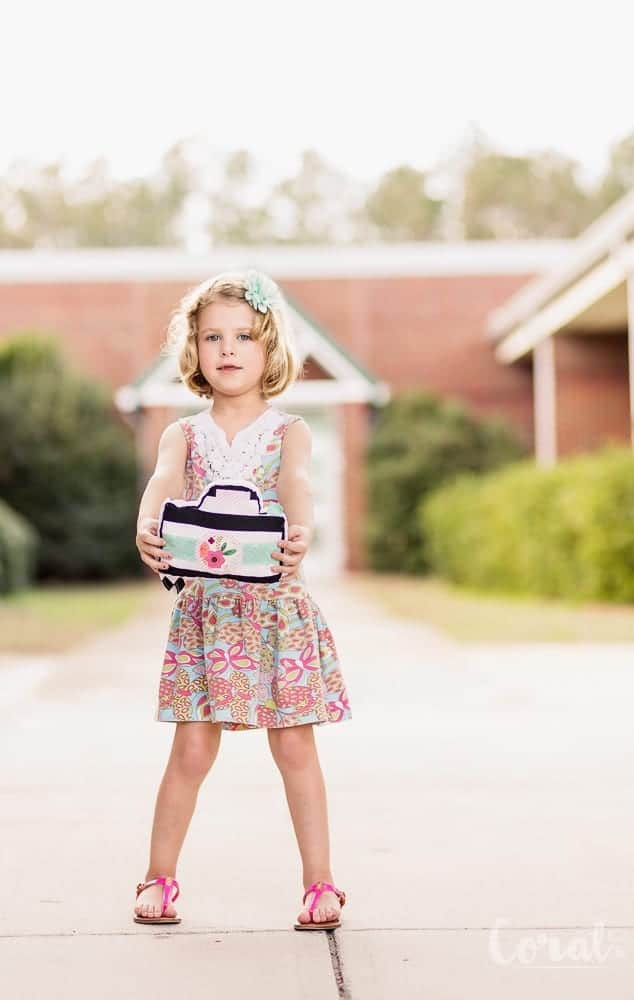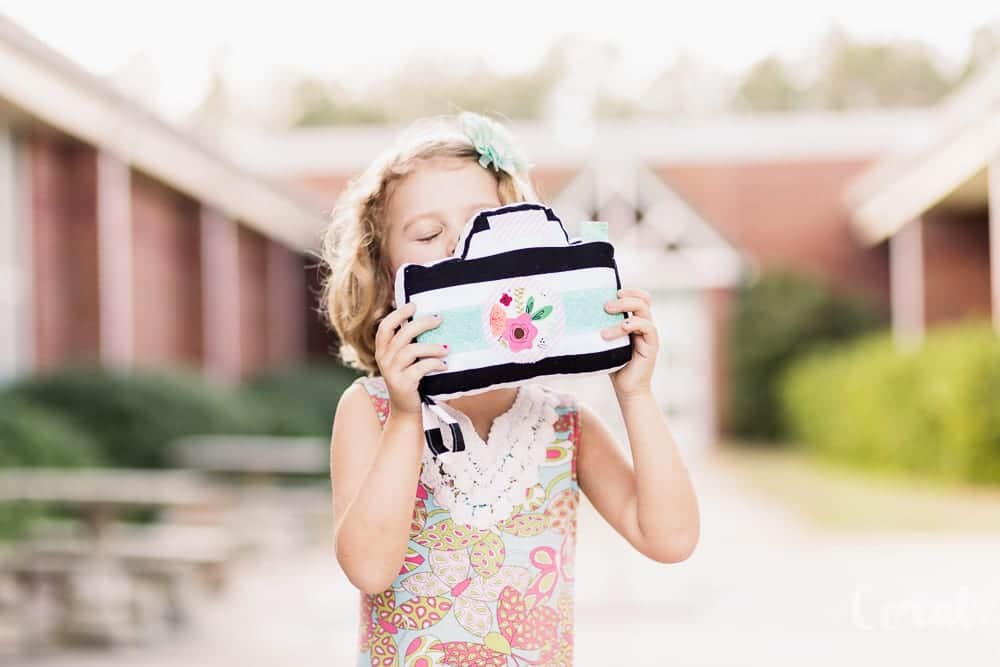 But a friend of mine just told me she is having her first baby girl (after 3 boys!) and I wanted to sew up a bunch of great baby and toddler gifts for her.Since she has all boys I thought a girl toy was needed, and so Stephanie offered to send me her Little Camera Photographer pattern so I could sew up all its cuteness.I had this one inch wide black and white stripe from Riley Blake Designs that just jumped out at me when I thought about this little camera pattern. I like the black and white to give the realism of a real camera but love how the floral accents and lighter colors made it all come together.I used some scraps from some of the same fabrics that I used in this block of the month post, I made last week. The floral and mint fabric is part of the designer fabric sampler and the pretty diagonal stripe is from Riley Blake Designs as well.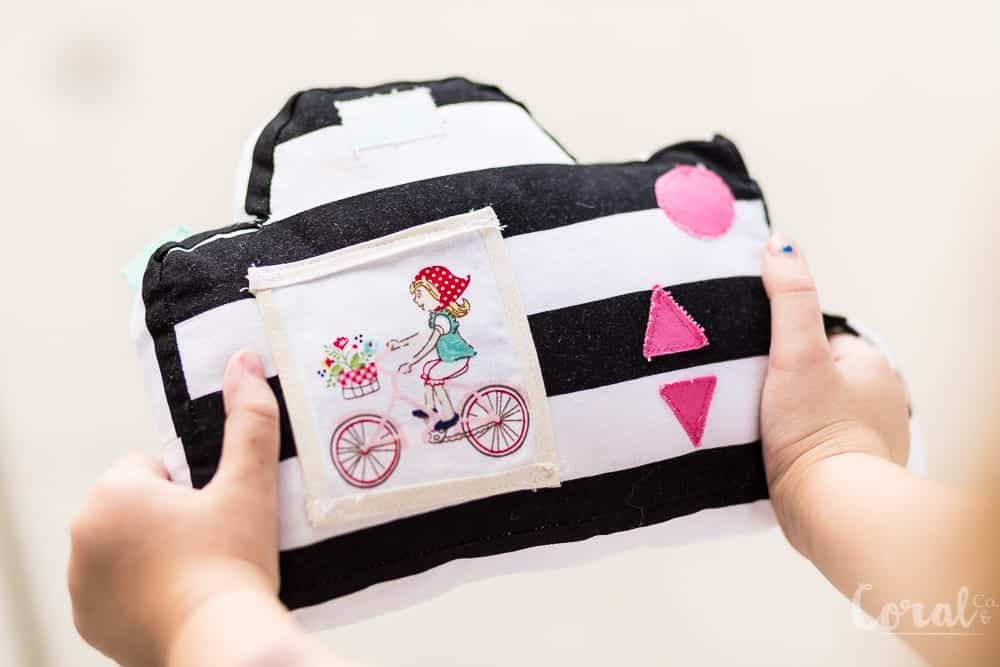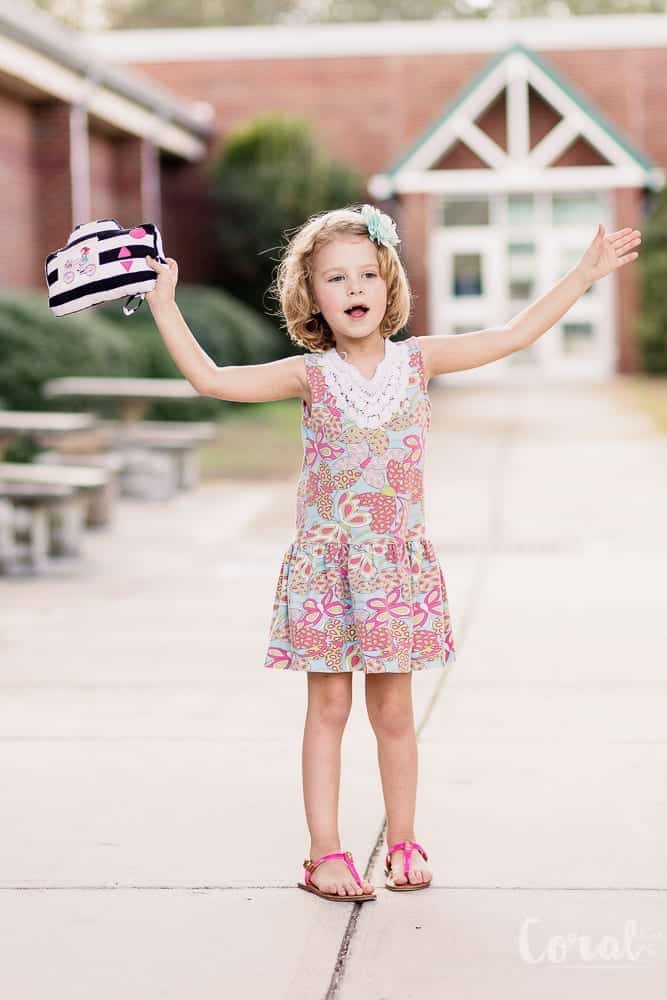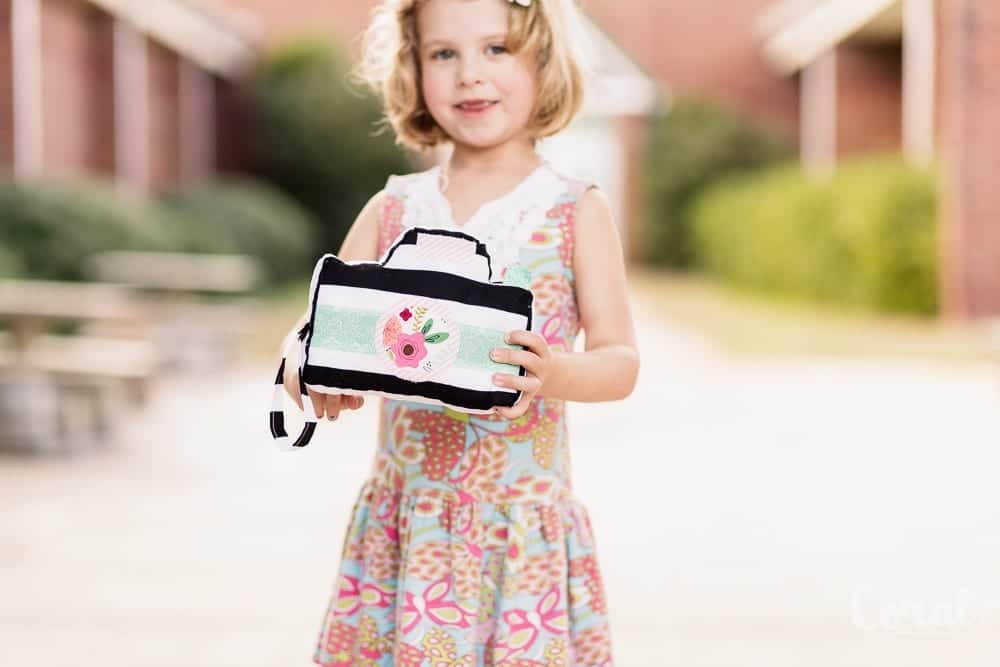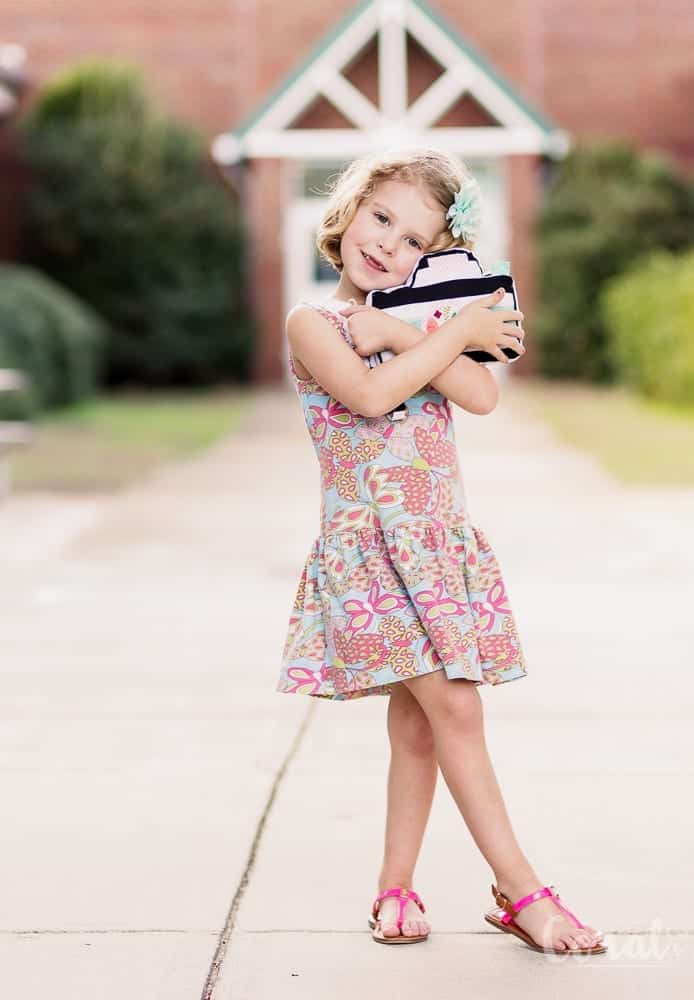 The little Camera Photographer Pattern called for vinyl for the LCD screen, but I didn't have any so I thought this girl on the bike would be cute for the screen instead (and got the binding a little wonky - more charm!). Because of course, little girls love to ride their bikes around. If you use vinyl you can slip different pictures in and out of the pocket which is totally cute and any little preschooler or toddler would love to play with it.
My kids were begging me to let them keep this camera toy softie but it I can't wait to give it to the new little girl joining the world. I'm sure she will have lots of fun with it along the way.I just love sewing handmade gifts for toddlers or preschoolers.As you can see Ava loves cuddling with the little camera! There are so many versions of this pattern that I would love to sew up. Now I just need more friends with really little ones! If you have any grandkids or friends with preschoolers or toddlers the Little Camera Photographer Pattern would make such a sweet and heartfelt handmade gift!