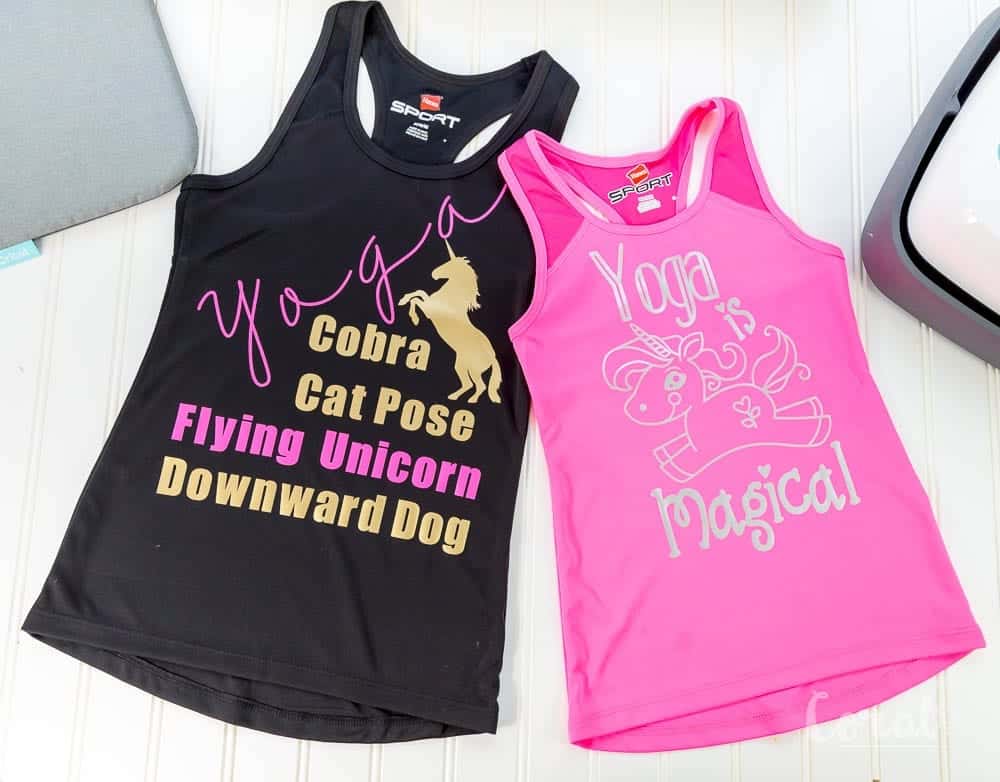 My kids are totally into workout gear right now and of course...UNICORNS! So when Cricut came announced their new SportFlex Iron On I was ready for a yoga and unicorn loving iron on party!
And it totally was a party! Haha! You should have seen the unicorn yoga poses my kids were busting out. Now I am apparently on the hook for some unicorn horns. I guess this is why I can never finish all my WIPs!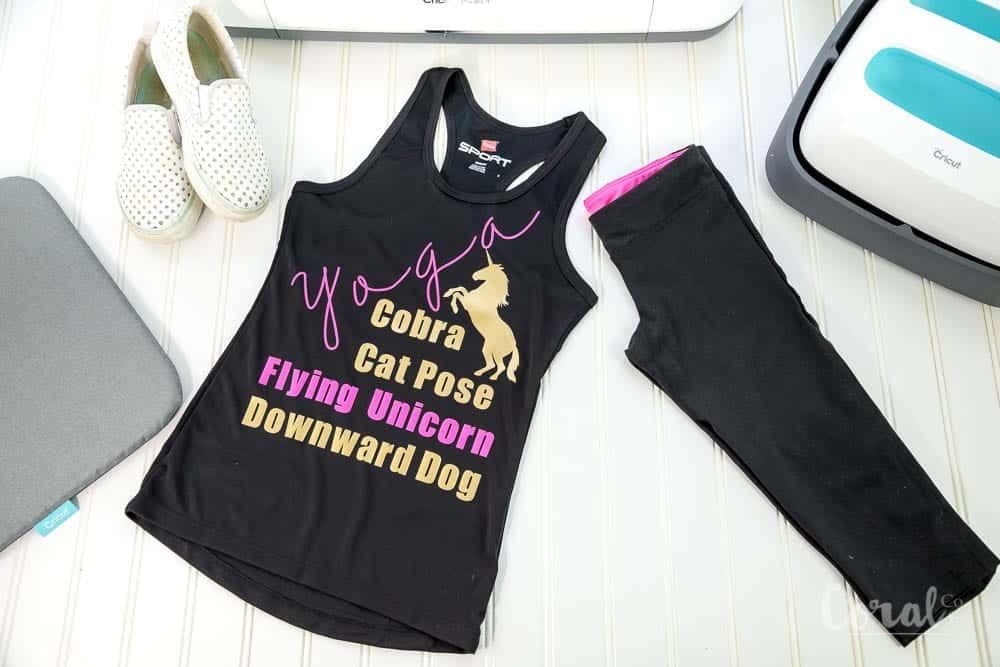 I absolutely love making custom T-s for the kids. It's such an easy way add some personal flair or holiday celebration to any blank shirt. Most of the time I use plain cotton t-shirts, and shirts that don't have a ton of stretch because I worry about the regular iron on getting a little funky and coming loose when the fabric stretches.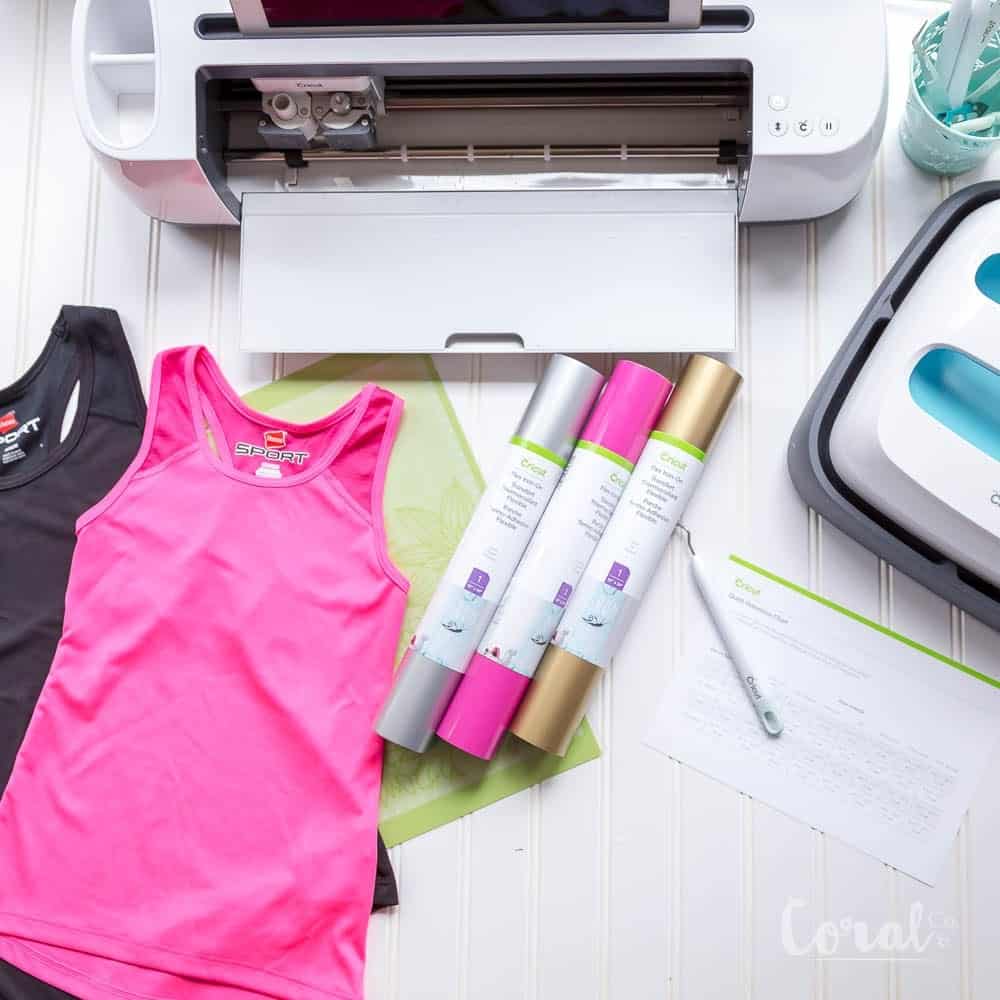 But now Cricut came up with the totally ingenuous SportFlex Iron On that can totally STRETCH and GIVE with the fabric. And oh my gosh, it definitely surpassed my expectations. It is thin and supple and because it features the Cricut StrongBond Guarantee, boy oh boy does it STICK! No peeling what-so-ever, eeek! Ok, I know I sound a little ridiculously excited. But I really can't believe how well it worked. This is going to be my go-to iron on from now on.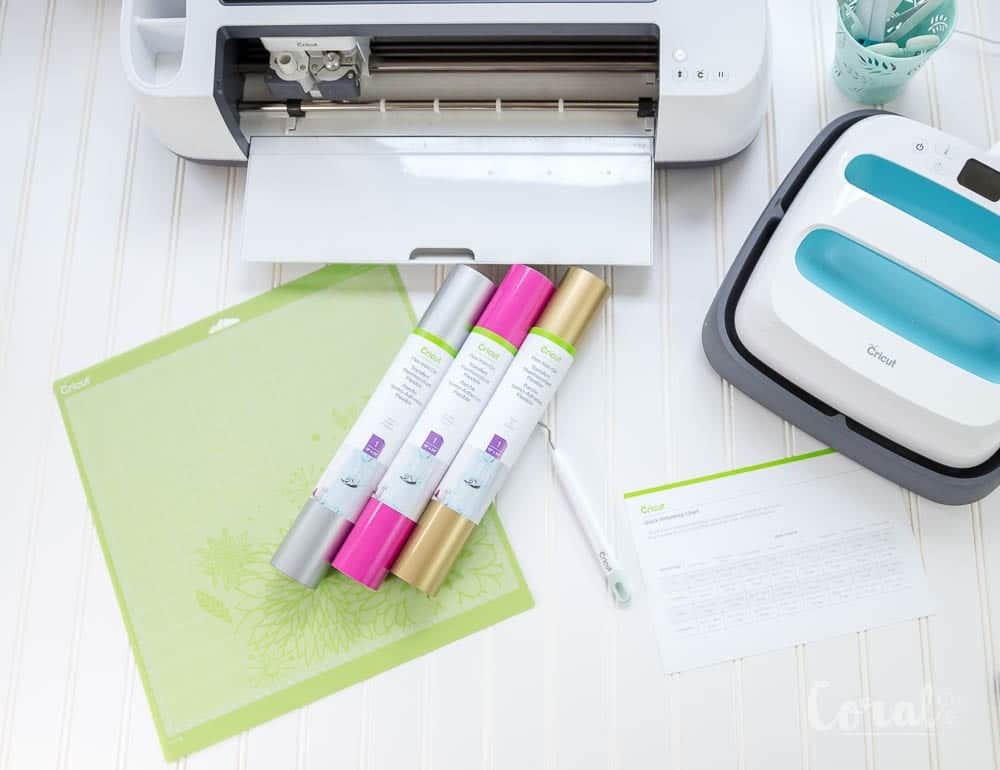 I choose to use metallic silver, fuschia, and metallic gold for these shirts. Right now there are only 9 colors to choose from, but I am sure that is going to be a super popular product and that they will add more. I can't wait to have aaaaaaaall the colors. Ha. You can also layer SportFlex On although Cricut suggests not using more than two layers at a time.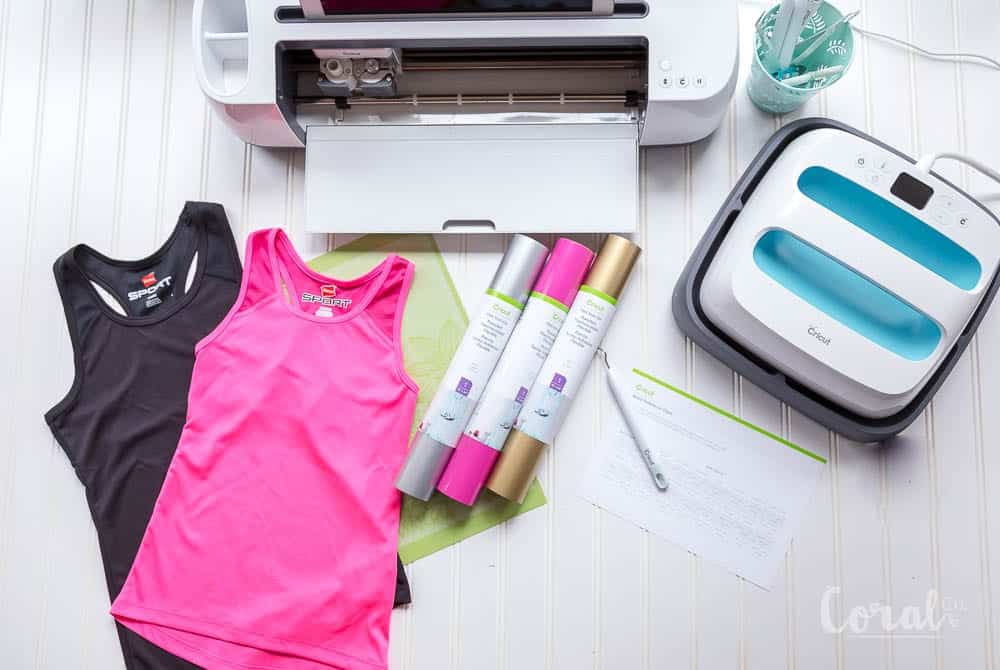 I ordered some color coordinating dry weave type workout tanks that are made from polyester. The SportFlex Iron On is specifically made to work with synthetic materials like nylon and polyester, which works great with workout wear. Maybe adding sparkly graphics and motivational sayings to all my workout gear will make me want to go to the gym more. At least one can wish! Hahahaha.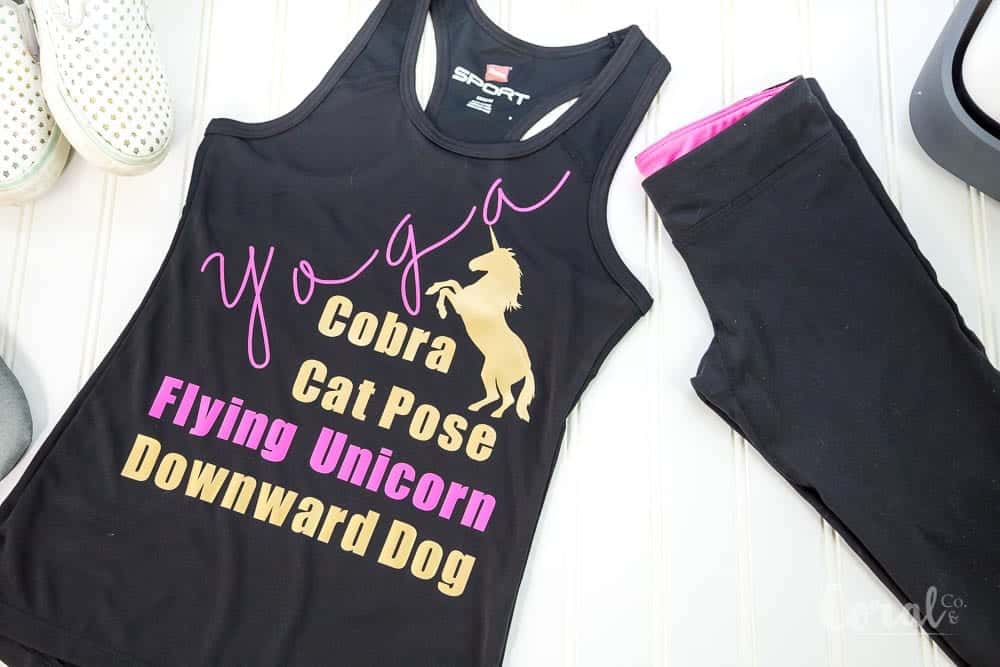 Supplies you will need for Cricut SportFlex Yoga Unicorn Tank
Cricut Maker or Cricut Cutting Machine
1 to 2 Colors of Cricut SportFlex Iron On (comes in 11.8" x 24" sheets)
Workout Style Tank or T-Shirt
Unicorn Yoga Poses Design (Bigger Size Layout or Smaller Size Layout)
Cricut Easypress and Mat (*Optional)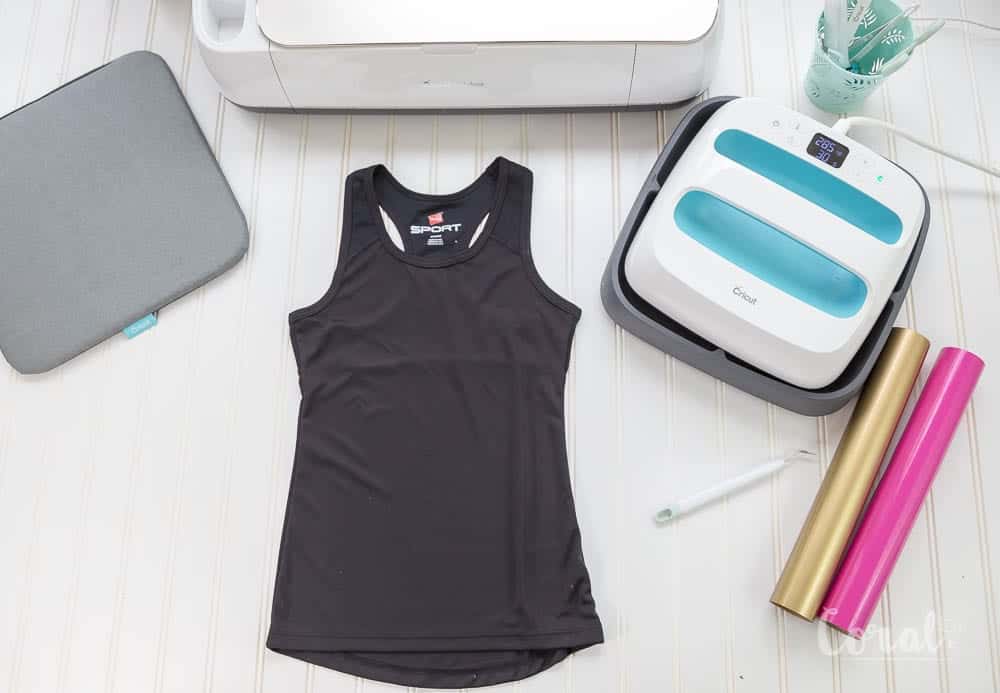 Annnnnnnd did you notice I said Easypress mat? Yes, Cricut finally released a new mat just for the Easypress. Its got a whole bunch of layers including silicone to absorb heat and keep your surface from heating up. As well as being able to reflect heat back to the project and wick moisture so your project gets a nice dry heat to help it set correctly.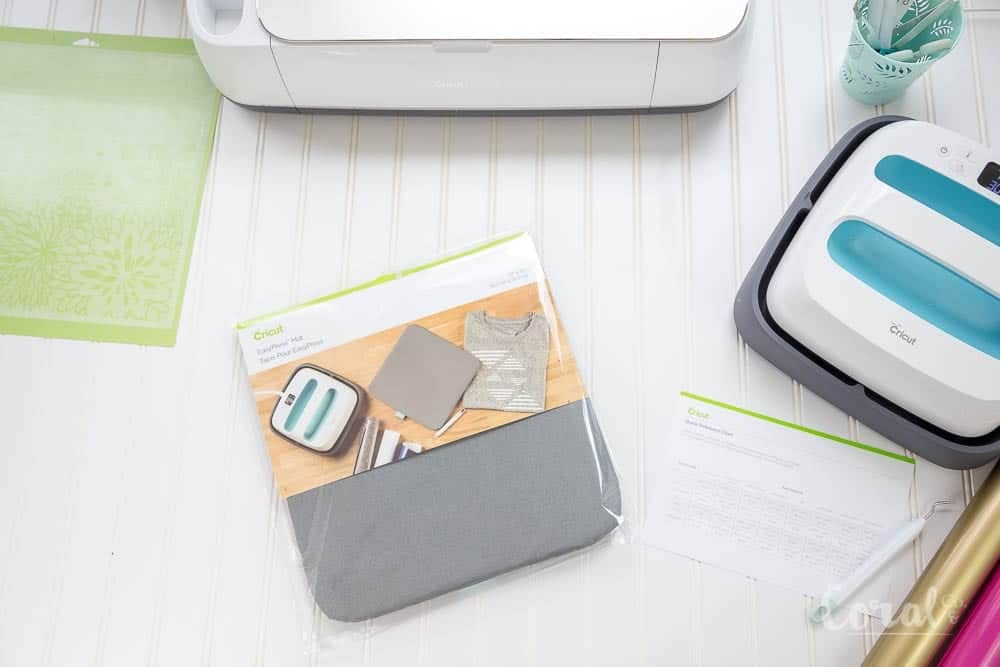 Now I don't have to lug my ironing board out everytime! Which will totally be a relief to my husband since my sewing studio is actually a sunroom and he has to pass through it every time to get to the laundry. Because we all know that husbands would never think of taking a hint about the ironing board being left out for them to iron their clothes!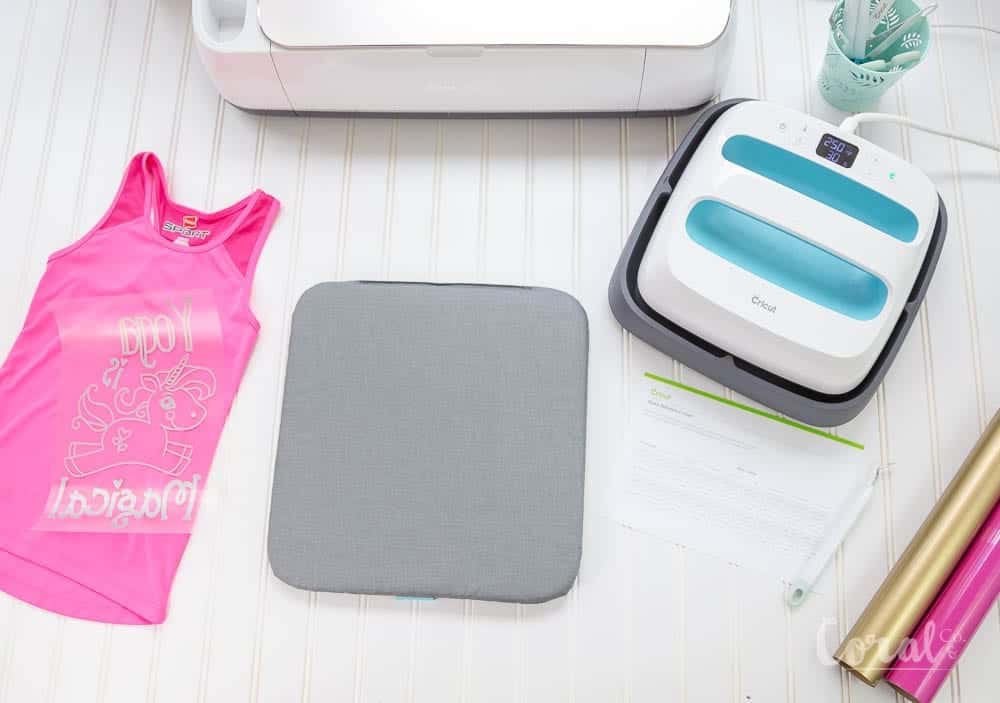 How to Use Cricut SportFlex Iron On and Make a Yoga Unicorn Workout Tee Tutorial
You can skip to the bottom for the Video Tutorial or scroll through the photos for instructions.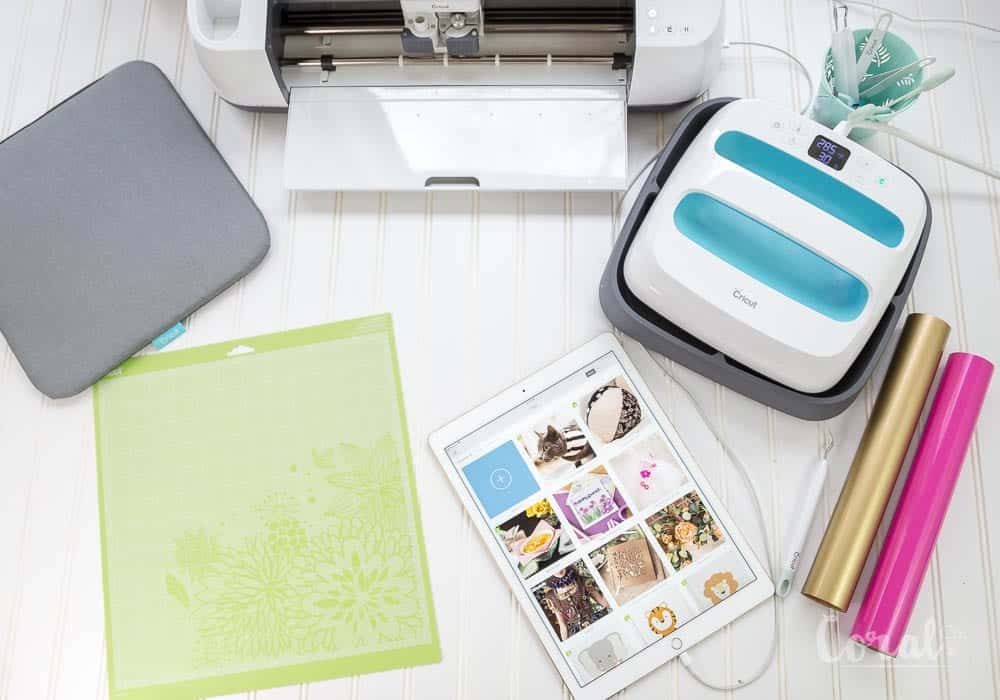 Load your either the Unicorn Yoga Poses or Yoga is Magical Design on Design Space. I used my ipad with the Design Space app because I love how easy it makes it connect everything.
Cut out design with the Cricut Maker or other Cricut cutting machine.
Cut away remaining Iron On.
Weed Iron On. I love using the Brightpad because it makes it so much easier to see what I'm doing. (Sidenote - my daughter loves to use my brightpad to trace pictures).
Warm up your Easypress mat for 5-10 seconds where you will be placing your shirt.
Apply the Easypress for 305 degrees and 30 seconds to the front of the shirt. then 305 degrees and 15 seconds to the back of the shirt using medium pressure

This is a sponsored conversation written by me on behalf of Cricut. The opinions and text are all mine.