I have a brand new quilted pillow pattern for y'all today! This big block modern hourglass quilted pillow pattern is perfect for both small and large prints. I love the way it uses bold colors to pack a punch!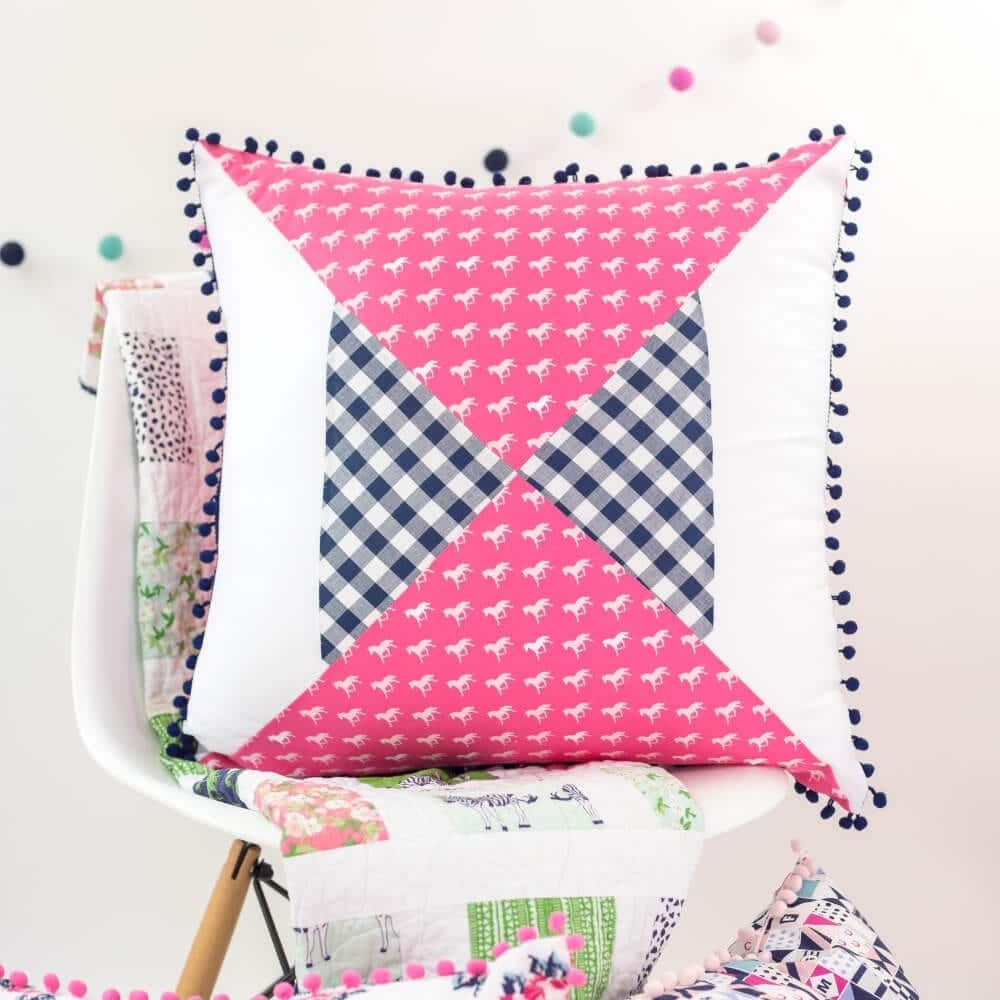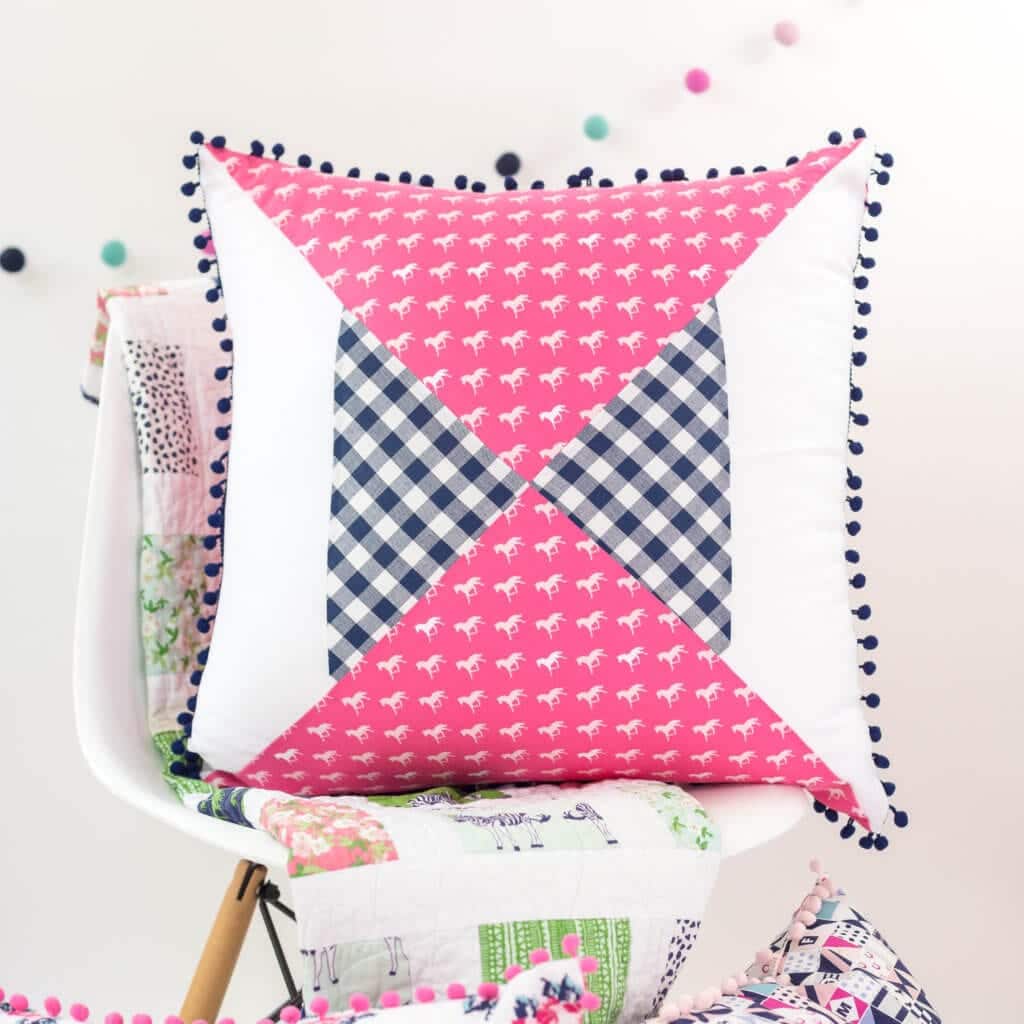 <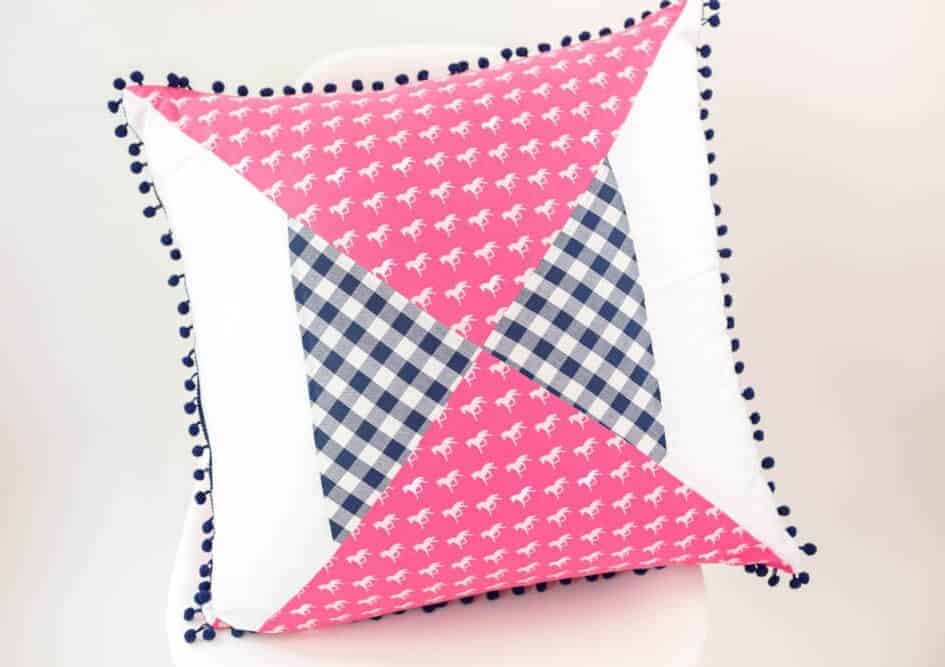 p style="text-align: center;">There is also a Video at the end of the post showing you all the steps of how to sew a modern hourglass quilted pillow pattern.
And by the way, have you seen the new gorgeous Derby Day Fabric line from Melissa Mortenson at The Polkadot Chair? I knew immediately when I saw this line, which is a remix of her original Derby Style line that I wanted to something really big and fun with the pink horse print.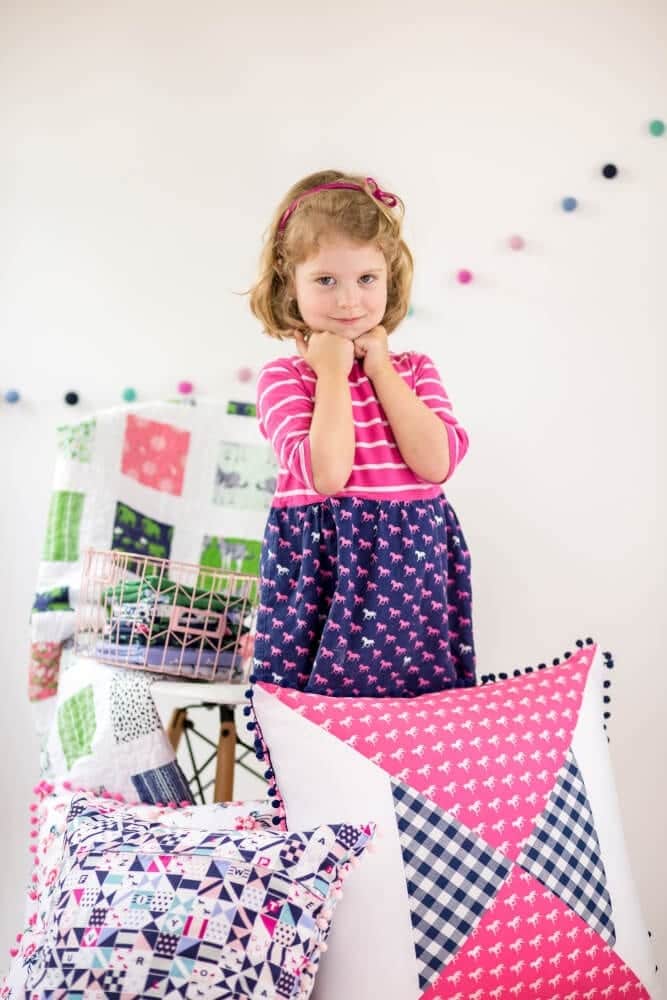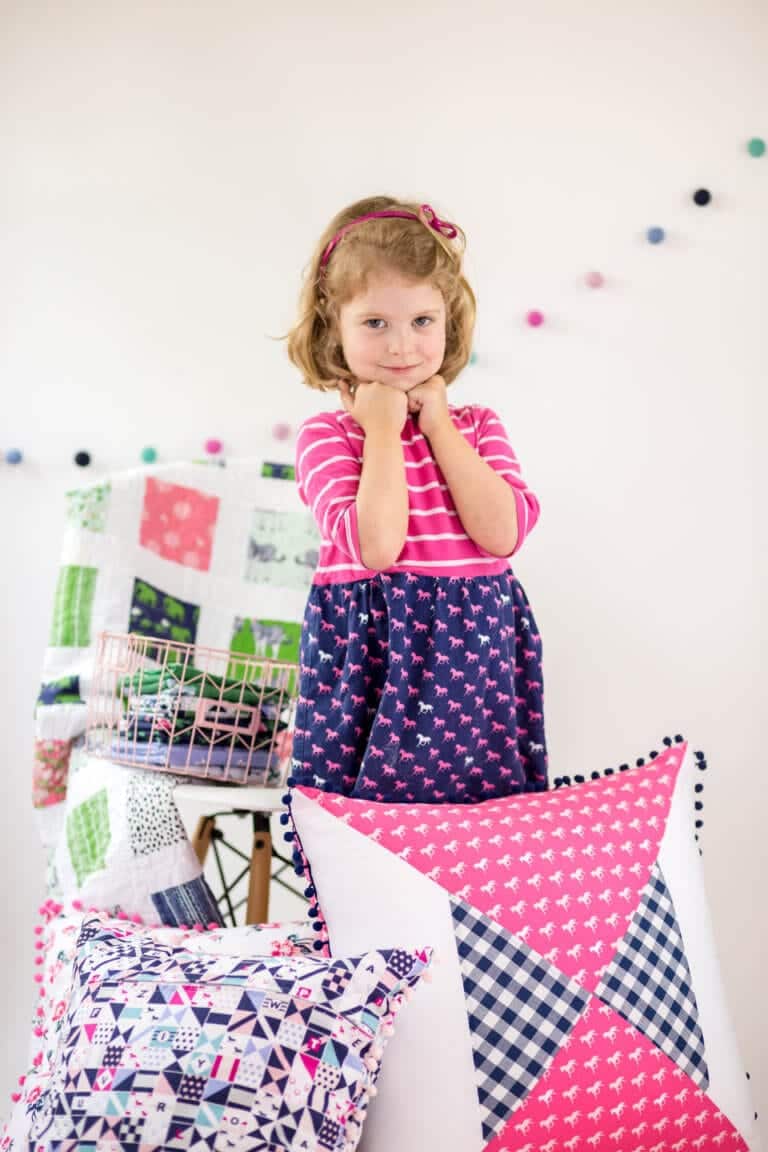 I made the cute t-shirt dress that Ava is wearing (I can't believe she can still fit in it!) and this fun horseshoe-shaped pillow. You can also find the pattern for the quilt that is shown here.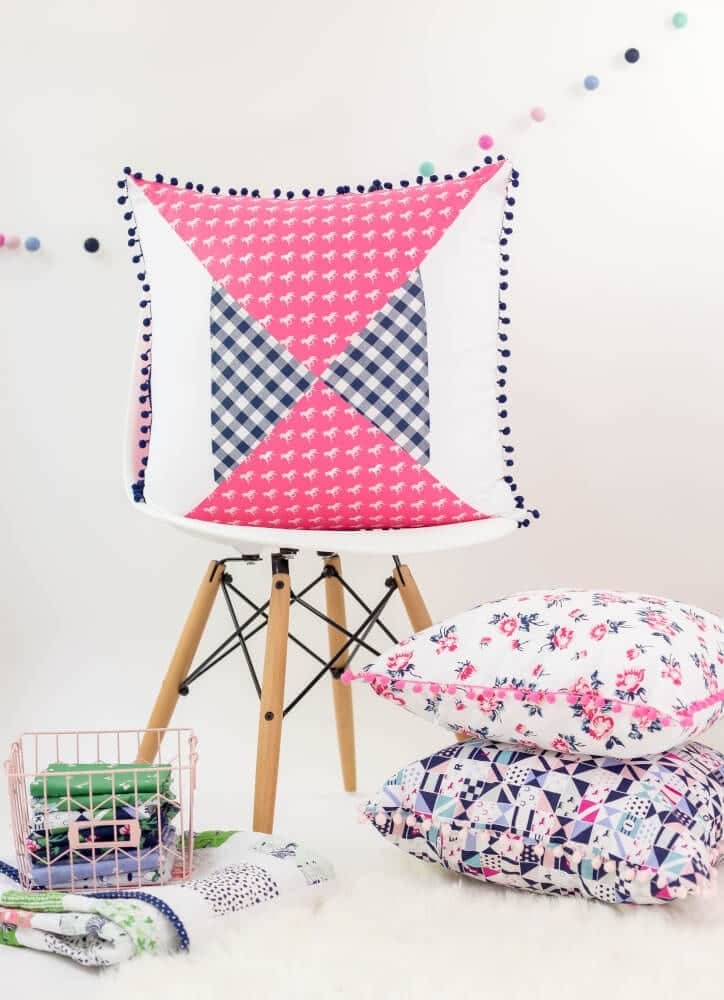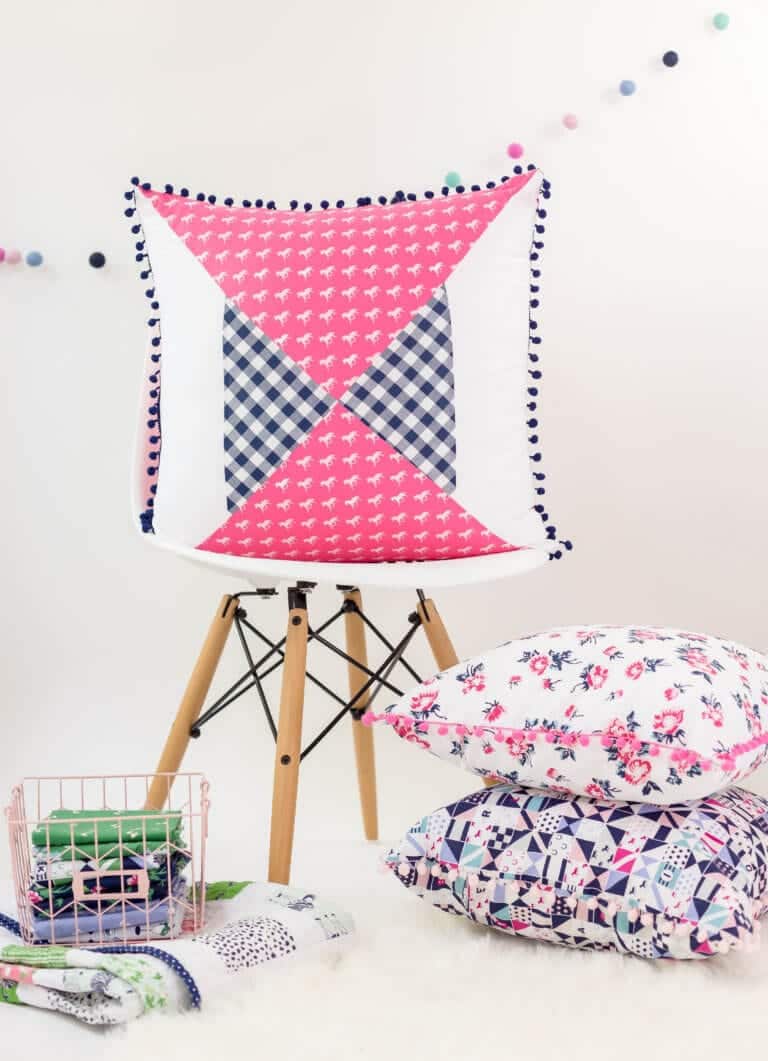 I was inspired by her applique horse pillow to pair the blue gingham plaid with the pink horses because...it's blue gingham y'all! And what goes better with than pink! So southern, it's true. I really actually wanted to make pillows out of all her fabrics but had to stop myself at three! Sheesh!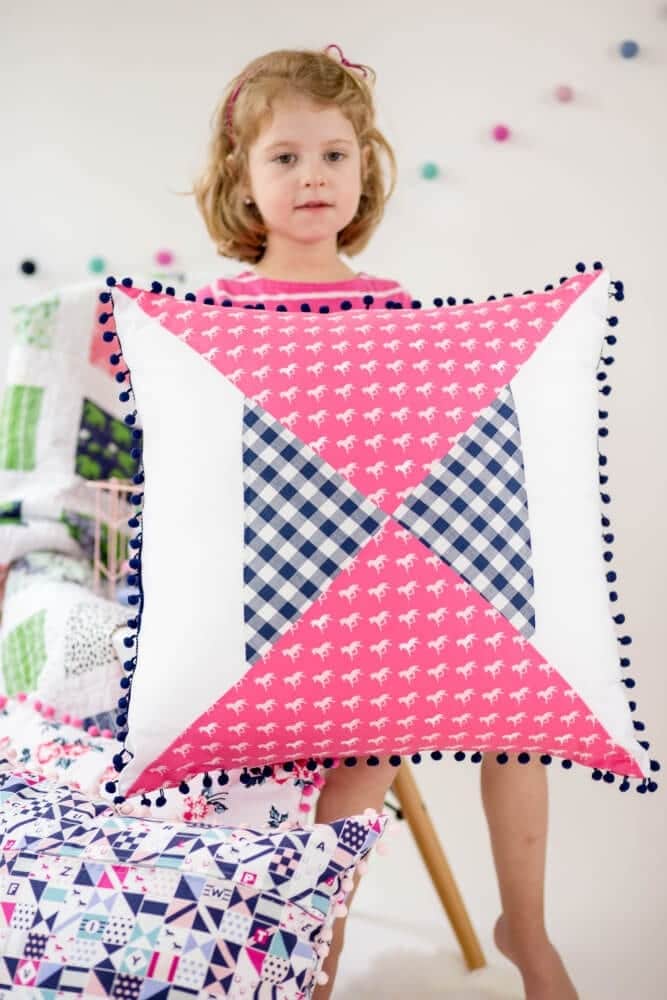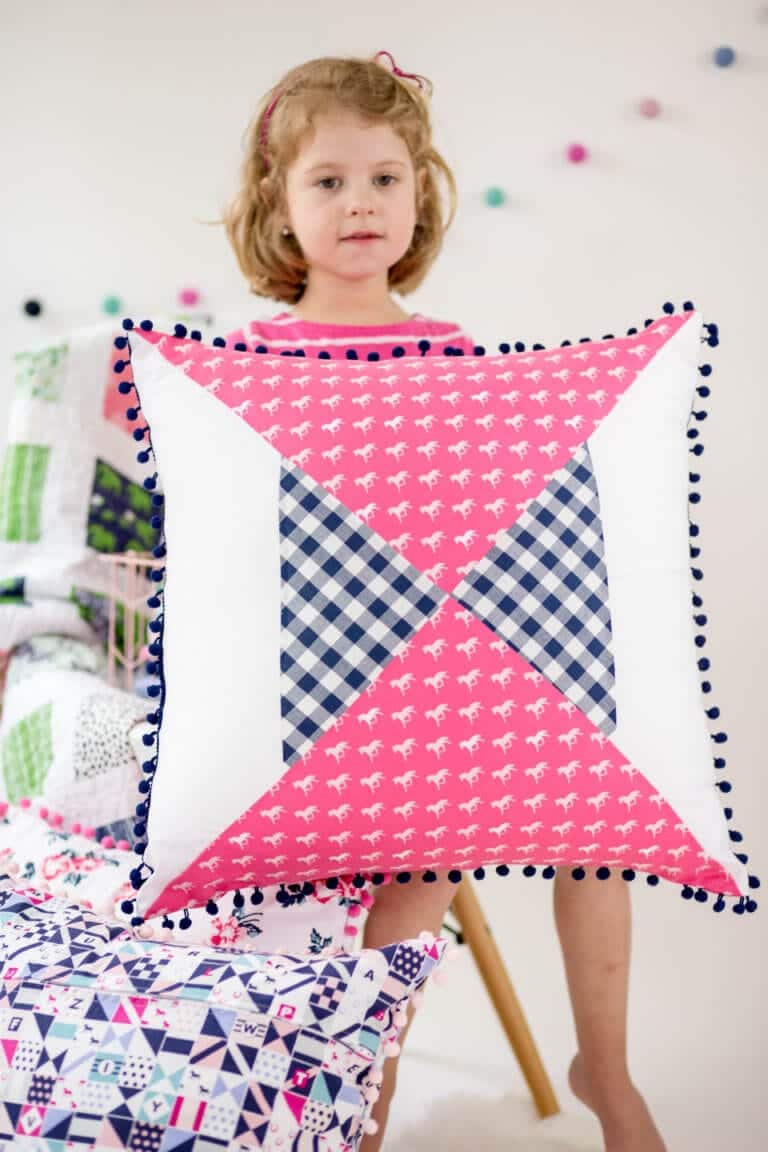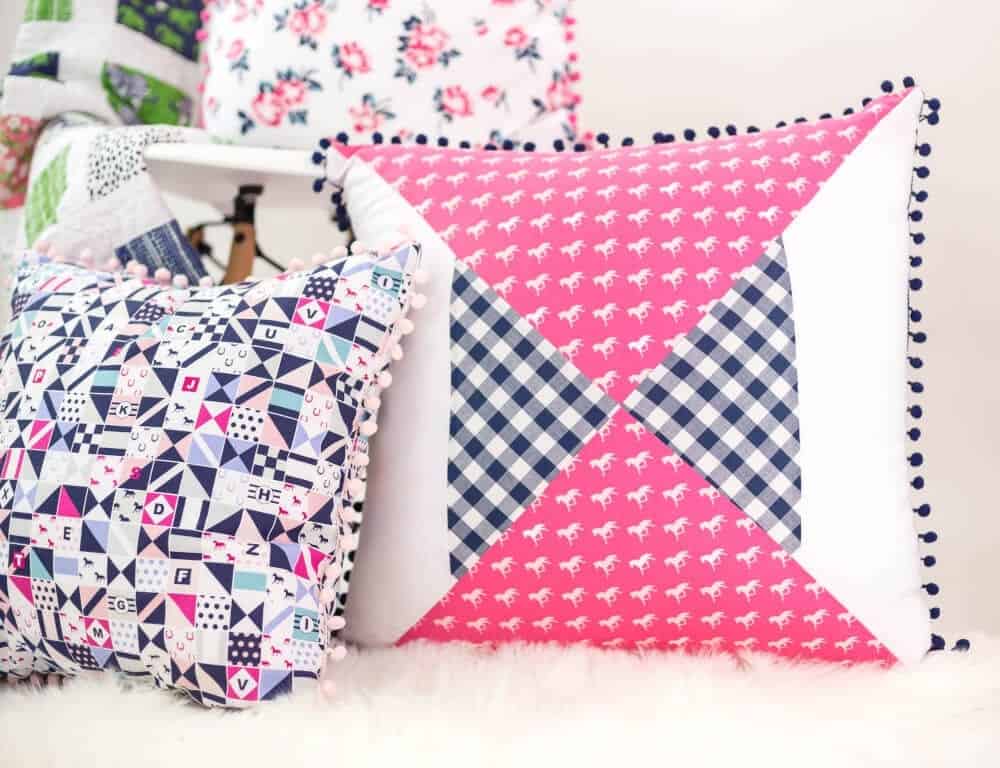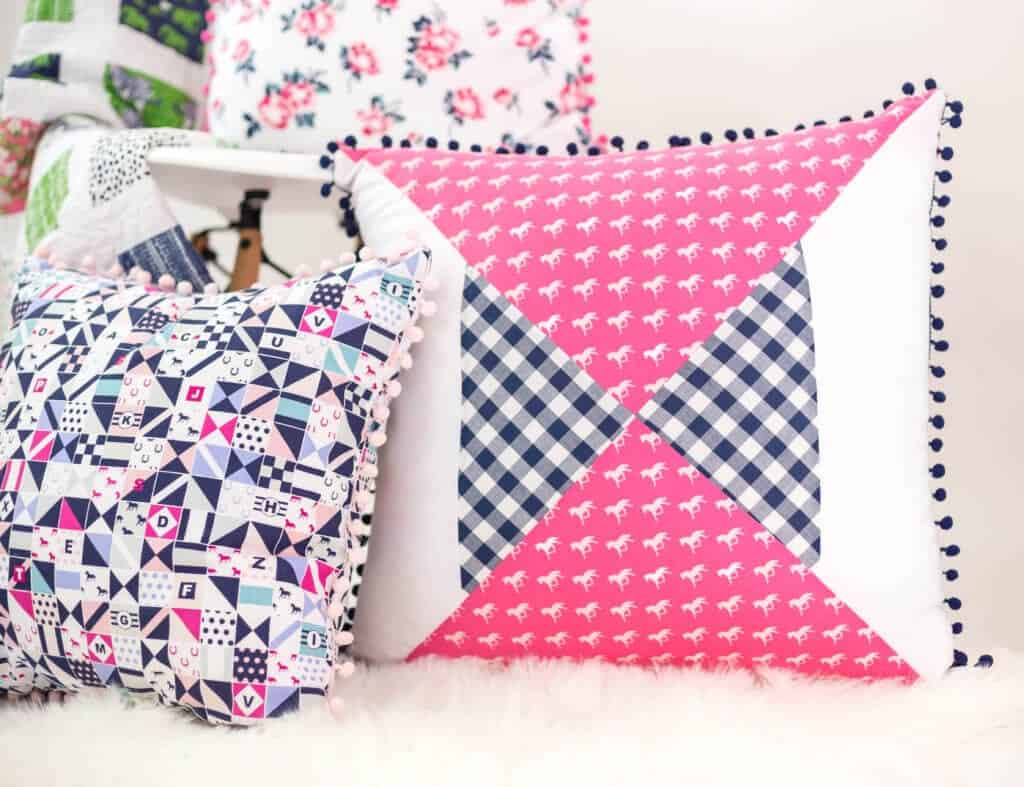 And if you haven't noticed I am a die-hard pom-pom girl. It seriously goes on everything, like these coasters and napkins. So I couldn't make spring pillows without pom-poms on everything!
Supplies for the Derby Day Modern Hourglass Quilted Pillow Pattern
Quilted Pillow Pattern - Hourglass Quilt Block Tutorial
Hourglass Quilted Pillow Front Cutting Diagram Steps
Cut a 17.5 x 17.5 inch square from both pink and white fabrics
Fold the pink square in half and with your clear ruler cut 1/8" or less on the long edge of the triangle to form 2 triangles.
Repeat for white fabric.
Cut an 8.25" square from the navy plaid fabric
Fold the square in half and with your clear ruler cut 1/8" or less on the long edge of the triangle to form 2 triangles.
Lapped Zipper Pillow Back Cutting Diagram
Cut top piece 6.5" x 24.5"

Cut bottom piece 19" x 24.5"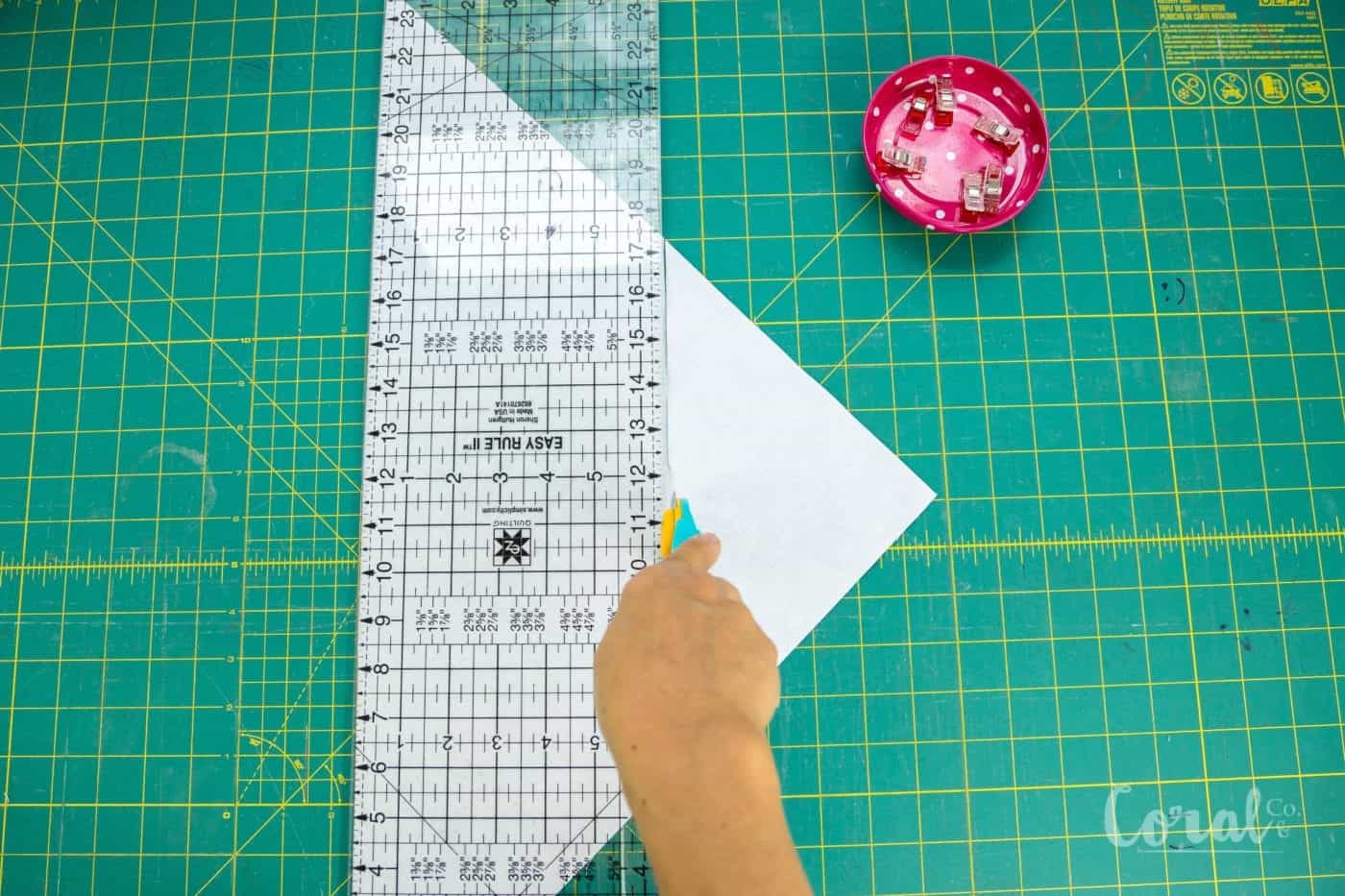 How to Sew a Quilted Pillow Pattern Instructions
Cut 6.5" from the bottom long edge on the white triangle.
Fold smaller triangle right sides together over white strip aligning matching sides and sew 1/4" seam.
Press seam toward top triangle
Lay blue and white triangle over pink triangle with right sides together matching the top short side and sew 1/4" seam down top short side.
Repeat for the other triangle half of pillow matching the bottom short triangle side and sew 1/4" seam.
You will now have two have large triangle pieces.
Fold both triangles right sides together and clip.
Sew 1/4" seam down the long side.

How to Sew the Pillow Back and Add Pom Trim
To add zipper fold top of the bottom back piece over 1/2" and press.
Using dritz washaway wondertape (my favorite method) or pins secure zipper and sew into place.
Fold top pillow back piece over 1" and press.
Overlap zipper bottom 3/4" as pictured below.
Secure zipper by glue basting, using drizt washaway wondertape or pinning
Sew zipper into place.
Clip pom pom trim along edges of pillow back.
Sew along trim edge.
Place pillow top and bottom right sides together to form a sanchwich with pom pom trim inbetween.
Sew 1/4" around edges of pillow. Open zipper a bit before sewing edges so you will be able to turn pillowcase. Clip corners.
Turn right side out and you are done!