Ready, set, quilt with the perfect Modern Quilt Pattern for Beginners!
The Inspiration for the Modern Quilt Pattern
You guys I am beyond excited to this week's modern girls' bedroom reveal Highlighted by the Free Modern Scrappy Version of my Swiss Cross Quilt Pattern! The inspiration for her room came from the statement black and white plus quilt and it turned out magical. It was over a year ago that I started designing a modern girl's black and white bedroom. I had all the pieces put together except for the quilt, which was sitting half made in my work in progress pile.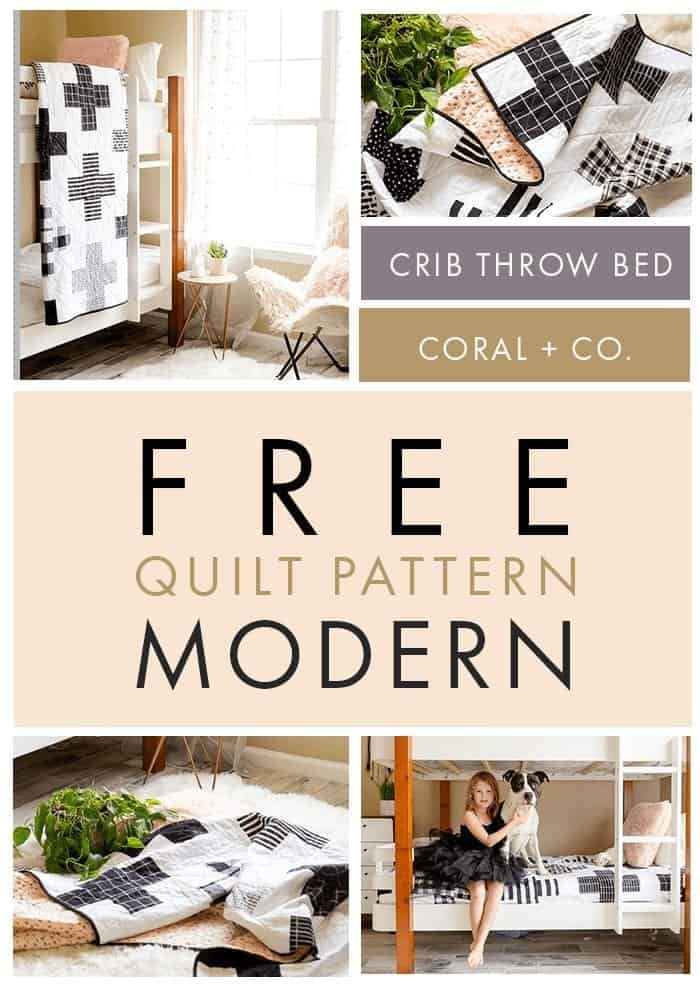 I had slowly been chugging along on it. Taking it out every so often to make a little more progress. Did I mention that there were two quilts in the works? One for the top and bottom bunk of course. The blocks were all made and the had even started making their ways into rows, but it still seemed an eternity unit I was finally going to get them finished. Between the kid's school, my work, and always being on the go there was little time to actually sit down and sew. Confession: I am still working on the second quilt.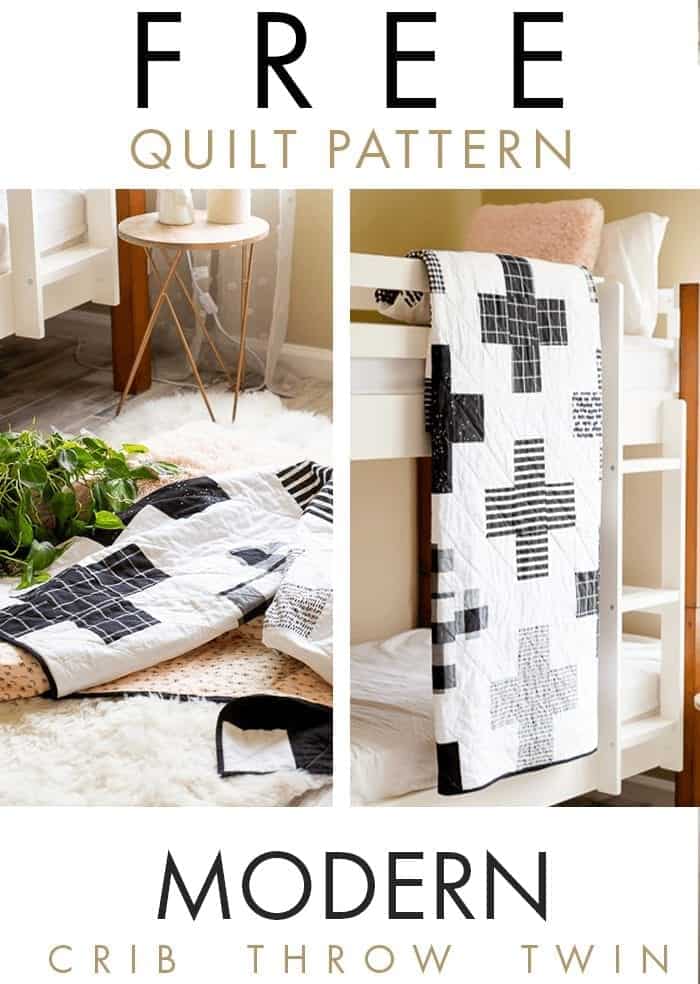 Until March hit. Suddenly I had more time, then I knew what to do with. So I dug out my WIP box and decided that I was going to wittle my way through the box during this stay at home period.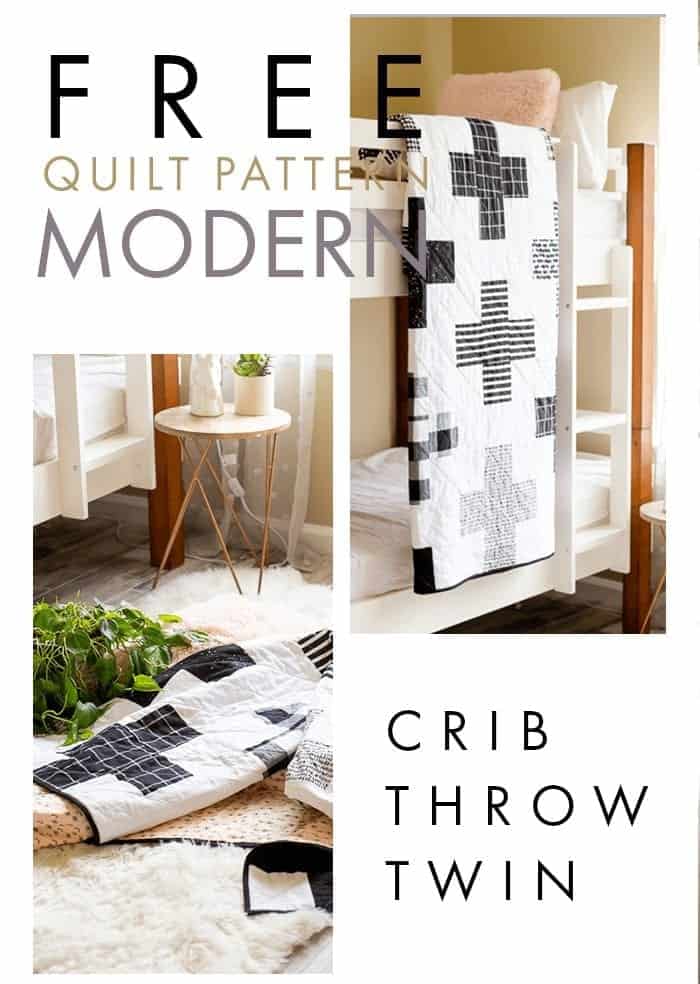 So far I have finished two quilts from the pile and updated a few of the patterns on the website and will be offering them in a downloadable format. I will be sharing those in the next few weeks, along with some new patterns.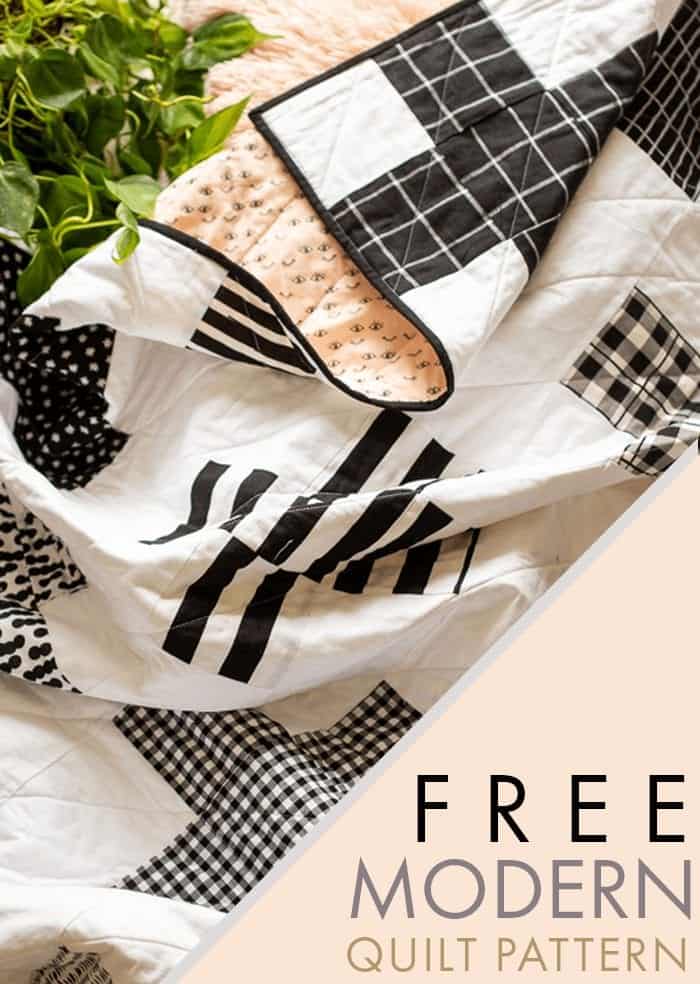 Back to the super cool kids quilt. Actually I made this quilt a bit more mature on purpose. I wanted to create a quilt that was modern and sophisticated enough for her to take to college with her. Anything that she was going to love now because it was covered in pinks and purples and adorned with unicorns was not something that she would think was cool when she is seventeen.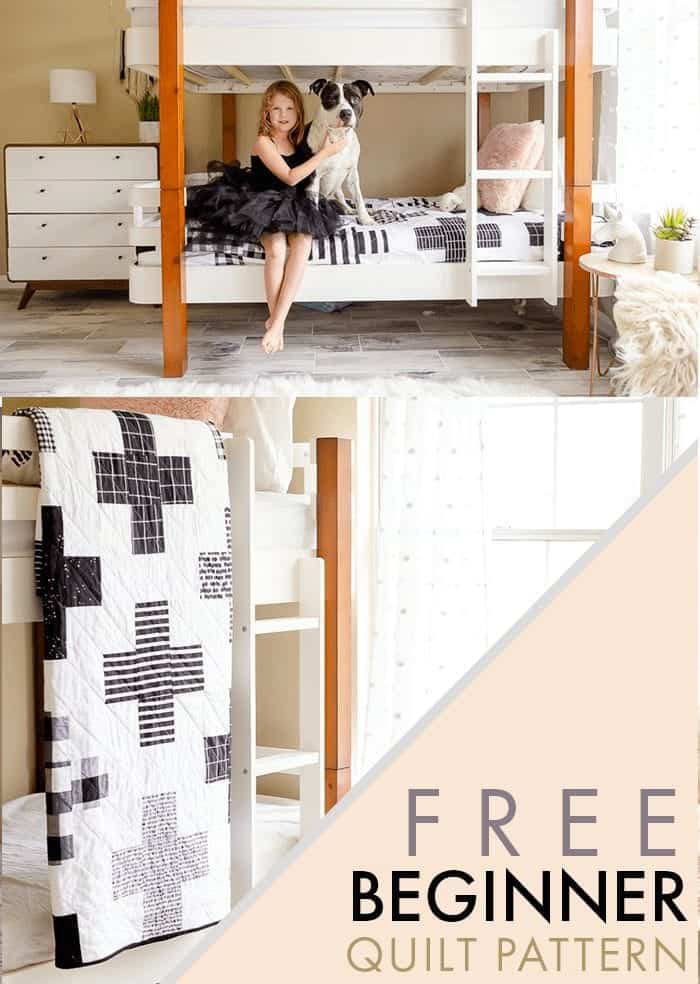 I also wanted her bedroom to grow with her. I wanted it to have a few pieces that could be changed out as her taste matures but that would still be something that looked appropriate for an adolescent.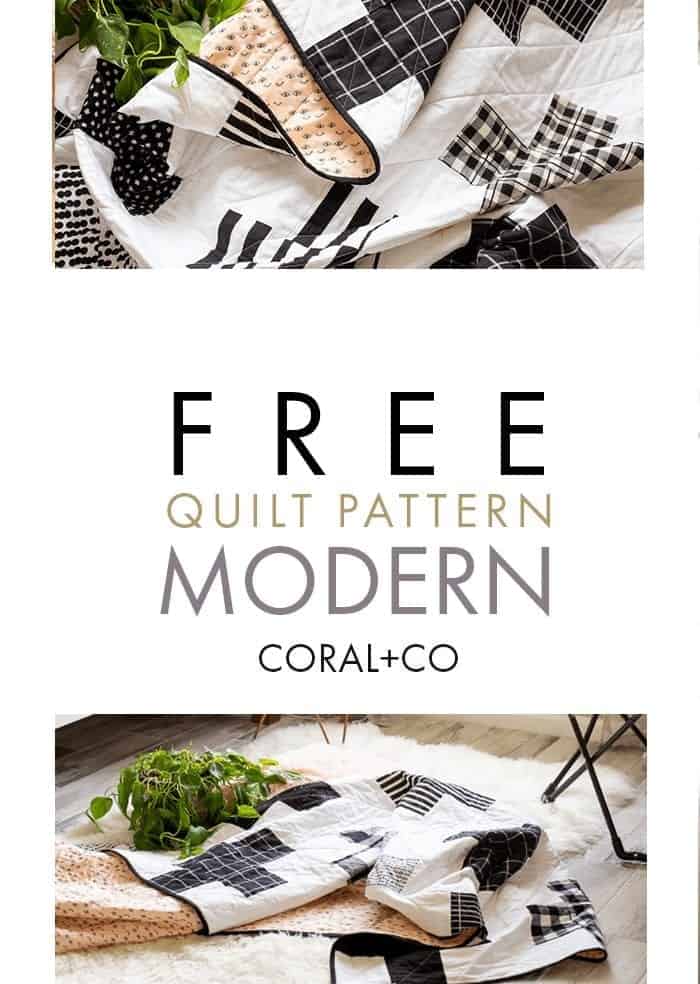 I'm sure you are ready to get to all the deets on the quilt and room.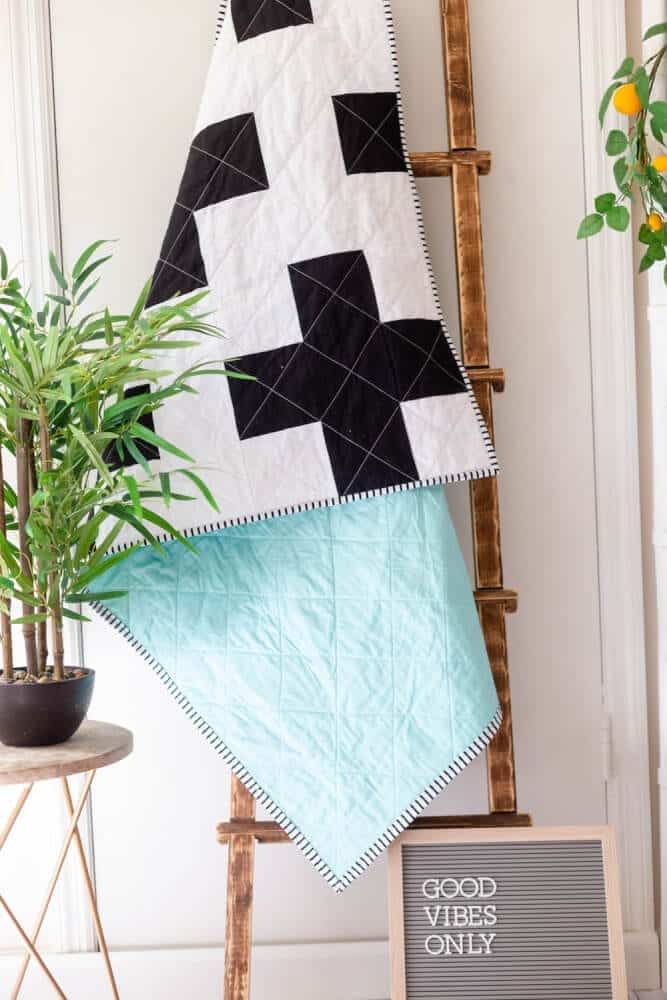 Or head to the Resource Library to download the pattern now.

The modern quilt pattern for beginners really is made to be easy to sew and assemble with its large blocks and simple square and rectangle pieces. The pattern comes in a crib, throw, and twin so you can make it for several different sizes. I also designed the pattern so it would be just as easy to make it using one fabric for the plus blocks as it would be to make a scrappy modern quilt.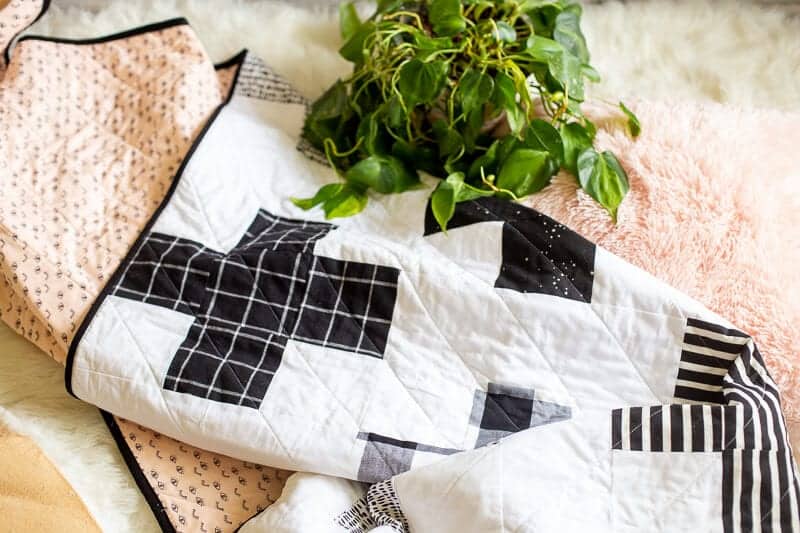 You might also notice that some of the fabrics don't line up exactly. Let me tell you, I didn't fuss or worry about it one bit. I was using scraps and fat quarters, some of which were not on grain, and some of which I had only small amounts. Perfection is overrated and I figured it added to some of its scrappy charm. So don't let the quilt police scare you off from making your next imperfect scrappy quilt!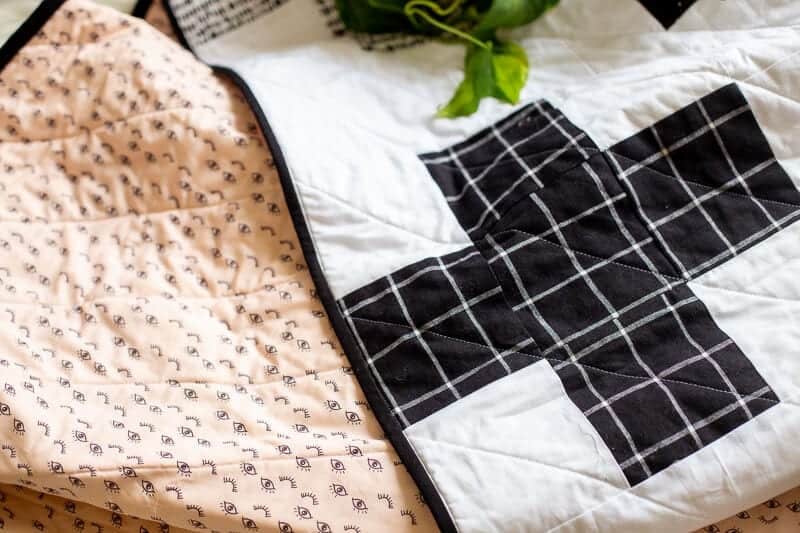 Isn't that backing fabric just adorble???
The Modern Quilt Pattern For Beginners Details
Here are some of the fabrics I used to make the free modern scrap quilt pattern. Some of the fabrics are sold out so I didn't list them here.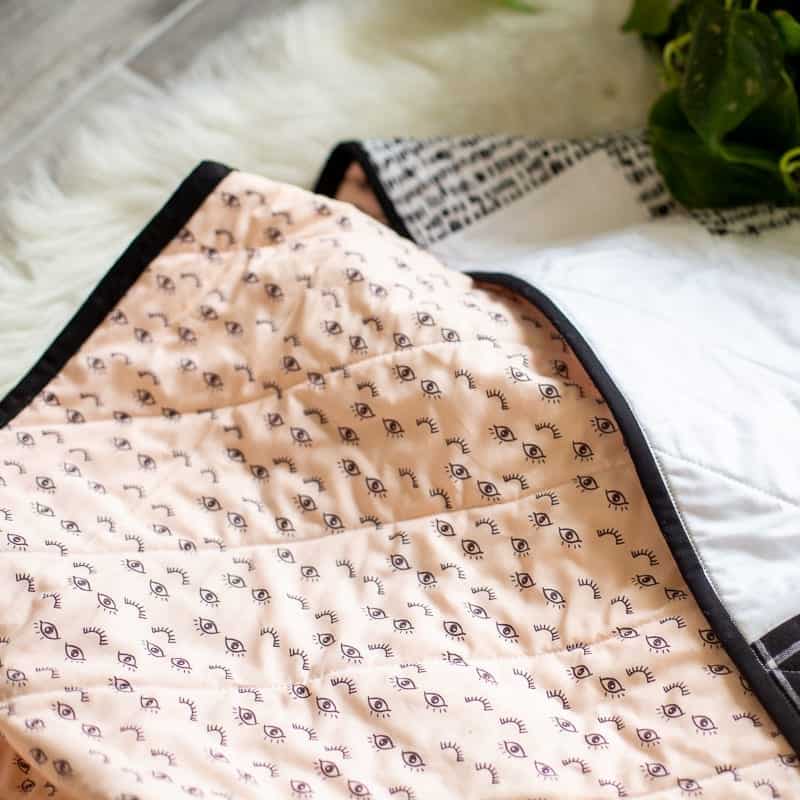 Here are also a few other black and white fabrics that would work well.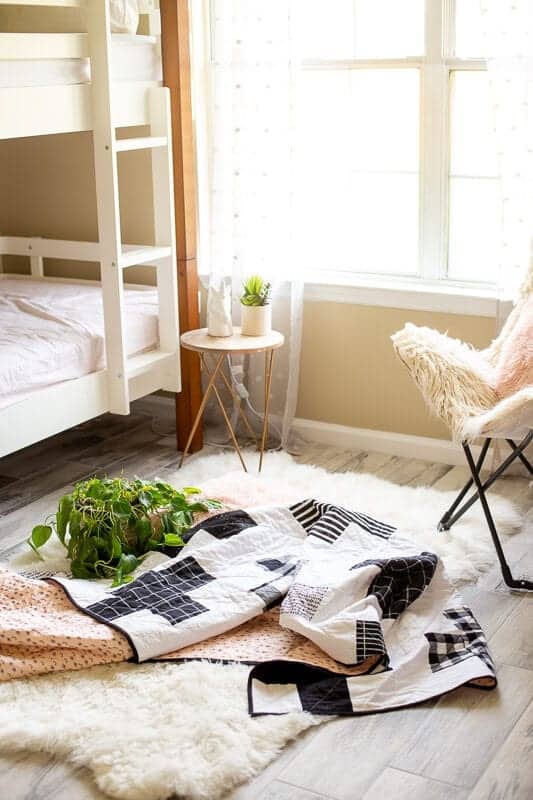 The Girl's Modern Bedroom Reveal
If you're interested in how her room turned out, keep on reading! If not go get your copy of the Modern Swiss Cross Quilt Pattern.
I was totally crushing on this modern bed frame with its white round corners contrasting with the pinewood posts. I found the twin bed frame on Amazon. It's called the Birdie Bunk Bed made by Novogratz.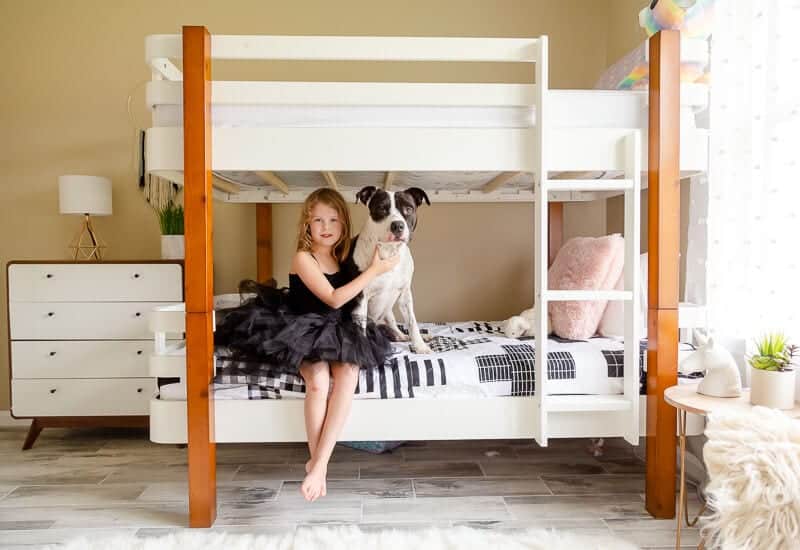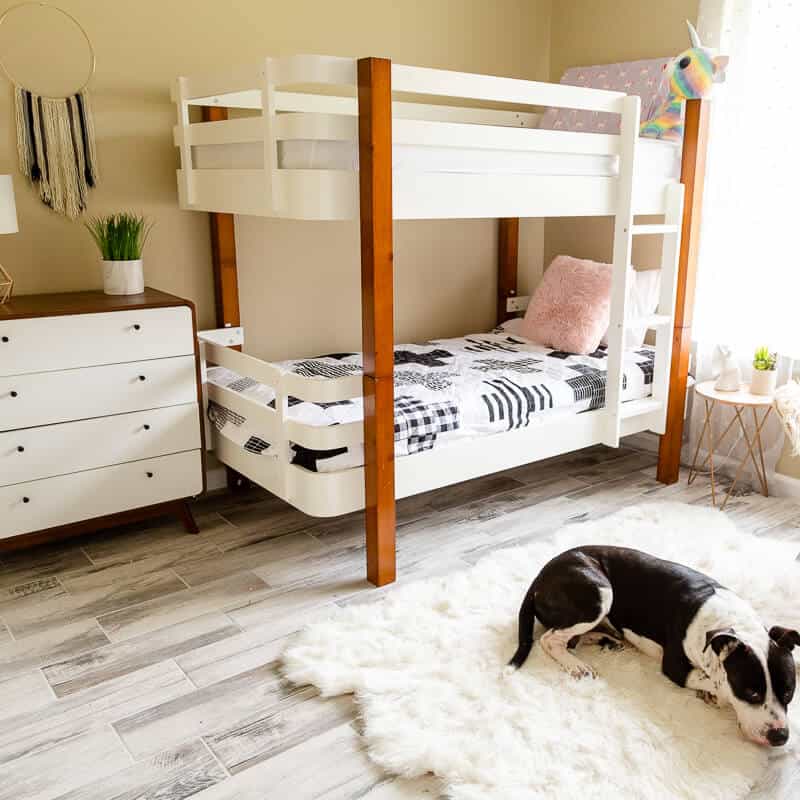 The pink faux fur throw pillows were a fun detail that is perfect for any little girl's room. And pairs perfectly with modern black and white aesthetic. It's also something that can be easily replaced as she grows older and doesn't love pink as much anymore.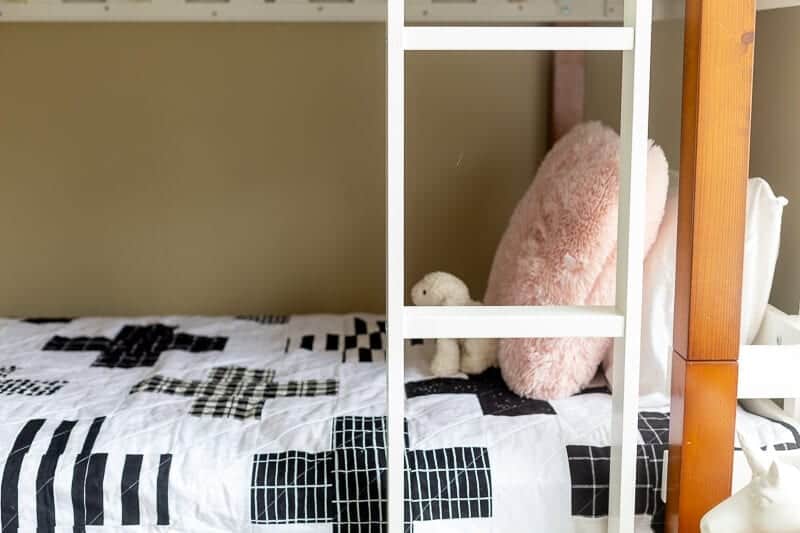 The faux fur area rug is soft and a great place to sit on the ground and play with the pets. I really might need one for my room as well.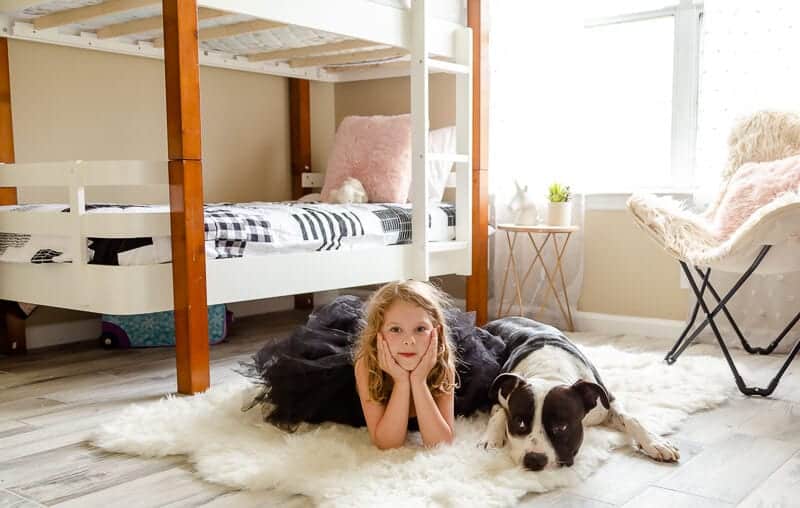 I found the side table randomly at Ross one day. I love the brass and rustic wooden top. I searched for a few options that I thought would also work well in this room. I found an affordable and cute marble top side table on Amazon. I also really like this drum-style side table. It has a fun geometric base that adds a lot of visual interest. If you want to splurge this sleek modern side table with hairpin legs is a great option.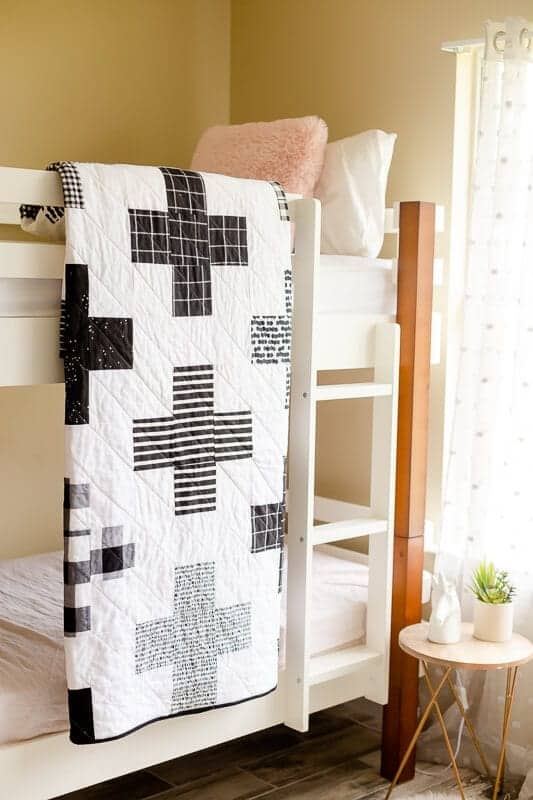 The nightstand is decorated with a stone pot faux succulent and this adorable unicorn night lite.
As you can see I am still working on finishing the second quilt, but I loved how the room looked with the first one done that I had to take photos of it and do a blog post. I also plan to replace the pink and mint felt ball garland with this more classic color felt ball garland.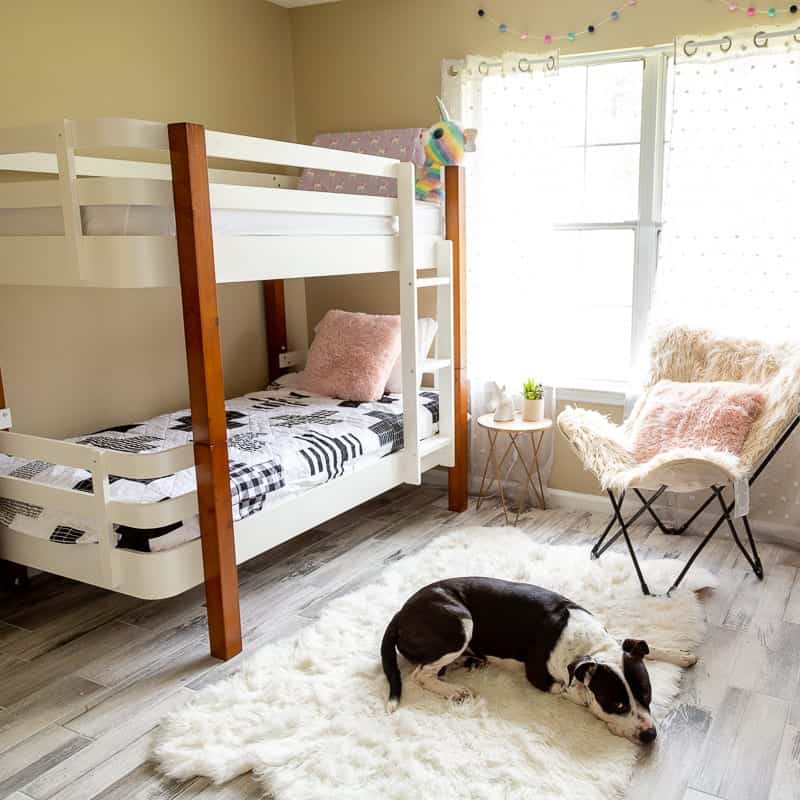 I balanced the hard lines of the modern furniture with the soft texture of faux fur. And because there is a lot of hardness in the room I thought the more faux fur the better! So I added the Ivory faux fur butterfly chair which is such a great chair for a kids room. It is the perfect place to cuddle up and read a book and can easily be folded up and moved if she needs more room. They are sold out of the exact one I ordered but I really like the metal legs on this butterfly chair as well.
I saw these grey window sheers with pom pom trim on them and knew they had to be in her room. They are one of my favorite things in there.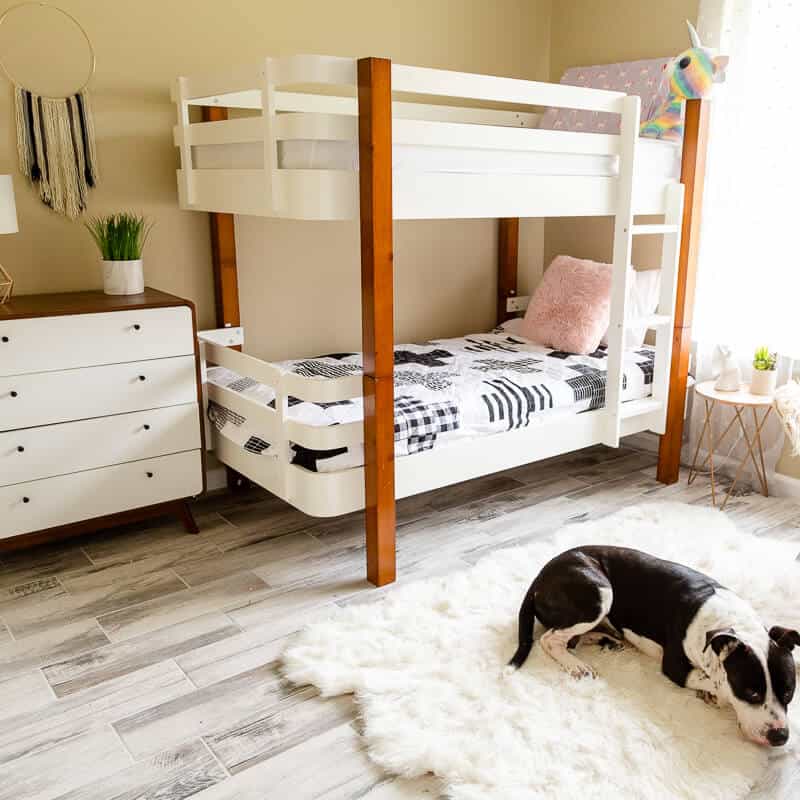 The mid-century modern dresser was a Wayfair find that looks like it was married to her bed frame, with the rounded corners and contrasting white and wood trim. I could no longer find the exact one I bought but this two tone dresser is pretty close.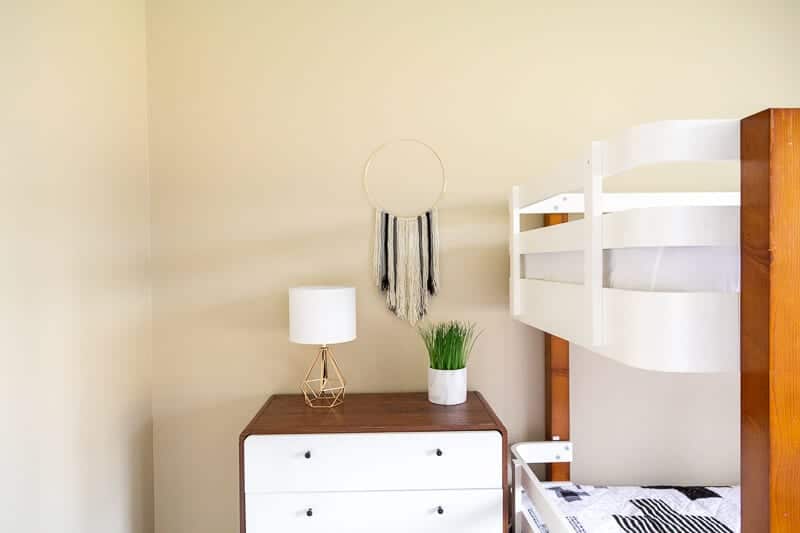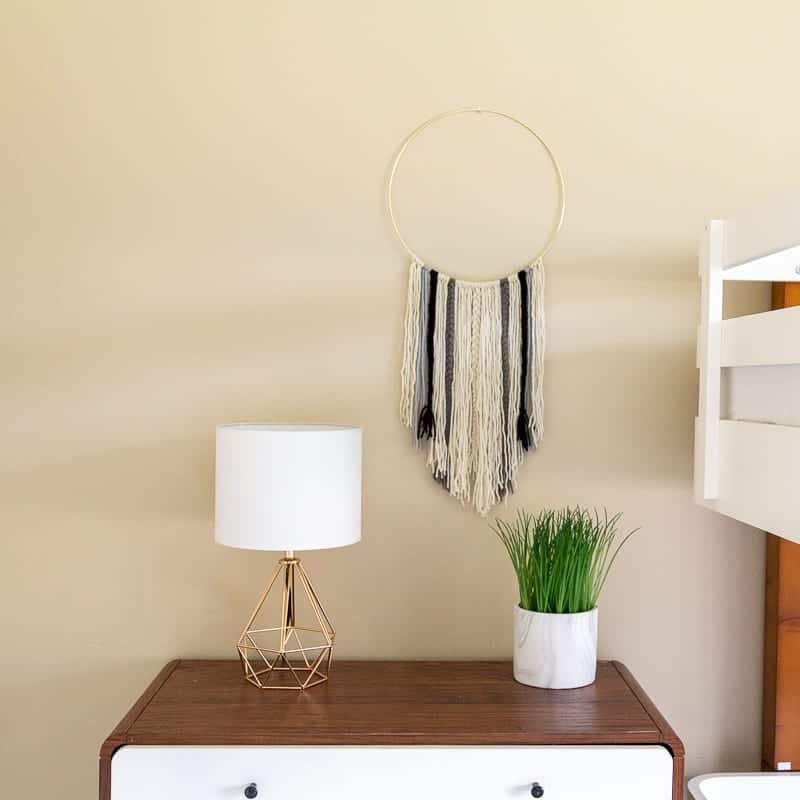 I am obsessed with the modern lamp in her room. The geometric base looks right at home in her room. I found the potted grass plant at Ross as well.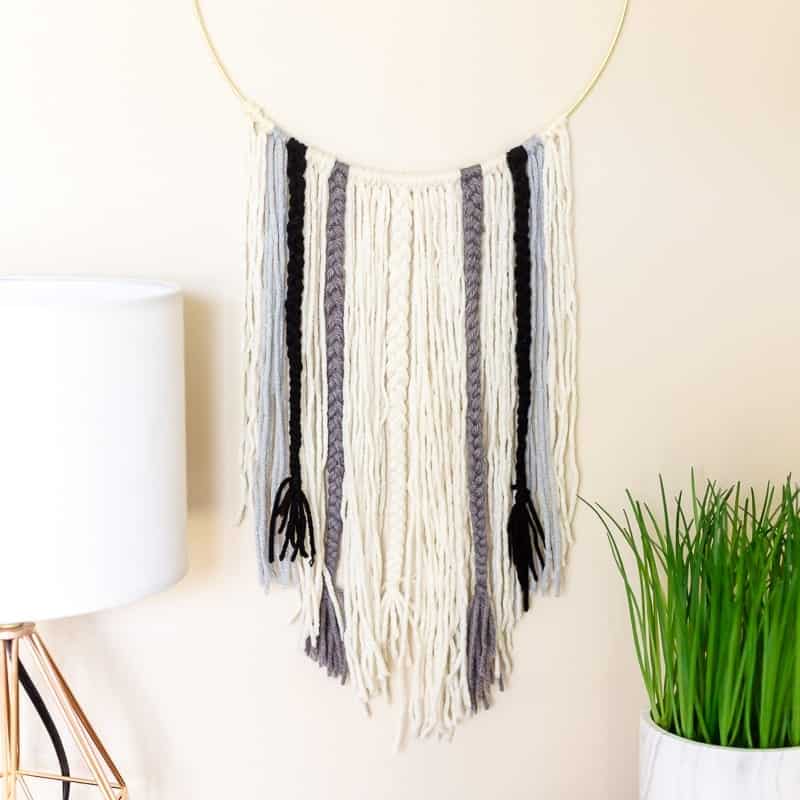 The Yarn Wall Art was a project that I made just for her room. I ordered these floral hoops and used some black, white, and grey yarns to make it. It was super simple to make and adds some visual texture to the wall. I will be posting a video tutorial for this one soon!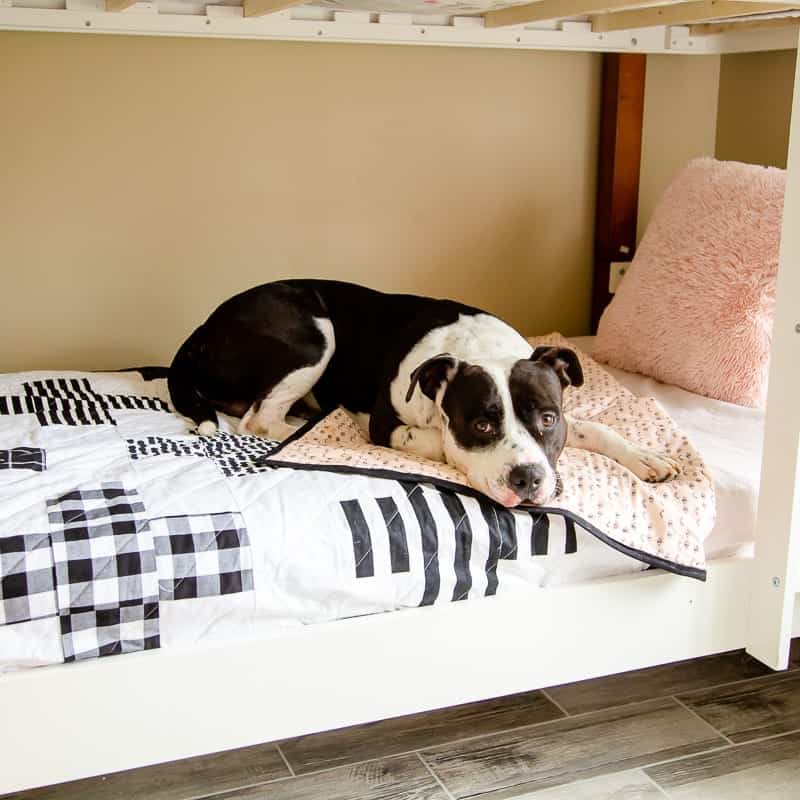 The dog was pretty quick to notice that the quilt had quite resemblance to him and was quick to claim it as his.
They made pretty cute pair of quilt models.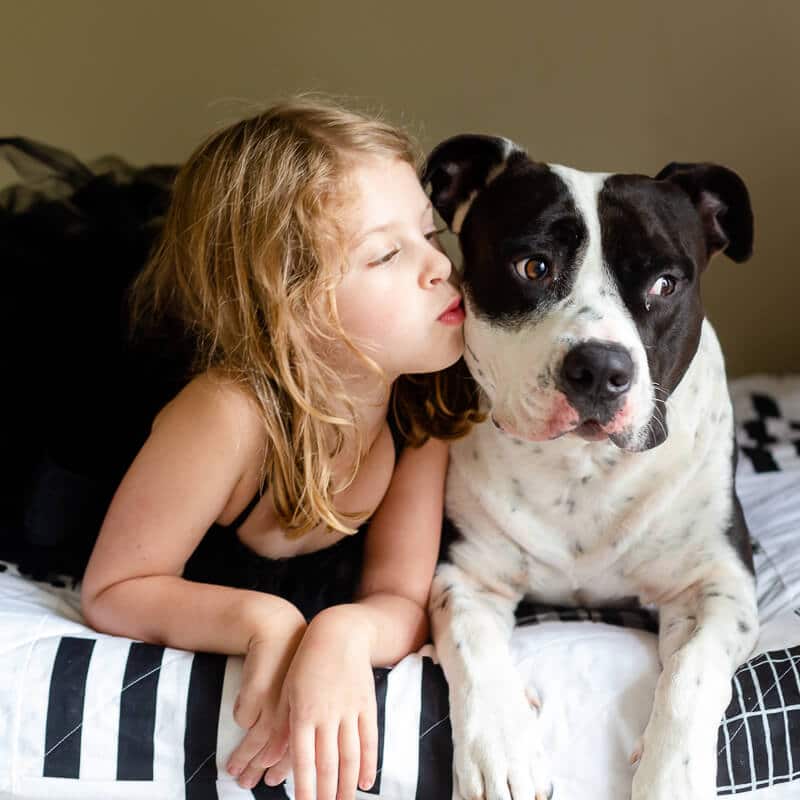 If you are looking for a few more beginner quilt projects you might also like Easy Charm Square Quilt Pattern or this fun list of 13+ Free Baby Quilts to sew.
Pin the FREE Modern Scrap Quilt Pattern for later!