Easy Potholders - Free Quilted Potholder Pattern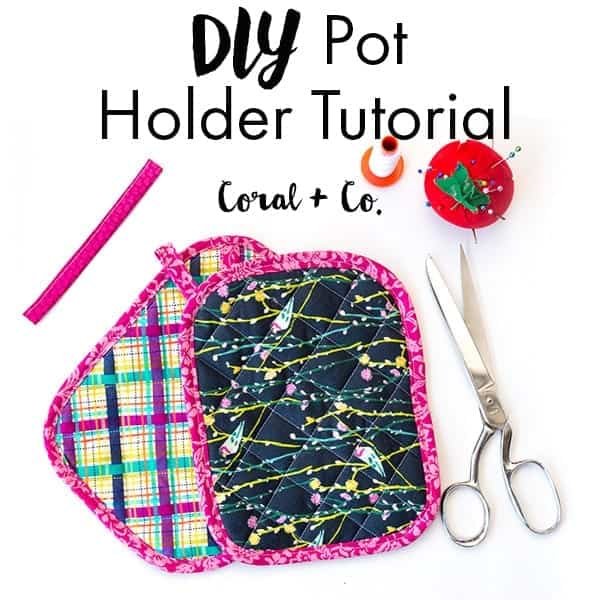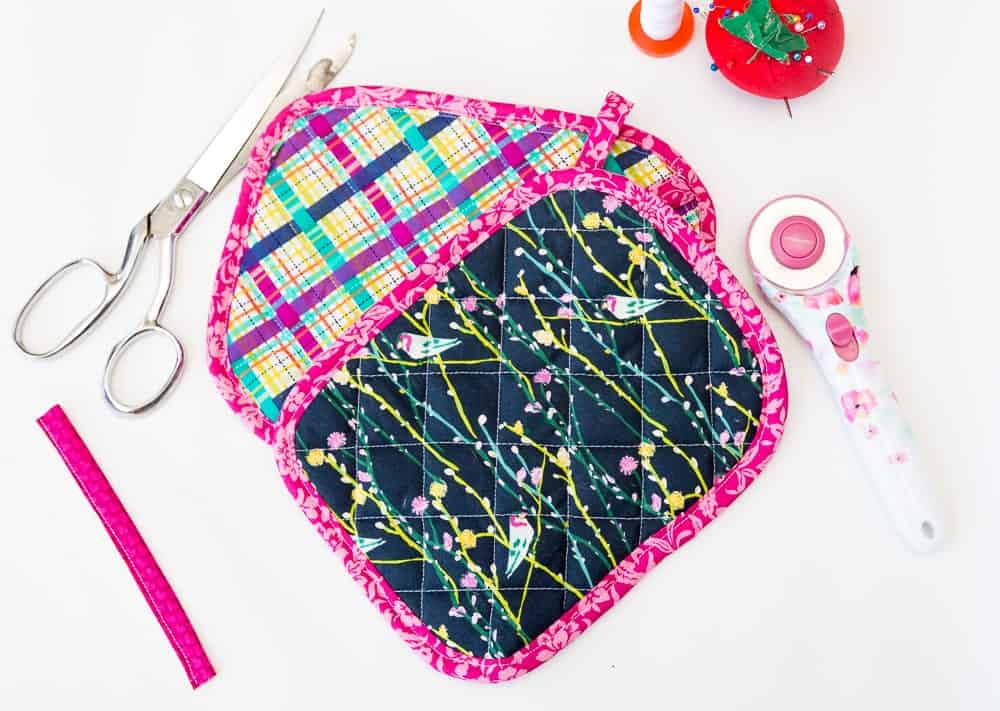 Use this free quilted potholder pattern to make and give some potholders as a gift or just because! Today I have a super easy free quilted potholder pattern for you. This is a quick and simple sew and can be used with your favorite scrap fabrics. Even better, you can quilt it or not quilt it. I love using small bits of contrasting fabrics for a big pop of color. I mixed this gorgeous print from Bari J. that my best friend Jennie had gifted me last year, with some coordinating fabrics and made the cutest little pot holders to send her. She was so excited to receive a sewing gift in the mail with one of her favorite prints. I just love how new potholders can spruce up your kitchen!
Easy Quilted Potholder Tutorial
Using the pattern piece, cut out 2 front pieces and two back pieces and 2 batting. Sandwich the batting in between front and back pieces. Alternatively, if you are going to quilt the potholder, you can cut out only the front piece and sandwich it with squares of batting and the backing that are slightly larger than the front piece and trim the edges after you are done quilting.

You will also need 48 inches of bias tape. You can either make it or buy it. There are some really cute trims by Vintage Door on etsy.

Pin the raw edge of the bias tape RST on the raw edge of the potholder sandwich. Fold the lead edge over so the raw edge is not exposed like the picture shown above.

Sew the bias tape 1/2 inch from the raw edges of the tape and potholder.

Overlap the end of the tape about an inch or so as shown above.

Using the remaining bias tape stitch the tape closed by sewing 1/8 inch from the raw edge. Cut into 2 strips of 4 inches.

Pin or clip the overlapped edges of the binding closed so it forms one continuous piece.

Fold over the back edge of the potholder and pin or clip to hold in place. Fold the 4-inch
fabric strip of bias tape in half and insert under the binding on the corner. Pin in place.
Sew around the tape 1/8 inch on the inside edge of the tape. Backstitch to secure.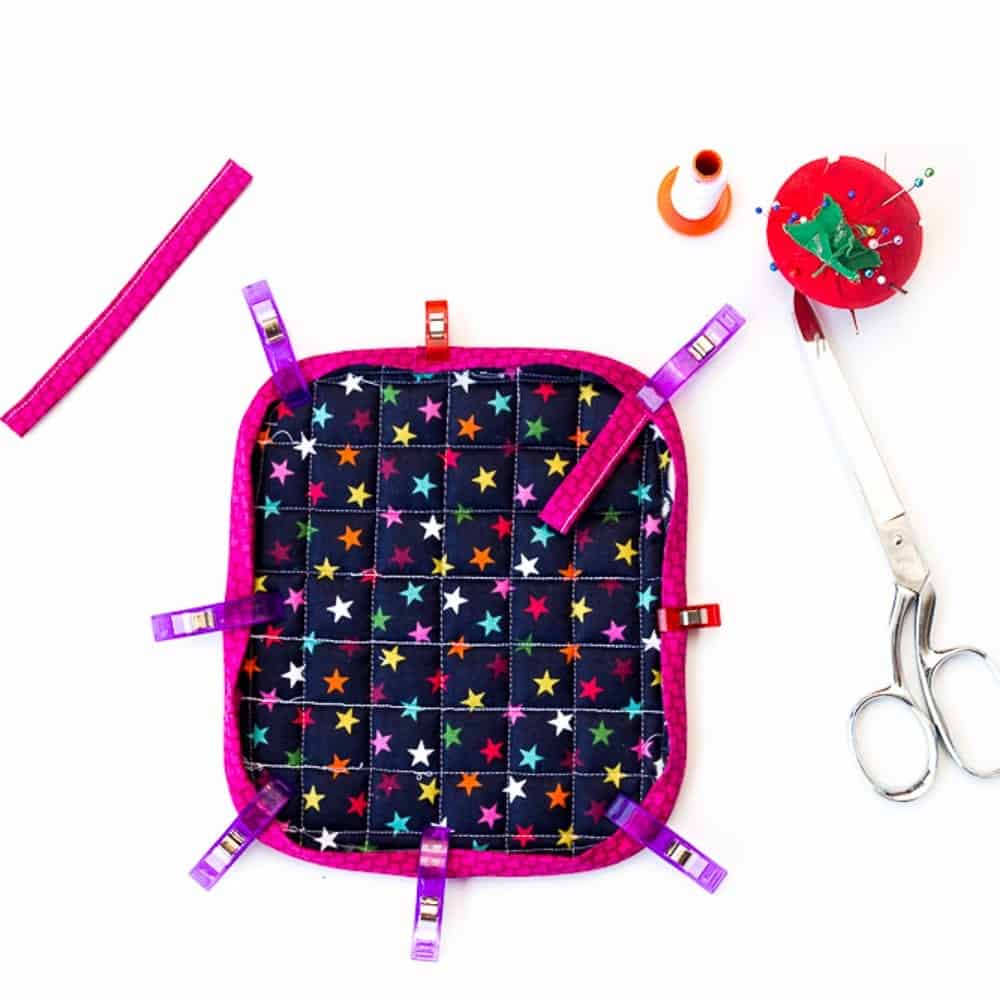 Repeat for the other pot holder. You are all finished! And now you have the perfect DIY gift for any occasion.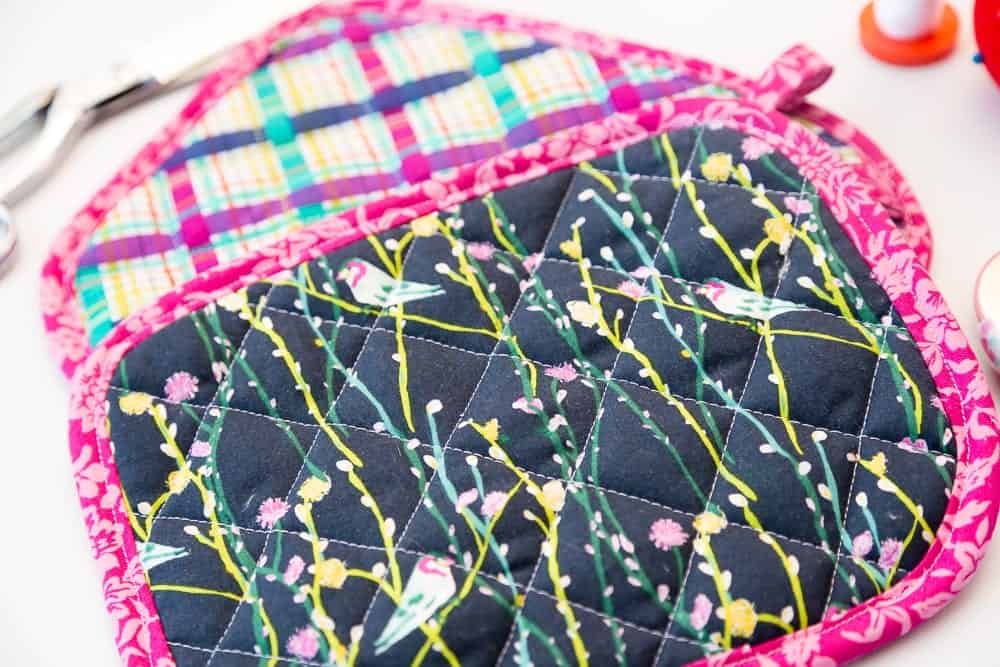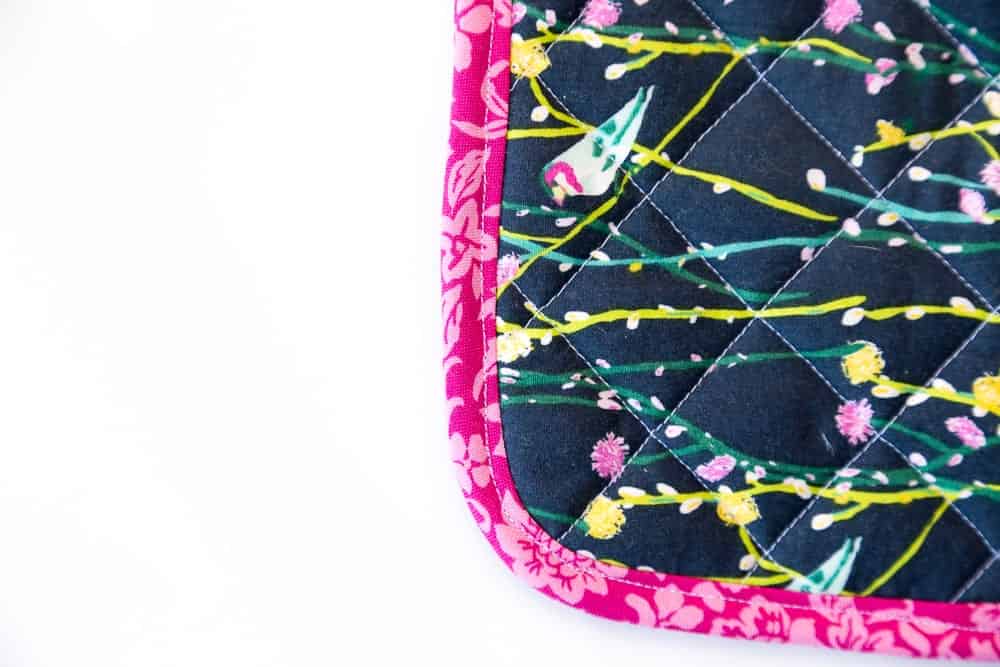 You can see the Quilted Christmas Potholders I made for last minute gifts using this pattern.
You can find the Pot Holder Template in the Resource Library.