Today I have my favorite ever Modern Baby Quilt Pattern! I am totally lovin' how the modern ombre quilt came out! It is one of those items that you get a totally hair-brained idea of something that migggght work, but really might not. The pattern originally called for rugby stripes which is what I really liked about it, since it had fresh clean lines. But as I combed Pinterest for color combinations that might work, I just kept seeing ombre! Ok, maybe I just kept clicking on ombre....everything!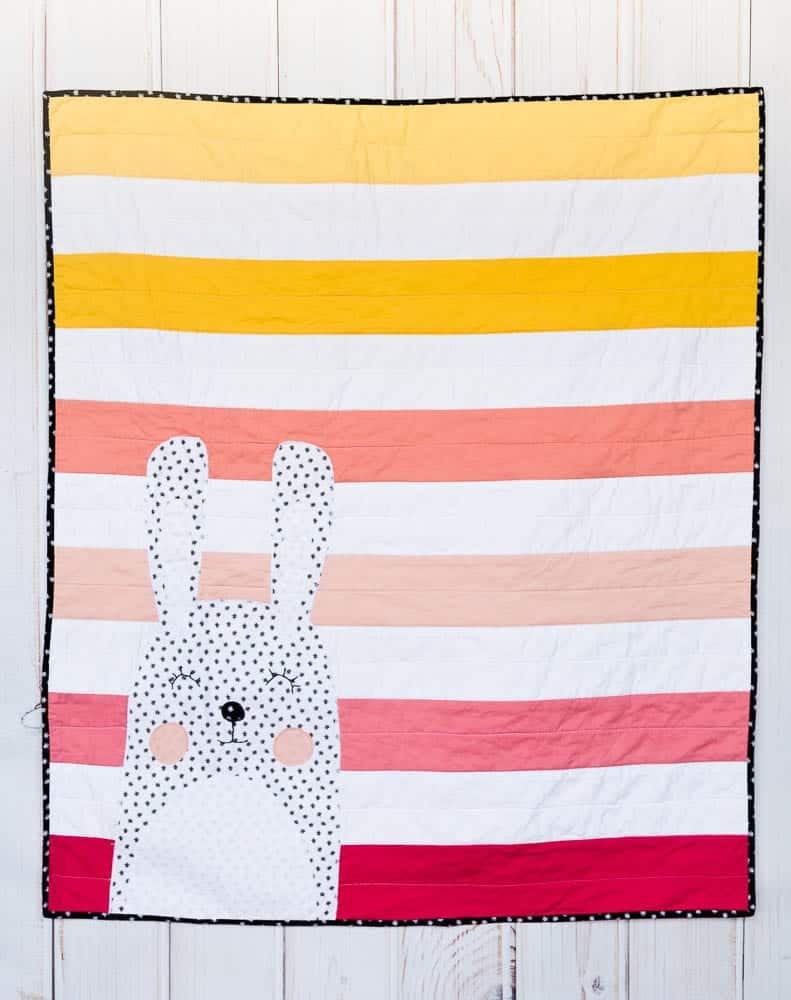 Modern Baby Quilt Pattern
I love all ombre quilt patterns, they have so many ways that you can mix the colors and shades. But combining a modern baby quilt with so many gorgeous ombre colors just made me giddy!

And then! I started looking for those awesome little color swatch inspiration cards, and I just couldn't get this color combo out of my head!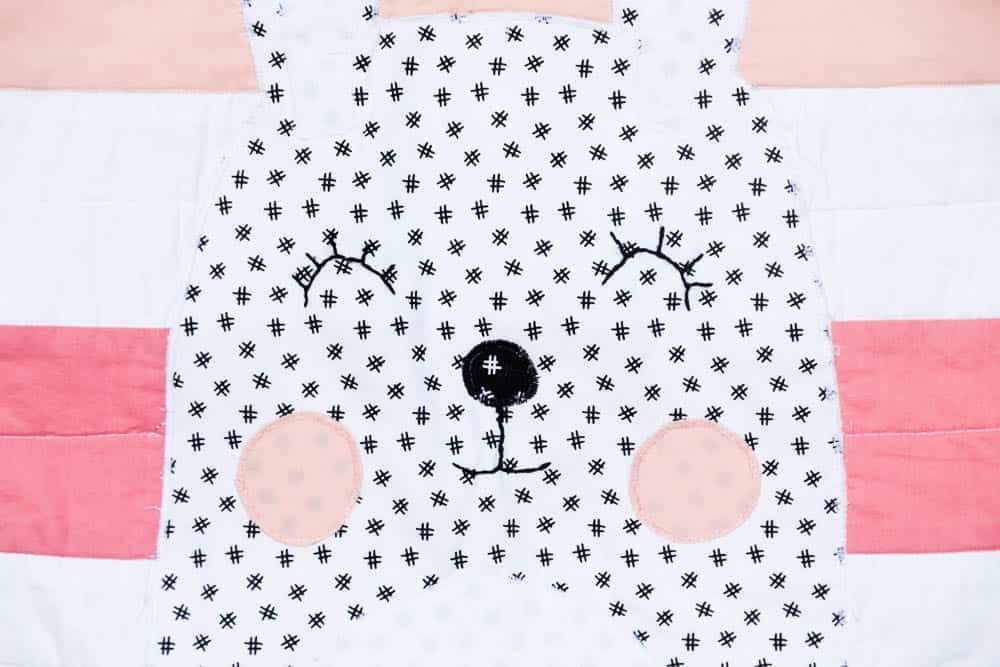 I had no idea if it would really work since the bunny quilt pattern was rugby stripes and I was doing not just ombre, but multi-colored ombre.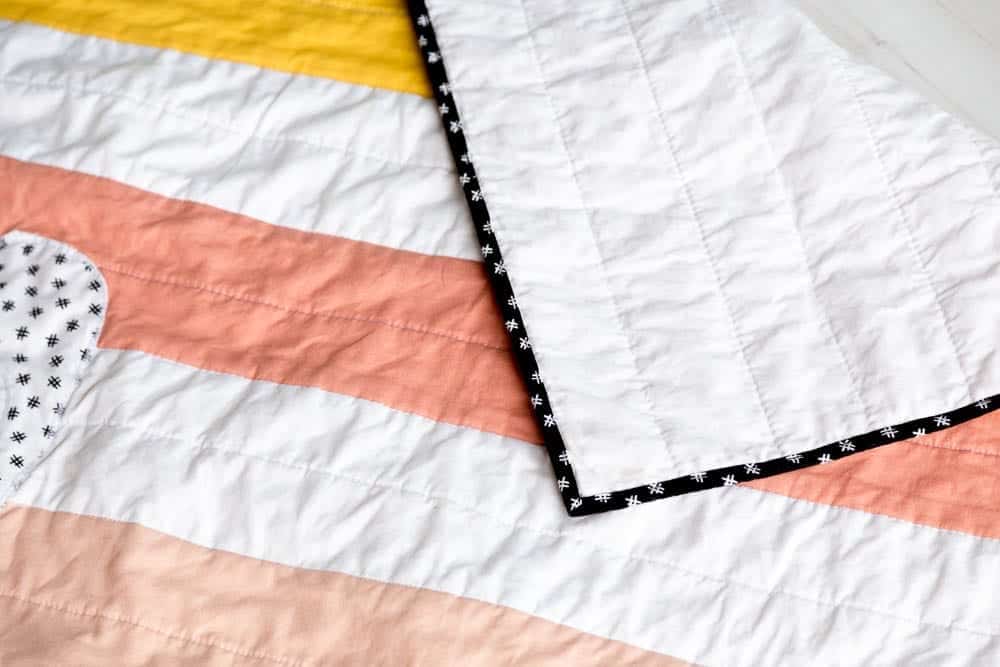 And then I knew that it was too cool not to take it a step farther and go totally modern with the bunny! Which I just adore. I mean, embroidered eyelashes and pink circle cheeks! I. Can't. Even.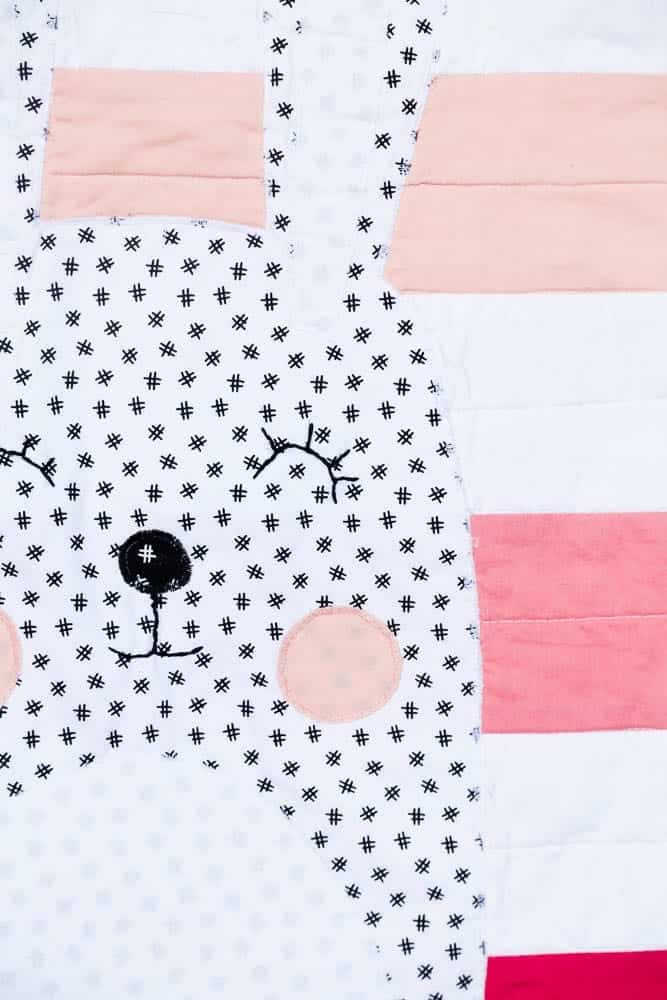 I stopped by my local quilt shop to see how the colors stacked together for the ombre quilt pattern and because it was much easier to buy 1/4 yard of each of the stripes there instead of full yards online like I usually do. The shop didn't have much selection in black in white except this opposite black and white hashtag fabric from Dear Stella which I totally LOVE together with the pink and yellow!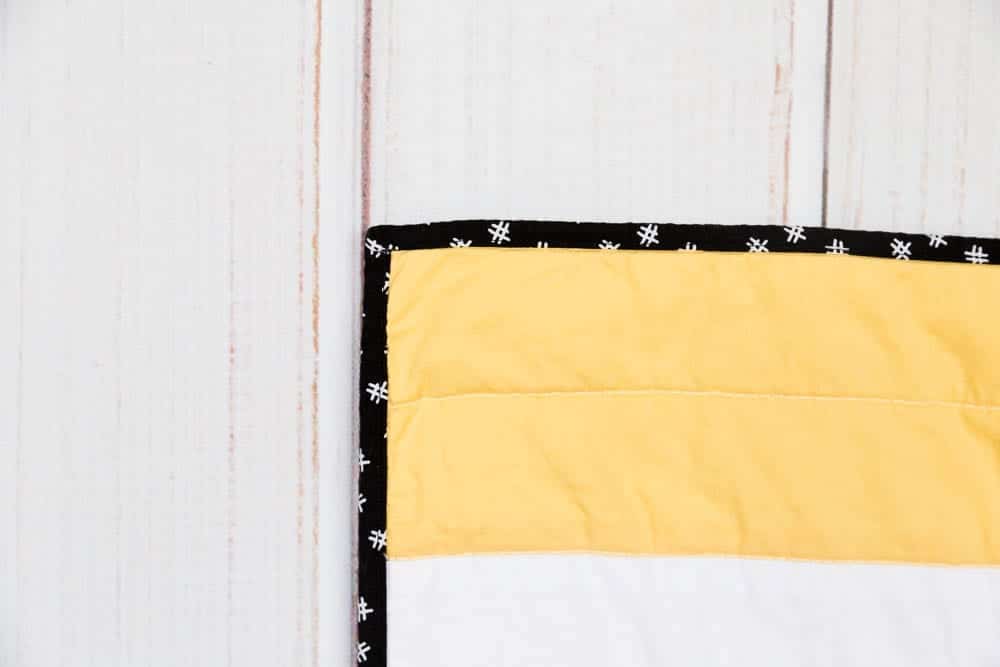 Sometimes sewing is serendipitous and comes together exactly as it should just like it did with this modern baby quilt pattern! I so love those moments!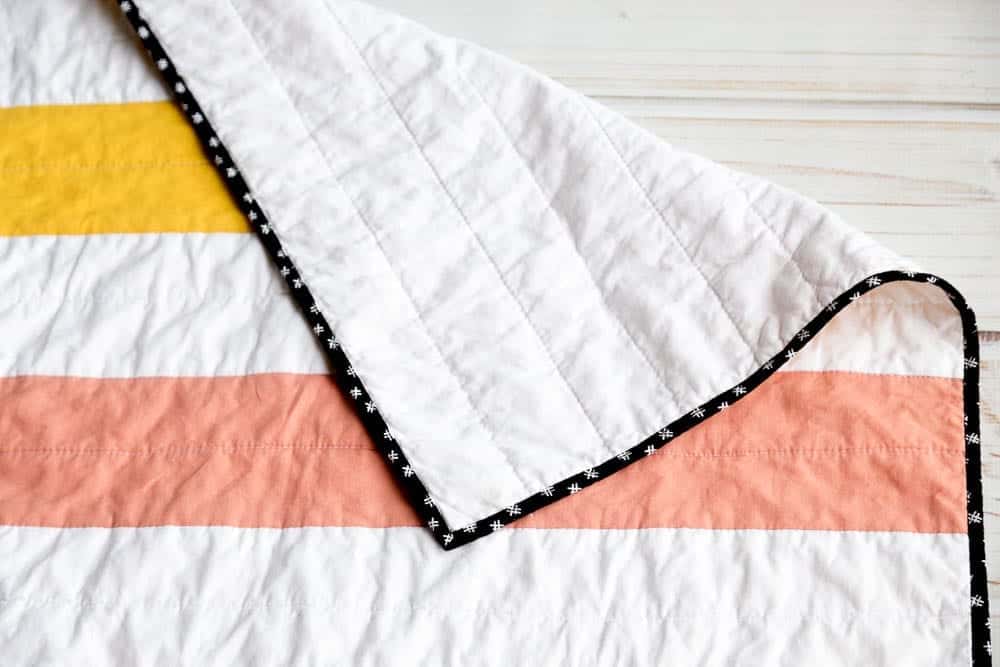 The solids are Kona Cottons from Robert Kaufman as is the white backing. My favorite place to buy Kona Cotton Solids is Stash Fabrics because you can buy them all by the quarter of a yard which is so useful for testing out colors. I use 100% cotton batting to make it crinkle up and look all guilty. And then I topstitched in the ditch and through the middle of each stripe.
PIN AND SEW MODERN QUILT PATTERN FOR LATER!!!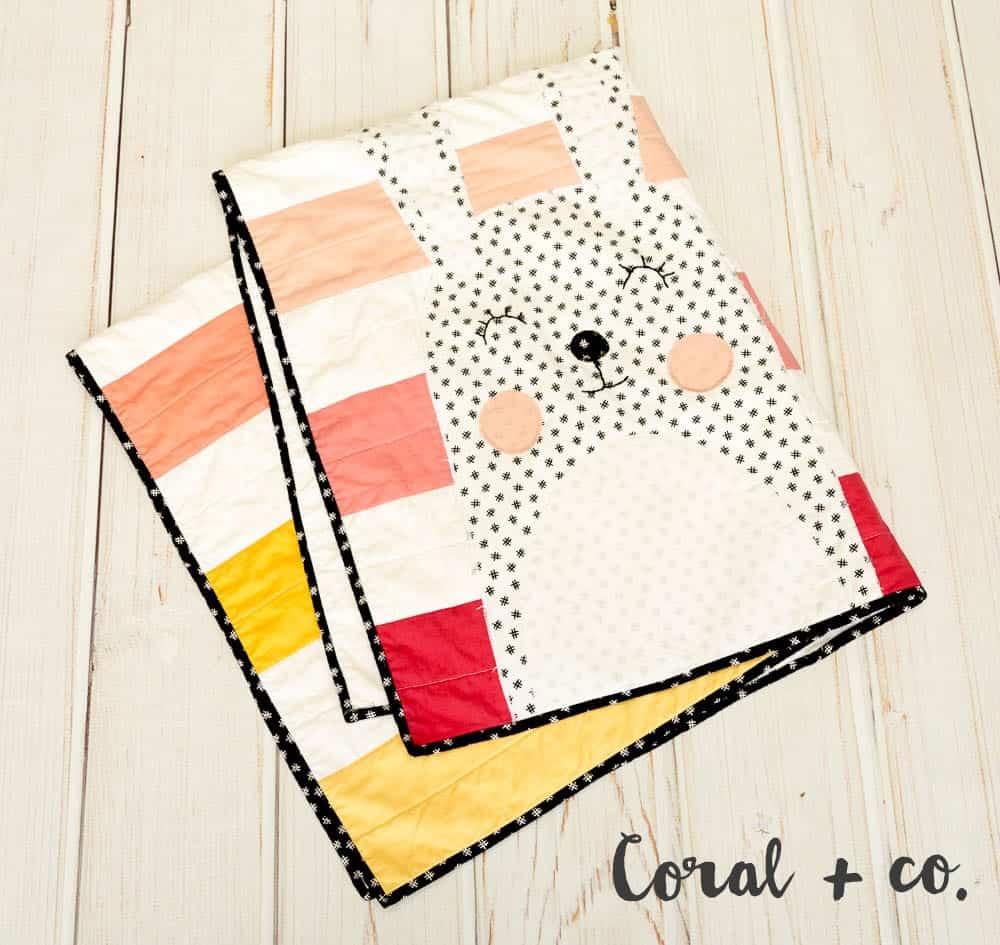 This Modern Ombre Baby Quilt Pattern is so fun and comes with 4 different animal varieties so you can sew it up again and again and each time it will different! Also, check out my Flutterby Kite which I made for OneThimble Magazine.
You can find the Bear and Bunny Quilt Pattern on Etsy.
50+ Cutest Baby Sewing Projects
---
One Thimble Issue 11 Release + Blog Tour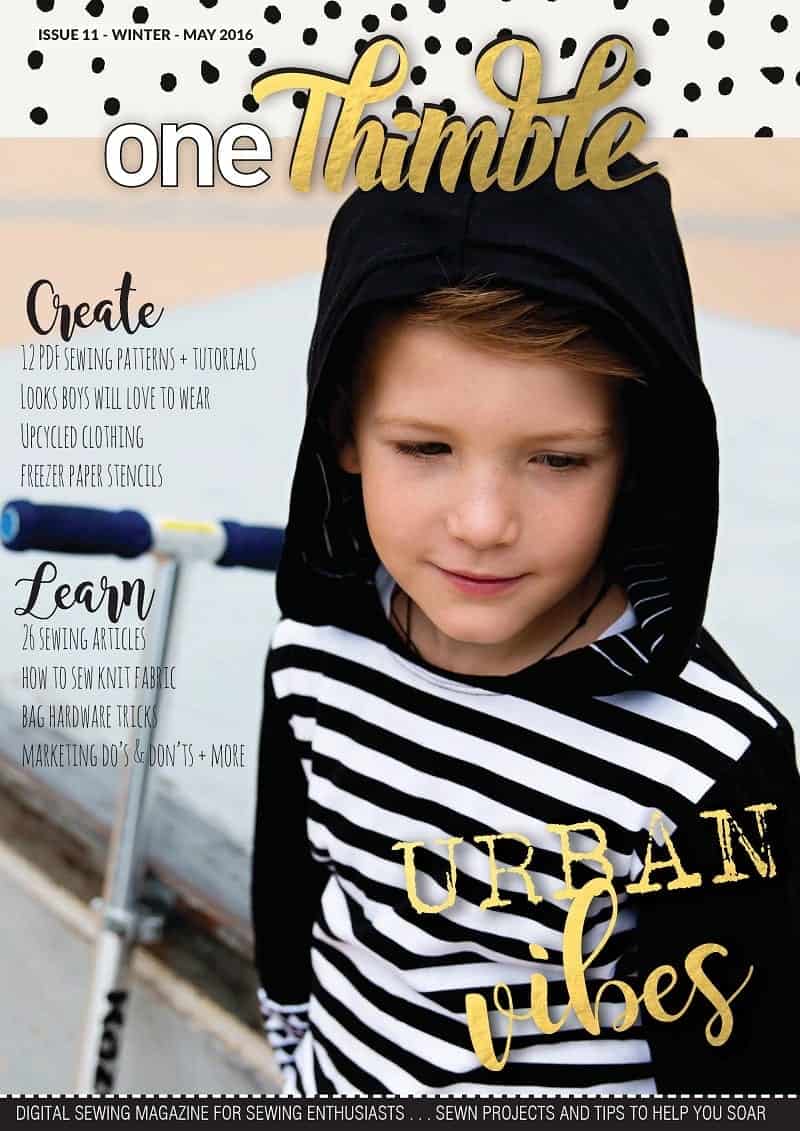 ---