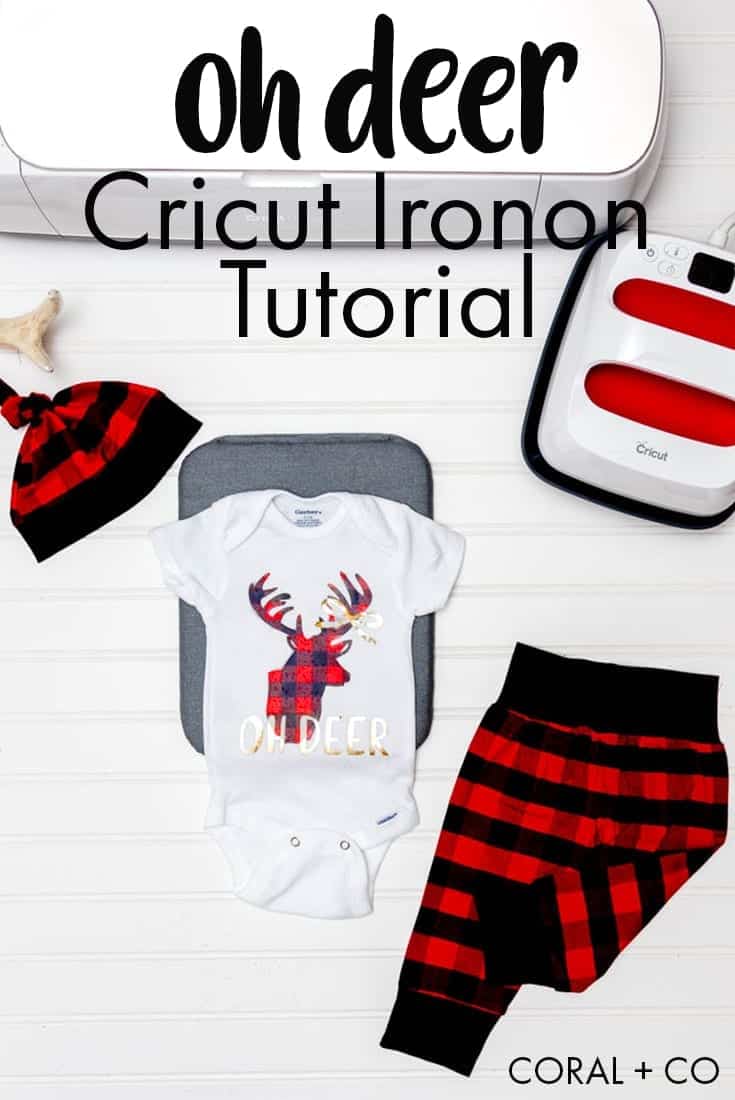 Learn how to make an OH Deer Onesie with Cricut Buffalo Plaid Iron-on Tutorial + Easypress 2. Have you noticed how lumberjack plaid is everywhere this year? Yeah me too, and it is sooooo cute! When saw this new Strongbond Buffalo Plaid Patterned Iron on in this lumberjack red plaid I knew that it was perfect for making some sweet baby gear.
This is a sponsored post written by me on behalf of Cricut. All thoughts and opinions are my own.
I have been a huge fan of the Easypress since Cricut released it last year and so when l got a chance to use the new Cricut Easypress 2, which comes in 3 new sizes, and I was super excited to see how it was made even better! I love the smallest size Easypress 2 (6" x 7") which is perfect for smaller projects like onesies, baby clothes, and accessories. Plus it doesn't take up much of my valuable craft room real estate. I also thought it would be easier to press seams with when sewing since I really like to use it for when sewing as well.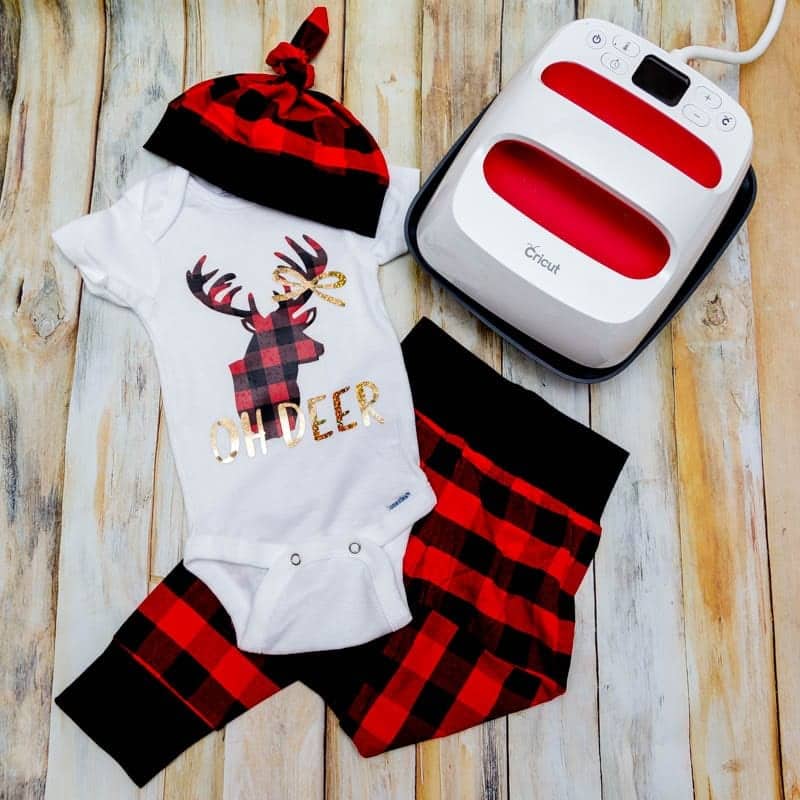 Here are a few more reasons that I really love using the Easypress 2: It is super easy to learn and simple to use. It has an easy to read digital display and by using the temperature and time guide for each specific iron-on material Cricut makes is really easy to get professional results with every project in 60 seconds or less. It also heats up even faster than the original Easypress and has precise temperature control up to 400 degrees. Before I started using the Easypress I had no idea that a regular iron surface heats up unevenly which can cause issues when using iron-on and make it less likely to adhere perfectly without repeated application. The ceramic coated heat plate also provides a nice even dry heat so that all your iron-on transfers are completed flawlessly. Not to mention it comes in this cute little raspberry color!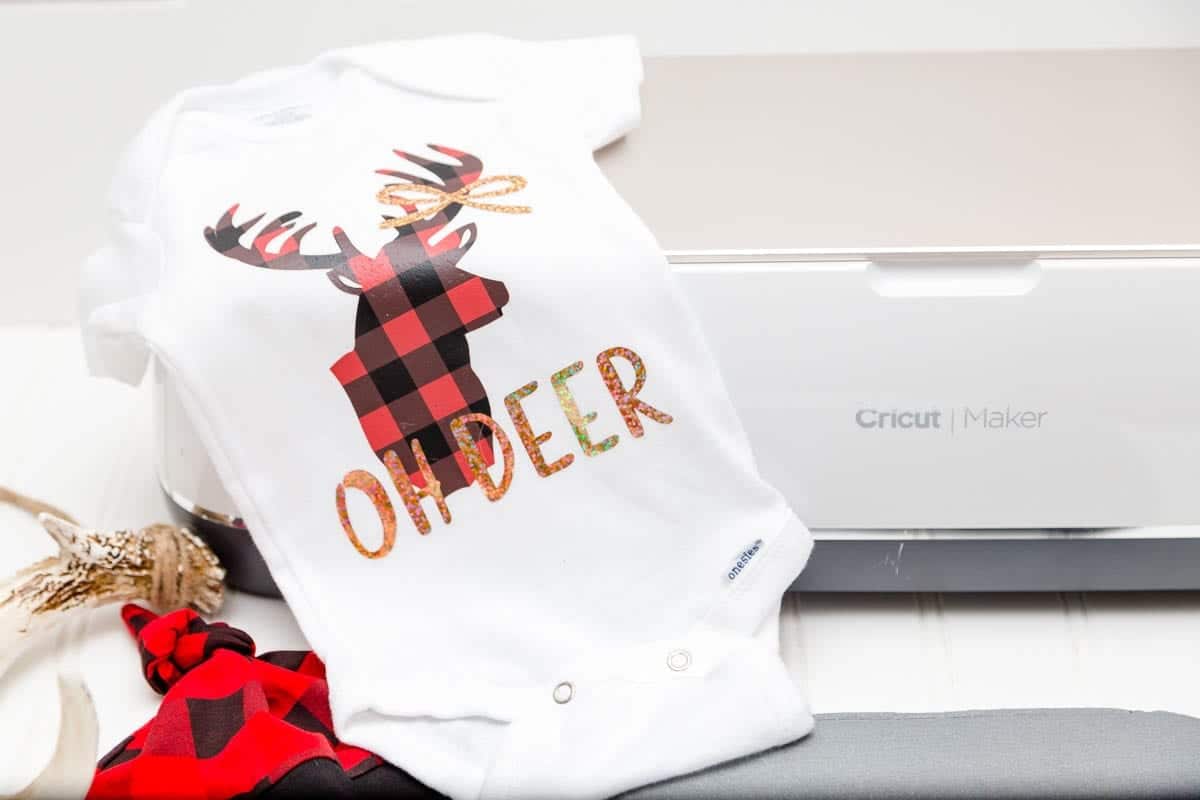 I was also really excited that Cricut was offering this patterned iron-on in StrongBond. Have you heard of it? Well, since using StrongBond for the first time I was really impressed. It really sticks and continues to stick after many, many washes. I love it so much, that it is my preferred iron-on choice and look for it when shopping for any iron-on products which include Everyday, Sportflex, and Glitter Iron-on. It really makes a huge difference in how long the project will last as it is designed to outlast 50+ wash and dry cycles when used and applied as directed. Here is what Cricut has to say about StrongBond:
This is why we now have in place the StrongBond™ Guarantee on many of our iron-on materials. Cricut's StrongBond™ Guarantee means that when this iron-on material is used as directed, you'll be completely satisfied with the results. If not, we'll replace it for free. Look for the StrongBond™ Guarantee on select iron-on materials.
OH Deer Onesie with Cricut Buffalo Plaid Iron-on Supplies Needed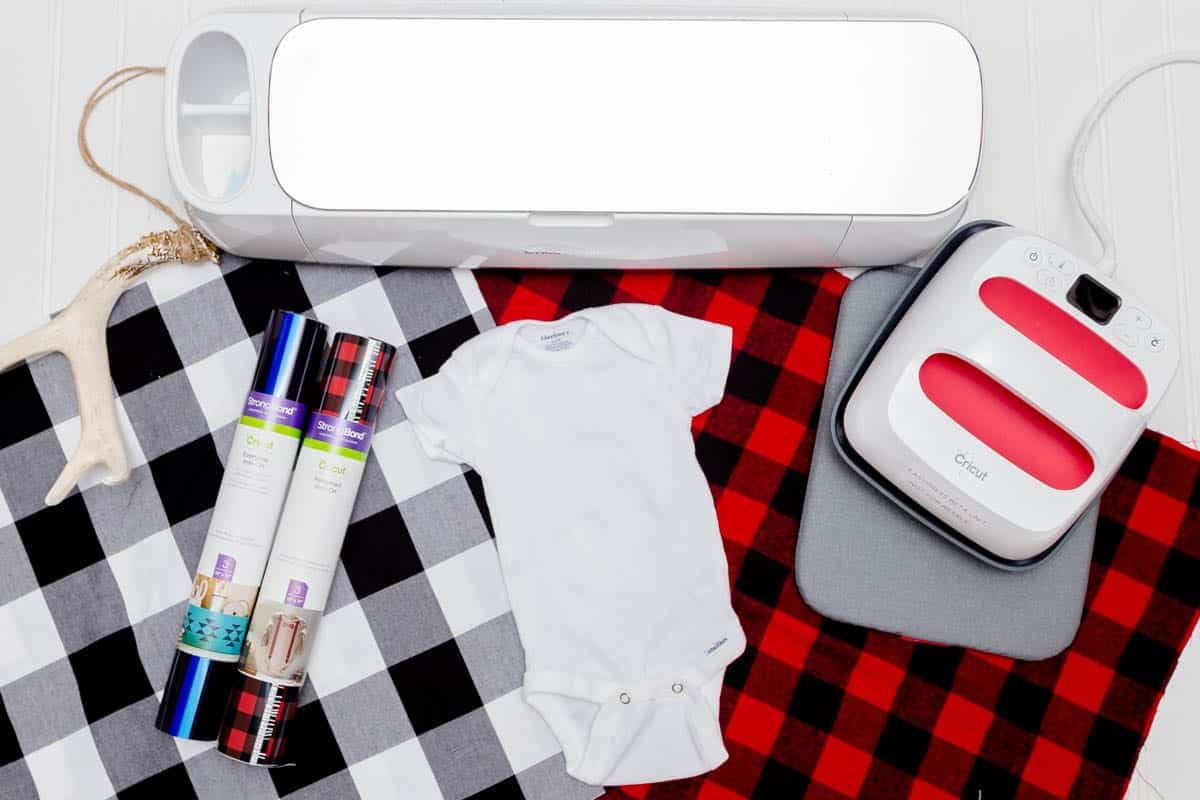 OH Deer Onesie with Cricut Buffalo Plaid Iron-onTutorial + Easypress 2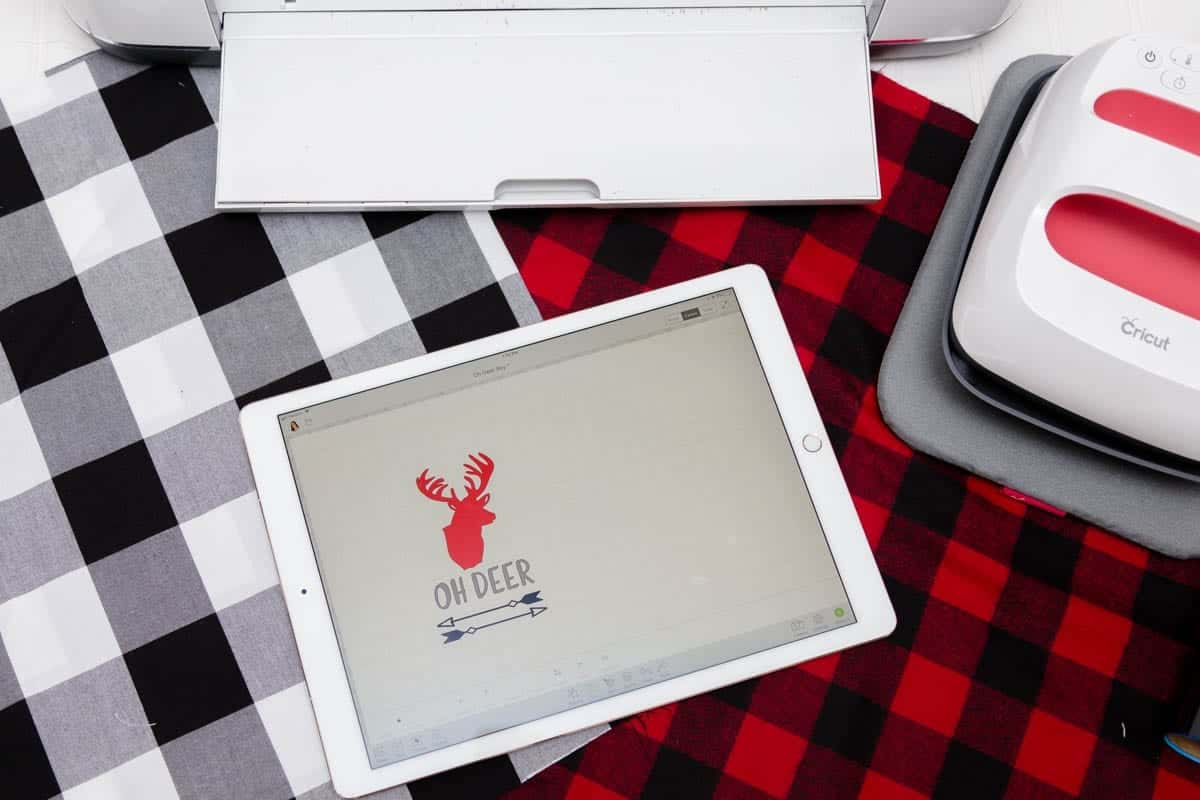 Load the Oh Deer Onesie Design in Cricut Design Space. Select the correct iron-on material to cut remembering to mirror the object for cutting iron-on.
Place patterned iron-on with the patterned side face down on the standard grip mat and cut out the deer and bow shapes.
Use your brightpad to weed the deer and bow designs.
Heat the Easypress 2 according to the patterned iron-on setting guidelines, at a temperature of 340 degrees.
Warm up the front of the onesie for 5 seconds before placing the deer shape on the onesie. Place the patterned iron-on deer shape on the front and press the Easypress 2 firmly over the deer for 50 seconds. When finished turn onesie over and press the backside for 15 seconds more.
Allow to cool slightly and peel warm. Warm Peel: remove liner while the design is warm to the touch, but not hot. This is when removing the liner will be easiest. If you allow it to cool completely, it will just take a little more effort to remove the liner.
Place the Oh Deer words and bow and repeat according to the Holographic Sparkle Vinyl settings of a 330-degree temperature with a gentle pressure press of 30 seconds. Peel warm.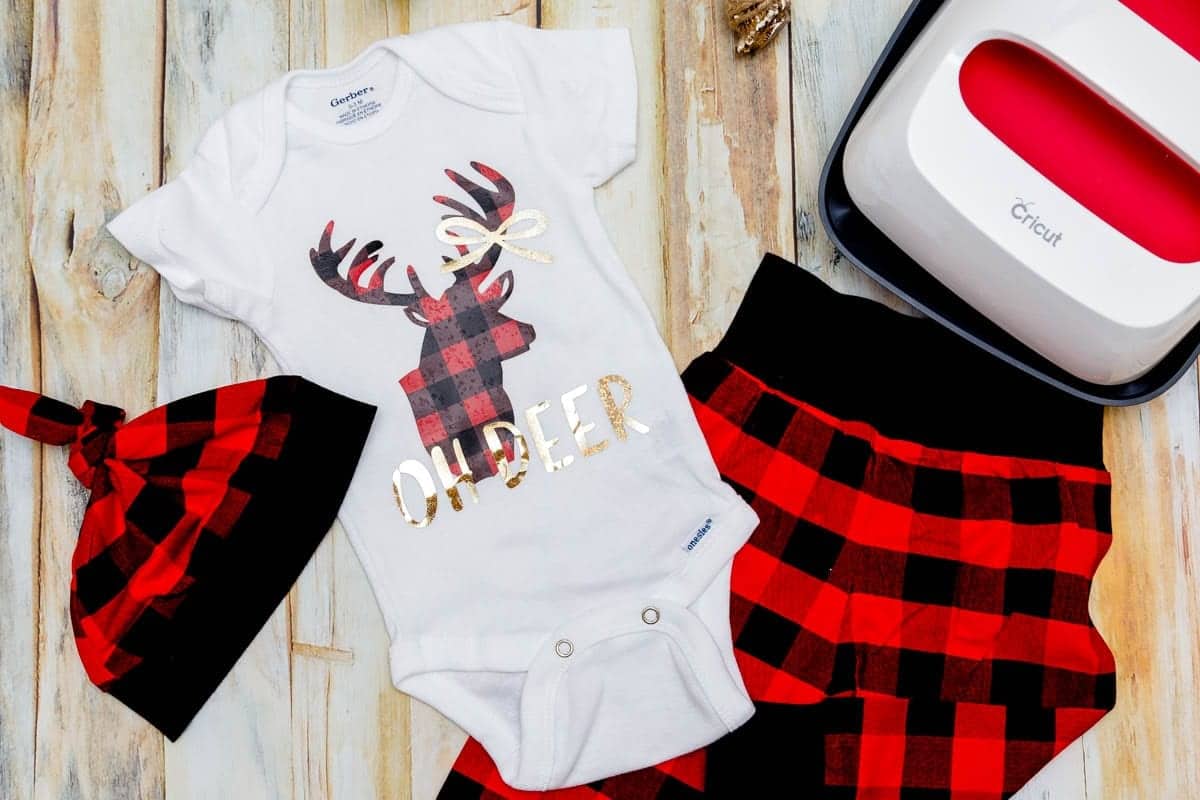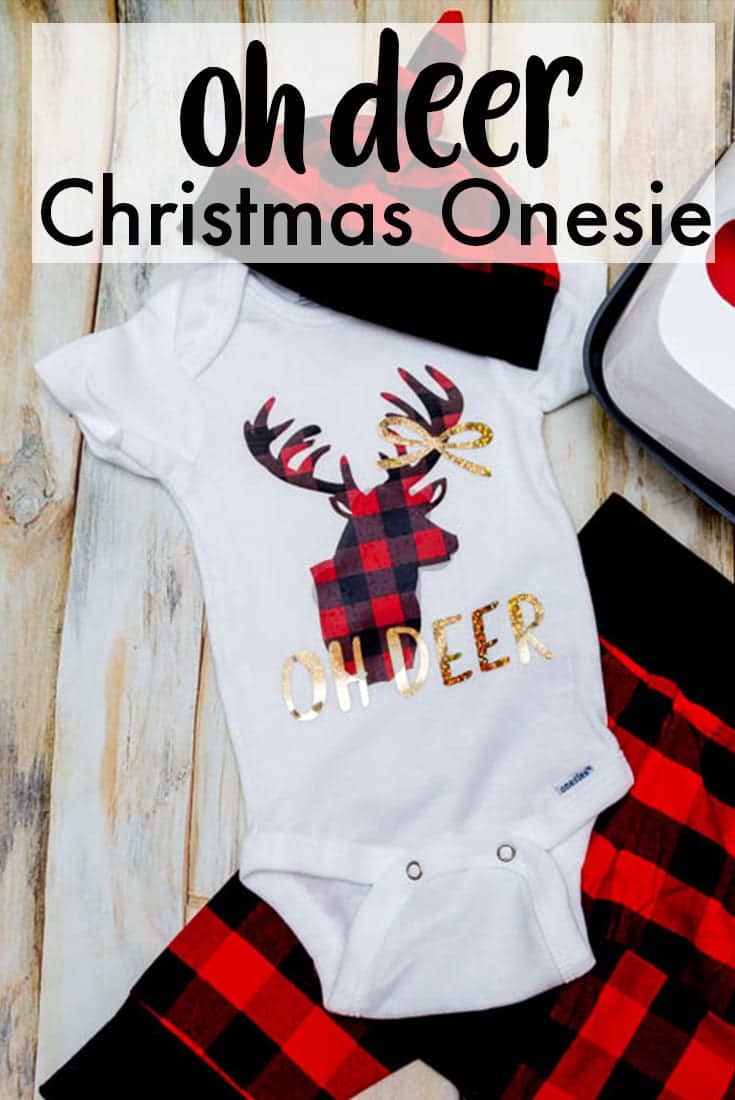 This design would be super cute as a Christmas Onesie or for a small child or toddler!

This is a sponsored conversation written by me on behalf of Cricut. The opinions and text are all mine.