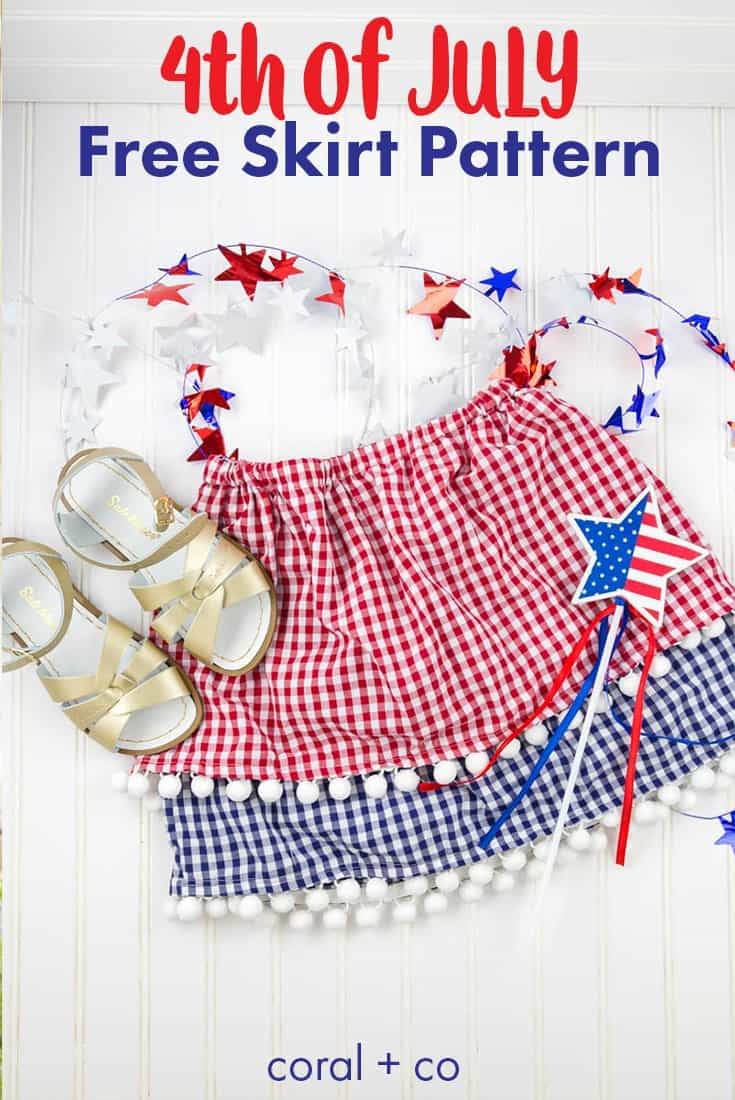 For today's post, I am sharing a 4th of July skirt pattern and tutorial. If there is anything that screams 4th of July it definitely has to be gingham. I'm pretty sure that they are synonymous with each other. And I, of course, had to include pom-poms. Because, well...they are pom-poms! Duh. I paired it with the red, white, and cool t-shirt I made, click over for the free cut file, for a fun 4th of July outfit. You can also check out this huge list of 50+ 4th of July sewing projects as well as this list of patriot inspired patterns.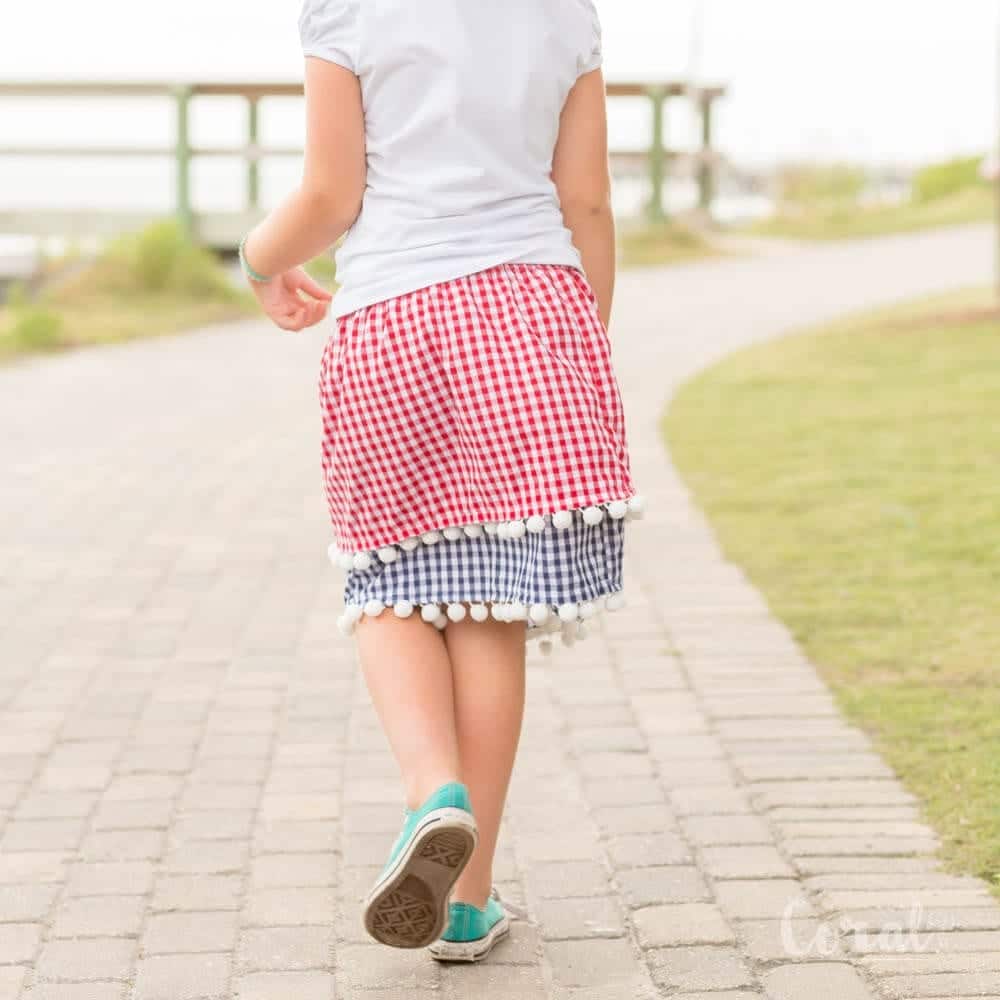 I found the gingham in both red and blue and Joann Fabric and Crafts in the apparel department. It is actually shirting fabric instead of quilting cotton so it has a nice drape to it and will wrinkle less.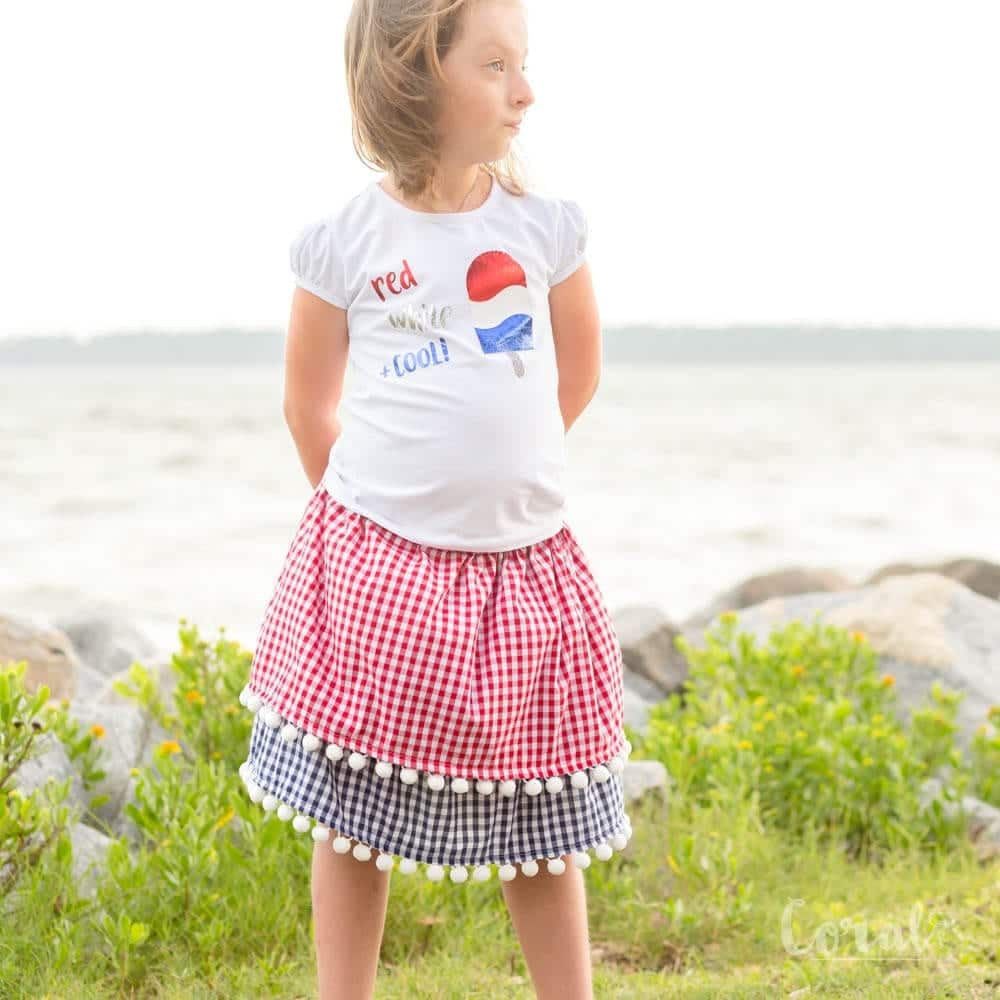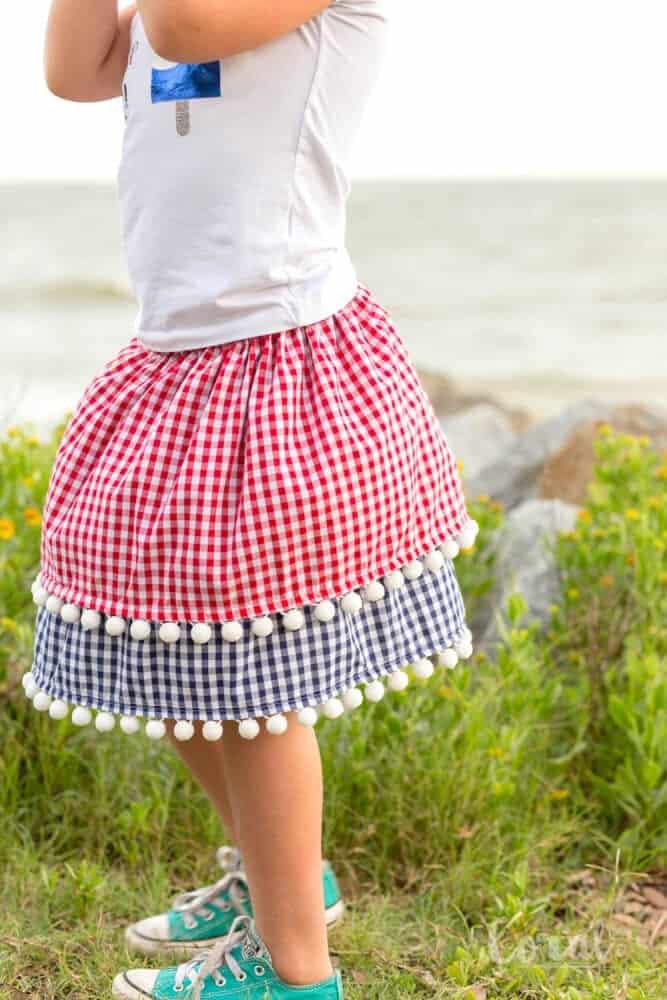 I also grabbed the pom-pom trim from their as well although my favorite place to get it is from is because they have so many colors and sizes.
It was crazy windy the day we headed down to the boardwalk for these photos and it was driving me crazy while I was trying to take pictures because the skirt kept getting blown all over the place, but I managed to get a couple where it wasn't doing weird things.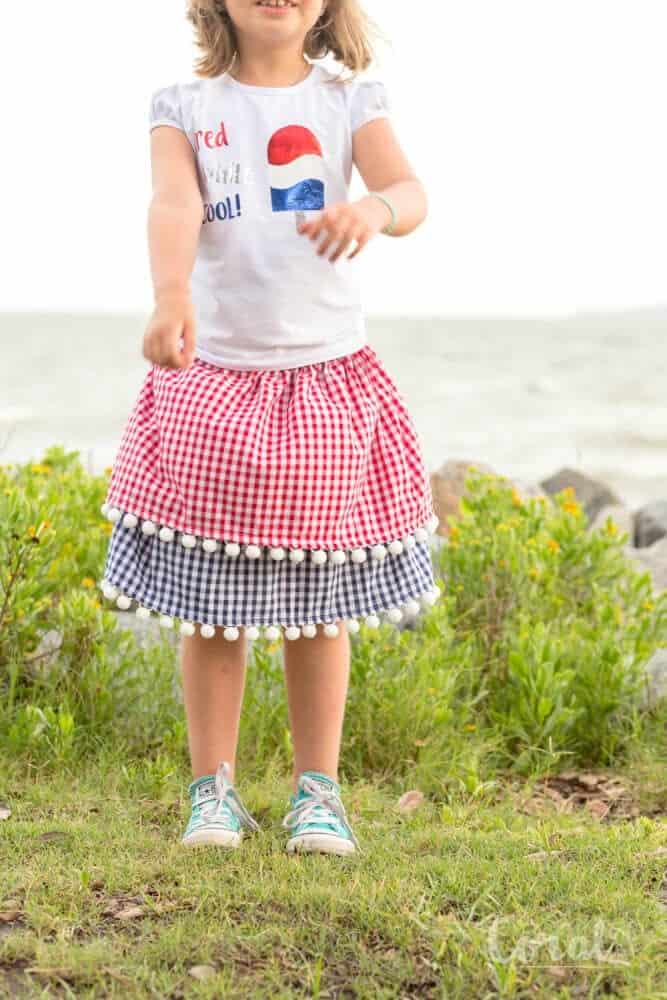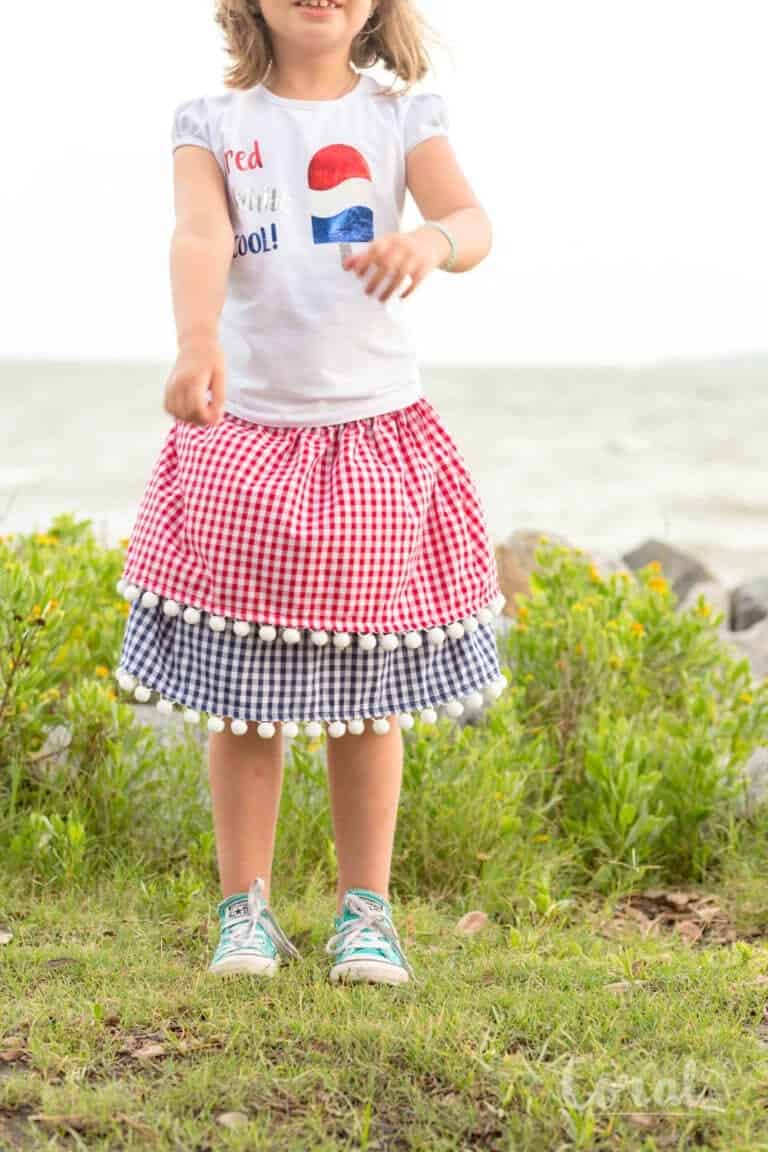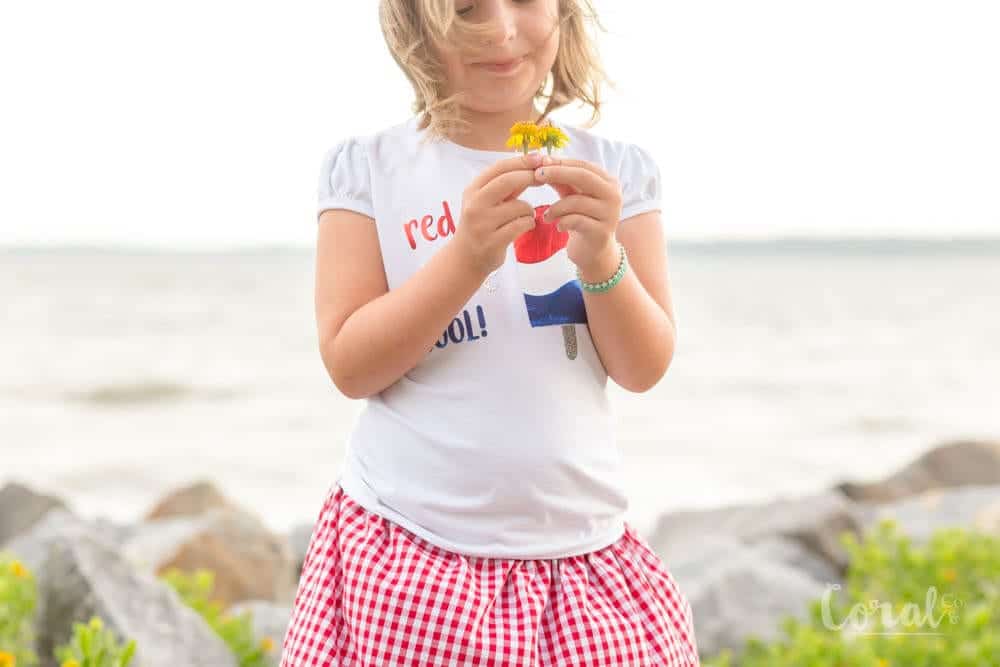 Supplies Needed for the 4th of July Skirt Pattern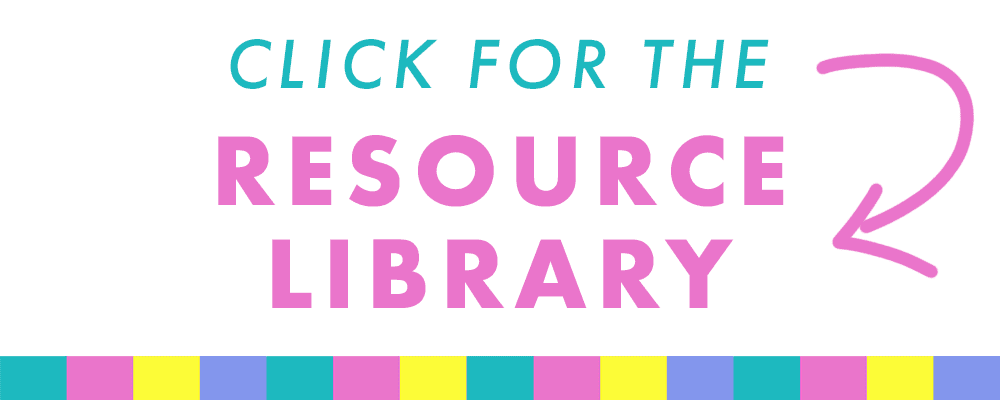 4th of July Skirt Pattern and Tutorial

Cut fabric rectangles to dimensions given in the chart.
Using a 1/2″ seam join both sides of skirt pieces right sides together, pin and straight stitch down the short sides. Do this for both skirt pieces.
Fold bottom raw edge under 1/4″ and press. Repeat for both skirt pieces.
Fold bottom edge under another 3/4″ and iron.
Pin or clip pom-pom to the bottom inside of the skirt and sew the hem and pom-poms 1/2″ from the bottom edge.
With bottom skirt facing right side out insert into the red skirt which will have the wrong side facing outward.
Pin both skirts together at the top edge. Sew together using a 1/4" seam.
Flip the skirt over so it is facing the correct way and sew a second stitching line 1" from the first one leaving an opening to insert the elastic casing.
Flip skirt so it is inside out again and insert elastic into the casing and sew ends together to secure.
Stitch close the casing opening.