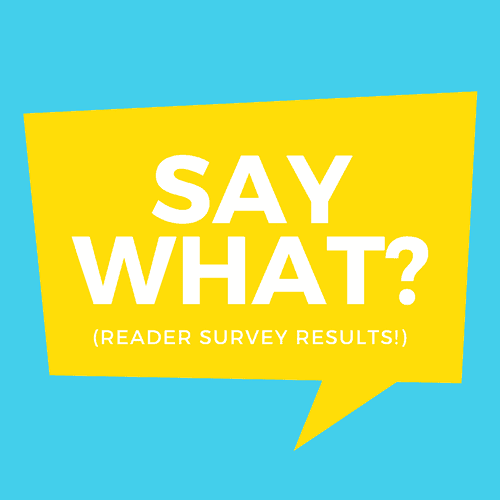 I asked and you answered!  And I want to thank all of you who took the time to answer!  And to show my gratitude, or just because I am maybe obsessed with pretty things, I made a fun infographic to share the results with you.  I may now be addicted to this infographic thing!  Insert hilarious emoji.
So here is what you said!  Most of you are newer readers!  This doesn't surprise me since it is relatively recent that I have been asking that you sign up for my newsletter in order to download my free patterns.  I am so happy that you signed up and I hope you stick around!  If you've been reading longer, then thank you!
When asked where you had first heard about Coral + Co, the most popular answers were Pinterest or Facebook, which is probably where I find a lot of new websites as well.  Several of you had found my blog from another site, or didn't remember where you saw it in the first place.
You also said that you most of you get new post from my newsletter which is great!  Its so great to know that you guys like having a news delivered to your inbox.  A lot of you also found my new posts on Pinterest, which is also awesome since Pinterest is where I find a lot of stuff!  Facebook and Bloglovin came in about equal.
I was curious how often you liked to visit Coral +  Co and most of you said every time I post, followed by 1 -2 times a week.  This is super helpful!  I am planning on posting two times a week this year, but of course don't want to add to the information overwhelm that we all deal with in the digital age.
I was really curious to hear about the type of posts that you were most interested in seeing!  I love to sew all kinds of things including both clothing and quits and wasn't sure if apparel readers and quilting readers enjoyed both or were interested in only one.  More quilt tutorials was requested the most, but you also wanted to see more kids clothing.  Yay!  This makes me happy since I love to sew both.  I was also surprised to see that you would like to see more sewing inspiration and crafts.  I haven't made a whole lot of crafts recently, but I would definitely like to add some!
I also asked what your favorite posts were and was surprised that your answer was sewing inspiration and other things that I sew.  My most popular posts are my Baby Hat Sewing Pattern and my Knot Bow Headband Pattern, so I was expecting kids clothing to be the favorite.  But I love seeing that you just want to see more sewing!  Your second favorite posts were quilting tutorials, which I will be making more of this year as well.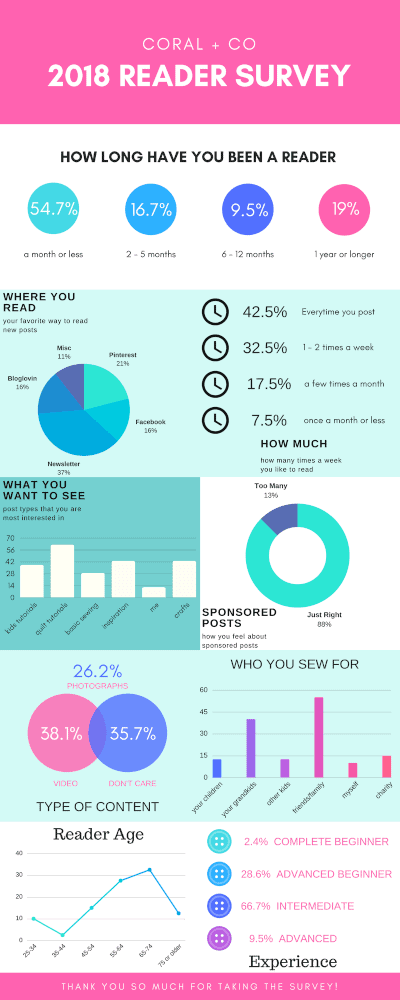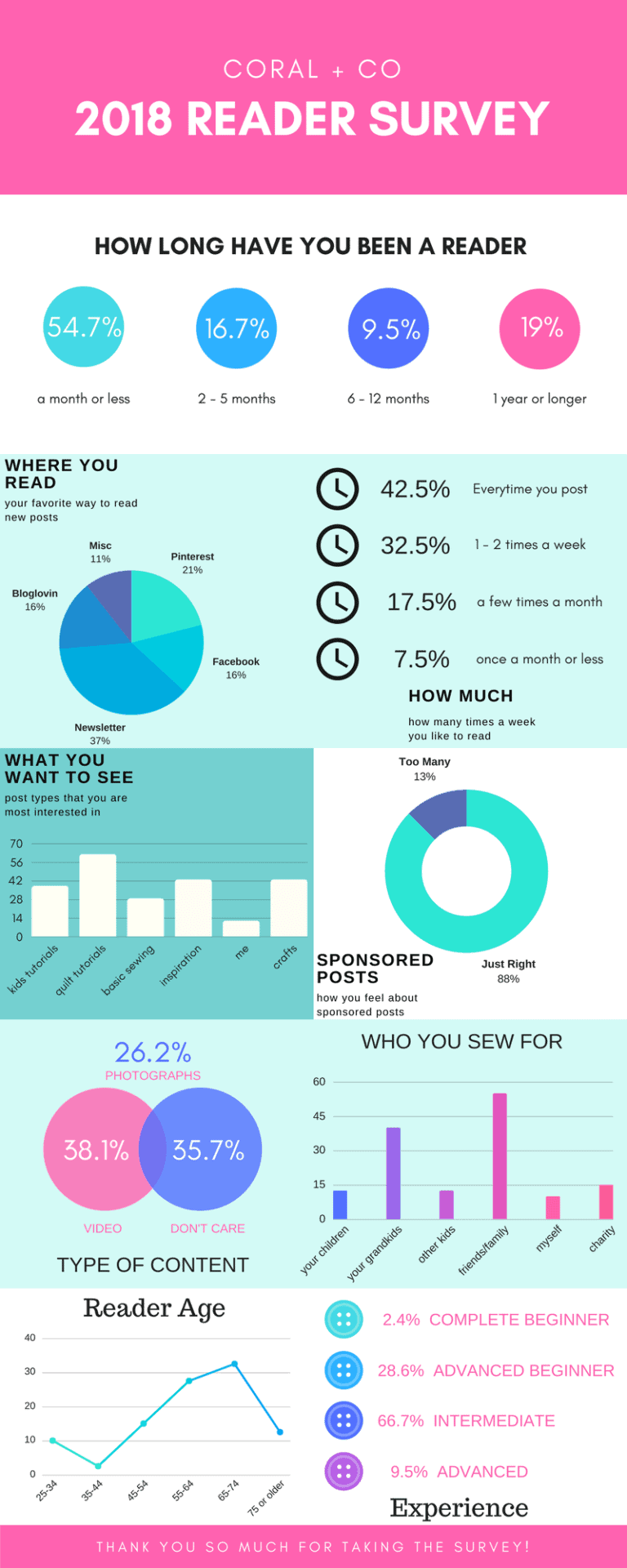 I also wanted to hear what you thought about sponsored posts.  Most of my partnerships are with sewing and fabric companies that I am already a fan of and would use anyways, but occasionally I do sponsored posts with companies in other industries such as these pom trim coasters.  I always try to make these relate- able to sewing and crafting and have useful information or projects.  I was overwhelmed by how supportive you all were of sponsored posts;  eighty-eight percent of you said the amount I did was just right.
I've been thinking about diving into video content and wanted to know if you preferred video over photo tutorials.  Most of you preferred videos over pictures, but quite a few of you didn't have a preference either way.  I'm glad that so many of you enjoy photos or don't mind either way since I love taking pictures, but hope to start making some video tutorials for you in the future as well.
I think my biggest surprise is that I always pictured my readers just like me.  How silly, of course you are not just like me.  I pictured most of you sewing for your own kids like I do, but I was amazed at how many of you sew for lots of other people.  The most popular response was friends and family, followed by grand-kids.  But quite a few of you also so for charity, which is so amazing!!!!
When I asked about your age range, I was the most surprised find that people in my age range (I am 39) is the actually the smallest demographic.  Like I said, how silly it was to think you are all like me!  Most of my readers are older than me, which shouldn't surprise me since people in this age range probably have more time to sew!  I know that squeezing my sewing, blogging, house cleaning, errand running, and whatever else in the few short school hours is definitely a challenge.
I always figured that most of my readers were new to sewing and were beginners, but I was excited to see that most of you are intermediates!  This is fantastic, since this tells me that a lot of you are super passionate about sewing and love it as much as I do!  Many of you are advanced beginners as well, which means that you have caught the sewing bug!  Hooray!
When I asked what you liked about Coral + Co and what keeps you coming back for more, I was happily surprised that most of you liked my use of color, style, and fresh look.  This is such a compliment!  So thank you!!!  You also liked my inspiration and tutorials, and told me that my tutorials were explained in just the right detail.  I appreciate this!  I work very hard to make sure everything can be easily understood.
When I asked what you would like to see in the future, quite a few of you told me to just keep doing what I'm doing!  I am so glad you all like the direction of the blog.  You also asked for more tutorials, quilting templates, and Cricut Maker projects.  One reader asked to learn about smocking (which I have never done, but it would be fun to learn), and some of you wanted to see more crafts and more information about fabric.
This is the first time I have done a reader survey and I am so thankful for all of you that took your time to answer and help me understand how well I am doing what I do!  Thank you for being a reader and I am so excited to share with you all the great projects I have in the works for this year.  You all are truly wonderful!