Do you want to learn how to make a Dresden Plate Pillow?  Yes, you do, because Dresden plates are the perfect way to show off a whole lotta fabrics, wink!  They just scream be scrappy, right?  I have a video and tutorial showing you how to easily attach your Dresden plate to a pillow and finish the Dresden plate to complete your project.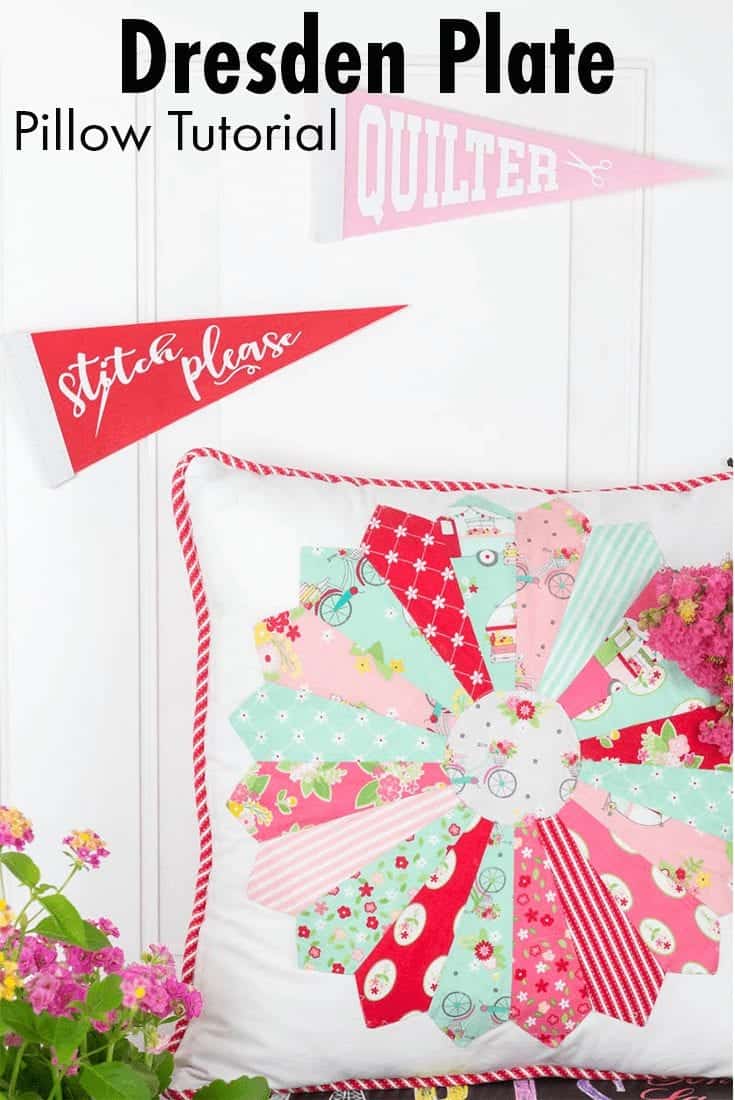 And did I mention, that I made it with the ridiculously cute new Vintage Adventure fabric line from Bev at Flamingo Toes?!  No, ok I am telling you about it now.  When I saw that Bev was coming out with a new fabric line that had all the whimsey and sweetness of her beautiful embroidery hoop patterns, I begged her to send me some of her new fabric.  And seeing as she is so amazingly sweet, she did!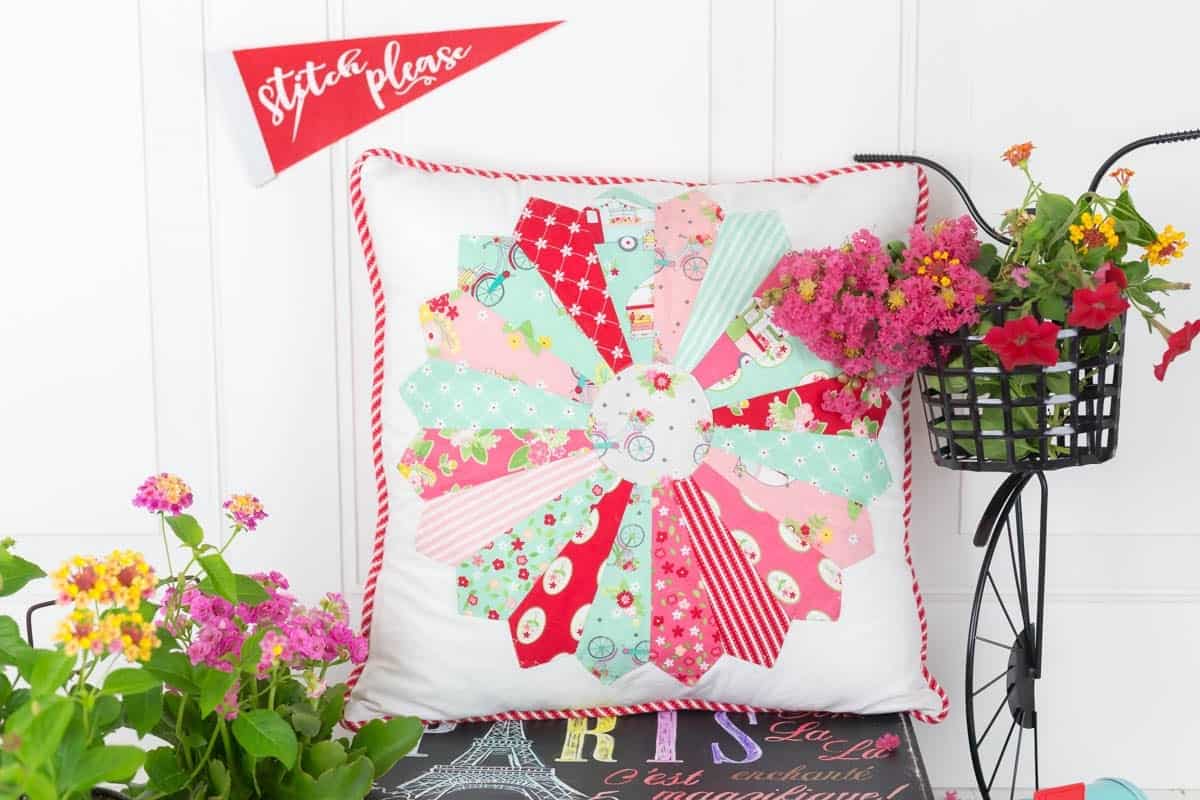 I was lucky enough to meet Bev in person at a conference earlier this year and take her hand embroidery class.  If you watched my stories on Instagram then you will have seen that I finished stitching them up on a road trip to North Carolina.  They are adorbs, here is a link to her free mason jar embroidery pattern.
The tutorial this week shows you how to make a Dresden plate pillow, teaching you how to actually attach a Dresden plate because I thought it was more specific to the finished project.  Also, read how to make your Dresden plate quilt block and what tools I use to make the individual Dresden plates.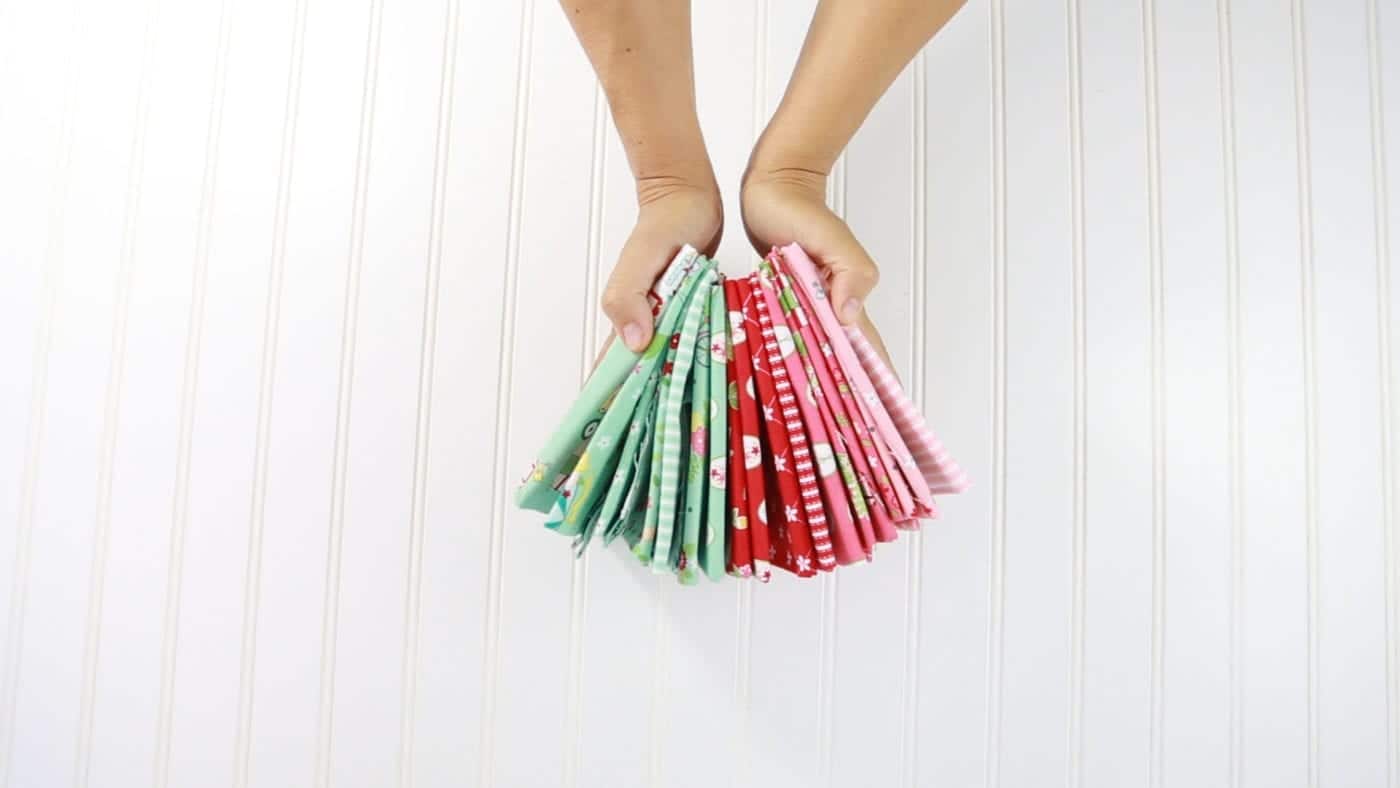 And if you're wondering where I got those cute little pennant flags in the picture above they are by Christopher Thompson from the Tattooed Quilter and you can find them here.
Supplies Needed for the Dresden Plate Pillow Tutorial
How to Make a Dresden Plate Pillow Tutorial
You can follow this step by step tutorial showing you how to make a Dresden plate pillow.  Or you can skip down for the video below.  This tutorial will focus specifically on how to attach a Dresden plate to a pillow.
Cut and sew your individual Dresden plate quilt blocks
Sew the Dresden plate quilt blocks together
Cut an 18.5 x 18.5 in square for the front pillow piece.
Cut a 6.5″ x 18.5″ and 13.5″ x 18.5″ for the back pillow pieces.  You might also like this easy zipper hack using wonder tape.
Insert zipper into the back pillow piece.  Follow this tutorial for instructions on sewing a zipper into a pillow.
Baste the piping on the outside edge of the pillow back.   Here is a tutorial on how to add piping to a pillow.  I will add a tutorial soon on how to make pipping as well. *Piping is optional, but it contrasts beautifully with the variety of fabrics in the Dresden plate.
Fold your front pillow piece in half, so that a crease line is visible.
Fold your front pillow piece in half the other way so that you have two visible crease lines forming a plus sign.
Using your crease lines as center point for the pillow, place your Dresden plate block in the center of the pillow, centering where the crease lines intersect.
To attach the Dresden Block onto the pillow front, I like to baste it with glue and set it with an iron.  You can pin as well.  I think the glue is a better option because it tends to hold it in place more firmly.
Pin or glue your center circle piece on as well.
Sew along the edges of dresden block using 1/8" seam.
Or use a small stitch that catches the edge of the seam like the shell stitch.  However, this is not a good option of the pillow is going to be getting a lot of use.
Then sew along the edges of the circle to finish attaching the dresden plate to the pillow.
Lay the pillow back right side up, being sure to unzip the zipper so you can easily turn it right side out when finished sewing.
Then lay the pillow front on top face down so the Dresden plate is facing the right side (or outside) of the pillow back.
Starting at the upper right edge sew around the perimeter of the pillow square using a 1/2" seam allowance.  If sewing the pillow with piping be sure to use your zipper foot to allow the piping to easily feed through the sewing machine.  Be sure to backstitch to finish.
Turn the pillow right side out and you are finished.  This pillow adds such a punch of color and is a beautiful addition to any decor.
Pin it to Save How to Make a Dresden Plate Pillow Tutorial for Later
*You might also like the Pom Pom Pillow Tutorial or Modern Hourglass Pillow Pattern