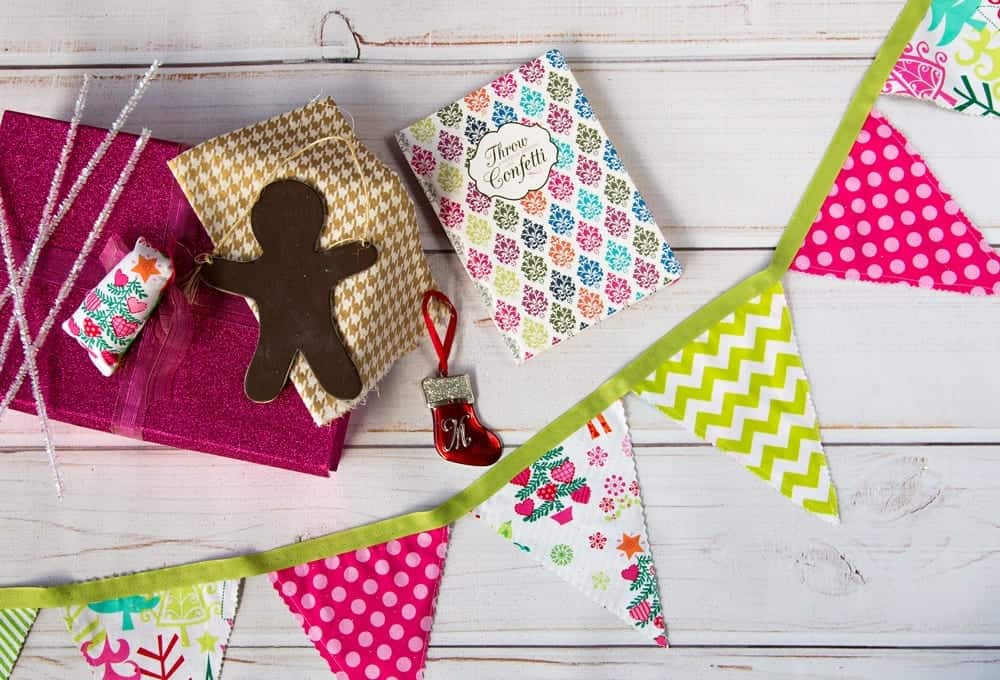 I have one more Christmas themed post for you! A DIY Christmas Fabric Pennant Banner Tutorial: the QUICK way. I used pinked edges instead of sewing and turning right side out. This is a super easy project! There are only a few steps and the funnest part is picking out the fabrics. These sew up so quick, that you could make lots of these for Christmas gifts to give to family and friends. I also made some coordinating Stuffed Christmas Ornaments that I posted about earlier this week.
You will need:
A few coordinating fat quarters
(Fabricworm has lots of Fat Quarter Bundles that are pretty cute.)
6 feet of matching ribbon
1 pair of pinking shears
DIY Christmas Fabric Pennant Banner Tutorial
Cut out your triangle pieces. I made an 8 piece banner, so I cut 16 pieces.
Place triangles wrong sides together and sew 1/4" seam in a V-shape. Starting at the top of the V, sew down the first side, pivot at the bottom and sew back up the second side.
Using your pinking shears (*affliliate link), trim the sides of the V shape This will be along the sides you have just sewn. Just be sure not to cut into your seam and Do Not trim the top.
Using a piece of ribbon, mine was 6 feet, line your triangles along the ribbon leaving 1 foot on either end for tying it up. You will place your triangle pieces under the ribbon aligning the top edge of the triangle pieces with the top of the ribbon. Pin in place.
Then starting on one end, sew using a zig zag stitch down the length of the ribbon until you reach the last triangle. At the end of the last triangle, backstitch in place and you are done!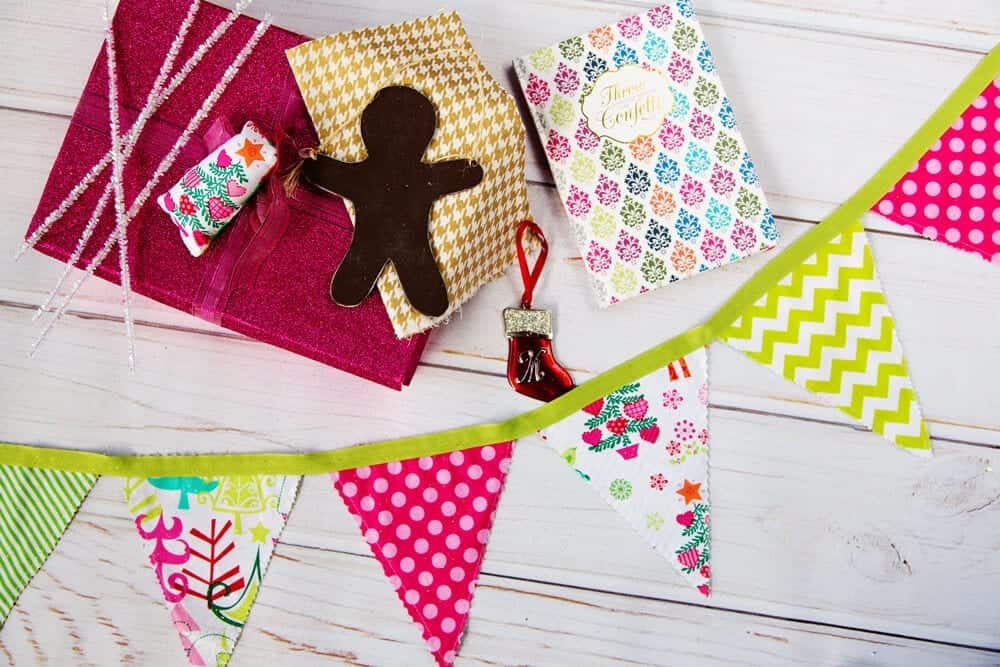 Some of the fabrics I used for this project are from the Michael Miller Holiday Collection, I love how bright and cheery they are!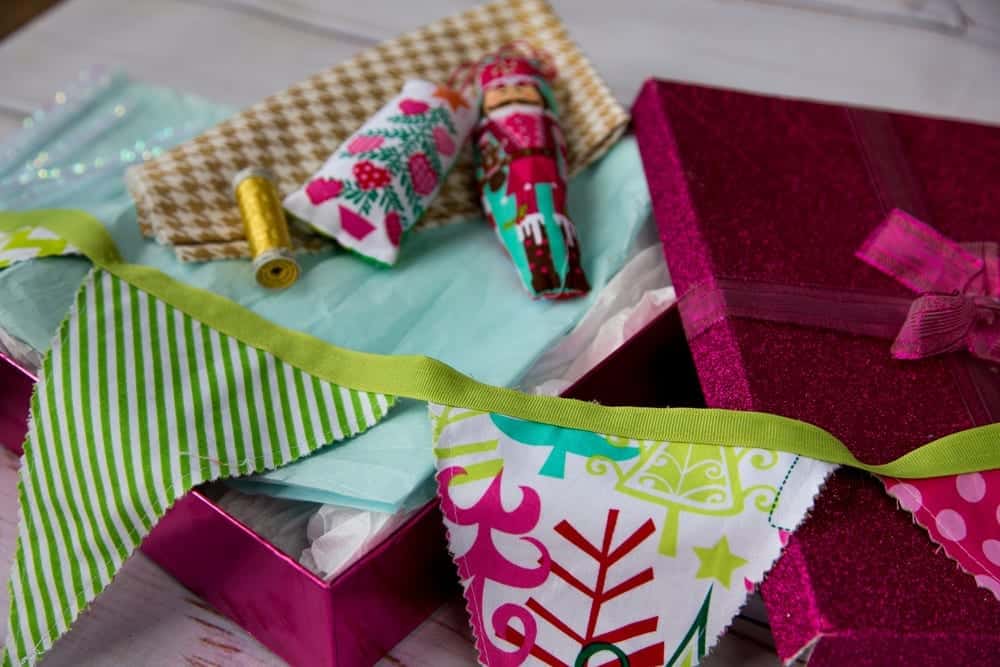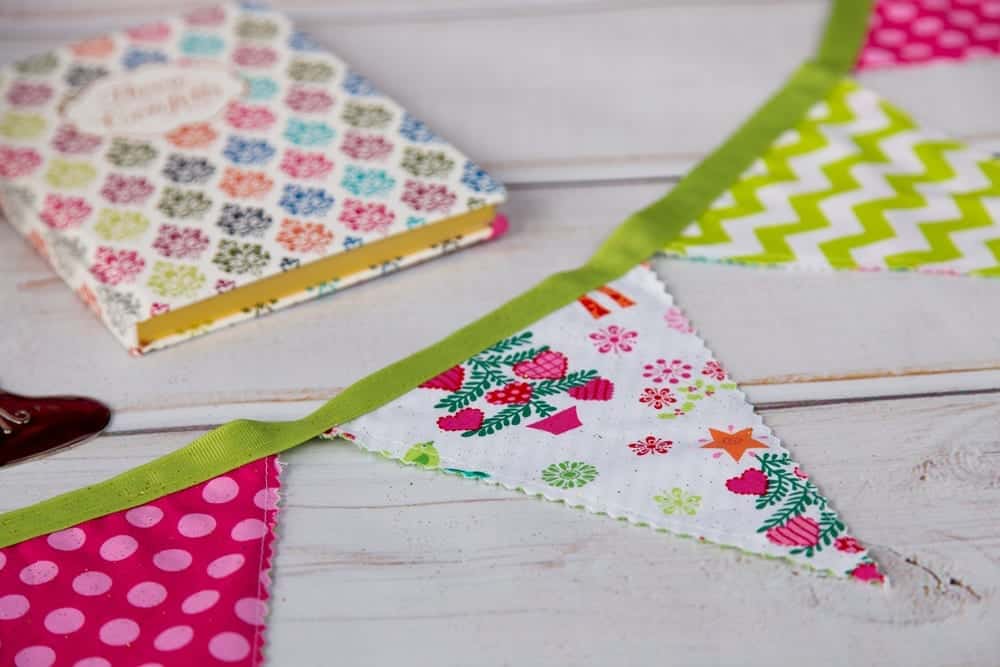 Merry Christmas and Happy Holidays!