I absolutely loved this week's theme to pick any place we wanted!  Since we live by the beach I knew we had to do something to do the with water.  And one of the places I have wanted to travel most is Greece.  I was inspired by the dreamy Mediterranean blues and greens and wanted to make flowing pieces that would be at home along the water.  You can vote for my look over at Project Run & Play!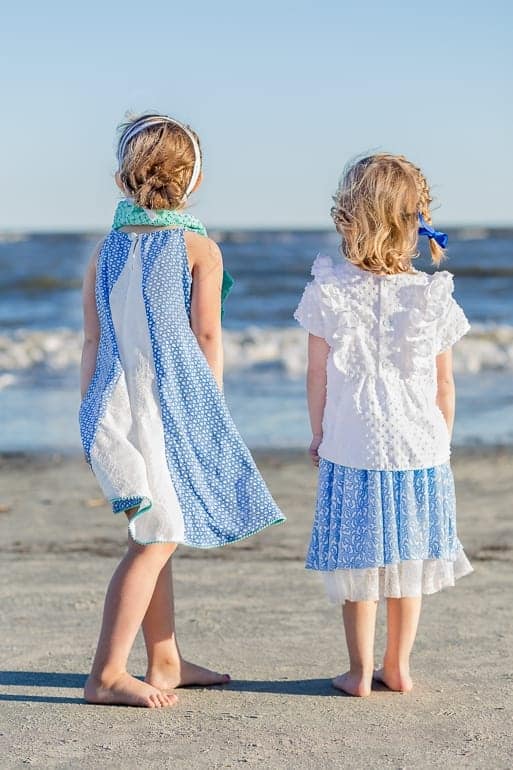 I used light flowy fabrics and paired them with classic shapes.  For the dress, I used the Cora dress bodice from Simple Life Pattern Company as a starting point to make a high low trapeze dress that is gathered at the neck with elastic and has braided straps, with an A-line lace cutout on the back.  I used the most amazing rayon poplin that seriously feels like butter.  I could use this fabric for gazillions of summer tops and dresses.  I lined the lace with a thin cotton lawn as well.  I also made an infinity scarf out of a minty crocheted lace.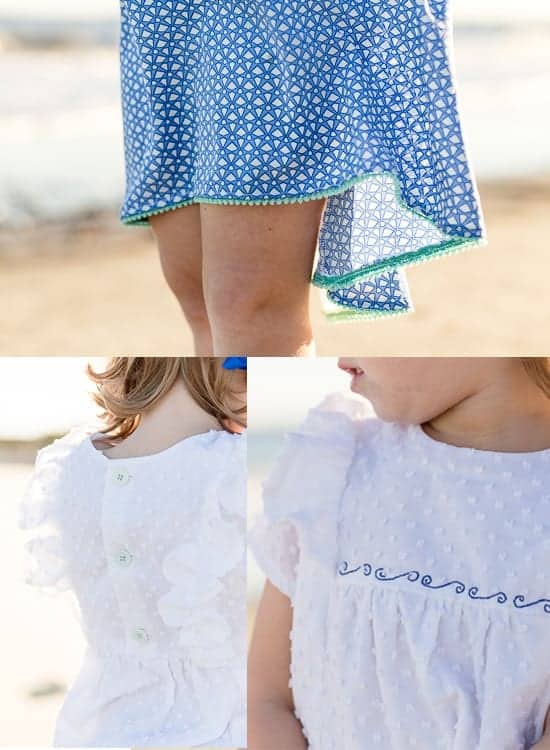 For the tunic I modified the hide and seek top bodice by shortening the front bodice piece from Oliver + S and added ruffles to the side seams.  It is made out a super soft white clip dot voile from Michael Miller.  It is a little sheer so I lined it with a white voile as well.  I added a Greek Style hand embroidered pattern to the front as well.  I also made a lace lined double skirt with a french terry knit from fabric.com on the top.  And of course added sea foam green mini pom trim to the bottom of the tunic that I bought on etsy.   My outfits really came together around the colors of the sea and represent the easy style of the Greek Isles.