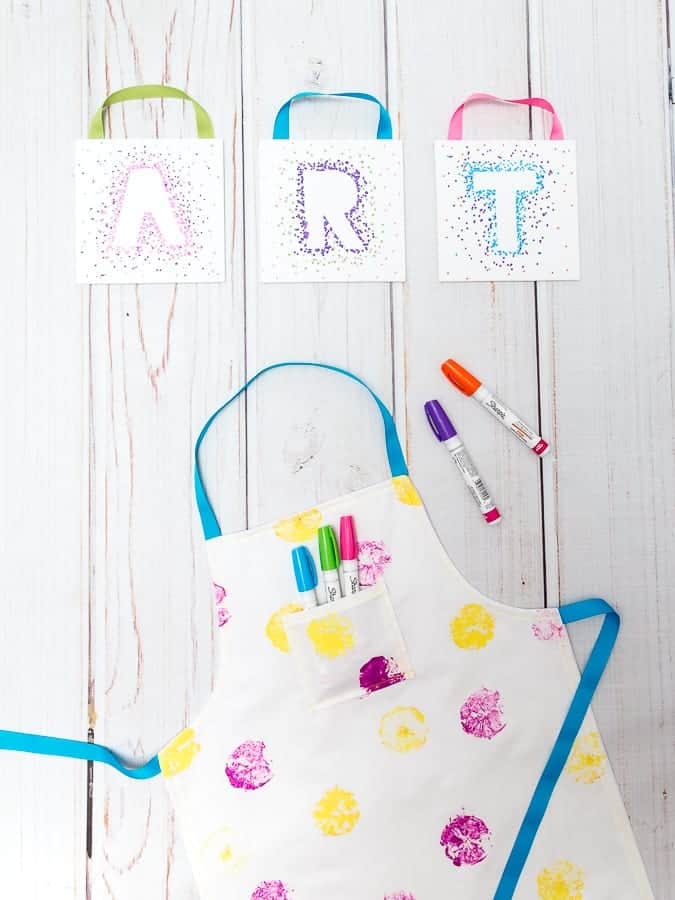 This weeks DIY Kids Reversible Apron Pattern and Tutorial is so fun and says summer all over!  Yaaaay!  I am loving all the bright colors!  My kids really had a great time getting to paint and draw their little hearts out.  I love little art aprons for kids.  They are so adorable painting away in their little cover-ups.  But since inevitable paint WILL get all over, I thought it would be really great if it looked like it was actually supposed to be there!
So we used some lemons to hand stamp fabric paint to make color art smocks.  And we added some cute signs made with canvas squares and Sharpie oil paint markers I got from Michaels Craft Stores to hang in their art space.
The signs were super simple and add a bright effect.  Taking 6" canvas squares I placed cut out letters on top.  I used glue sticks to hold them in place.  Then using three different colors of Sharpie oil-based paint markers I made dots around the letters.  I like how the oil paint markers have a nice shine to them which makes the colors kind of pop off the canvas and seem a little brighter.  Then I hot glued ribbon to the back of the canvas panel.
A few cool things about Sharpie Oil Paint Markers:
Marks opaque and glossy on light and dark surfaces.
Use on virtually any surface: metal, pottery, wood, rubber, glass, plastic, stone, and more - Quick-drying. Resistant to water, fading, and abrasion
AP Certified  and Xylene free
We even experimented with all kinds of different shapes like mermaid tails and butterflies.
Supplies for the project:
2 fat quarters of fabric
1 lemon (Optional)
fabric paint (Optional)
6" x 6" Canvas boards
Several yards of ribbon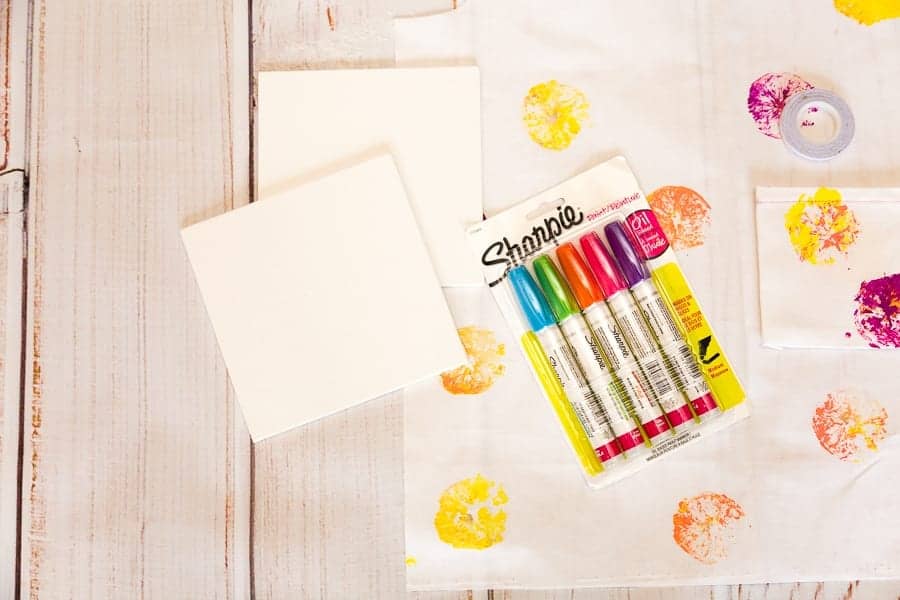 DIY Kids Reversible Apron Pattern and Tutorial:
Cut 2 of each pattern piece.
Fold and press 1/2" on the bottom edge of the pocket and 1/4" on the top edge of the pocket.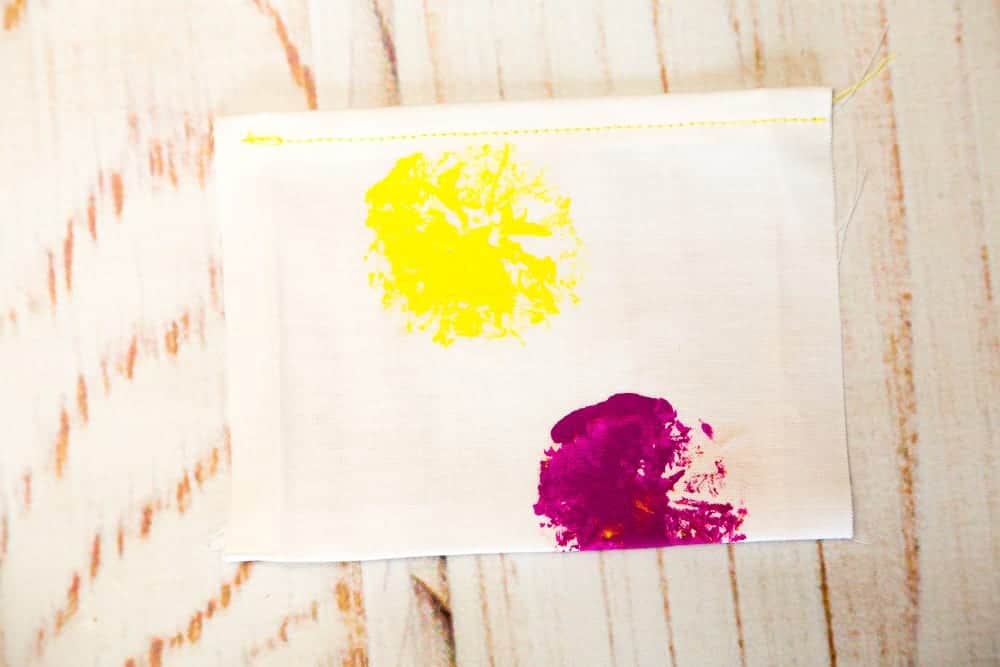 Fold top edge over 1/2" and press.  Topstitch.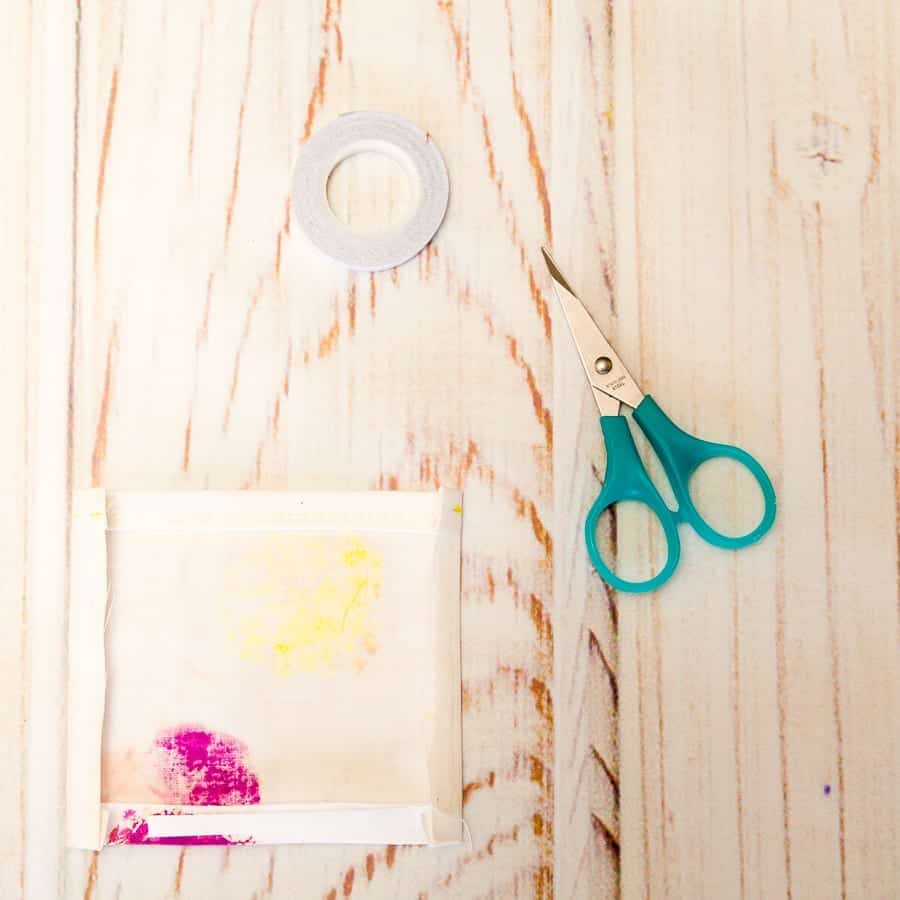 Fold side edges over 1/2" and press.  To keep the pocket from wiggling while sewing I like to use washaway wonder tape.  Otherwise pin pocket to apron front where you would like to place.  For each apron I did them differently, one at the center front and one at the side waist.
Top stitch pocket in place using 1/4" seam around edge.
Cut ribbon into 3 lengths:
1 neck: 17" or 18"
2 side ties: 21"
Then pin or clip them 1/2" from edges as pictured above.  All of the ribbon should be facing the inside of the apron.
Place the back of the apron RST and pin or clip.
Starting at the bottom sew all the way around the apron using a 1/2" seam..  Stop 6" from where you started.  Trim the corners.
Trim arm curve seam to 1/8" of an inch.  Clip notches as shown above.
Turn apron right side out and press.  Top stitch 1/4' around the edge of the apron enclosing the bottom.